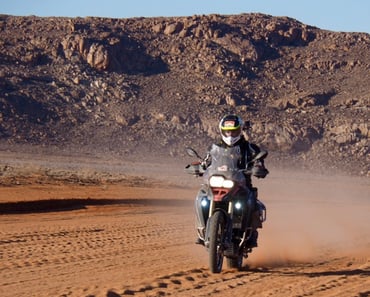 Namibia is like a painting – one of the most striking destinations on the planet – astonishing colors abound, completed by a transcendent quality of light, clear blue skies and vast wild spaces. This is a country where you can ride motorcycles for days without seeing another person. In a remote wilderness far from the modern world, things we'd usually take for granted take on a different meaning. Enjoyable, freshly cooked meals eaten under the stars. A roadside stop in the deep shade of an Acacia tree, a beer with friends round a campfire after a day in the desert.

Etosha National Park
Stand at the edge of this 22000 km sq ancient lake and see the curvature of the earth, plus an amazing variety of wildlife, Lion, Hyena, Elephant and much more..

Damaraland
Harsh moon like vistas, profound silence, incredible starry skies and a geological wonderland are the order of the day here. This is home to the country's famous desert-adapted elephants, black rhino, and a few isolated communities.

Sossusvlei
The world's highest dunes tower against the azure blue of the sky and from the top, views of the iron rich red sands extend to the horizon.

The Namib Naukluft Desert
Covering almost 50,000km², it is one of the largest conservation areas in Africa and guards one of the oldest deserts on earth. The Namib is all about breathtaking scenery on a grand scale, isolation, unnerving silence, other-wordly plants and animals. Our Southern Africa Experience Fully Guided Motorcycle trip package gives riders the opportunity to twist the throttle througout the canyons and landscapes that make this some of the best dual sport riding we've ever enjoyed.
The Fish River Canyon
The great Fish River Canyon – the biggest canyon on planet Earth's southern hemisphere, only second to Arizona's Grand Canyon in terms of size.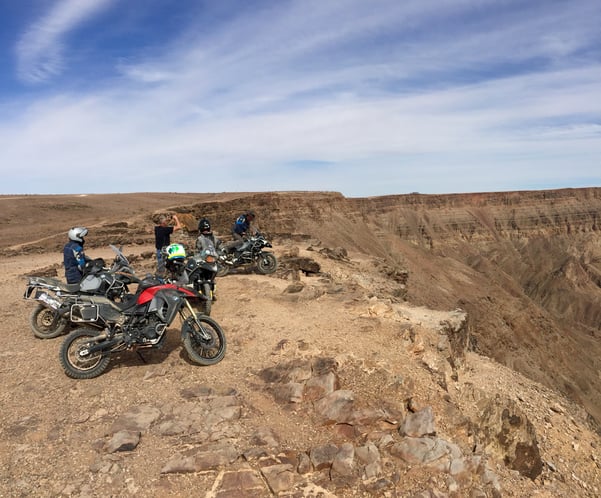 Namibian Hospitality
The principal city pavement cafés and attractive colonial architecture combine to give an airy, European feel, whilst contemporary political statues and street vendors remind you that this is Africa. Cold Namibian draught beer, German and traditional African influenced cuisine, good conversation – true Namibian hospitality.