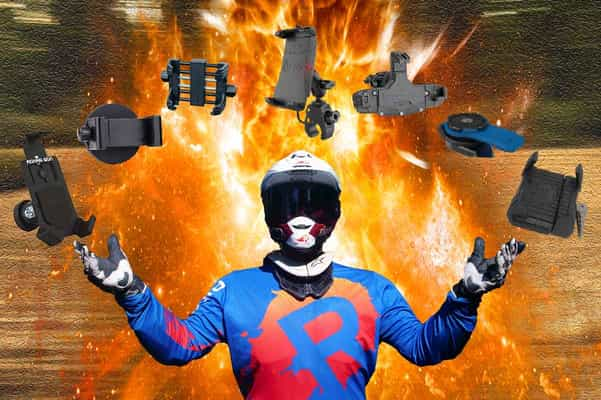 Disclosure: RIDE Adventures is a participant in the Amazon Services LLC Associates Program as well as other affiliate programs, designed to provide a means for us to earn fees by linking to Amazon and affiliated sites at no extra cost to you. Please see our Disclosure for more details.
*Updated Feb 2023*
While many of us love motorcycling for the simple analog pleasure of shifting gears and surfing through the twisties, there's just no denying that even the most low-tech two-wheelers out there can benefit from good motorcycle phone mount. Whether you're using your phone for GPS, music, or a Bluetooth helmet com, here are our favorite options on the market in 2023.
One of the major benefits of running an adventure motorcycle touring company is that we get to put thousands and thousands of miles in each year testing new gear.
We're big fans of motorcycle phone mounts, and if you follow our channel on YouTube, chances are you've seen one or two of our videos discussing the pros and cons of the various mounts currently on offer.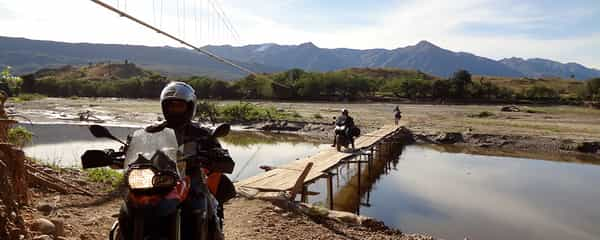 "Going remote on our Wild and Rugged Colombia Tour package"
Because we spend so much time exploring off the beaten path, we've developed a few specific factors to look out for when choosing the best mounts for our fleet (security, reliability, ease of use, etc).
The products below are ones we've had success with over the last few years, be it on dirt-heavy routes like on our Colombia tours or all-pavement options like the epic Alps Moto Explorer.
---
Best Motorcycle Phone Mounts of 2023
#1 Quad Lock Phone Mount
Quad Lock cases have become the go-to for thousands of motorcyclists, and if Charley Boorman's endorsement wasn't enough to convince you, Ride Adventures also uses QuadLock systems on several of the motorcycles in our fleet with fantastic results.
The simple twist-lock design is secure enough to keep your phone on your bike in the event of a crash (ask us how we know), but is also one of the quickest options on the market for connecting and disconnecting your phone.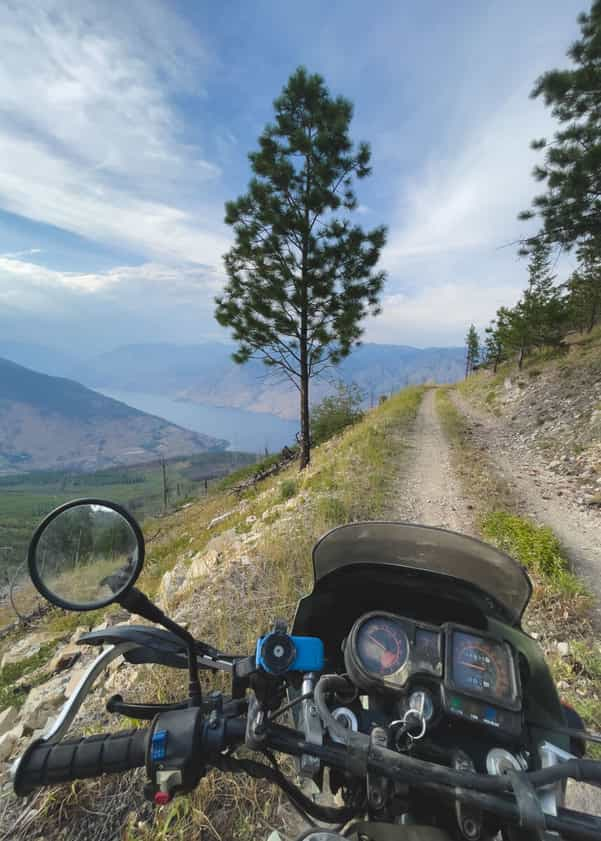 "Garrett recently completed the WABDR with his Quad Lock phone mount equipped"
QuadLock offers multiple versions of their systems nowadays including wireless charging and various mounting options, but the one major option we recommend here is adding their vibration damper to your setup.
The whole system will set you back about $100 including the case, mount, and damper, but you'll be hard-pressed to find a safer, more reliable motorcycle phone mount for even the most aggressive off-roading situations.
Pros:
Easy to mount/dismount device

Full screen access

Does not interfere with phone buttons or camera

Damper provides industry-leading vibration protection
Cons:
Prone to damaging phone cameras if used without damper

QuadLock-specific phone case required for use

Complete kit is expensive for a phone mount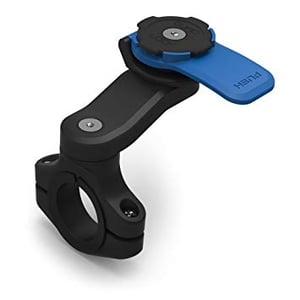 CHECK PRICE:

#2 RAM Quick-Grip
We all love a good RAM mount system, but if you're still fiddling with the rubber bands on RAM's X-Grip motorcycle phone mount, it's time for an upgrade. The RAM Quick-Grip does away with the clunky old design and replaces it with a spring-loaded interface that's faster, easier, and more secure.
We've had the privilege of adding this to our bikes on our tour package options in North America and it is working great with zero failures thus far. It's also worth noting that because RAM uses a rubberized construction in their ball and socket mounts, you're getting some vibration protection baked into the design.
Some users still report vibration issues with non-iPhone products however, so while we've never had an issue on one of our test bikes, you may want to add some extra rubber to the mounting bolts for peace of mind.
Pros:
Rock solid construction

Two variations for small and large phones

Multiple mounting options

Allows access to all corners of phone

Fastest draw on the market for photo ops. Pew pew.
Cons:
Setup and installation a bit more involved




Some reported vibration issues with non-iPhone devices

CHECK PRICE:
#3 RAM Quick-Grip Wireless Phone Mount
The RAM Quick-Grip system is tough to beat for its security and simplicity, but as more and more phones move into wireless charging technology, it's starting to show its age.
Enter the RAM Quick-Grip Wireless, RAM's updated take on the original Quick-Grip with integrated wireless charging, a simplified phone interface, and 100% waterproof construction.
Many of the same ingredients that make the original Quick-Grip such a great mount are still here including the secure spring-loaded design and vibration-resistant elastomeric construction, but this updated version does away with the four width-adjustable posts for an even simpler setup.
We also appreciate that RAM offers the Quick-Grip Wireless with a complete installation package, which includes the mounting hardware as well as a fuse-protected attachment to your battery terminal and an inline on-off switch to protect your battery when you're away from the bike.
Pros:
Super secure spring-loaded mount

Wireless charging

Easy device ingress/egress
Cons:
#4 Ciro Premium Charging Motorcycle Phone Mount
Ciro recently updated their proprietary lever-lock motorcycle phone mount to include a USB charging port, and the added convenience is well worth the slight bump in price.
Everything we liked about the previous model is still here including the glove-friendly cam-lock design and vibration-safe rubber grippers, but a simple plug-and-play connection for your battery leads is now part of the package, complete with an in-line fuse for surge protection.
We're fans of Ciro's products because they're all extensively tested for motorcycle use before coming to market. This includes vibration and extreme temperature testing, as well as the use of high-quality finishes and adhesives that are all-weather safe and highly resistant to corrosion.
They're also backed by Ciro's three-year warranty against defects, which adds peace of mind for riders who are hard on their equipment.
Pros:
Secure holding with lever-lock

Built for the rigors of constant vibration and weather exposure

Integrated USB charging port
Cons:
Not ideal for offroad use
Charging cord not included

CHECK PRICE:
#5 Givi Smart Clip Phone Mount
Givi is arguably the first name in motorcycle luggage, but they also know a thing or two about making high-quality accessories.
The Givi Smart Clip is their latest motorcycle phone mount, and while the design is getting a little long in the tooth compared to some of the options on our list, it still has one clear advantage: It doesn't get in the way of your camera.
That's because due to Givi's unique three-prong layout, the upper corner of your smartphone is unobstructed, leaving you free to snap photos or shoot video on the fly as needed.
We also give the Smart Clip props for its extra-secure design, which Givi claims is designed to handle shock forces up to 35 Gs.
Pros:
Super secure design

Built to handle big hits and hard acceleration with ease

Simple glove-friendly interface
Cons:
Expensive

Mounts to tubular handlebars or mirror stems only

CHECK PRICE:
#6 Freakmount Billet Magnetic Phone Mount
We're usually wary of magnetic phone mounts on motorcycles for security reasons, but the new Freakmount Billet Magnetic motorcycle phone mount is as secure as they come.
Freakmount's secret is the six rare search magnets hidden inside its rubber base, which hang on for dear life even at triple-digit speeds.
Just like a magnetic tank bag, the main benefit of an all-magnetic system like this is simplicity: Just stick it onto any sizable piece of metal (typically your gas tank), and you're good to go.
We also appreciate that Freakmount designed this mount to accommodate even the largest new phones, so it should work with anything from an old iPhone 5 to the latest-greatest iPhone 14, even if you're using a chunky case like an Otterbox Defender.
Pros:
Ridiculously quick and easy to mount/remove

Leaves handlebars uncluttered

Affordable
Cons:
Can scratch paint over time if not regularly removed for cleaning

Only two points of contact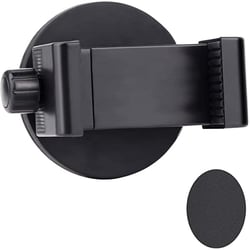 CHECK PRICE:
#7 Kuryakyn Tech Connect
Most riders associate Kuryakyn with their cruiser-focused line of accessories ranging from chromed-out cupholders to insanely loud sound bars, but if you're looking for a cheap and effective motorcycle phone mount, you shouldn't overlook the Kuryakyn Tech Connect.
With mounting hardware for every kind of handlebar, a four-point cradle, and the security of a double thumb-screw adjustment system, the Tech Connect is as versatile as it is reliable.
You also get a degree of vibration protection thanks to the Tech Connect's rubber-padded contact points, and while it's not quite as robust as something like the Quad Lock damper system, there's no denying the bang for your buck that comes with this mount.
Pros:
Huge adjustment range

Rubber contact points for vibration protection

Super secure dual-screw tensioning system
Cons:
Limited mounting options

May interfere with buttons on certain phones

Multiple screws to tighten every time you use it

CHECK PRICE:
---
---
#7 Mob Armor Switch Phone Mount
Mob Armor may be best known for their 4-wheeled off-road products, but their first foray into the motorcycle market, the Mob Armor Switch, is definitely worth considering.
With a tough powder-coated 5052 aluminum alloy construction, high-density EVA foam vibration protection, and multiple mounting options to choose from, this compact mount is built to handle the rigors of the open road.
While this mount lacks the ease of use of a spring loaded interface, there's something to be said for the security of Mob Armor's thumb-screw adjustment system, which allows you to lock in the most secure fit possible for phones of just about any size.
We're also fans of Mob Armor's patented "claw-mount" system, which can easily be detached and moved between your motorcycles, vehicles, or even mountain bikes with the simple twist of a thumb-screw.
Pros:
Bombproof construction

Vibration damping included

Leaves buttons and most phone cameras clear

Wide range of compatibility including 1" ball systems
Cons:
Claw-mount prone to loosening over rough terrain

May not fit narrow phones perfectly

No lateral adjustment

CHECK PRICE:
---
---
#9 Tech Mount TechGripper
The Tech Mount TechGripper is a clamp-style mount using an arm on each side to hold your device in place. Rubber linings on the arms and center of the mount prevent devices from sliding out or being subjected to excessive vibration, and Tech Mounts uses a proprietary ball-and-socket system with a locking collar to secure the mount to their line of motorcycle-specific bases.
The TechGripper is sold alone or in kit form with multiple motorcycle-specific bases, and is available in a powered version with a hardwired micro-USB port to keep your device charged on the go.
Our only real concern with this mount is that we've heard some riders complain that the plastic adjustment hardware is prone to cracking when overtightened, so if you have a reputation for being hard on your equipment, you'll want to keep that in mind.
Pros:
Easy to use spring loaded system

Handlebar and stem-mounted options available

USB-powered versions available
Cons:
Only two points of contact

May interfere with volume/power buttons on certain phones

Plastic pieces prone to cracking when overtightened

CHECK PRICE:
Motorcycle Phone Mounts Our Tour Guides Use
**Quad Lock & Ram Quick-Grip**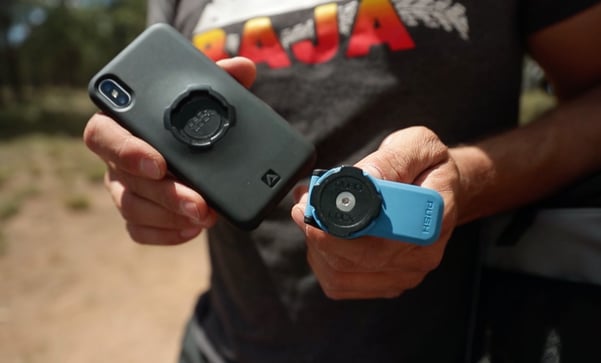 We've been super happy with Quad Lock & RAM Quick-Grip as our choices on our adventure motorcycle tours. These seem to be the best current options for mounting your smartphone, due to their ease of use, secure mounting system, slim form factor, and almost universal compatibility.

CHECK PRICE:

Quad Lock - AMAZON | QUAD LOCK
RAM Quick-Grip - AMAZON | REVZILLA
New motorcycle phone mounts are coming out all the time though, so make sure to bookmark this list as we regularly update it when new models hit the market or older ones become obsolete.
If you've got another mount that you've tried but don't see here, make sure to drop us a comment below. We're testing and reviewing new gear all the time, and we're always looking for the next best thing to bring along on our tours.
→Read More: 6 Best Adventure Motorcycle Helmets and Street & ADV Motorcycle Training.