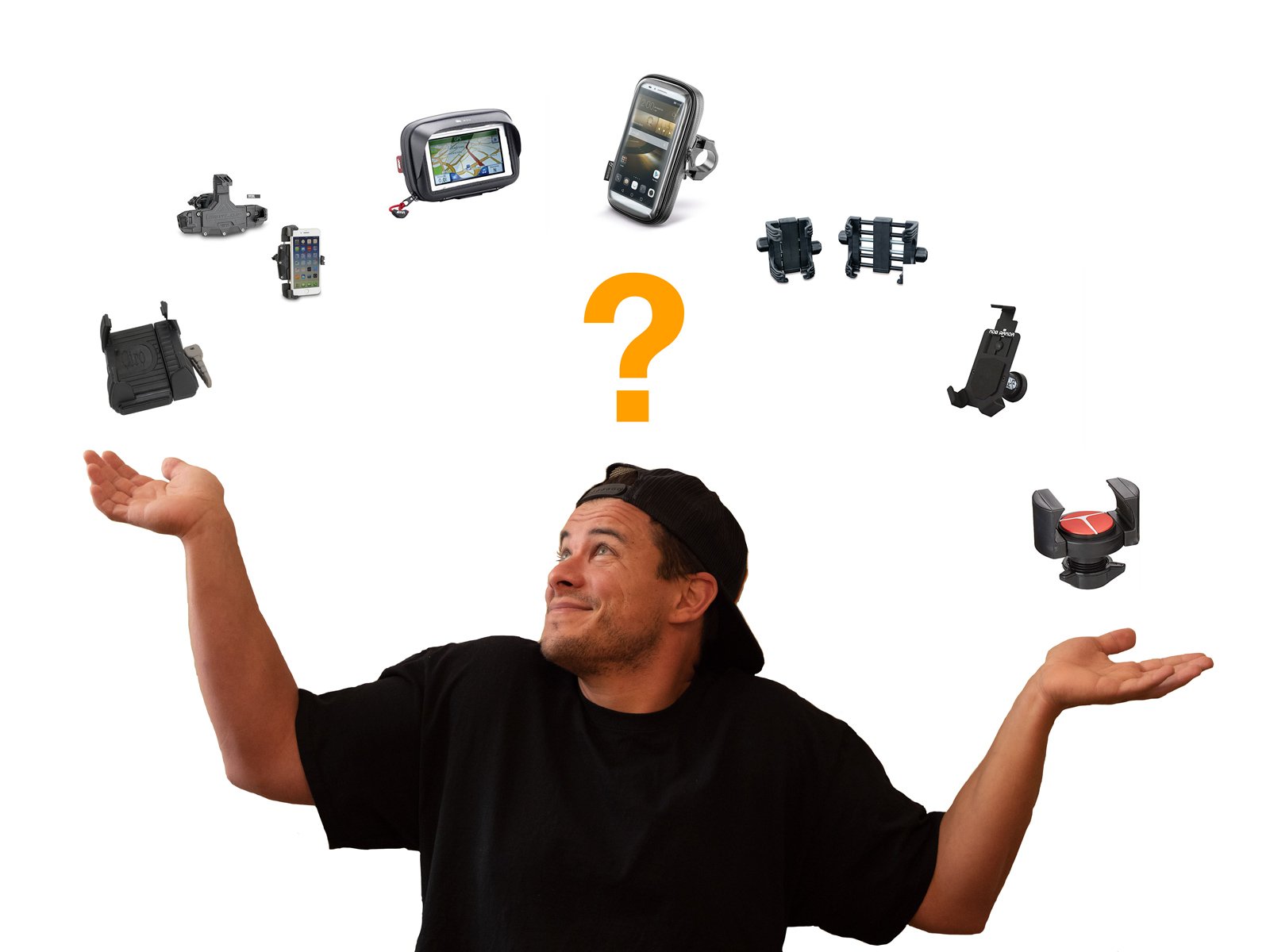 As the driving force of an ever more connected world, smartphones have become essential tools of life in the 21st Century. Whether it's avoiding traffic jams on a busy commute, navigating remote destinations on a long trip, or immediately notifying emergency services in the case of a crash, smartphones are an equally essential tool for ADV motorcyclists in any environment. There is a wide and diverse range of motorcycle phone mounts to fit nearly any style of bike and rider preference and RIDE Adventures has compiled a list of our favorite mounts, their respective pros and cons, and what to look out for when choosing a mount. In particular, we consider a secure hold, attachment options, ease of use, and isolation from engine vibrations as the most important factors in choosing a good mount.
Disclosure: Ride Adventures is a participant in the Amazon Services LLC Associates Program as well as other affiliate programs, designed to provide a means for us to earn fees by linking to Amazon and affiliated sites at no extra cost to you. Please see our Disclosure for more details.
---

Ciro Premium
Last known price $35 w/o mount
A four-point finger-style phone mount with a one-touch, flip-down lever to lock the phone in, the Ciro Premium mount offers a widely adjustable and secure device holder. The Premium mount uses a proprietary ball-and-socket attachment with a screw-on locking collar for easy adjustment. Handlebar and control mounts are available to fit most motorcycles.
Pros:
Secure holding with lever-lock

Narrow fingers shouldn't interfere with buttons

Easy adjustability
Cons:
Only fits phones <3.5" wide

Limited mount options

Mounting hardware can be complicated
---

GIVI Smart Clip
Last known price $95
A long-standing player in the motorcycle luggage industry, GIVI has turned their attention to motorcycle phone mounts with the Smart Clip. A three-point attachment with spring-loaded arms and a built-in handlebar clamp mount, the Smart Clip's offset design is intended to leave the camera on nearly every common smartphone free for use while riding. Available in medium (iPhone 4) and large (iPhone 6+) sizes.
Pros:
All-in-one design

Tool-less installation

Adaptable to nearly any smartphone

Leaves rear camera and buttons on most phones free for use

Sturdy.
Cons:
Expensive

Will not mount to bikes without tubular handlebar and requires add-on Smart Bar accessory.
---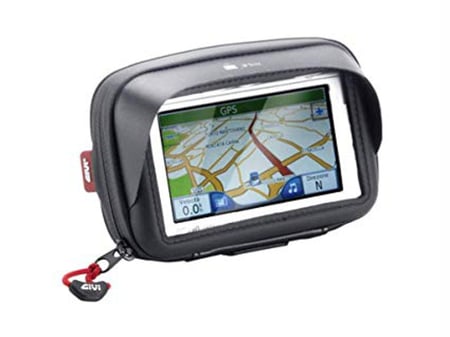 GIVI Universal
Last known price $73
Deigned to fit either a smartphone or dedicated GPS unit, this full-zip-closure case is available in three sizes to fit screens from 3.5" to 5.0". The GIVI case includes a foam spacer to adjust fitment and dampen vibration, a universal design with a built-in sun shade, touchscreen-compatible window, and includes a rain cover and quick-release handlebar mount.
Pros:
Completely encloses device

Protects from the elements and vibration

Waterproof with cover

Adaptable to multiple devices
Cons:
May not fit larger phones and/or phones with abnormal screen proportions

No access to phone buttons

Limited adjustment

Only fits bikes with handlebars
---

Interphone
Unicase
Last known price $73

A popular intercom and motorcycle electronics company in Europe, Interphone has entered the US market with a series of motorcycle phone mounts using their proprietary mounting system. The Unicase is a water and impact-resistant full-zip case with a touchscreen-compatible window. The Unicase is available in three sizes for screens up to 6.0" all of which include a handlebar clamp mount. Interphone also offers several phone-specific cases for iPhone and Samsung Galaxy models, as well as several different mounts.
Pros:
Universal fit

Fits all but the largest phones

Multiple mounting options
Cons:
No button access

May allow phone movement depending on size

Requires additional mount for bikes without tubular handlebars
---

Kuryakyn
Tech
Connect
Last known price $32 w/o mount

A four-point device cradle that encloses your device's bottom corners and secures with two opposing screws for secure holding, the Tech Connect offers one of the most secure phone mounts on the market. Standard and Large sizes to fit devices up to 6" wide. Compatible with proprietary Kuryakyn mounts.
Pros:
Huge adjustment range

Can fit anything from smartphones up to small tablets/phablets

Super secure holding system
Cons:
Limited number of mounts

May interfere with buttons on phones of certain size

Multiple screws to secure
---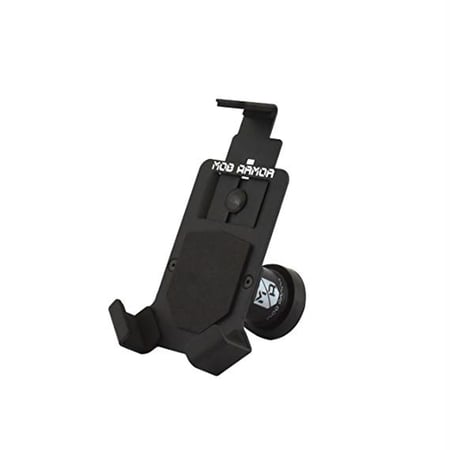 Mob Armor
Switch
Last known price $60

A newer entry into the market having previously catered to the off-road truck/ATV/UTV market, Mob Armor has turned their attention to motorcycles with the Switch series. A three-point cradle mount constructed from 5052 aluminum with neoprene vibration dampers on the back and corners, the Switch offers two sizes fitting phones up to 7.2" x 3.4". The Switch is adjustable with a single thumbscrew on the back securing a vertical adjustment slider, and is available in eight different colors with suction cup, magnet, bar clamp, and ball mount options.
Pros:
Bombproof construction

Some vibration damping

Cool colors

Leaves buttons and most phone cameras clear

Wide range of compatibility including 1" ball systems
Cons:
Locking screw has been known to back out

May not fit narrow phones perfectly

No lateral adjustment
---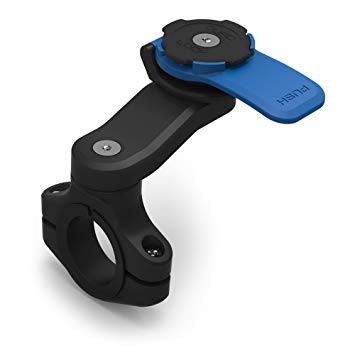 Quad-Lock
Last known price $50 w/o quad lock phone case
QuadLock is another new player in the motorcycle phone mount game, and one that has quickly built a reputation as one of the best mounting systems on the market. Unlike mounts that use some form of external grip or generic-fit case, the QuadLock system is based around a slim twist-and-lock mount that is either integrated into one of QuadLock's many model-specific cases, or available as a stand-alone piece that can be attached directly to your phone or any aftermarket case with a smooth back. Scroll down for as we included our discount button that will save you 10% on the Quad Lock.
Pros:
Slim mount

Universal fit

Easy to mount/dismount device

Full screen access

Does not interfere with phone buttons or camera

Leaves most fingerprint sensors free
Cons:
Vibration Damage issue for Iphone 11 and up (Update: 2021 recent release of dampener fixes this issue)

Mounting system does require the purchase of a Quad Lock specific phone case.
---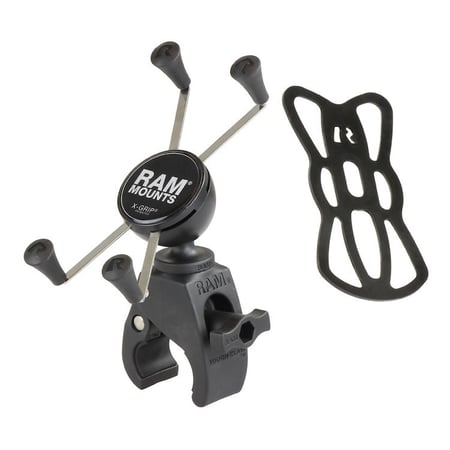 RAM X-Grip
Last known price $30 w/o mount
One of the gold standards in motorcycle phone mounts, the X-Grip is possibly the most-used phone mount among motorcyclists. The X-Grip, as its name implies, uses a spring-loaded X-shaped set of arms that hold devices at four points of contact. RAM includes an elastic security band to ensure that your device does not move in the mount. Some users, including the author, have reported excessive vibration transmitted through the X-Grip that could potentially damage devices. The X-Grip is compatible with RAM's wide range of arm and mount options, and is available in three sizes fitting small smartphones all the way up to 7" tablets.
Pros:
Universal fit including tablets,

"Double-layer" security

Easy device ingress/egress
Cons:
Security rubber band covers large portions of screen

Mounting arms and rubber band may interfere with phone buttons

Rubber arm covers are easy to lose and tear easily

Extremely susceptible to vibration and potential phone damage

Cumbersome, and a bit slow to mount/dismount
---

Tech Mount
TechGripper
Last known price $50 w/ mount
The Tech Mounts TechGripper is a clamp-style mount using an arm on each side to hold your device in place. Rubber linings on the arms and center of the mount prevent devices from sliding out or being subjected to excessive vibration, and Tech Mounts uses a proprietary ball-and-socket system with a locking collar to secure the mount to their line of motorcycle-specific bases. The TechGripper is sold alone or in kit form with multiple motorcycle-specific bases, and is available in a powered version with a hardwired micro-USB port to keep your device charged on the go.
Pros:
Small, spring loaded for secure grip

Large mount/base ecosystem

Light, powered versions available
Cons:
Only two points of contact

May interfere with volume/power buttons on certain phones

Proprietary mount/base system
---
OUR CHOICE
THE QUAD LOCK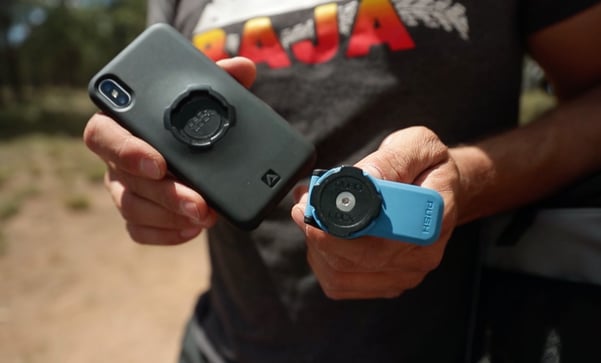 We believe that the Quad Lock system is the best current option for mounting your smartphone, due to its ease of use, secure mounting system, slim form factor, and almost universal compatibility. We reached out to them lately to praise how much we've loved using these on our bikes and they offered us a discount code for our readers. Click below to save 10% on the Quad Lock system!
As more manufacturers realize the utility of smartphone mounts for motorcycles, we will hopefully have even more and better options to report to you in the future. But at the time of this article these are the best that we've found and used.
---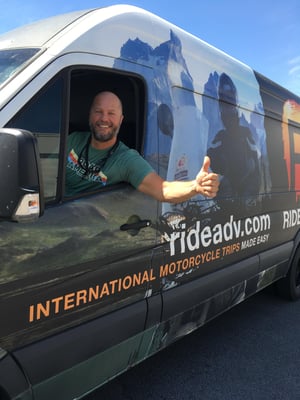 WELCOME TO RIDE ADVENTURES!
Hello! We hope you enjoyed the article. Let us introduce ourselves, we are RIDE Adventures. We've been offering guided & self guided motorcycle tours worldwide since 2010, constantly improving and finding ways to make your adventure as exciting, safe and fun as possible.
Rely on us for having the time of your life and seeing the best nature, history and architectural masterpieces without a single care in the world. Join our ever growing community of ADV Riders on our facebook group page to get all the chatter plus latest and greatest. RIDE ON!


---
** Disclosure: Some of the links in this blog post are affiliates links. This means nothing to you, but everything to us. We make a small commission if you buy from our links at no extra cost to you. This is a major help to keep the costs of this blog down while creating tons of these valuable articles on ADV Riding! Thanks for your support!