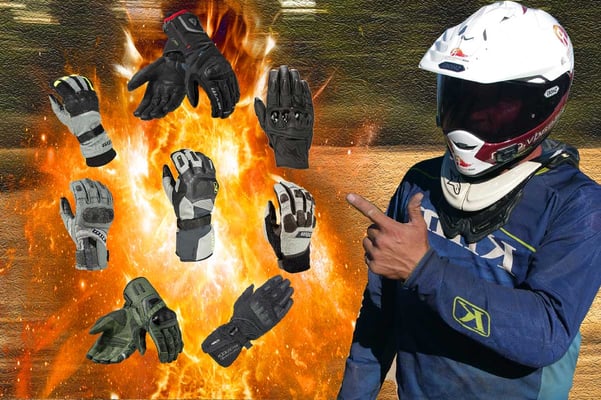 Disclosure: RIDE Adventures is a participant in the Amazon Services LLC Associates Program as well as other affiliate programs, designed to provide a means for us to earn fees by linking to Amazon and affiliated sites at no extra cost to you. Please see our Disclosure for more details.
You know the weather is bad when you find yourself sitting on a 160-horsepower motorcycle wishing you could trade places with someone in the backseat of a Toyota Prius.
But hey, we wish for strange things when our hands are wet and clammy. Things like a nice metal hook to take place of all these dumb frozen fingers. Or a drive-through microwave to dry out slimy leather gloves no matter the cost.
If you've experienced thoughts like these, chances are your adventure motorcycle gloves are in need of an upgrade
Finding the right gloves is tough. For the true 70/30 dirt/offroad riding we do on tours like our Pacific Coast Highway + Adventure RIDE, it's a challenge to find the right mix of comfort and ventilation for those sweaty miles in the dirt, but then also get the crash and abrasion resistance you need for the highway stretches inbetween.
...And no sooner have you found the perfect warm-weather glove than temps start to drop, and the importance of both insulation and waterproofing becomes painfully obvious.
If you've read our ultimate all-weather adventure gear article you'll know that for this reason, we recommend packing at least two pairs of gloves for any serious trip: One for those clear, warm days we all love, and another for those cold and potentially wet ones that really test our endurance and make us question our life decisions.
To save you from any undue existential dread (and to narrow down your search for the perfect adventure motorcycle gloves), we've pulled together a few of our favorite picks below both for good and bad weather. We've tested just about every adventure glove on the market, so there's sure to be something below for every kind of rider on every kind of budget.
Our Favorite Warm Weather Adventure Motorcycle Gloves
1. REV'IT! Cayenne Pro (-Best Overall-)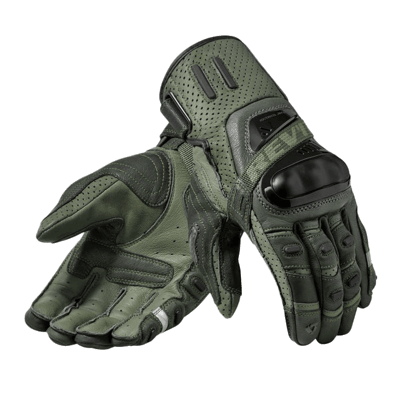 CHECK PRICE:
Rev'it Cayenne Pro Gloves
When Rev'It sets out to build the best (be it gloves, boots, jackets, or jeans), they seldom fail in that pursuit.
So it should come as no surprise that their summer adventure motorcycle gloves, the Rev'It Cayenne Pro, top our list for warm-weather options. There's really nothing else on the market offering this level of hot-weather comfort alongside this degree of crash protection.
Much like the Expedition H2O boot in our adventure motorcycle boot roundup earlier this year, the Cayenne Pro lacks nothing in terms of materials, construction, fit, or safety. And much like the Expedition boots, you'll pay top dollar for top quality as well.
There are no synthetics here: Full goatskin leather construction makes up the chassis of the Cayenne Pro. Rev'It did a great job of ventilating these adventure motorcycle gloves as well by using perforated panels in the fingers, thumb, and wrist.
Typically when we see a glove this perforated, we have some concerns about the integrity of the leather, however Rev'It addressed this by reinforcing key sections with non-perforated goatskin overlays.
Speaking of safety, aluminum hardshell protection (which is also ventilated) covers the knuckles and is backed by a dual-density honeycomb slider. The Cayenne Pros also feature "Tryonic" technology, which extends impact protection down the back of hand. Discerning eyes will recognize this feature from the Jerez 3, Rev'It's top-of-line race glove worn in Moto-GP.
The thumb, fingers, outseam, and wrist all get TPR inserts to further protect against impact and abrasion in the event of a crash, and there's even a TPU slider included in the crash zone on the palm so you know you're covered in even the gnarliest pavement get-offs.
Pros:
Box stitching on fingers is all-day comfortable
Strap cuff design makes for great fitment
High-quality goatskin leather construction
Top-notch protection, especially at knuckles with dual-compound sliders
Hard TPU palm slider
Cons:
Breathable, but definitely not a textile glove
Not fully waterproof, although water-resistant leather sweetens the deal
Missing some of the "extra" features like visor wipers or touch-screen compatibility



2. Alpinestars Celer v2 (-Runner Up-)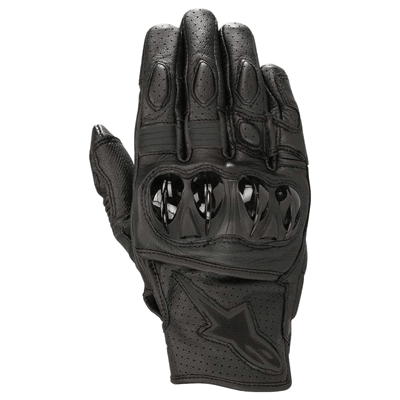 CHECK PRICE:
Alpinestars Celer v2
No, you won't find The Alpinestars Celer marketed alongside the other adventure motorcycle gloves on this list. It's a street glove, and one of the best all-rounders ever made. Such a fantastic all-purpose glove, in fact, that it stretches easily into the… dare we say it… dual-purpose realm.
The full goatskin leather chassis is ideal for asphalt protection and well ventilated for hotter days. So well ventilated, in fact, that the Celer can comfortably tackle three-season off-road rigors as well.
Hardshell TPU knuckle protection is backed by impact-resistant foam, which you'll also find alongside the finger and palm-sliding zones. Add into that potent safety cocktail Alpinestars' 3rd and 4th finger bridge (also passed down from their Moto-GP tech), and you've got enough protection to meet CE Level 1 standards. That's pretty rare in a sub-$100 glove, and even more so in a glove that works well off-road.
Pros:
CE rated glove ensures quality crash protection
Short cuff and perforated leather flow enough air for 3 season comfort
...did we mention it's less than $100???
Quality construction lasts season after season
Cons:
Not waterproof
More synthetic support leather than the outgoing model
No hard slider/super fabric on the palm landing area
3. Klim Dakar Pro (-Best Budget Adventure Motorcycle Gloves-)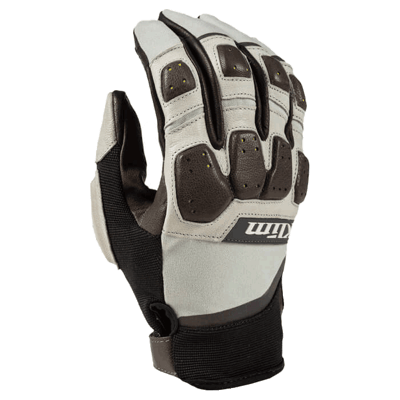 CHECK PRICE:
Klim Dakar Pro
This one may be a little controversial, but I couldn't put together a list of adventure motorcycle gloves and leave the Klim Dakar Pro out.
I like my adventure riding to lean more toward the dirt/dual-sport direction, and the Dakar Pro is the perfect glove in that regard. Think of the Dakar as a dirtbike glove that checks all of your bare-minimum boxes for street safety.
Full goatskin leather palm for abrasion resistance? Check.
More goatskin on the slide-prone knuckles and joints? Check.
Dense Poron XRD impact protection in the usual crash areas (palm, thumb, and knuckle)? Check.
Inbetween those key areas, Klim sticks to breathable abrasion-resistant fabrics to give a damn-near dirtbike glove feel with some added peace of mind thrown in.
Really can't help but love the price too. With this degree of fit and finish, the Dakar pro is a steal for a premium product, especially considering how long Klim gloves have lasted for our guides in the past. Eric is still on his first pair!
Pros:
Elevated protection in an offroad-focused package
Premium materials in typical Klim fashion
Cool bonus features like touchscreen compatibility and integrated visor-wipe
Least expensive glove on our list!
Cons:
Not enough protection for serious highway duty
4. Klim Adventure GTX (-Honorable Mention-)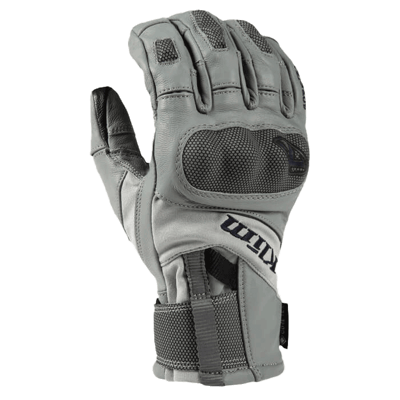 CHECK PRICE:
Klim Adventure GTX
Honestly everything about the Klim Adventure GTX glove is top-notch, from the materials to the safety features to the fitment. Everything you expect in a premium Klim product.
Unfortunately, the Adventure GTX is resigned to the "honorable mention" section in our adventure motorcycle gloves roundup due to its lack of specialization.
The full leather construction is unperforated, making it too hot for real summer use.
The Gore-Tex liner is great, but the lack of insulation ultimately prevents the Adventure GTX from tackling true Winter duty.
Still, if you're looking for a premium adventure motorcycle glove with the quality and features you expect from Klim, the Adventure GTX is a spectacular glove for milder weather. If waterproof construction is your top priority and you're willing to grin and bear the heat to get it, these may suit you in the summer as well.
Pros:
Top-notch Gore-Tex waterproofing
Premium materials all around (goatskin, super fabric, Poron foam)
Tons of safety features everywhere you look
Cons:
Runs too hot for most summer riding
Runs too cold for serious winter riding (not insulated)
Too close to Cayenne Pro pricepoint to really stand apart


Our Favorite Fall/Winter (Cold Weather) Adventure Motorcycle Gloves
5. Klim Badlands GTX (-Best Overall-)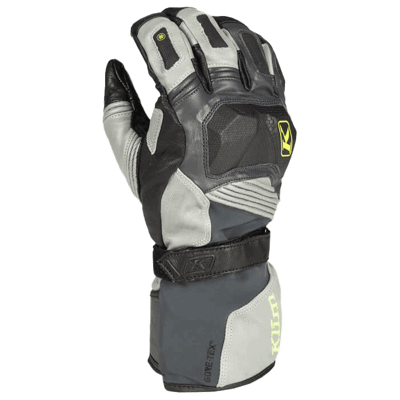 CHECK PRICE:
Klim Badlands GTX
If you want the best adventure motorcycle glove on the market, there's really no contest. The Klim Badlands GTX is the safest, most weatherproof, comfortable, four-season glove currently available.
Weather-wise the Klim Badlands GTX only uses the best of the best for protection. Not only do the Badlands have a Gore-Tex liner, but they also feature Gore Grip technology. If you're not familiar with Gore Grip, it's an outer laminated coating that improves grip in wet conditions by preventing materials from becoming saturated in heavy rain. So your hands stay dry and stay put. Win-win.
The Klim Badlands GTX adventure motorcycle gloves also feature 60 grams of Thinsulate insulation on the backhand area, which allows for improved heat-retention without getting in the way of heated grips.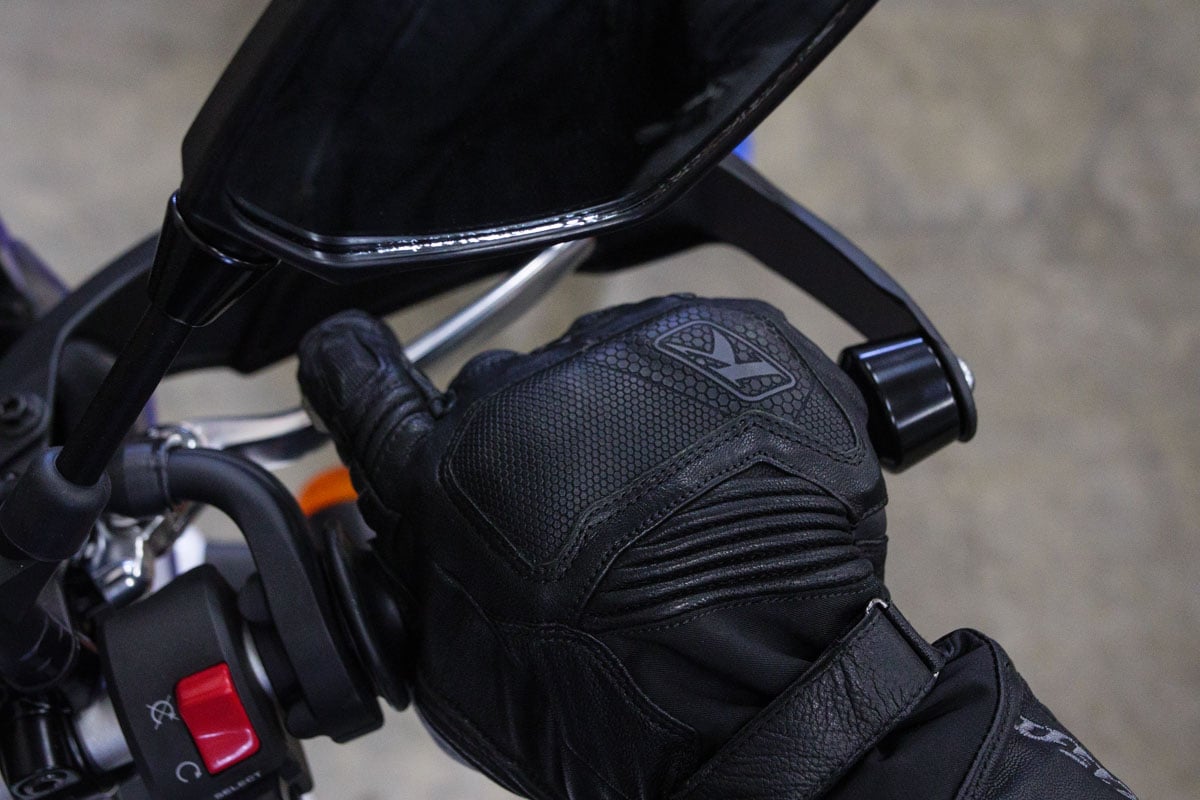 On the safety side it's the same story. Premium leather everywhere, including a second layer on key areas of the palm. Ceramic reinforced fabric covers thick Poron XRD impact protection on the knuckles, fingers, and palm slide zone.
If you're shopping for adventure motorcycle gloves, we really can't say enough about how good the Klim Badlands GTX gloves are. Just about every one of our guides wears these gloves. We've got untold thousands of miles of testing on these bad boys in just about every climate and terrain imaginable without a single issue or failure.
Pros:
Gore-Tex liner is the best money can buy
Klim cuts no corners here with premium materials throughout
Leather-wrapped 3M Thinsulate keeps you warm in any weather
Fantastic CE-rated safety
Cons:
Little too much glove for hot summer days = 3 ½ season glove
Cost: They're worth every penny. All 25,000 of them.
6. Klim Vanguard GTX Long (-Runner Up-)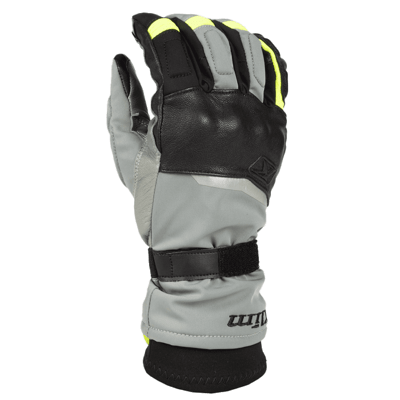 CHECK PRICE:
Klim Vanguard GTX Long
If the Klim Badlands GTX are a little rich for your blood, think of the Klim Vanguard GTX Long as the "Badlands Light."
No, they're not as feature-rich or bulletproof as the Badlands, but the Klim Vanguard is still a ton of glove at an attractive price point, and one of the least expensive cold-weather gloves money can buy with a real Gore-Tex liner.
If you've seen our video on the ultimate adventure gear setup, you know we're a fan of the under-the-cuff approach to keeping rain out of your adventure motorcycle gloves. So naturally, the Klim Vanguard GTX gloves get high marks from us for their low-profile gauntlet design.
Klim also manages to fit in a surprising amount of high-quality goatskin leather all across the palm, over the knuckles, and on the more slide-prone parts of the fingers.
Safety-wise the Klim Vanguard also gets trickle-down safety tech in the form of Poron XRD impact protection in both the knuckles and palm, which is some of the best in the business.
And because no winter glove is complete without insulation, Klim included the same 60G Thinsulate liner from the Badlands Pro in this affordable package, so it's truly prepared for epic trips like our Patagonia Experience tour.
Pros:
Full Gore-Tex liner at an attractive price point
Quality Thinsulate insulation for cold-weather comfort
Goatskin leather and impact resistance where you need it
Cons:
Not full-leather construction
No TPU/hard sliders included at this price
7. Alpinestars Apex Drystar (Best On A Budget)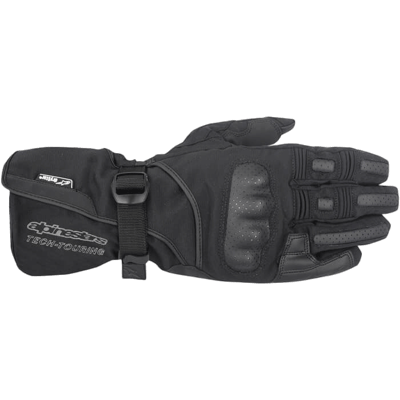 CHECK PRICE:
Alpinestars Apex Drystar
The Alpinestars Apex Drystar glove is an inexpensive option from a brand we trust that gets the job done.
Obviously at this price a real Gore-Tex liner is out of the question, but Alpinestars' proprietary Drystar liner is one of the best alternatives in the business.
Alpinestars also does a good job of adding as many valuable safety features as possible on a shoestring budget. For instance, they use premium goatskin leather, but only on the palm and underside of the fingers where both feel and abrasion resistance are paramount.
In other areas, they stick to synthetic leather and textile, but don't skimp on protection with EVA foam on the crash zones and hard molded knuckle support. They also carried over their third and fourth finger bridge design from GP racing to keep your outer fingers where they belong (attached to your hand) in the event of a crash.
I remember in my early twenties my only mode of transportation for nine months was a KLR650. Unfortunately that nine months included most of fall and all of winter. I lost count of how many times I scraped frost off the seat before tackling my 30-mile (mostly highway) commute.
Armed with two pairs of pants, as many layers as I could cram under my ski jacket, and my Alpinestars Drystar winter gloves, I tucked in as best I could and got through the year with all my fingers intact. For under $100, they punched way above their weight class.
Pros:
Plenty of Thinsulate insulation (100G) to keep your hands toasty
Touch tech material at fingertips allows electronic device usage
Narrow gauntlet will fit easily under jacket sleeve to help shutout water
Quality goatskin leather on the palm where it counts.
Cons:
Budget-friendly construction not the most comfortable in below freezing temperatures
Alpinestars' Drystar technology holds its own, but isn't Gore-Tex
It's wishful thinking at this price point, but ideally we'd like to see more leather on the chassis
8. REV'IT! Taurus GTX (Honorable Mention)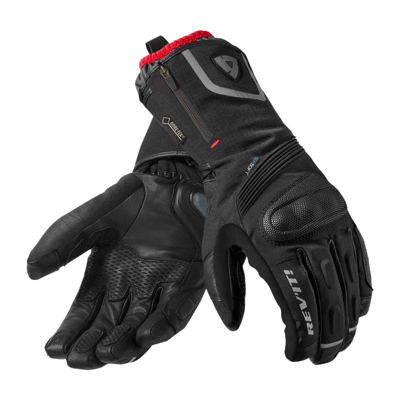 CHECK PRICE:
REV'IT Taurus GTX
It wouldn't be fair to say the Rev'It Taurus GTX is lacking anything you'd want in cold weather adventure motorcycle gloves.
They're warm, Gore-Tex waterproof, and packed end to end with the kind of safety and performance technology you'd expect from a top-of-the-line Rev'It product.
We've got two main reasons for putting the Taurus under the honorable mention moniker: The cuff system and the material selection.
Concerning the cuff: Rev'It uses a dual-cuff system for the Taurus, which has one cuff that fits underneath your jacket sleeve, while the second is snugged down over the top.
You could look at this as a "best-of both worlds" approach, which keeps water both out of your gloves and out of your jacket, but it seems prone to catching water coming off your sleeves, so we're wary of that feature.
Not that we've heard a single serious complaint from anyone concerning the Taurus GTX. In fact about the only negative we've heard is that the thicker insulation can make it difficult to get wet/damp hands in and out of the glove. Obviously not a deal-breaker.
Our second "gripe," if you want to call it that, is the use of heavy-duty 500D Cordura rather than leather on the chassis of the glove.
Rev'It has been a big proponent of performance fabrics, and they certainly hold their own, but for this amount of money we can't help but wish the premium goatskin leather of the palms continued back around to the wrist and fingers as well.
Pros:
Primaloft insulation makes this the warmest glove on the list
Top of the line Rev'It product = Premium materials
Hard protection on knuckles and palm areas
Full Gore-Tex liner, of course!
Cons:
Double-cuff construction isn't our favorite approach.
Would prefer solid leather over the 500D Cordura sections
Even more expensive than the Klim Badlands Pro


Final Thoughts On Adventure Motorcycle Gloves
Adventuring riders wear several hats. Or helmets. Whatever.
We're explorers, tourists, trailblazers, campers, sight-see-ers, you name it. And we do it all in the open air, exposed to the elements.
We're people who can do it all, riding machines that can do it all, and we need gear that can do it all as well.
Ultimately, choosing adventure motorcycle gloves is all about finding the ones that will take you the farthest down that long road to nowhere, and see you come out safely on the other end as well.
Gloves like these are an investment that you'll recoup time and time again out on the road. I don't know about you, but sweaty hands never came between me and a good time on two wheels. Can't say the same for frozen fingers so... If you can only afford one premium glove, I'd splurge on the winter glove.