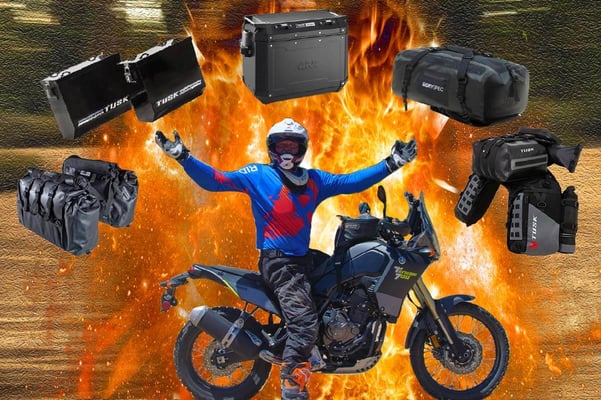 Disclosure: RIDE Adventures is a participant in the Amazon Services LLC Associates Program as well as other affiliate programs, designed to provide a means for us to earn fees by linking to Amazon and affiliated sites at no extra cost to you. Please see our Disclosure for more details.
Adventure riding is more popular than ever, but if we're being honest, the term has always been something of a catch-all. On the one hand, you've got epic weeklong journeys through South America on big 1,000cc machines, while on the other you've got cowboy camping trips ripping around your local singletrack on street-legal dirtbikes.
Regardless of what, where, or how you ride, one thing is for sure: You're gonna need to haul some gear with you
and for that, you're going to need some kind of adventure motorcycle luggage setup.
When most folks hear ADV luggage, visions of Ewan McGregor putting around on a big BMW with fat aluminum cases pop into their heads.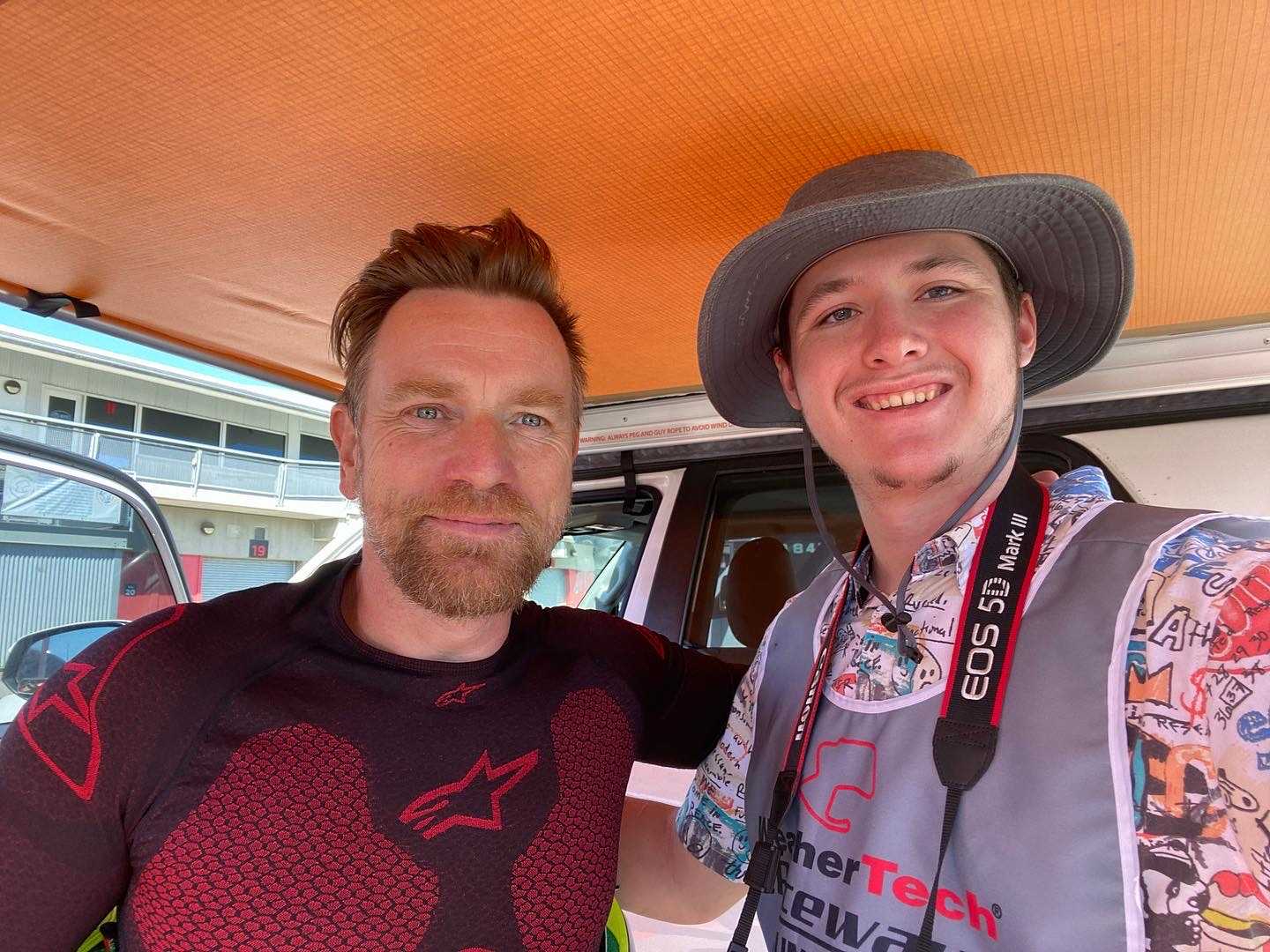 "And yes we've met 😎"
Both adventure bikes and adventure motorcycle luggage have come a long way since the days of Long Way Round though, so here are your cliff notes on the best options out there in 2023.
What To Look For When Choosing Adventure Motorcycle Luggage
Before you go diving into a new set of bags for your bike, there are a few factors you'll want to account for. Deciding on the right luggage depends on several variables including the kind of bike you're on and where you ride it, so consider the following before checking out our favorite picks overall.
Hard Case v. Soft Bags: Which Is Right For You?
The first decision you'll need to make is whether you want traditional hard panniers or a soft, textile-based luggage setup. Both have their pros and cons, so consider the following.
Generally speaking, hard adventure motorcycle luggage is preferred by riders who spend the vast majority of their time exploring on paved surfaces. That's not to say that hard bags have no place in the dirt, but off-road riding leads to off-road crashing, which will scrape, dent, and ding a nice set of hard panniers in short order.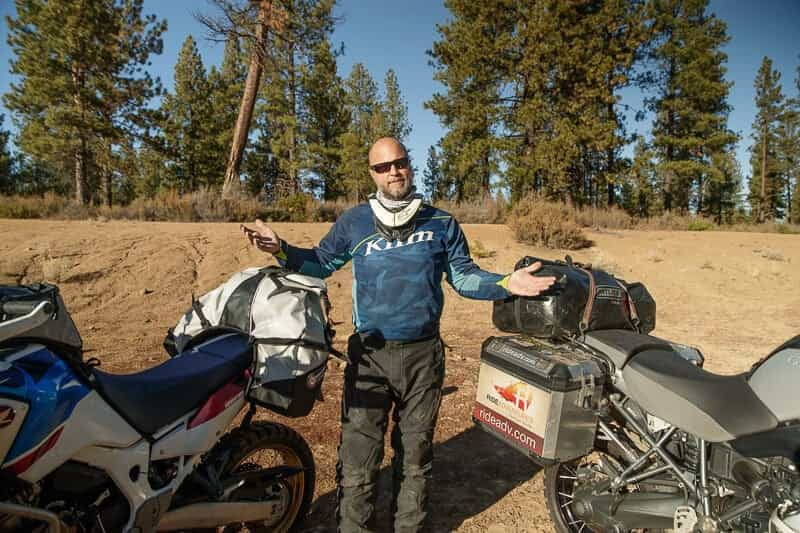 "Eric explaining the differences of riding with a hard case vs soft luggage on our Youtube channel"
Your main advantage with hard bags is that their lids are lockable (and most lock onto your bike as well), they're extra spacious, and they're particularly easy to take on and off the bike as needed.
Convenience is another major selling point of hard luggage as it doesn't require dry-bags for waterproofing and there's no need to fumble with roll tops or miles of nylon webbing.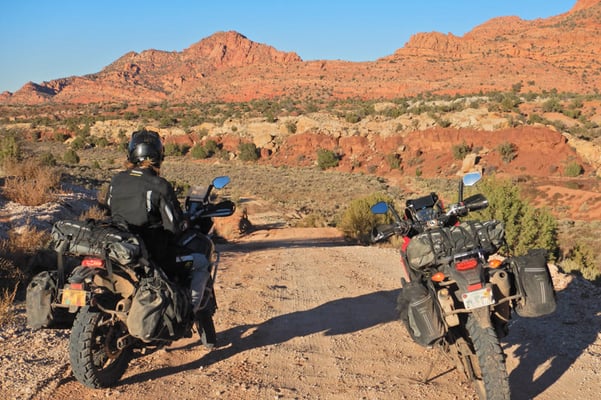 "Tyler our US based guide scouting trails in Utah for our new Utah tour option."
Soft bags, on the other hand, are a popular alternative for good reason. A well-made set of soft adventure motorcycle luggage is just as waterproof and rugged as hard panniers, but also holds up better to the rigors of off-road use.
Soft bags also tend to run a few hundred dollars cheaper than hard panniers, and as an added bonus, many soft bag systems mount without the need for aftermarket luggage racks.
Your main drawback here is that soft bags are tougher to secure against theft (most don't have locks) and take extra effort to strap down/compress each time you add/remove gear.
Racks v. Rackless Adventure Motorcycle Luggage Systems
Another major point of contention among ADV riders is deciding between rack mounted or rackless systems. If you're leaning toward hard luggage, you'll need a rack no matter what, but for our soft-luggage fans, here are a few points to consider.
First, rack-mounted luggage tends to be more secure because it attaches to a rigid frame using multiple points of contact. A good set of soft luggage can be just as secure, but that largely depends on how well it's installed, so there's added room for user error.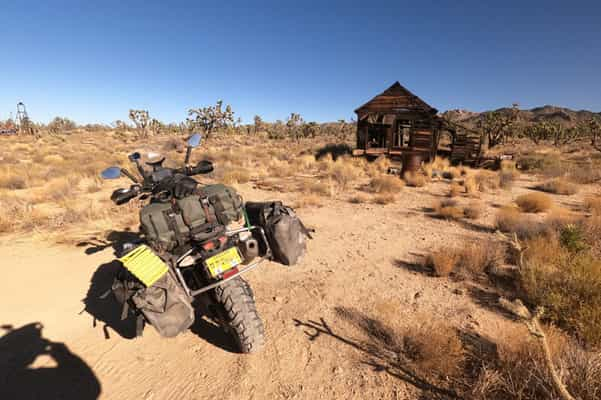 "Garrett's racked set up with Giant Loop's Round The World soft luggage while exploring CABDR"
The second main consideration for most riders is simplicity. Rackless luggage typically features a universal mounting system, meaning it works with pretty much any bike, and can even be moved between bikes with minimal effort as needed.
Rackless soft luggage also has the added benefit of being much lighter. Even the thickest and most rugged textiles are a fraction of the weight of a set of big aluminum bags, plus there's no added weight from the racks themselves.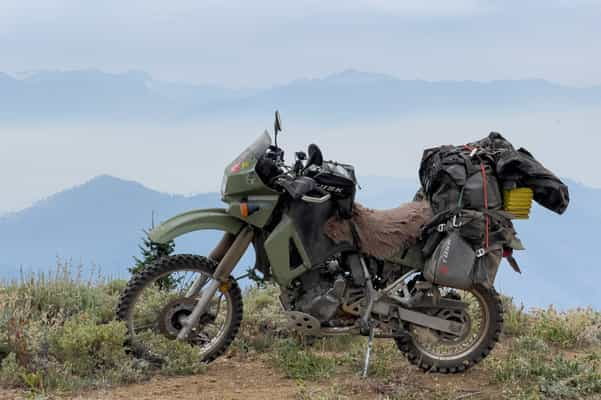 "Garrett's KLR 650 high in the PNW mountains with the rackless Highland X2 adventure motorcycle luggage by Tusk"
This makes rackless soft adventure motorcycle luggage a favorite of fast-and-light ADV riders, especially those riding single-cylinder dual-sport machines with a heavy off-road bias. We've seen our fair share of 1000cc+ ADV machines out there rocking these bags as well though, so don't think they're limited to the WR250s or KTM 690s of the world.
Our Top Picks For Adventure Motorcycle Luggage
Over the years, we've tried our hand at just about every configuration of luggage you can imagine. Soft bags, hard bags, racks, rackless, drybags… You name it.
The good news is there are plenty of options out there that'll get the job done, but depending on your bike and riding style, some will work objectively better than others.
Here are our favorite candidates from each of the major ADV motorcycle luggage configurations. We kept this list short and sweet, but we've tried damn near every luggage setup under the sun over the past ten years, so feel free to shoot us a message if your first choice isn't mentioned anywhere down below.
Best Rack-Mounted ADV Motorcycle Soft Luggage
Giant Loop Round The World Saddlebags
Rack-mounted soft bags are often considered the best of both worlds when it comes to adventure motorcycle luggage. They're just as secure as hard bags, ride nice and low for an ideal center of gravity, and are just as convenient to take on and off the bike as their aluminum-clad cousins.
We're definitely fans ourselves, and the Giant Loop RTW (aka: 'Round The World) is our favorite example to date. We've been running these bags on our CABDR & Utah tour routes this year with great results, and we've gotta say, we're thoroughly impressed.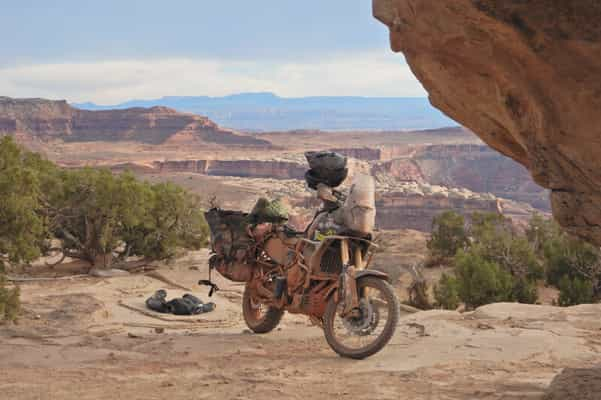 "Tyler's steed equipped with Giant Loops RTW ADV soft luggage while high up in the canyon lands of Utah"
Highlights of the Giant Loop RTW include an impressively low weight of just 13 pounds, true go-anywhere capacity with a whopping 90+ liters of waterproof storage, and even a set of barrel locks on each bag allowing them to be secured to your rack of choice.
These bags aren't perfect of course, and our main complaint is that there's no easy way to secure the tops to protect your gear, but that's a pretty standard complaint with any soft bag setup.
We can't say we love the multitude of webbing straps used to secure and compress these bags either, but once you've got them all cinched down, they're as secure as any hard pannier on the market.
Pros:
Incredibly tough and 100% waterproof
Ample storage for even the longest trips
Adjustable mounting points work with any rack system
Cons:
No way to secure your gear

Lots of straps to keep up with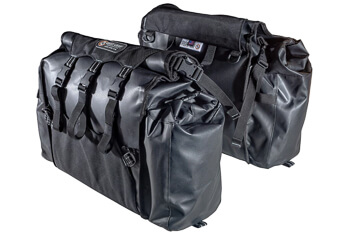 CHECK PRICE:
Giant Loop RTW Saddlebags

Best Rackless Adventure Motorcycle luggage
Tusk Highland X2 Rackless Luggage
If you've been on the adventure/dual sport scene for awhile, chances are you're familiar with Tusk products. Over the last few years, Tusk has become the first name in budget-friendly performance, and their Highland X2 rackless luggage system is hands down the best value for the money on the market.
We say value, but make no mistake here: This is not a "budget quality" set of bags.
We'd put the Highland X2 system up there with the best in the business in terms of overall quality and durability, which is pretty incredible considering it costs about half of some "premium" competitors out there.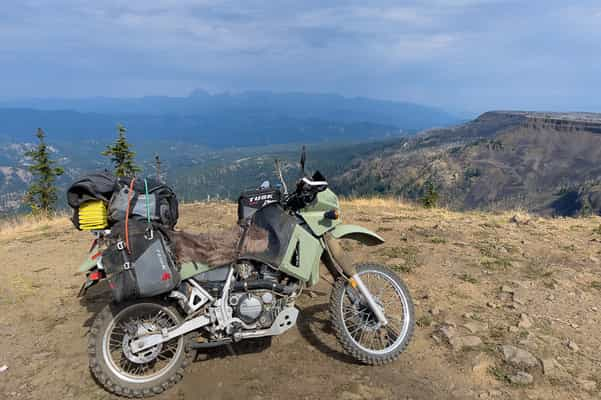 "Garrett testing out the Highland X2 this past year on WABDR and found this luggage to be a great value at it's low price point"
The base system packs a healthy 50L of storage, and Tusk includes dry bag inserts for both bags at no extra cost. If you need more capacity in your setup, The Highland X2 is designed to be modular, so you can add your top bag of choice using the included cargo straps, or add on to the existing side bags using the Highland's MOLLE attachment points.
Bags this good for this cheap are hard to complain about, but there are a few things you'll want to know if you're considering this rackless adventure motorcycle luggage.
First, Tusk offers add-on bags for a great price, but the 50L of capacity included in the base price may be a little low for overnight trips depending on how you pack.
Second, installing this system takes a bit longer than some options we've tested (Giant Loop, Altrider, etc.), but once they're on, they aren't going anywhere.
Pros:
Best value out there for a modular/rackless system
Easy to add capacity as needed
Premium materials and construction at a serious discount
Cons:
50L capacity may not be enough for some riders
Install is a bit trickier than some

CHECK PRICE:
Tusk Highland X2 Rackless
Best Hard Adventure Motorcycle Luggage
Givi Trekker Outback 48L
If you're looking to go the hard bag route, Givi's Trekker Outback bags have been our go-to for hard adventure motorcycle luggage for a hot minute.
Pound for pound these are some of the most premium hard panniers out there, and Eric has put thousands of worry-free miles on his over the last few years.
The most important feature of any hard bag you're taking off-road is toughness. These bags are gonna take a few licks, and we can personally attest that the Outback's die-cast aluminum construction and tough plastic bumpers will hold their own against the occasional crash or trailside boulder.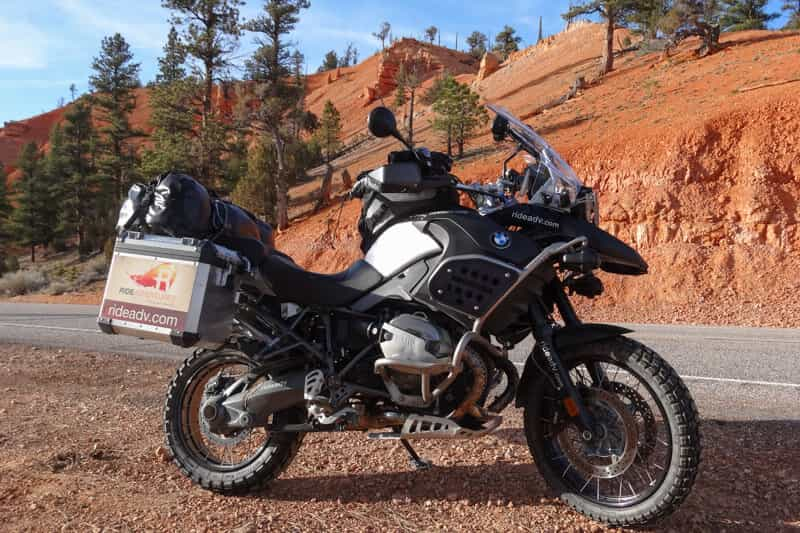 "Eric's 1200 GSA equipped with Givi's Outback Trekker 48l while exploring the Grand Canyon area"
The same could be said for a few different models out there though, so its premium features like Givi's "MonoKey" design (one key unlocks all your bags and your rack locks) and the two-way removable lids that make these top-of-the-line bags worth the extra cash.
As you might suspect, your main drawback here is that these bags cost a pretty penny, especially when you factor in the need for Givi's Outback-specific rack (their latest PL/CAM series system), which will set you back another $350 or so.
There's no denying these are one of the most bulletproof and smoothest operating sets of hard ADV luggage on the market though, so if you want the best, the Outbacks are the ticket.
Pros:
Exceptional build quality
Single key for bags and rack
Tons of capacity
Cons:
Expensive
Requires specific racks
Heavier than soft options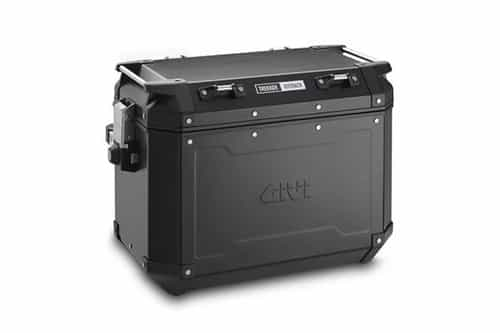 CHECK PRICE:
Givi Trekker Outback 48L
REVZILLA | AMAZON | TWISTED THROTTLE
Best Hard Panniers On A Budget
Tusk Aluminum Panniers
If you boil any good set of hard adventure motorcycle luggage down to its bare essentials, you'll find three main things that make them worth buying: They can take a beating, they're waterproof, and they're lockable.
In order to explain our favorite budget option here, let's use a medical analogy: If the Givi Outbacks above were a scalpel, the Tusk Panniers you see here would be a chainsaw. Both bags will make the cut, but one will be much cleaner.
Technically, these bags do all the same things for a third of the price. They're made from solid welded aluminum, they're lockable (both the lids and the bags themselves), they're 100% waterproof, and they even include tie down points for strapping down extra luggage.
Yes, they look like they're made from old filing cabinets and yes, you could call them glorified ammo boxes. Still, they're completely lockable, completely waterproof, and virtually indestructible.
They also work with pretty much any standard "square" luggage rack, so there's no need to buy the Tusk brand rack if you're already got one on your rig.
Bottom line: If you want hard adventure motorcycle luggage and don't care about the "bling" factor, there's no better game in town.
Pros:
Plenty of space with 37 liters each,
Virtually indestructible
Dirt cheap
Cons:
File cabinet styling
Crude locking mechanism
Handles not included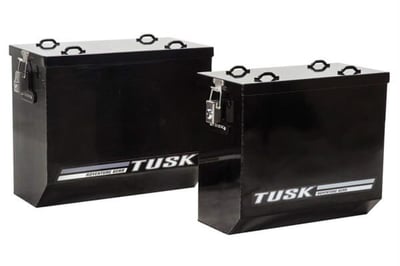 CHECK PRICE:
Tusk Aluminum Panniers
Best ADV Luggage Alternative
DrySpec D38 Rigid Drybag
Many of us can't help but look back fondly at our first years of two-wheeled travel. Back then our "adventure motorcycle luggage" of choice was pretty much whatever duffel bag we owned strapped to the back of our bikes with bungee cords, and you know what? It got the job done.
We like to think of the DrySpec D38 as the spiritual successor to that "by any means" ethos many of us still value. Put simply, the D38 is a bulletproof and waterproof 38L duffel bag that's designed specifically for mounting on a motorcycle.
What sets the DrySpec apart from your typical expedition-quality duffel is that it's built with a lightweight rigid insert, which allows it to hold it's shape regardless of much or how little you cram into it.
This prevents the bag from coming loose if your gear shifts around, and also prevents your gear from being damaged by your compression straps.
DrySpec also includes their slip-lock mounting straps with the bags, which are both secure and universal, attaching to any four solid points on your bike. Just throw one or both bags on the tail of your bike, hook them to your rack, passenger pegs, subframe, whatever, and tighten them down. No bungees required.
The D38's main appeal is its simplicity, but for many this will also be its main drawback. Whether you mount it length-wise or horizontally, at the end of the day you've still got a big bulky duffel bag sitting on your tail section. We've run this bag offroad enough to know that it stays put in the rough stuff and can take a serious beating, but we will note that we prefer our weight lower on the bike whenever possible on technical terrain.
Pros:
Dirt cheap
Water/bulletproof
Brilliantly simple
Cons:
Bulky
Limited capacity
Weight sits higher than most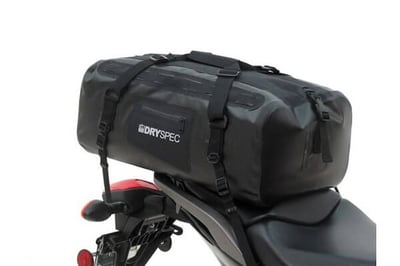 CHECK PRICE:
DrySpec D38 Rigid Drybag
Closing Thoughts On Adventure Motorcycle Luggage…
Well there you have it… Five radically different takes on adventure motorcycle luggage that all serve the same purpose: Keeping your stuff safe, secure, and dry while you ride.
We've found all five to be viable and dependable solutions on our travels, so ultimately it all comes down to what you ride and how you ride it.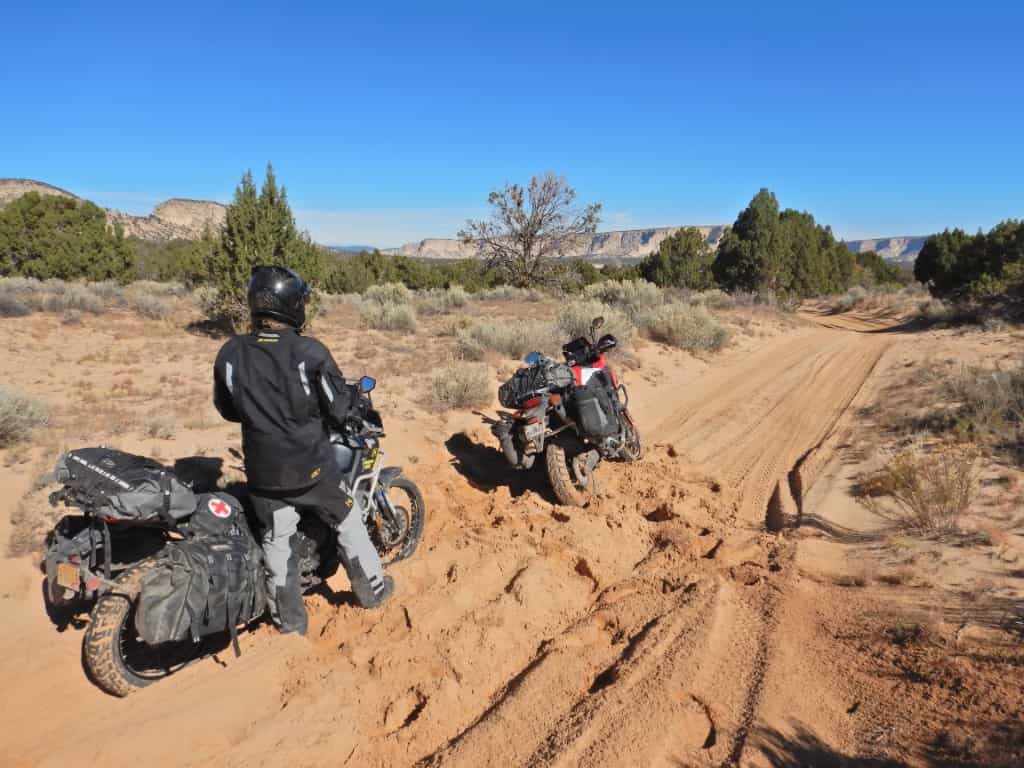 "Tyler & Kyle battling dirt in the Utah backcountry with racked soft luggage"
We're all familiar with the old mantra "you get what you pay for" and chances are most of you have also heard someone say "more money doesn't always mean more quality."
At the end of the day, we believe a $20 dry bag that makes a trip around the world is a smarter buy than a $1,000 set of hard bags that live in your garage 360+ days a year.
The best adventure motorcycle luggage is the luggage that you use, and if that means duffel bags and bungee cords, so be it.
→Read More: 5 Soft Luggage Bag Set Ups For Your Next Trip and 4 Best Adventure Motorcycle 50/50 Tires in 2023.