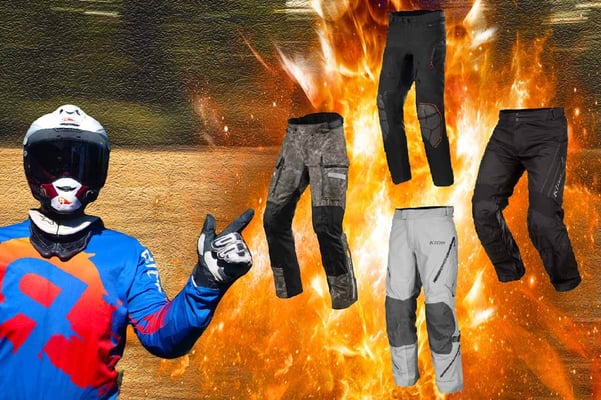 Disclosure: RIDE Adventures is a participant in the Amazon Services LLC Associates Program as well as other affiliate programs, designed to provide a means for us to earn fees by linking to Amazon and affiliated sites at no extra cost to you. Please see our Disclosure for more details.
Chances are you've got a few things worth protecting between your waist and your ankles: Save your skin and whatever else with a proper pair of adventure motorcycle pants.
Adventure motorcycle pants provide two important functions: Their first and most widely acknowledged purpose is protecting your lower body, both from crash-related injuries and from inclement weather. The second (and arguably more pressing) function is protecting the undeserving public from the deranging sight of your pasty thighs.
Seriously: Please don't leave home without them. Think of the children.
And while pretty much any pair of pants on the planet can achieve the latter aim by the simple nature of being pants, it takes a special piece of gear to deliver the protection you need without sacrificing on the comfort you want.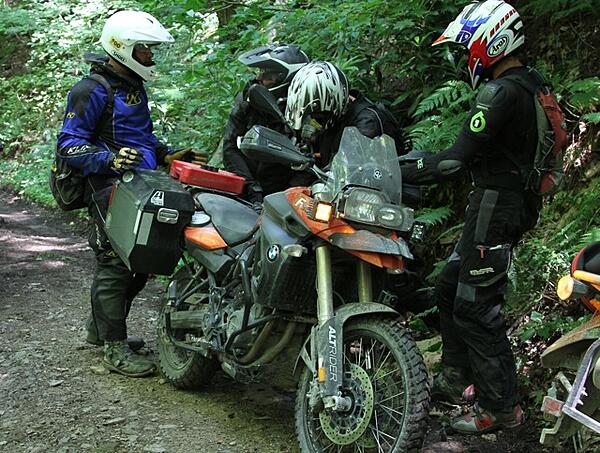 "Our founder, Eric, demonstrating how communication goes much more smoothly when both parties are wearing pants."
This, our friends, is where proper adventure motorcycle pants come into the picture. Protective on the road, comfortable in the dirt, and ready for whatever the weather throws your way. Here's how to find your next pair.
What to Look For in Adventure Motorcycle Pants
We've been at this whole "adventure touring" thing for well over a decade at this point, and wouldn't you know it: Even our most free-spirited guides have been known to wear pants for at least 75% of the miles they ride.
That means that our team has collectively covered somewhere in the neighborhood of 1,000,000+ miles in adventure motorcycle pants of every description, and over the years we've developed a few opinions on what makes any good pair worth buying.
Crash Protection
Because true adventure touring involves riding both paved roads and dirt sections, a good pair of adventure motorcycle pants has one of the toughest jobs in the industry: Be burly enough to protect from crashes at highway speeds, but versatile and breathable enough to stay comfortable during athletic off-road sections.
Naturally, this means any pair of pants you choose should be made from highly abrasion-resistant materials, but when it comes to additional armor/padding, there are actually a few different schools of thought to consider.
We've found two approaches to crash protection that work on our adventure tours: Integrated crash protection and standalone crash protection. We generally leave it up to riders to choose which works best for them, but here's our take on the benefits of each.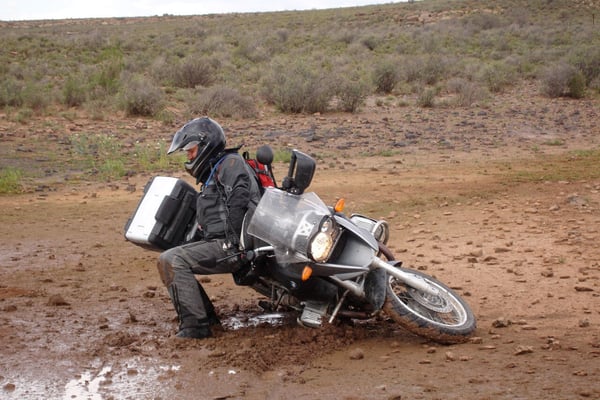 "While most crashing happens in the dirt, ADV pants should be street-worthy as well."
Integrated crash protection refers to wearing adventure motorcycle pants that already have armor installed, typically in the knees and hips. These systems are great for convenience and simplicity, as you just throw them on and go.
The main drawback of integrated protection is that it "moves with the pants" meaning when you come off the bike and go for a slide, friction can pull the armor away from where you need it. Integrated protection also isn't guaranteed to comfortably suit your specific anatomy, although manufacturers are getting better all the time about making armor pockets adjustable.
Standalone protection, on the other hand, means removing any padding/armor from your adventure motorcycle pants and replacing it with an armored "base layer" system instead. We generally consider this approach to be superior from a safety standpoint, as it allows your pants to move independently of your protection in the event of a come-off.
Weather Protection
Braving the elements is a huge part of what makes adventure touring feel "adventurous" to begin with, but this also means you'll need to find a pair of adventure motorcycle pants that work with the climate you're riding in.
For most riders, the primary weather concern is staying dry on rainy days. This means you'll be looking for a pair of pants with a waterproof/breathable layer, and once again, there are two means to that end.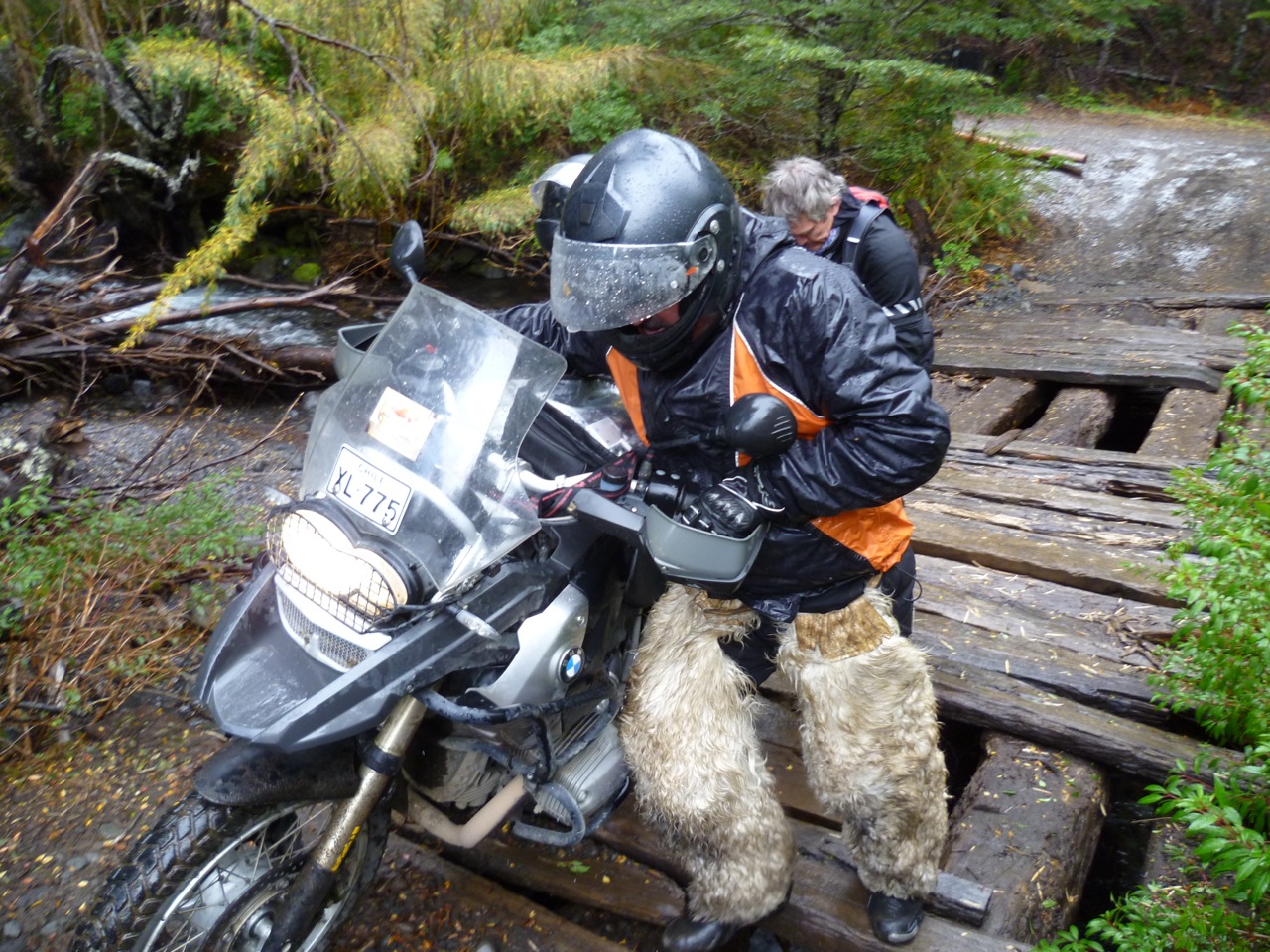 "Some folks prefer GoreTex, others swear by alpaca."
The first is a laminated waterproof layer (such as GoreTex) that's permanently integrated into the outer layer of the pants. This approach is our personal favorite as it minimizes the number of layers (and therefore bulk) that you need to carry/wear on your ride.
Waterproof laminates are typically the more expensive option though, especially if you're considering the gold-standard GoreTex treatment (which we highly recommend if you can afford it). With that being said, even the best waterproof fabric won't breathe as well as a non-waterproof mesh or textile, which brings us to the alternative...
Your second approach is a multi-layered system, which incorporates a separate removable waterproof layer under the "shell" of your adventure motorcycle pants. This is commonly seen in 3-layered 4-season options, which use an abrasion-resistant outer layer, a second layer for waterproofing, and a third "thermal" layer for added warmth and wind resistance in cold weather.
These multi-layered systems are generally the most affordable, and arguably the more versatile as you can add or take away layers depending on the weather. The main drawback here is packability and convenience, as removing either of the inner layers requires you to stop, take off your boots, and strip down to your Speedo on the side of the road.
A Word On Versatility
Versatility is a hallmark of our favorite adventure motorcycle pants, but keep in mind that when you add versatility, you almost always lose specialization. Some pants walk this line better than others, which is why true "do it all" options like the Klim Badlands Pro pants are able to command a hefty $700 price tag.
With that being said, if we were riding for a week in a hot desert with zero chance of rainfall (aka, our Baja On Down adventure) and had to pick between the uber-premium Badlands Pro and a hot-weather specific option with zero weather protection like the Klim Dakar, we'd take the Dakars in a heartbeat.
No, they aren't nearly as robust and no, they aren't particularly good for any other kind of riding, but their lack of versatility makes them a much stronger performer in these conditions than an all rounder.
Our Top Picks for Adventure Motorcycle Pants
Adventure riding remains one of the fastest growing in segments in all of motorcycledom, and that's good news for us riders. Gear manufacturers are locked in an intense battle for your hard-earned dollars, which means 2023's lineup of adventure motorcycle pants is the most advanced and attractive yet.
Here are our top picks going into the 2023 season.
1. Alpinestars AMT-10R Drystar
The AMT-10R is Alpinestars' latest and greatest entry into the adventure motorcycle pants segment, and represents a huge leap in technology from the Italian manufacturer.
Waterproofing comes courtesy of AStar's brand new "DrystarXF" laminate, a 2L waterproof-breathable membrane that outperforms anything else we've seen from the brand to date in terms of breathability.
Protection comes courtesy of Alpinestars' Nucleon Flex Pro knee armor, Bio-Flex armor in the hips, and a mixture of high tech fabrics including Kevlar, full grain leather, and name-brand Superfabric panels in the knees.
Protection is definitely a highlight here, but our favorite part about the new AMT-10R pants is actually comfort. Alpinestars hit the nail on the head here with a mixture of traditional accordion stretch panels and their stretchy "Rideknit" fabric.
Ventilation is another major perk, and the new modular direct vent system allows you to roll back and tuck large panels on each leg into the knee for outstanding airflow on demand.
Pros:
Impressive proprietary waterproofing
Top shelf materials and construction throughout
Unbelievably stretchy and comfortable without sacrificing safety
Cons:
Expensive for a non-GoreTex option

New product = unknown long term durability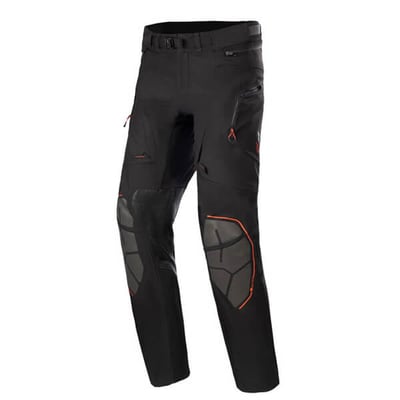 CHECK PRICE:
Alpinestars AMT 10-R Drystar Pant

2. Klim Badlands Pro Pant
Here at Ride Adventures, the Klim Badlands Pro is widely considered the gold standard in adventure motorcycle pants. Collectively our team has spent more time in these trousers than anything else, and after putting hundreds of thousands of miles on the Badlands Pro pants, we can't recommend them highly enough.
Safety-wise, the Badlands want for nothing: Ceramic-infused Superfabric handles abrasion resistance in the most vulnerable areas, while Aero Pro D3O level 2 armor protects the hips and knees.
We've crash tested these pants more times than we care to admit, and when it comes to safety, they're the real deal.
In terms of weather protection, it's the same story: Klim specs the Badlands Pro with the best GoreTex Pro 3-layer laminate available, making these pants an impenetrable technical shell against the elements.
The Badlands' heavy-duty construction makes them run a bit hot for summertime off-road work, but their six adjustable vents give ol' grandfather swamp-ass a proper run for his money.
Pros:
Uncompromising GoreTex Pro 3L waterproofing
Superfabric panels + level 2 armor
Built to outlive your children's children
Cons:
Expensive

Bit warm for hot weather off-roading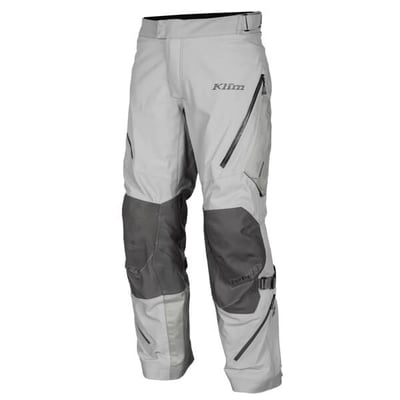 CHECK PRICE:
Klim Badlands Pro Pant

3. Dainese Springbok 3L Pant
While multi-layered pants are usually a compromise in the name of cost-savings, Dainese's new Springbok 3L pants actually lean into the modular design for its performance benefits.
Each of the Springbok's three layers is as premium as the one before it, starting with the high tech outer shell made from a smart mix of abrasion-resistant Duratex, highly elastic (and water resistant) Mugello fabric, and full-grain sueded cowhide. Two large openings on the thighs deliver direct ventilation to the rider, and are designed to be easily operated with a single gloved hand.
Beneath the face fabric, you'll find Dianese's new proprietary Absoluteshell layer, a removable waterproof-breathable membrane with impressive amounts of stretch for added comfort during active riding.
The third thermal liner is especially impressive, and is made from Pertex Quantum fabric, which is a soft, lightweight, and durable material typically reserved for ultralight backpacking gear.
Pros:
Premium approach to three-layer system
All zips/vents adjustable with single gloved hand
True four-season versatility
Cons:
Separate layers can be inconvenient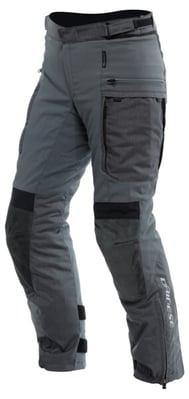 CHECK PRICE:
Dainese Springbok 3L Pant
4. Rev'It Sand 4 H2O Pants
If you read our recent rundown of our favorite adventure motorcycle jackets, you'll know that we're big fans of Rev'It's budget-friendly Sand 4 H2O jacket. Surprise, surprise, we dig the Sand 4 H2O pants for the very same reasons.
We consider the Sand 4 to be the quintessential cost-effective three layer system. You've got your abrasion resistant outer, your waterproof liner, and an inner thermal layer. All pretty standard stuff.
Where the Sand 4 H2O pants stick out, however, is their overall build quality for the money. These pants are exceptionally tough and well put together with an utterly bulletproof 1000D polyester chassis, level 2 Seeflex armor at the knees, and level 1 Seeflex armor at the hips.
Rev'It's proprietary Hydratex waterproof liner isn't the most breathable option out there, but the fact that the Sand 4 pants deliver true four-season capability at such an attractive price point more than earns them a spot on our list.
Pros:
Affordable
True 4-season capability
Durable 1000D polyester construction
Cons:
Proprietary waterproofing isn't the most breathable
Bare bones thermal liner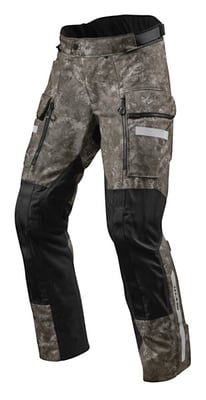 CHECK PRICE:
Rev'It Sand 4 H2O Pants
5. Alpinestars Andes v3 Drystar
If outright bang for your buck is what you're after, Alpinestars Andes V3 adventure motorcycle pants are tough to beat. Waterproof, protective, and versatile: These pants cover all the essentials, and do it for well under $300.
Our favorite part about the Andes V3 is that unlike most budget-focused options, you don't have to mess with a removable waterproof liner here: The inclusion of Alpinestars' Drystar technology means that the Andes V3 pants are a standalone waterproof shell, so you've only got two layers to worry about including the full-length (removable) thermal liner.
Aside from that, you're also getting a CE class A rated garment, which includes level 1 armor in the knees and hips and reinforced panels in the knees and seat.
The Andes V3 pants run a bit hot in the summer and the Drystar membrane falls a bit short performance-wise compared to GoreTex or even AStar's own DrystarXF technology, but you'll be hard-pressed to find a more versatile performer out there for the money.
Pros:
Affordable
Standalone waterproof shell
Full-length thermal liner adds versatility
Cons:
Not GoreTex
Runs hot in the summer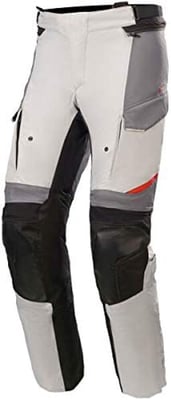 CHECK PRICE:
Alpinestars Andes V3 Drystar Pants

6. Klim Carlsbad Pants
If you're digging the design and quality of the Klim Badlands Pro pants above but aren't looking to make such a steep investment, we recommend checking out the Klim Carlsbad instead.
You'll miss out on some of the more drool-worthy bits of the Badlands like the ceramic infused Superfabric and premium GoreTex Pro liner, but there's still plenty left to salivate over. For instance, you're still getting a two-layer GoreTex treatment, the same 500D Karbonite fabric, and the same level 2 D3O armor to boot.
Ventilation is still well above average as well, and although the Carlsbad adventure motorcycle pants are two vents shy of their Badlands cousin, a pair of dual intake and exhaust vents on either thigh ain't too shabby either.
We also appreciate that Klim retained the full-grain leather panels on the insides of the knees, which deliver great feel off-road while also keeping you protected from excess heat and abrasion.
Pros:
Bombproof materials and protection
GoreTex waterproofing
Optimized for lighter weight and less bulk
Cons:
Still costly
Not quite as beefy as the Badlands Pro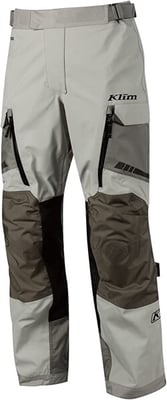 CHECK PRICE:
Klim Carlsbad Pants

7. Klim Dakar Pants
We don't care where you ride or at what time of year: Off-road riding is always sweaty work. Ventilation is key for staying comfortable in the dirt, and the Klim Dakar is our favorite off-road specialist adventure motorcycle pant for that very reason.
It's best to think of Klim's Dakar line as off-road gear with just the right amount of reinforcement to survive an "off" on pavement. The Dakar pants achieve this delicate balance using tough 840D Cordura panels in the knees and seat, while sticking to more breathable (but still highly durable) materials everywhere else.
The same can be said of the Dakar's creature comforts. With large (and we mean LARGE) vents on either thigh and dual cargo pockets, the Dakar pants are basically the dual-sport pant you've always dreamed of if you've been riding in enduro/motocross style gear up to this point.
They aren't waterproof and they don't include any armor pockets, but both are welcome tradeoffs for this level of dirt-worthiness.
Pros:
Off-road focused
Road-worthy protection
Fantastic ventilation
Cons:
Not waterproof
No integrated armor option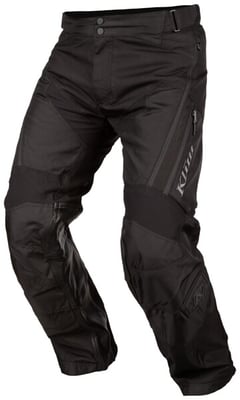 CHECK PRICE:
Klim Dakar Pants

Closing Thoughts on Adventure Motorcycle Pants…
Adventure riders are a varied bunch, but most of us need the same core things out of our gear: Protection from harm, protection from the elements, and enough versatility to adapt to the different conditions we find ourselves riding in.
At risk of stating the obvious here, there's no such thing as one pair of pants that performs equally well traversing a hot desert as they do crossing a snowy mountain pass.
To that end, we recommend prioritizing safety and waterproofing first, then spending as much (or as little) as you care to on things like comfort, convenience, and style.
→Read More: 5 Best Motorcycle Luggage Options for the Long Haul and Best Motorcycle Helmet Bags.