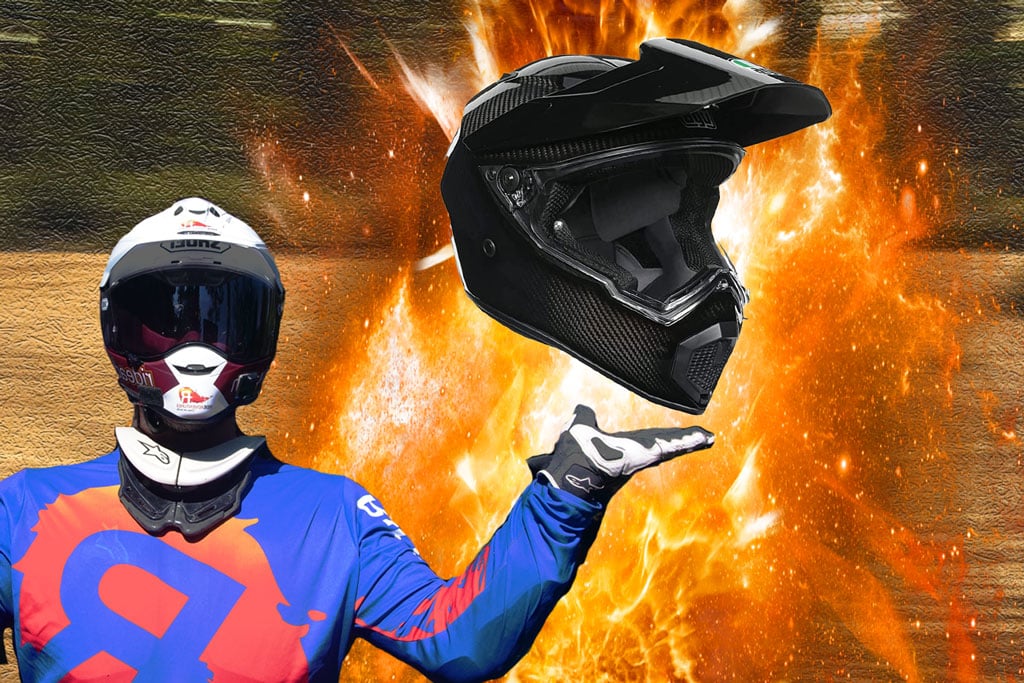 Disclosure: RIDE Adventures is a participant in the Amazon Services LLC Associates Program as well as other affiliate programs, designed to provide a means for us to earn fees by linking to Amazon and affiliated sites at no extra cost to you. Please see our Disclosure for more details.
All-terrain performance, Italian style, and 100% carbon fiber construction. The AGX AX9 Carbon has the makings of a top-shelf ADV helmet, but does it deliver?
When we find a helmet that works, we stick with it. Adventure riding is a demanding discipline, and we simply can't afford to have gear failing in the field in the middle of a 10-day, 1,000+ mile trip like our Baja On Down excursion.
Exacting demands like this are why we often find ourselves falling back on the helmets we know and trust, which is why our team has probably put more miles than anyone else on the planet on lids like the Klim Krios Pro and Shoei Hornet X2.
With that being said, adventure touring is also the ultimate make-or-break testing ground for new products, and we couldn't pass up the opportunity to put AGV's all-carbon competitor, the AX9 Carbon, through its paces on a recent back-to-back tour of Spain and Patagonia.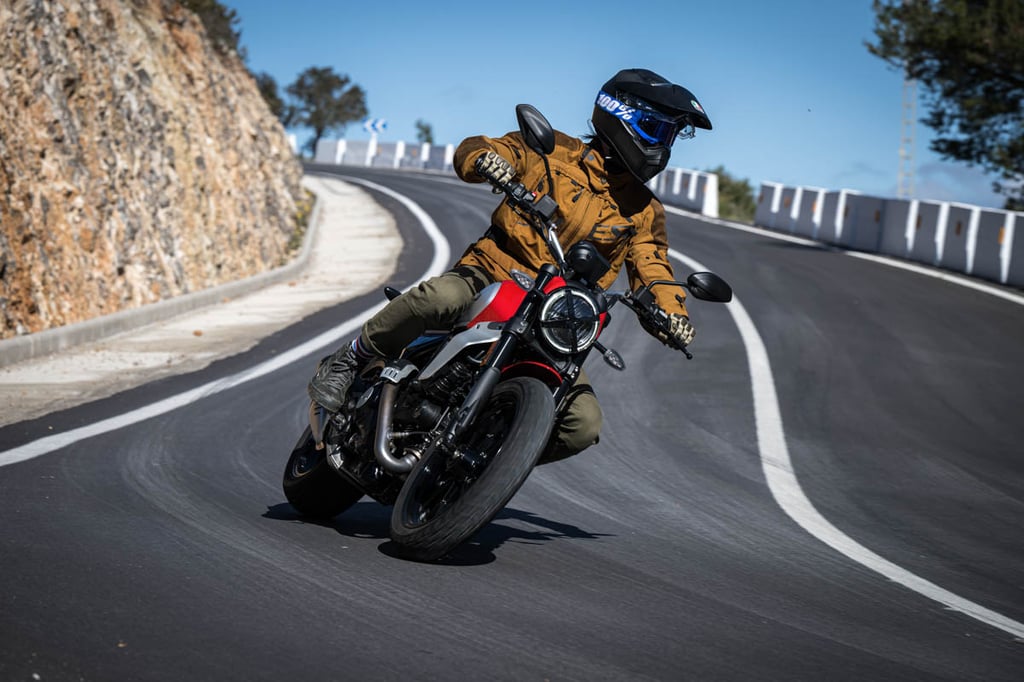 "Testing the new AGV AX9 Carbon on the road - Photo provided by Ducati"
Is this Italian import good enough to have us rethinking our brand loyalty? Here's our take on AGV's new flagship brain bucket.
What Makes Adventure Helmets Unique?
While we've already covered the topic of adventure helmets pretty extensively (you can find more info than you could ever want or need in our recent adventure motorcycle helmets roundup), let's take a moment to touch on some ADV helmet basics before we dive into details on the AGV AX9 Carbon.
First off, there are a few main criteria we look for when classifying any lid as adventure approved: As is the case with any helmet worth owning, the first requirement is a proven safety certification (DOT, ECE, Snell, etc.).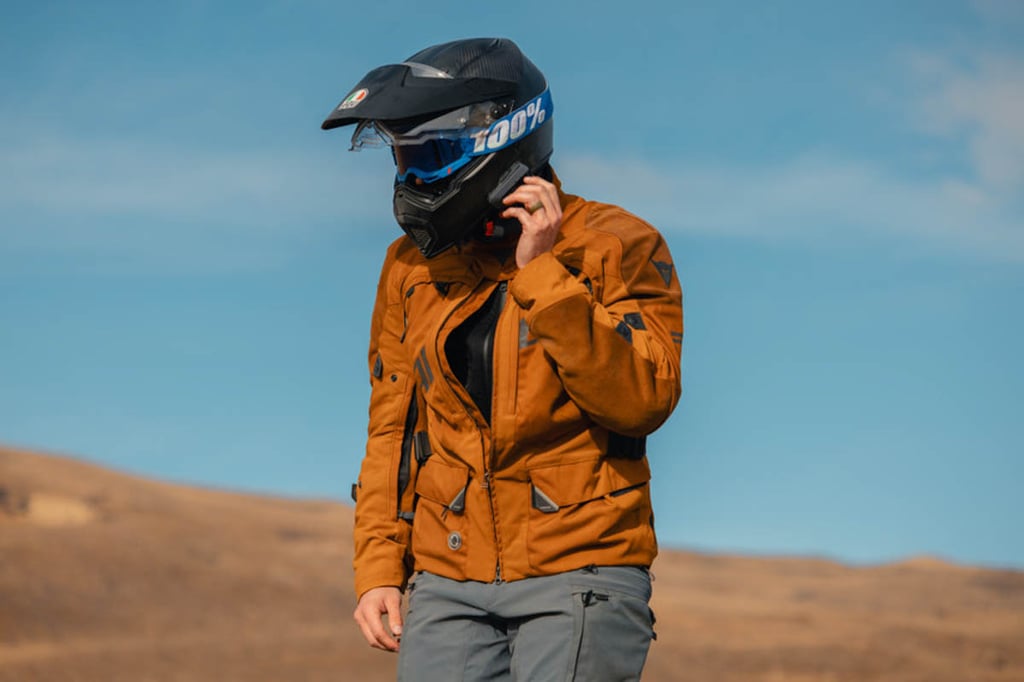 "I'm definitely enjoying how light and Comfortable this helmet is - Photo provided by Dainese"
If your helmet doesn't carry one or more of these certifications, it's not fit for adventure use.
Aside from that, we believe an adventure lid should combine the best of both worlds that comprise ADV riding itself: Long distance touring and off-road riding.
On the touring side of the equation, an adventure helmet should be light and comfortable enough to wear all day, and both quiet and aerodynamic enough to be used on high-speed freeways without undue noise or wind buffeting.
As far as off-roading goes, airflow is the name of the game. Off-road work gets hot and sweaty quickly, even in the cold/wet weather we often encounter in places like Chile and Argentina. A large, free-flowing chin vent is crucial here, but we'll also take as many adjustable vents and exhaust ports as possible.
Lastly, we always prefer a proper adventure helmet to be compatible with a good pair of goggles.
Some do this better than others, but at minimum, we like to be able to fit a small/medium size pair of off-road goggles into the eyeport, and ideally, we should also be able to open/close the visor with the goggles in place.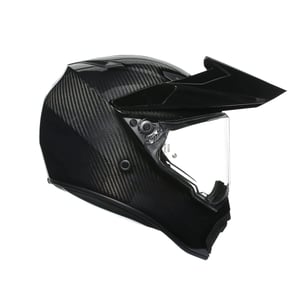 CHECK CURRENT PRICE:
AGV AX9 Carbon Review: On Road & Off
We had the pleasure of testing the AGV AX9 Carbon over the last two months in a wide variety of conditions.
Initial road testing was done here in the US, followed by a few hundred miles of touring duty around Valencia, Spain, before finally putting it to the real test with a six-day off-road tour of Patagonia in April.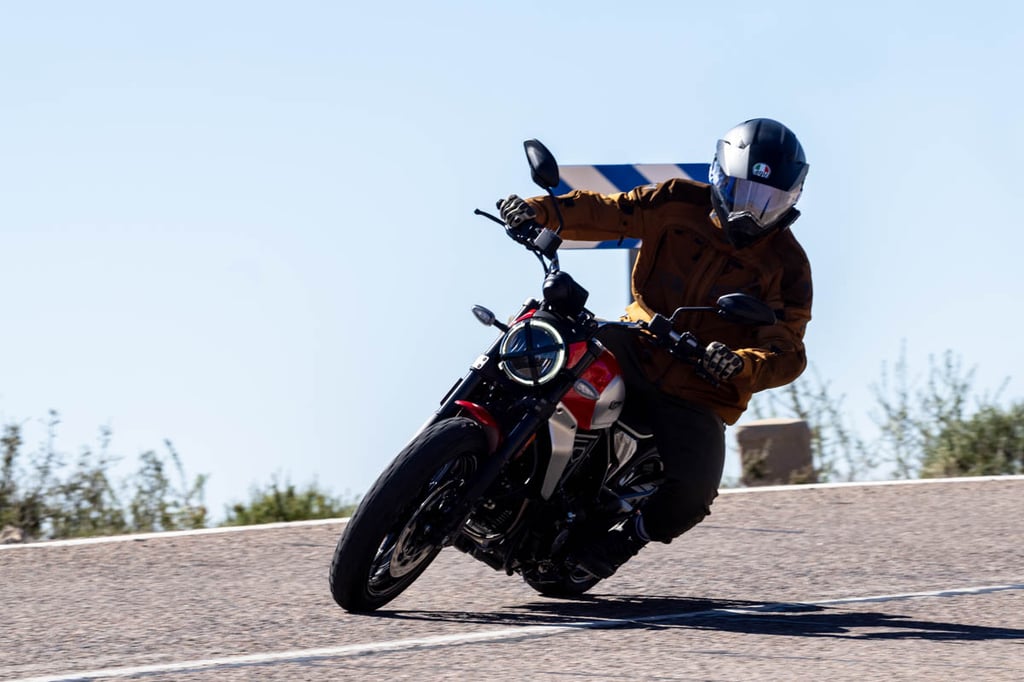 "Our first round of testing with the AGV AX9 on the road in the US - Photo provided by Ducati"
Long story short we're officially big fans of this helmet, but let's dive into some of the details that make it special.
What You're Getting For Your Money
The original AGX AX9 is a pretty well-proven helmet at this point, and while there are plenty of good arguments for picking one up, there's only one reason anyone would consider ponying up an extra $300 for the carbon version: Weight.
The AGV AX9 Carbon officially tipped our scales at just 3.3 lbs in a size ML, which is nearly a half pound lighter than the traditional AX9.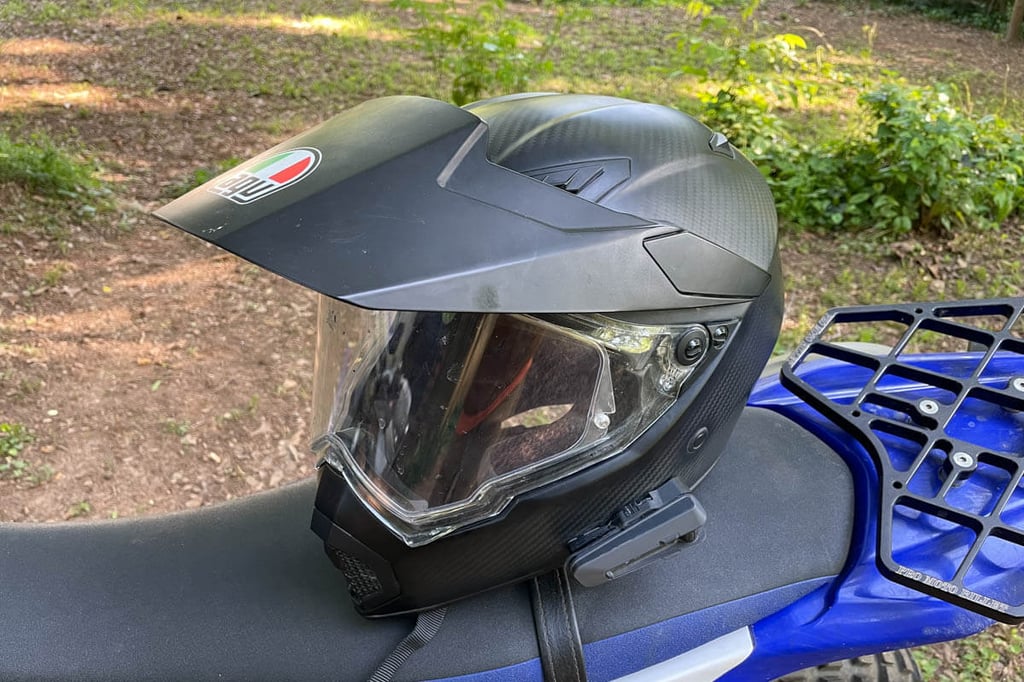 "The AGV AX9 Carbon coming in at 3.3 lbs dry making it one of the lightest ADV helmets on the market"
This puts the AX9 Carbon in the running for the lightest adventure helmet on the market, going toe to toe with other featherweight favorites like the Klim Krios Pro.
Everything else about the helmet is identical to the original multi-fiber (carbon, aramid, and fiberglass) AX9 model with one important distinction: A Pinlock lens insert is included in the box to complement the Pinlock-ready visor.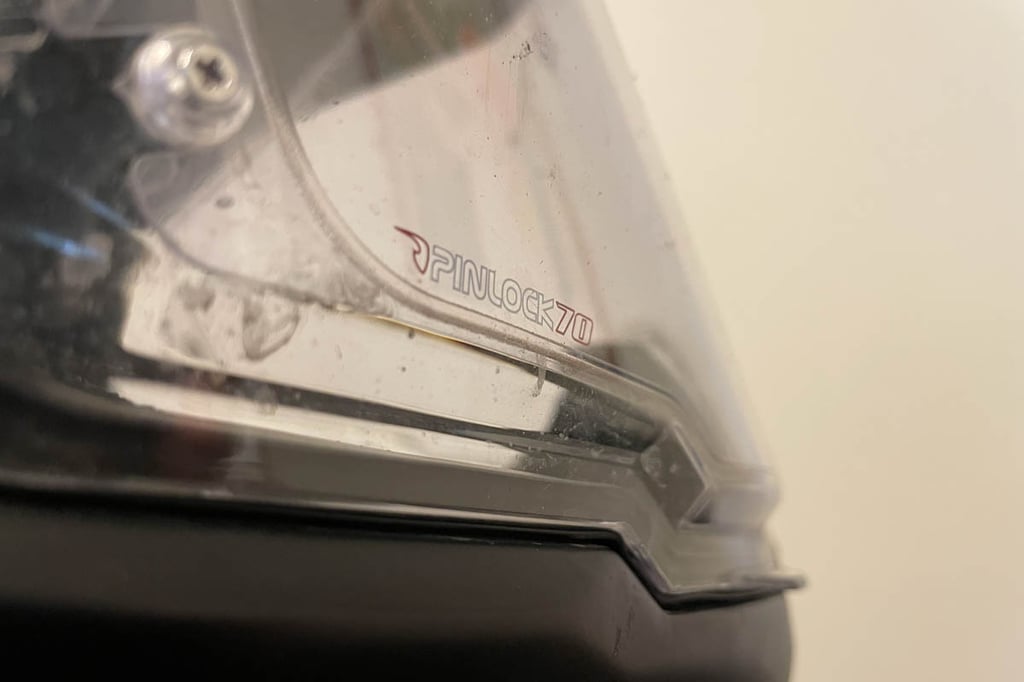 "We here at RIDE Adventures love the Pinlock. In case you haven't noticed 😂"
So how does the AGV AX9 Carbon perform in the real world? Here's our take after spending some quality time with this thoroughbred Italian adventure lid.
On Road Performance
As we mentioned above, the majority of our on road testing was conducted between local commuting and canyon carving here in the States, followed by a road-touring excursion around Valencia, Spain.
AGV put a great deal of time and effort into refining the AX9's street manners compared to the previous AX8 DS, which was good enough for touring duty, but also heavily off-road biased.
The major changes of note here are vastly improved ventilation through a two-way adjustable chin vent and a more aerodynamic shape and sun-peak for improved highspeed manners and less wind buffeting.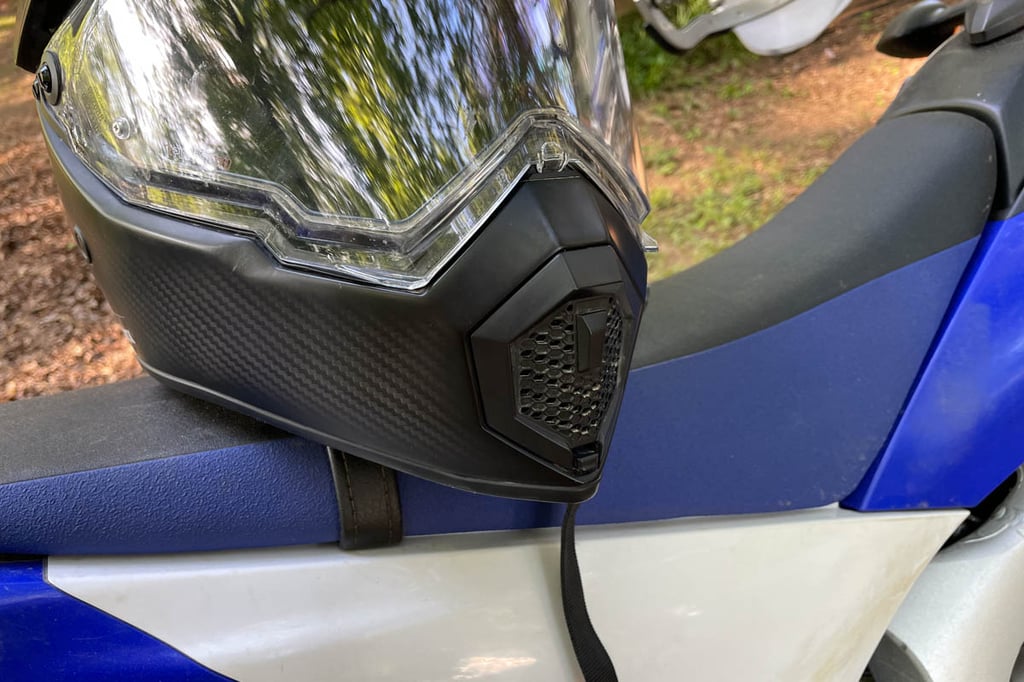 "Great airflow through the AGV AX9's front mouth vent"
Out on the road, we found the AX9 Carbon to be exceptionally well ventilated and reasonably quiet at speed.
Our ML-sized tester gave a nice snug fit without feeling overly tight, and while it was noticeably louder than comparable road-specific models like AGV's own K6, the removable chin spoiler does a good job of limiting the overall road noise.
At highway speeds the aerodynamic improvements are noticeable, and the sun peak feels particularly streamlined when left at the lowest of its adjustable settings.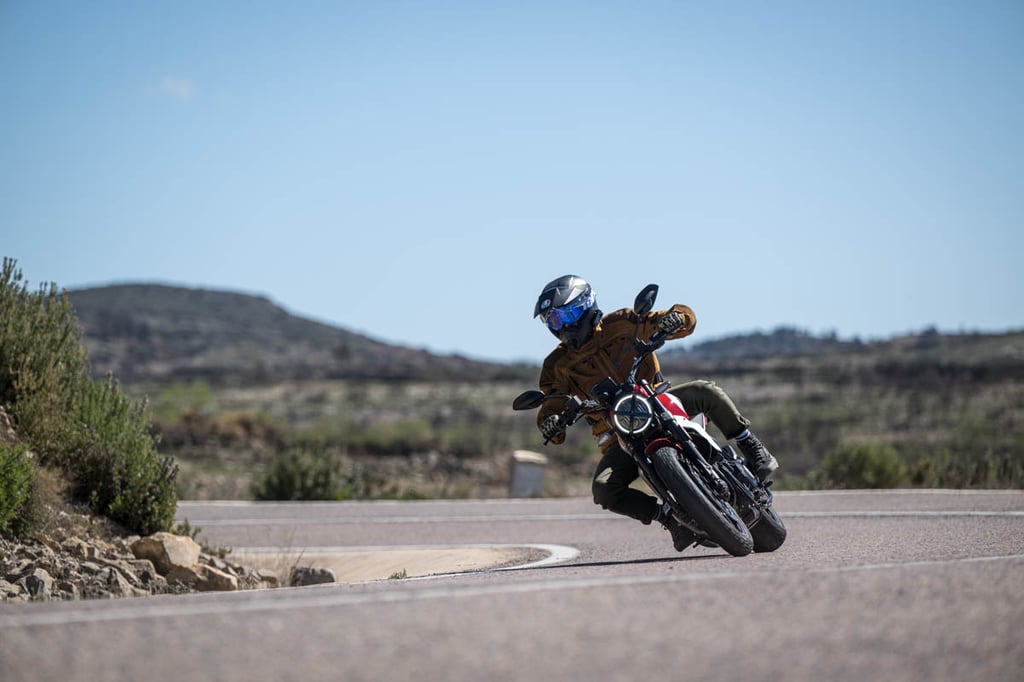 "Taking the AGV AX9 around some twisties - Photo provided by Ducati"
The low weight of the all-carbon shell also does a commendable job of limiting fatigue at the neck and shoulders on all-day adventures, which (in our humble opinion), is what makes any carbon upgrade worth buying in the first place.
As far as drawbacks go, our main complaint with the AGV AX9 Carbon is that the sun peak is roughly an inch longer than some of our other favorite ADV lids like the Klim Krios Pro and Bell MX9 Adventure.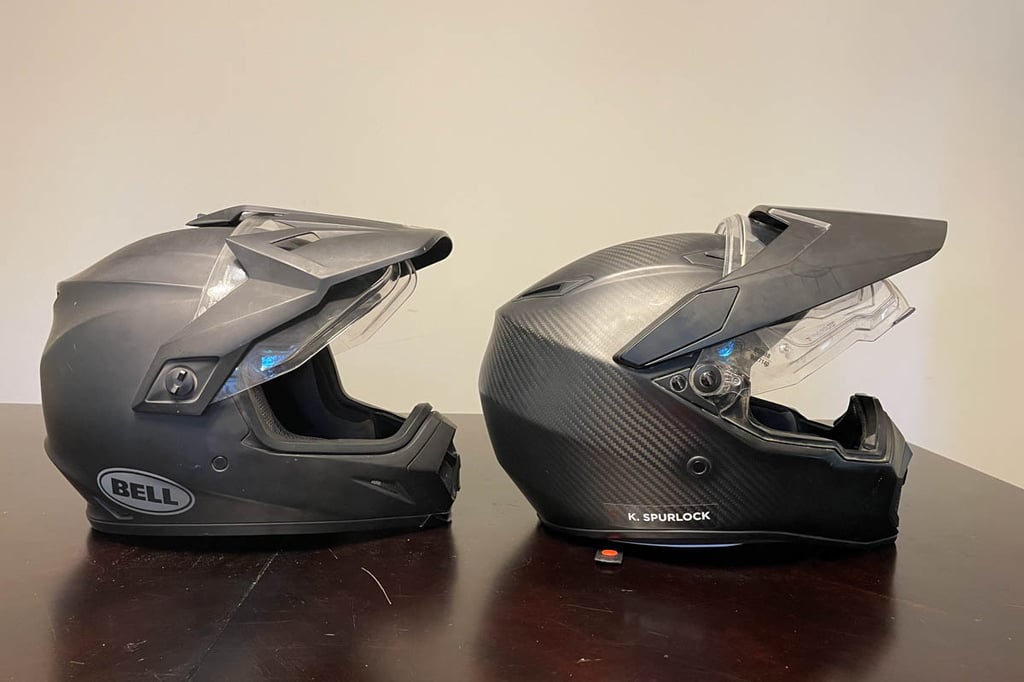 "One of the drawbacks we found was the sun peak being a tad too long on the AGV AX9 (Here is a shot with the Bell MX-9 for comparison)"
This bodes well for the peak's stated purpose (blocking bright sunlight), but can actually impair your vision when looking up through a corner during sportier street riding.
Granted the peak is made to be removed quickly without tools (any piece of pocket change will do the trick) and visibility won't be an issue for most riders due to the seating position of your typical adventure bike, but if you're wearing the AX9 on something with a sportier riding position, the peak is constantly hanging around in your field of vision.
Off-Road Performance
We wore the AX9 Carbon during a long loop of Patagonia, which is to say we tested it thoroughly through dust clouds, rain, mud, and even snow.
We're happy to report that although AGV designed the AX9 Carbon to be better suited to the streets, it's still an outstanding off-road helmet through and through.
In addition to its outstandingly low weight, we chalk much of this up to the revised chin vent. AGV designed the AX9's new vent to be adjustable in three ways: Two from the outside, and one from the inside.
On the outer panel, you'll find your typical open/close slider, which is ideal for road use and easy to find and operate with a gloved hand.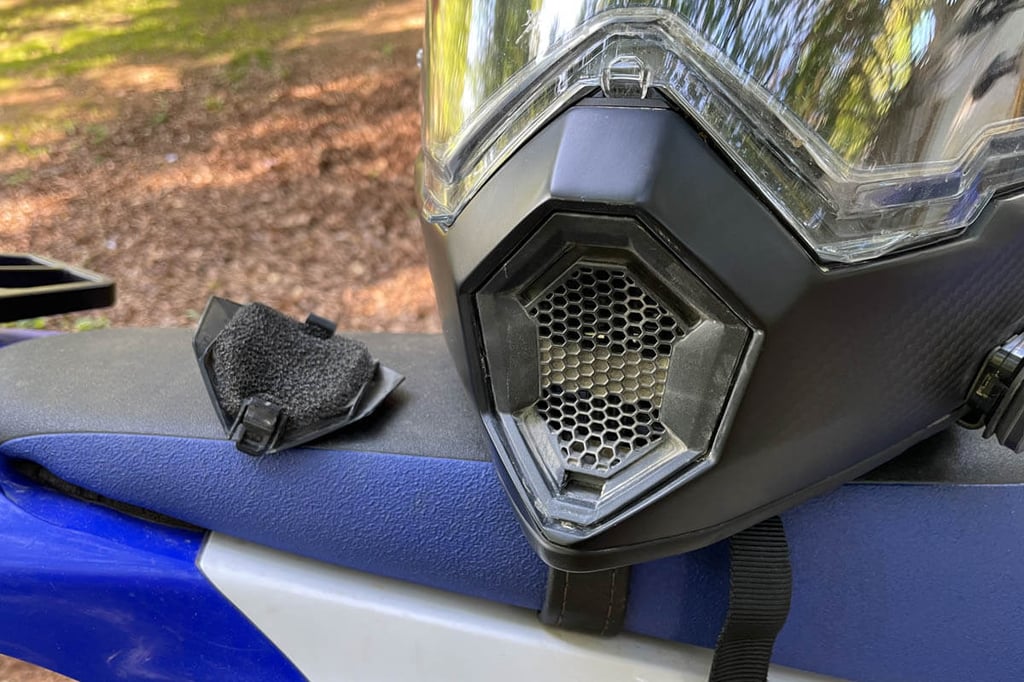 "Air filter mouthpiece detaches for better airflow"
This panel can be removed entirely (also without tools) for more athletic off-road work, which dramatically increases the amount of air coming through the vent and gets you pretty damn close to the wide-open feel of a motocross helmet.
Lastly, there's an additional vent on the inside of the chin bar, which can be set to fully open or fully closed (or completely removed, for even more airflow).
In the closed position, this vent limits the airflow up into the visor only, which you'll probably never use, but hey, it could come in handy on the coldest riding days.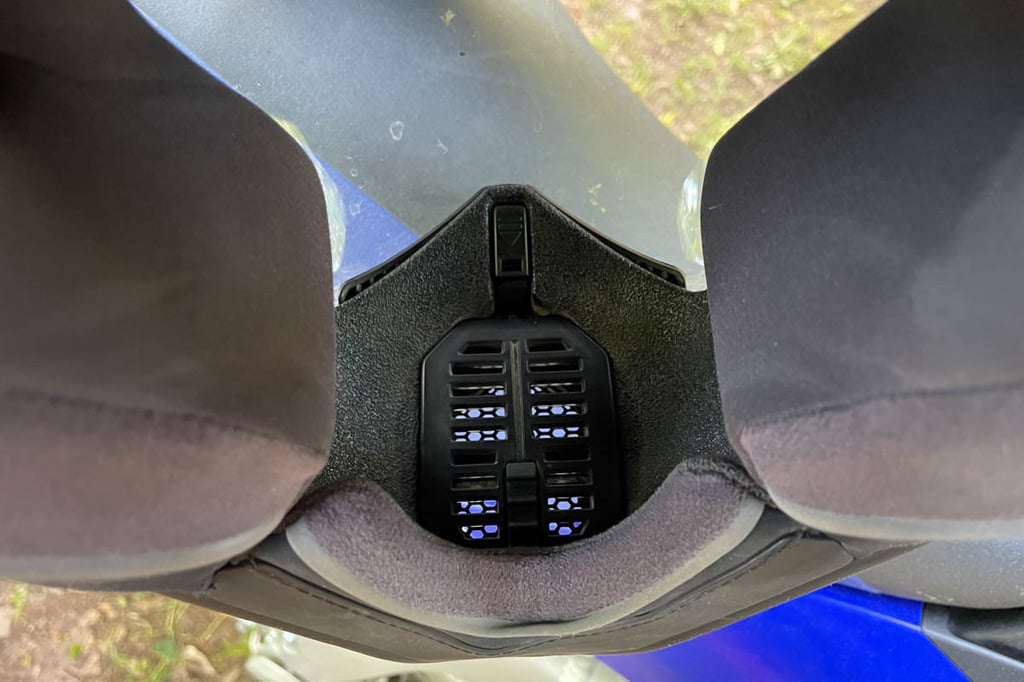 "Adjustable mouth vent on the AGV AX9 is adjustable to limit airflow up into the visor only"
Truth be told we only have one off-road focused complaint with the AGX AX9 Carbon, and that's the visor. While the viewport is massive and delivers an outstanding field of vision, the visor itself doesn't go up quite as far as we'd like, which limits the helmet's compatibility and performance with goggles.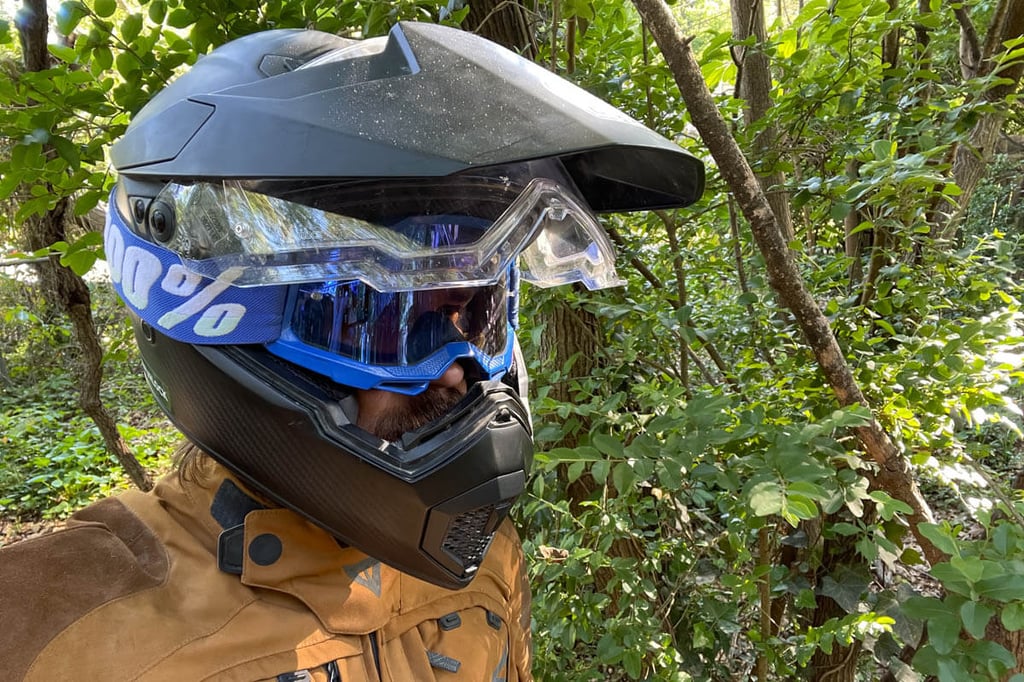 "I would avoid large goggles or anything with outriggers with this helmet"
We were able to shoehorn a pair of 100% Accuri 2 goggles into the opening, but larger goggles (particularly those with outriggers) were a pain to get in and out.
Again, the visor itself is designed to be easily removed, but we prefer having our visors in place as a second defense against aggressively dusty conditions.
What We Don't Like About the AGV AX9 Carbon
If you couldn't tell, our complaints with AGV's latest are few and far between. This is an utterly premium lid with some smart innovations, and between its on-road manners and off-road prowess, it delivers the goods you'd expect from a helmet at this price.
With that being said, price is by far our #1 complaint here, as the AX9 Carbon currently retails for over $700. Granted, it's still less expensive than similar featherweight Krios Pro, but $700+ is a lot of money any way you look at it, especially when considering that the standard AX9 only weighs 3.7 lbs to begin with and can be had for about $300 less.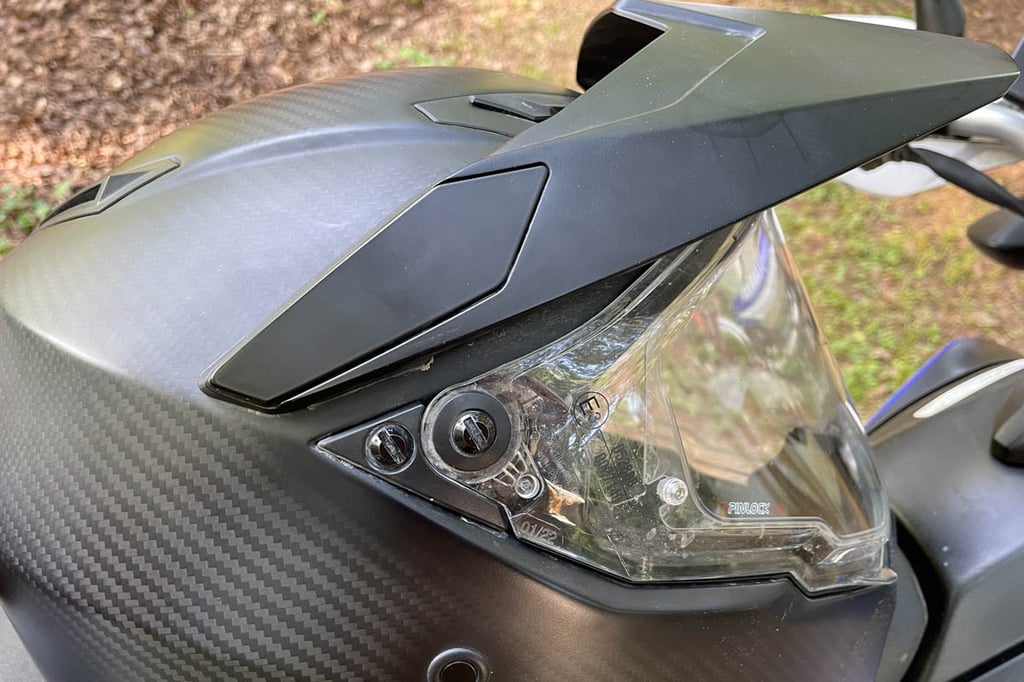 "The visor can get in the way of your field of view in the open position"
Aside from that, our main gripe is with the visor. Do we love Pinlock visors? Yes. Do we love that an actual Pinlock insert is included in the price? Hell yes. Do we love this particular visor? Sometimes.
On the road the optics of the AX9 are fantastic, and the field of vision is among the best we've tested. In the open position, however, the visor doesn't quite get out of the way, which can be annoying, especially when you're fond of wearing goggles in the dirt.
Final Verdict: AGV AX9 Carbon Helmet
Our hot take on the AX9 Carbon is simple: If you're shopping for a premium adventure or dual-sport lid, this is a serious contender.
Exceptionally light, well-ventilated, and road-worthy, the AX9 Carbon undeniably checks all our major boxes for a good ADV helmet.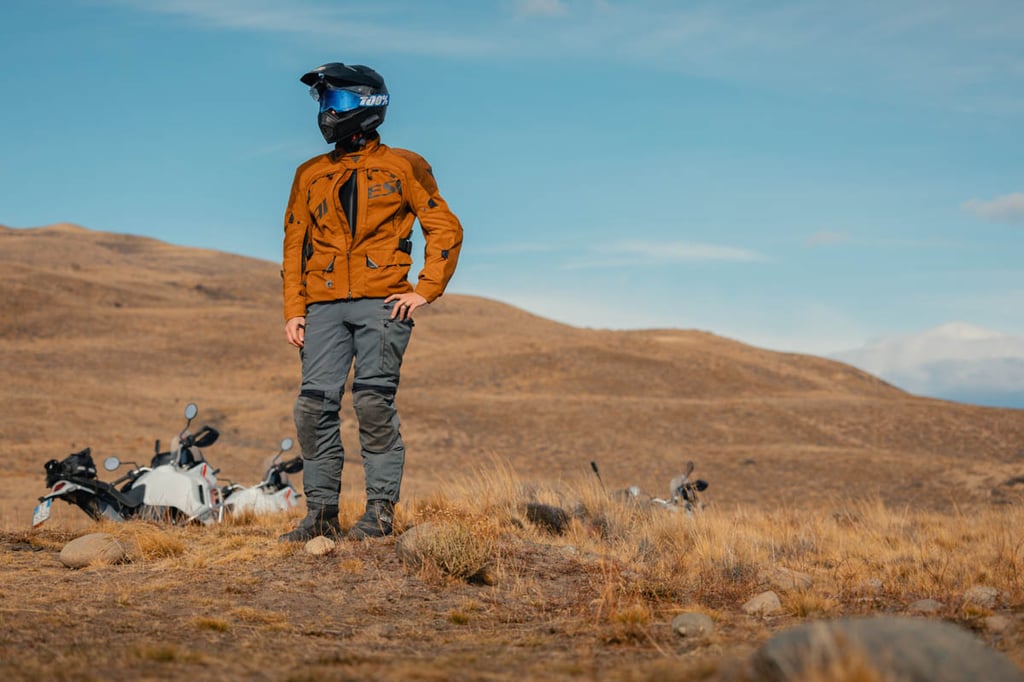 "Just me conquering Patagonia with the AGV AX9 hand on hip 😅 - Photo provided by Dainese"
It's expensive, and we're not in love with the visor for off-road use, but truth be told it still performed admirably in all manner of terrain, and it never got in the way of a good time or had us wishing we were wearing something else.
Add in the value of a ready-to-go Pinlock system and the fact that both the matte and gloss colorways look absolutely menacing (we mean that in the best way possible), and you've got a damn good alternative to the Krios Pro for folks who spend more time on pavement than singletrack.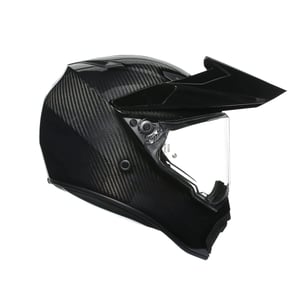 CHECK CURRENT PRICE:
Thanks for reading our AGV AX9 Carbon helmet review article. We hope this helped you decide which motorcycle helmet is right for you.
→Read More: Best Dual Sport Helmets in 2023 and Best Adventure Motorcycle Gear for any RIDE.