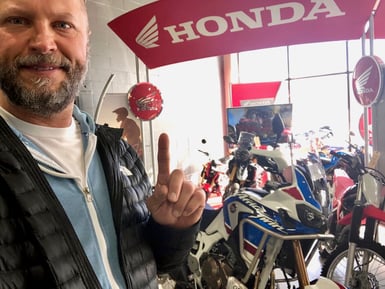 What an exciting time for the RIDE Adventures Team!
Having finished another successful Guided Group trip in Patagonia last month with a great group of fun riders, the bulk of March has been focused on one thing: Buying the new bikes for our Oregon-based motorcycle fleet, and getting ready for our first trip into Baja in April. Plus, a research trip for the CABDR South (California Backcountry Discovery Route) has just been announced for May!
Who wants to join?
Our Baja plans were announced back in January, and a handful of existing Customers from previous trips have signed up for the "Baja on Down" dual sport trip we're running, starting 31 March in sunny San Diego, California. I'll be headed out of Bend in our Sprinter van with the new Africa Twins and 1 KTM 690 Enduro R on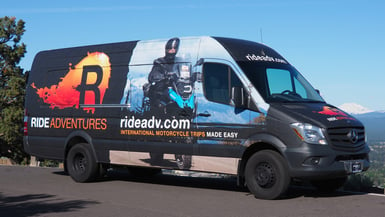 about the 26th of this month. During my 2-day drive down to southern California including a few visits along the way, Christine The Machine, our main brain in the office and all-around talented coworker will be fly into San Diego. The Machine will be at the helm of our Support Vehicle during the trip (yes Christine, I'll be considered the primary support mechanic) and what a fun opportunity this will be for a reunion with Igor from the Ukraine, a great guy who Christine and I rode to Ushuaia with about 14 months ago.
Although Baja could certainly be ridden in fewer days, we're allowing ourselves 9 days plus 1 rest day to thoroughly explore the peninsula. That's always a goal of a research trip: Allow enough time to slow down and check out some of the extra routes, sites, and possible discoveries along the way. We'll still spend 5-6 hours each day on the bike, but we're also going to stop and smell those roses when we see them (or "grapes" in this case, as we'll be spending a night in Guadalupe Valley, Baja's winemaking region.)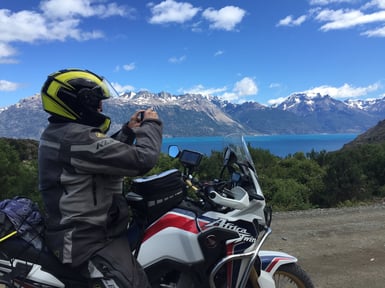 After Baja and once the the bikes are up in California, we'll spend another 10 days riding north along the CABDR South route, all the way up to San Francisco. As described on that page, this trip will be done with even a bit more spontaneity, and without having specific overnight locations or hotel reservations set. Taking the time to explore off-path, find the abandoned mines, and really enjoy the national parks and features along the way, I'll decide by about noon each day just how far we'll go that afternoon. Yes, the BDR folks have forecasted that ride as taking only 6-7 days, but again, we're slowing down on these first-time research trips, and may not only follow the specific GPS route. Once finished with the CABDR South, the extra few days will make the perfect opportunity to do some northern California riding, as we all know the rest of California has plenty to enjoy. Finishing in San Francisco with a probable run over the Golden Gate Bridge, what a start we are having to 2019 : )
Anyone who's been following along will notice we also have plans to head up to Alaska in July/August, and then back down to Oregon before the Arctic winter rolls in. Between the CABDR in May, and those late summer plans, please stay tuned by subscribing to this blog, and sign up for our eNewsletter so that you don't miss other fun announcements. Plans for the northern California, Idaho, Nevada, or other Backcountry Discovery Routes will likely fill in the months of June and July for us. Which rides will you be a part of?
Keep an eye on our listing of Bend, Oregon-based motorcycle rentals as well. While the bulk of the requests have been for Honda's excellent new Africa Twin, the enormous variety of riding options that surround Oregon are an enormous invite for anyone who's got that itch to twist their wrist on something like a KTM 1290 Super Duke GT, or a 500 EXC as well!