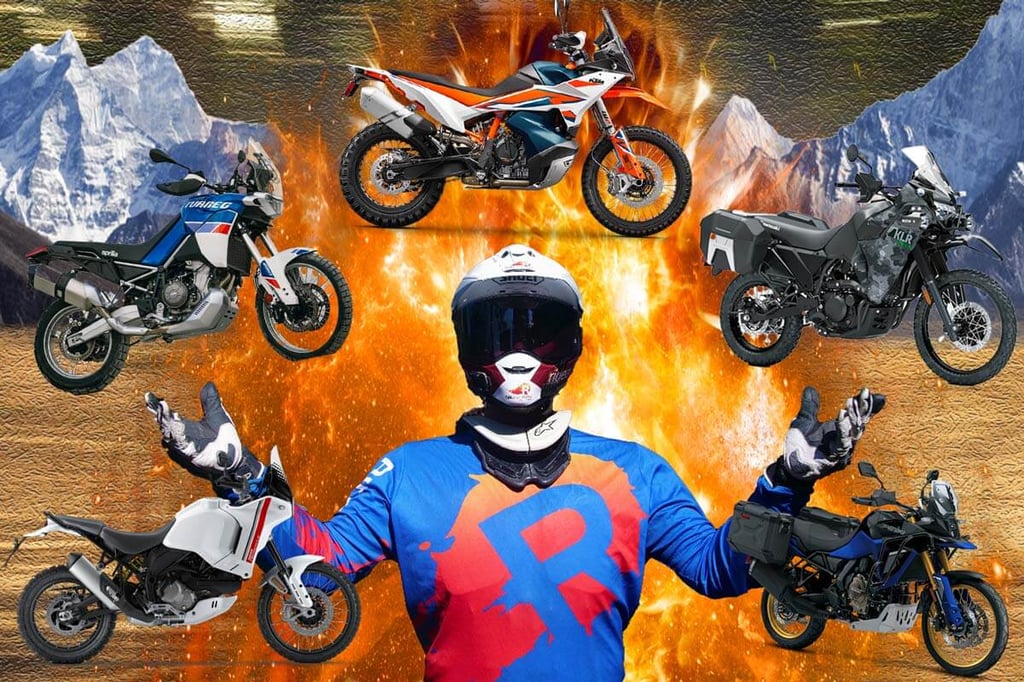 Disclosure: RIDE Adventures is a participant in the Amazon Services LLC Associates Program as well as other affiliate programs, designed to provide a means for us to earn fees by linking to Amazon and affiliated sites at no extra cost to you. Please see our Disclosure for more details.
If you're shopping for an adventure bike in 2023, we've got good news for you: You've got more choices than Nick Cannon has children.
Unfortunately, that also means picking a favorite has never been harder, but we managed to round up 9 of the most exciting options of the year for your consideration.
There was a time when adventure bikes didn't exist, and the term "adventure riding" was a much more literal thing, having more to do with long distance travel into parts unknown than it did splitting your time between pavement and dirt in equal measure.
Somewhere along the way between the introduction of the first BMW GS, the publication of Neil Peart's "Ghost Rider," and everyone's favorite Jedi taking the long way from London to New York, the definition of what was and wasn't a proper adventure machine began to change, and the bikes themselves started changing to suit customer demand.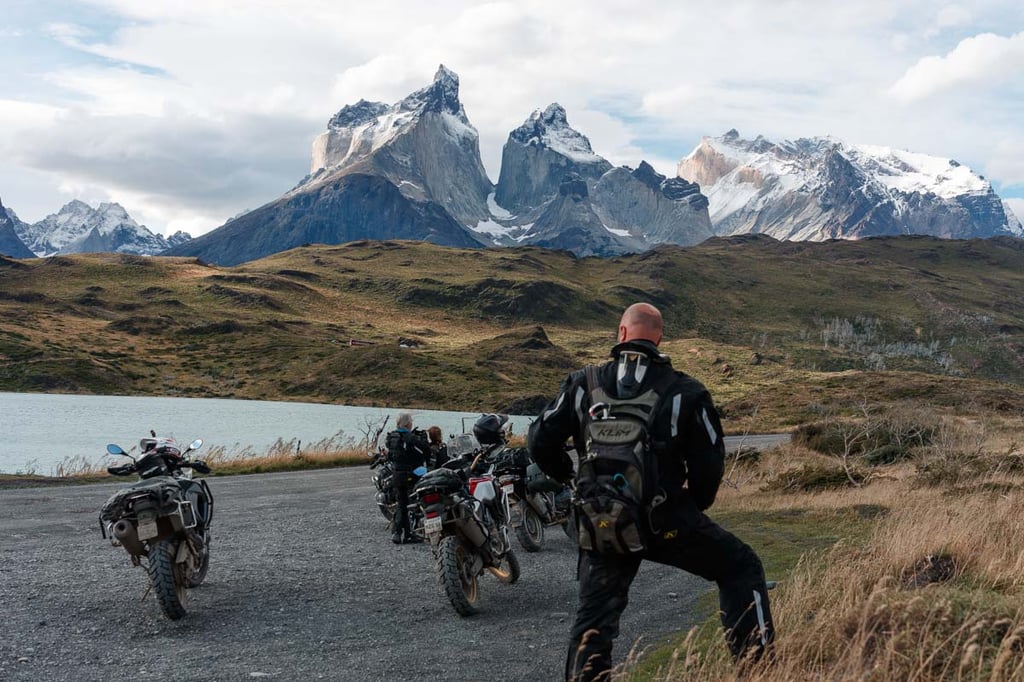 Of course the soul of adventure riding is still very much in tact, and if it's a life changing motorcycle ride you're after, you need look no further than any one of our international motorcycle trips to experience the genuine article.
Lucky for us ADV riders, however, the machines we ride on tours like these have only gotten better, and below you'll find the adventure bikes we're most looking forward to in 2023.
*Listed in no particular order
Best Adventure Bikes of 2023
#1 Ducati Desert X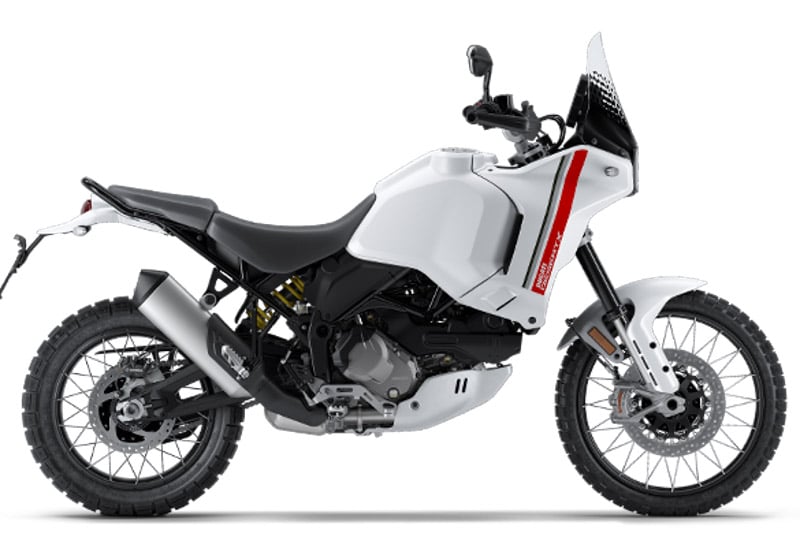 Quick Specs:
Power: 110 hp @ 9,250 rpm
Torque: 68 lb-ft @6,500 rpm
Wet weight: 492 lbs
Suspension travel: 9" front/ 8.7" rear
Base MSRP: $17,095
You've gotta give it to the folks at Ducati for doing things their own way:
At a time when every other major manufacturer was scrambling for market share in the parallel-twin goldrush, Ducati doubled down on their V-twin roots and gave adventurers the engine we didn't know we needed.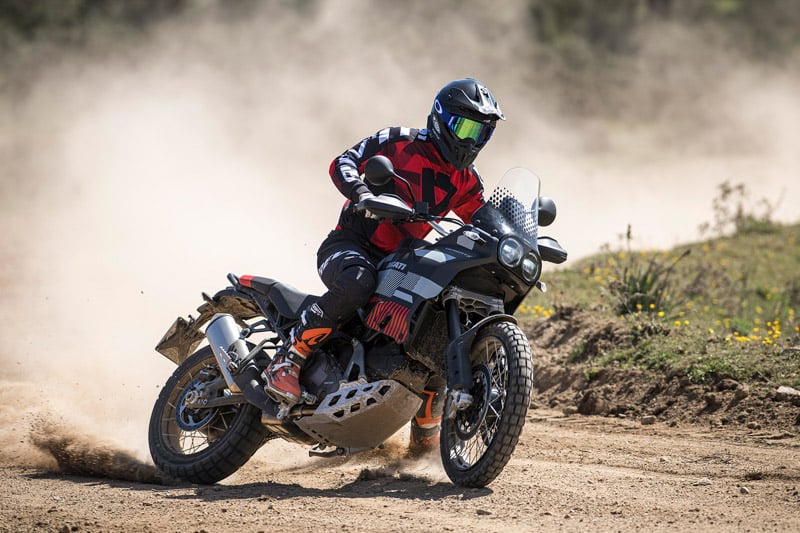 "The Desert X may have been late to the game, but we're sure glad it's here"
Truth be told, not much is changing for the 2023 Ducati Desert X with the exception of some new paint schemes, and considering the model is only on its second year of production, we really can't complain.
The Testastretta 11-degree engine delivers tons of tractable power and character, the fully adjustable KYB suspension is competent and well-balanced, and at risk of stating the obvious here, the Desert X handily retains the title for highest all-around sex appeal by a wide margin.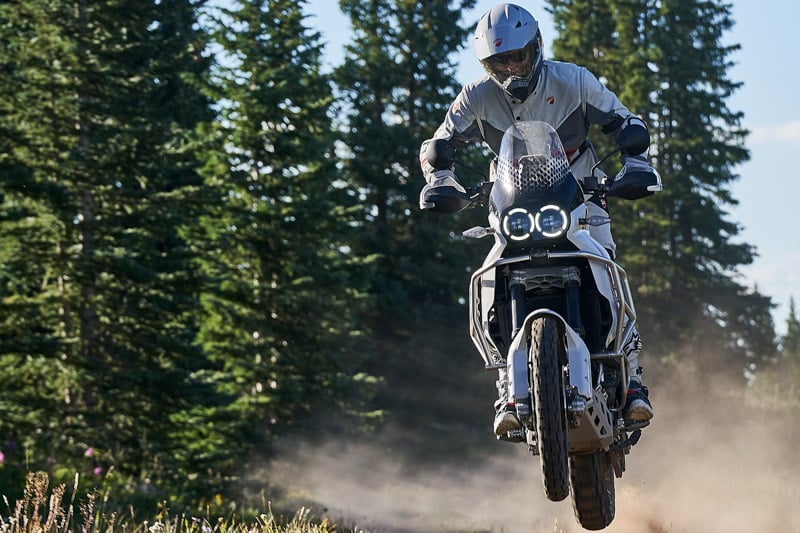 What's most surprising about this Italian exotic, however, is that its maintenance sheet reads more like something from the Big Four than you might expect from the team in Borgo Panigale.
This ain't your daddy's air-cooled Duc, and the new water-cooled Testastretta is good for a whopping 18,600 miles between valve service intervals.
Pros:
Class-leading power with character to boot

Surprisingly low maintenance for a Duc

Rides like a big dirt bike

Drop-dead gorgeous design
Cons:
Expensive

Bit heavier than some competitors

#2 Honda XL750 Transalp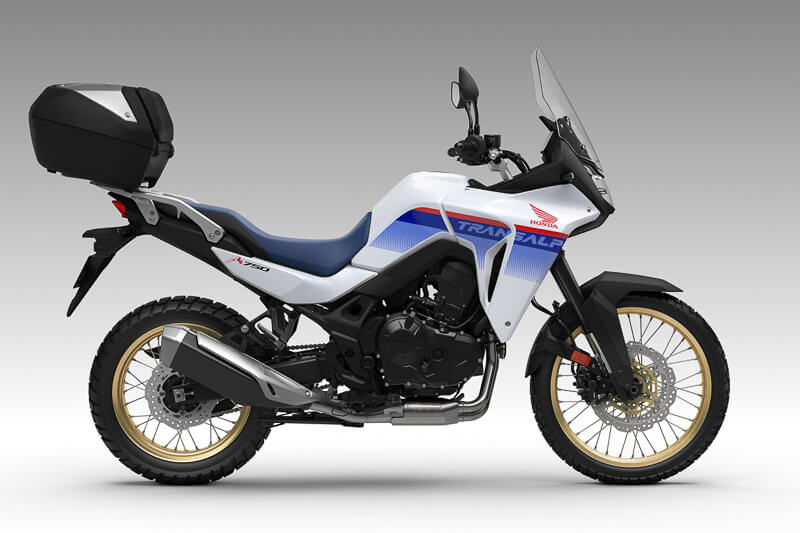 Quick Specs:
Power: 90 hp @ 9,500 rpm
Torque: 55 lb-ft @ 7,250 rpm
Weight: 459 lbs
Suspension travel: 7.9" front/ 7.5" rear
Base MSRP: TBD ($11,450 in European markets)
Next up is the Honda XL750 Transalp, Big Red's latest-and-greatest entry in the mid-size multi-cylinder adventure bike segment.
We haven't had a chance to throw a leg over the Transalp yet, but if our friends overseas' first impressions are anything to go by, the Transalp is set to become a serious contender in the states.
The chief selling point of the revitalized Transalp is value (we expect it to come in a few dollars cheaper than the beloved Yamaha Tenere below), but this is no budget-bin parts special.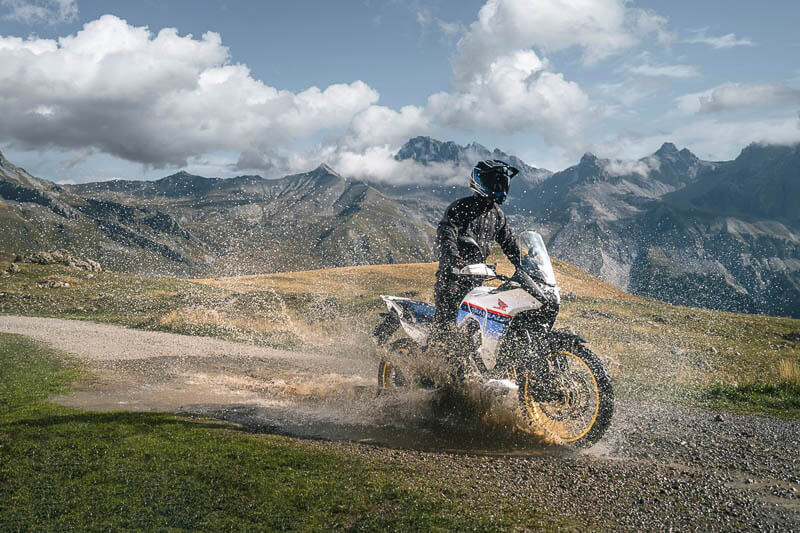 The Transalp inherits its fantastic 750cc engine from the all-new Honda Hornet, but virtually every other part of the bike is unique from the frame to the semi-long-travel suspension.
Early reports and first rides of the Transalp tell us this adventure bike wears its pavement bias with pride, and by all accounts this may be the best handing middleweight ADV on the market.
We have no doubt it'll bring the fight to budget-conscious riders looking for a true do-it-all machine without such a hardcore off-road bias, which is fitting considering the original Transalp was always more of an all-rounder to begin with.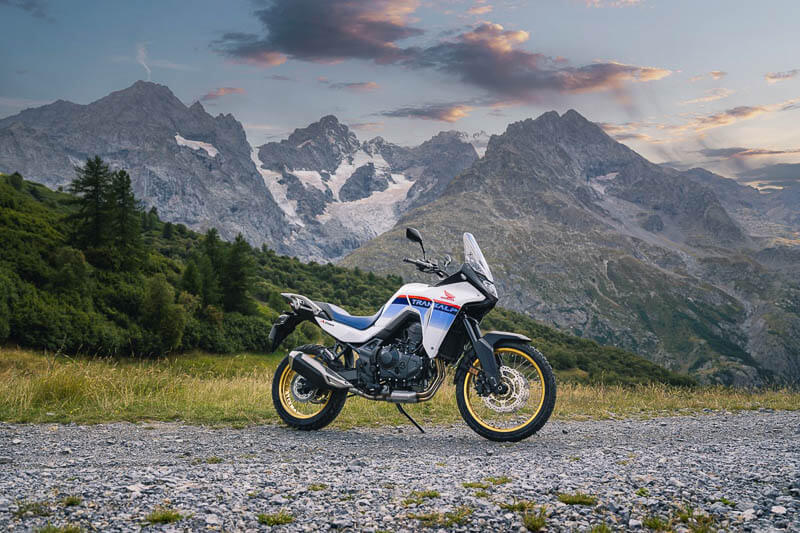 "The Honda XL750 Transalp should be announced for the US market any day now."
Pros:
Outstanding handling on pavement

Shockingly good engine

Outstanding value for the money
Cons:
Capable, but not a hard-core off-roader

We sure wish Honda would pick a new headlight...

Still waiting on US availability...
#3 KTM 890 Adventure R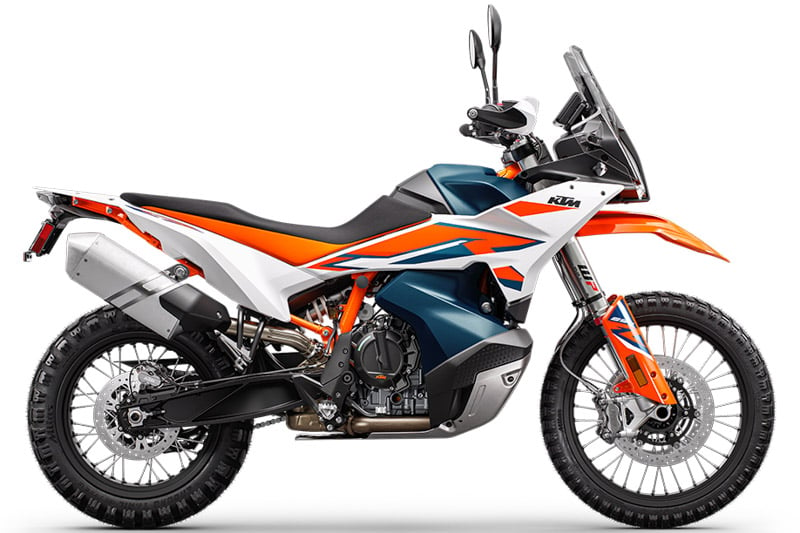 Quick Specs:
Power: 105 hp @ 8,000rpm
Torque: 74 lb-ft @ 6,500rpm
Weight: 490 lbs
Suspension travel: 9.4" front/ 9.4" rear
Base MSRP: $15,199
Of course on the complete opposite end of the adventure bike spectrum, we've got the 2023 KTM 890 Adventure R, which has only grown more powerful and capable off-road thanks to some hands-on development from Mr. "Say No To Slow" himself, Chris Birch.
If uncompromising offroad performance is what you're after, chances are you've got a big orange bike in your future...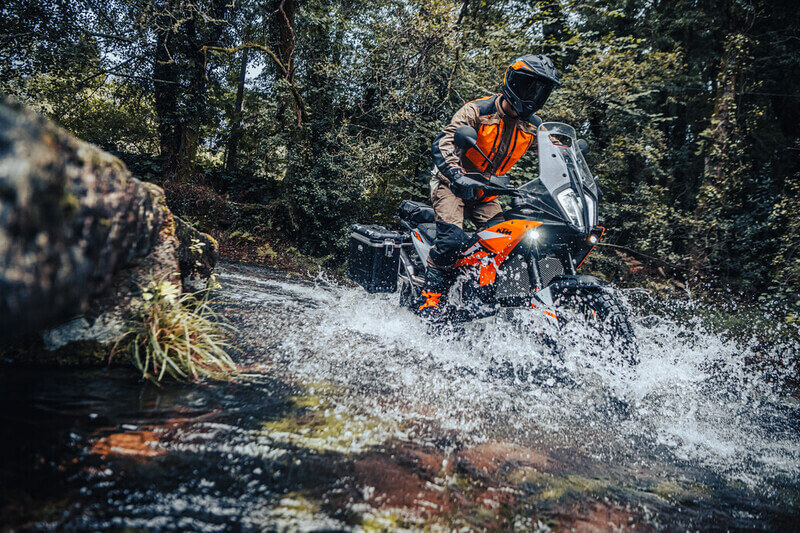 "Photo Credit: Rudi Schedl"
We've loved our time aboard the current KTM 890 Adventure R, and we really can't say enough about how dialed the whole motorcycle is for serious off-road riding.
The long-travel WP suspension goes toe-to-toe with the best in the business, and that ungodly 105 horsepower engine is an absolute menace when let off leash in KTM's now infamous "rally mode."
Interestingly enough, we've also found the Adventure R to be a sweet ride on the pavement despite its heavy off-road focus, making it a true adventure bike in the purest sense of the word, equally at home carving ribbons of pavement as it is flying through the air or sliding around a dirt road.
The 2023 model gets a few new upgrades of note including further refinements to its off-road ABS, new Mitas Enduro Trail knobby tires, and reworked suspension front and rear for even more impressive off-road manners than before.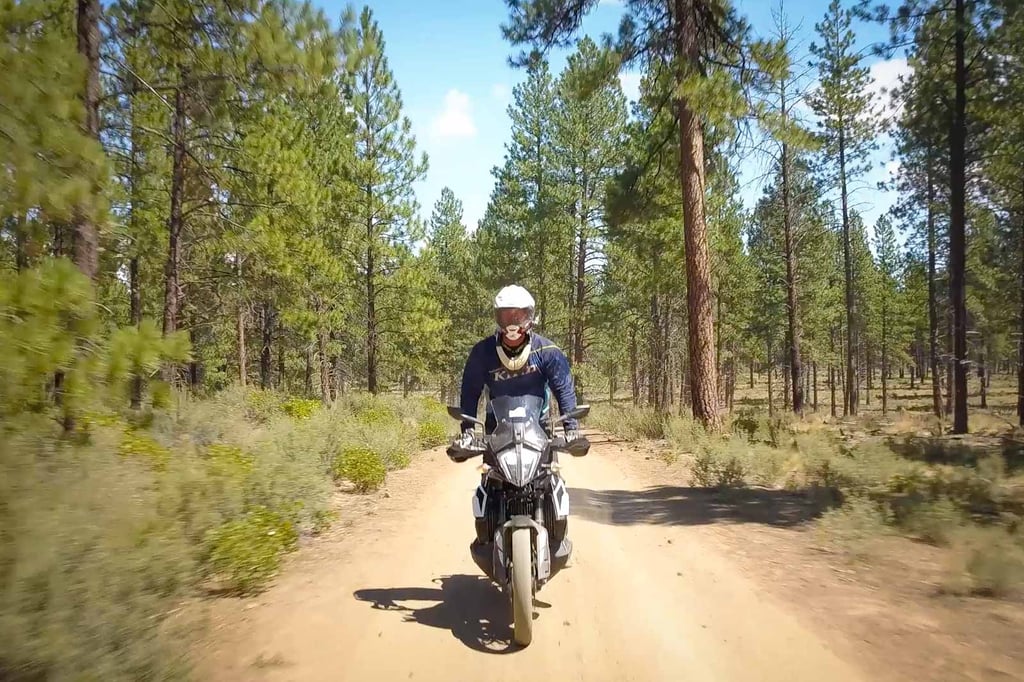 "The big 890R's outstanding WP suspension remains the best in the segment."
Pros:
Still the king of off-road adventure bikes

Thrilling 105 horsepower engine

Best suspension of the lot
Cons:
Expensive

Lacks the simple reliability of the Japanese competition
#4 Yamaha Tenere 700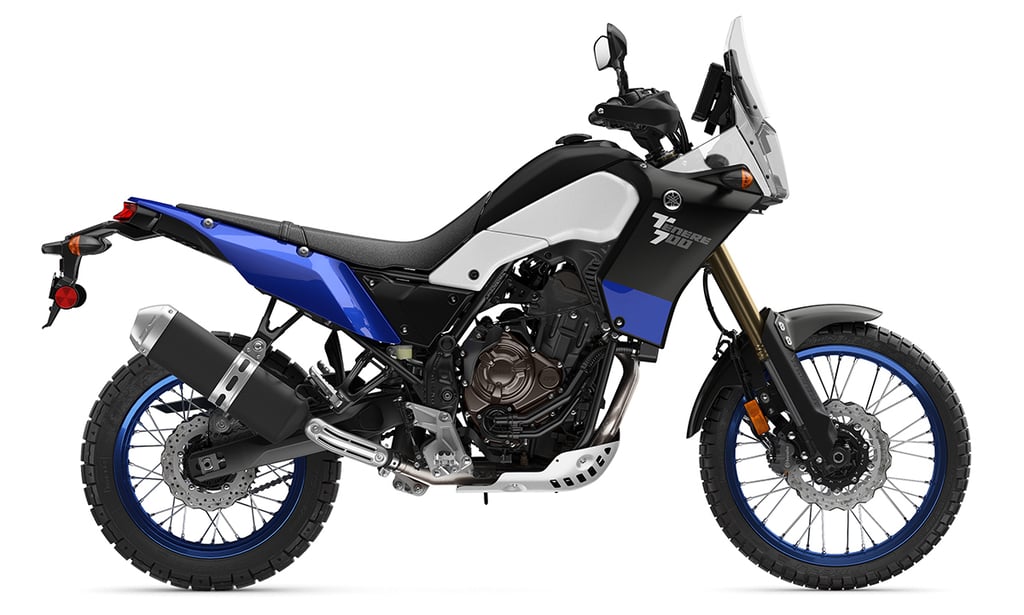 Quick Specs:
Power: 73.4 hp @ 8,750 rpm
Torque: 49.4 lb-ft @ 6,500 rpm
Weight: 450 lbs
Suspension travel: 8.3" front/ 7.9" rear
Base MSRP: $10,499
The beloved Yamaha Tenere 700 is back for 2023, and if you're living in the US, not much has changed. That means you're still getting what is arguably the most reliable, low-maintenance engine on the planet, rally-inspired styling, and true on-and-off-road performance straight off the showroom floor.
As we've mentioned before in our in-depth review of the Tenere, the charm of the T7 is how truly impressive it is without all the complicated electronics and rider aids that muddy the waters of most modern adventure bikes.
The name of the game here is fundamental skills and wrist control, and the Tenere will make you a better rider for it.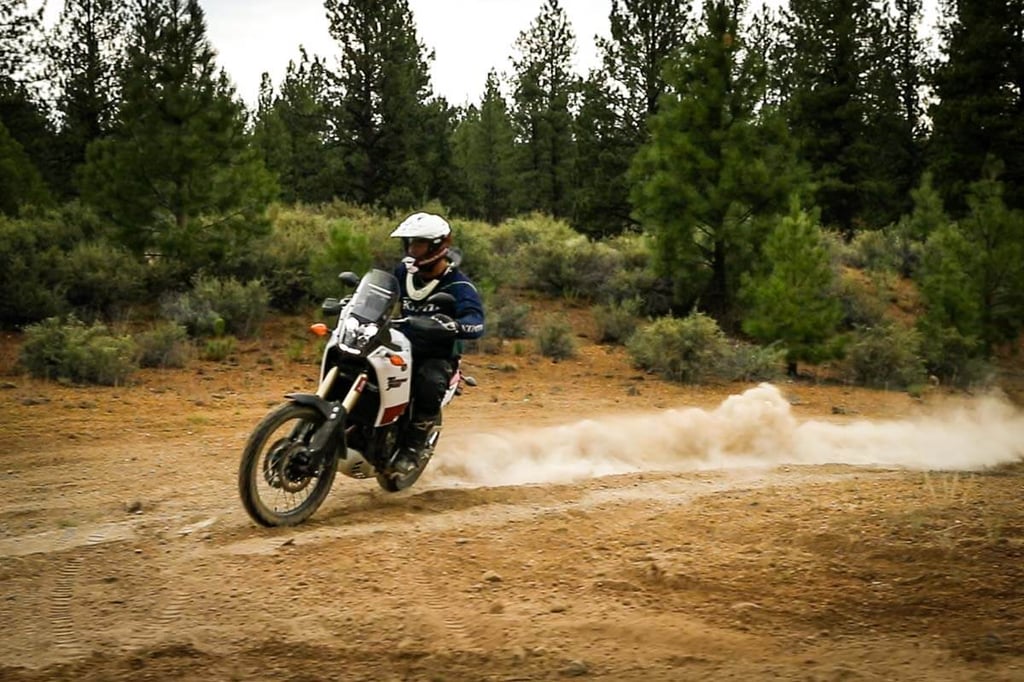 Of course if you're living overseas, you've now got access to quite a few factory options, including the Rally Edition and World Raid models, which come with some choice upgrades like full-color TFT displays, extra ABS modes, crash protection, larger fuel tanks, and longer travel suspension.
The US Tenere retains its affordable price point, however (only a $200 increase over the prior year), so you should have plenty of cash left over to farkle this adventure bike as you see fit.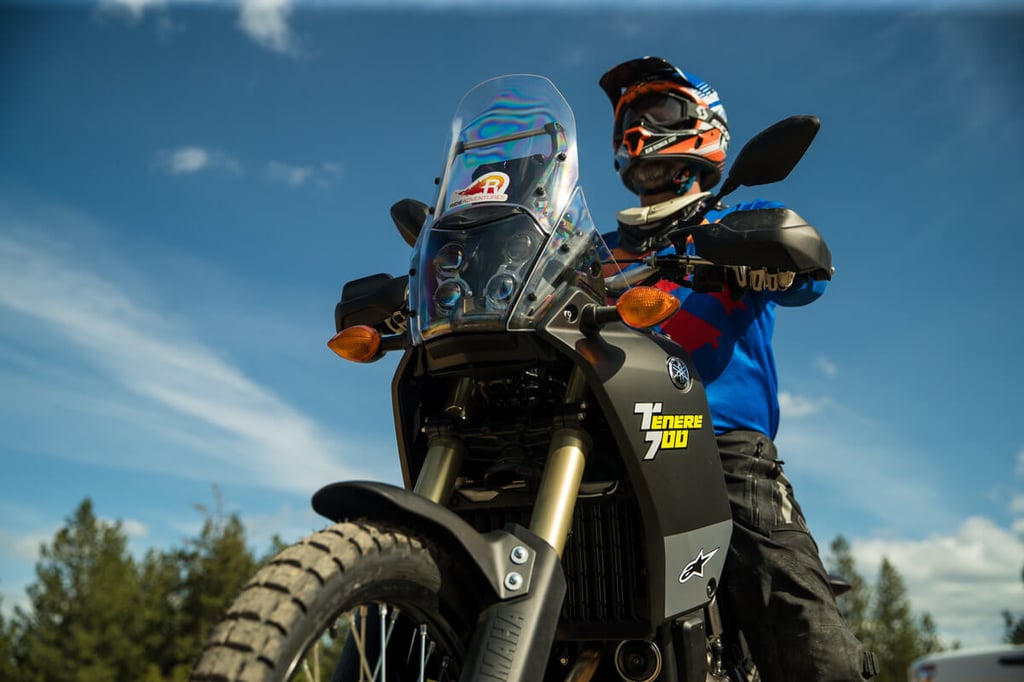 "New colors are the only real update for the US market, but the Tenere is still the king of value-minded performance and reliability."
Pros:
Unmatched reliability

Extremely capable without the rider aids

Strong performer on and off pavement

Affordable
Cons:
Sweet upgraded models only available overseas

Previous issues with bash plate supports
#5 Suzuki V-Strom 800DE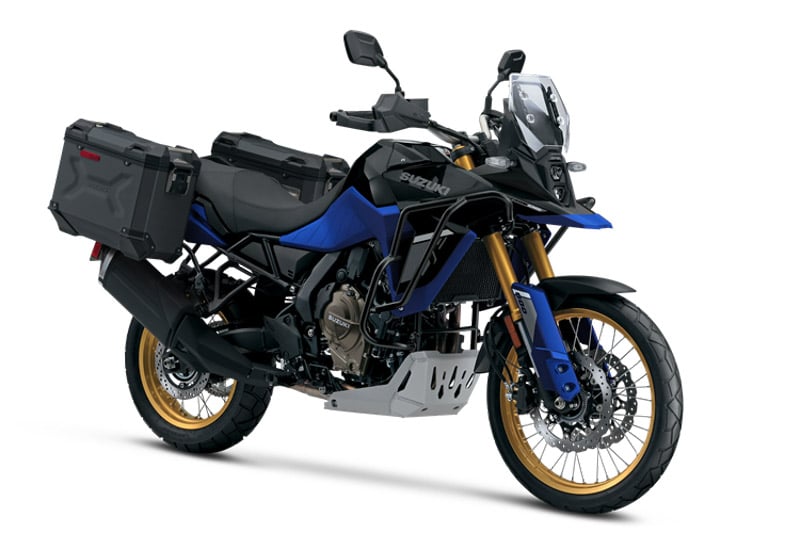 Quick Specs:
Power: 83 hp @ 8,500 rpm
Torque: 57.5 lb-ft @ 6,800 rpm
Weight: 507 lbs
Suspension travel: 8.7" front/ 8.7" rear
Base MSRP: $11,349
Suzuki is officially joining the modern adventure bike fray this year with their own middleweight parallel twin.
While some may mourn the impending loss of the V-Strom 650 (it's hanging around for 2023, anyone's guess for '24), the all-new engine is lighter and significantly more powerful while retaining much of that V-twin charm thanks to its 270-degree crank configuration.
All the other modern perks are here as well including a big colorful display, multiple electronic rider modes (including one specifically for gravel), switchable ABS, and fully adjustable long-travel suspension.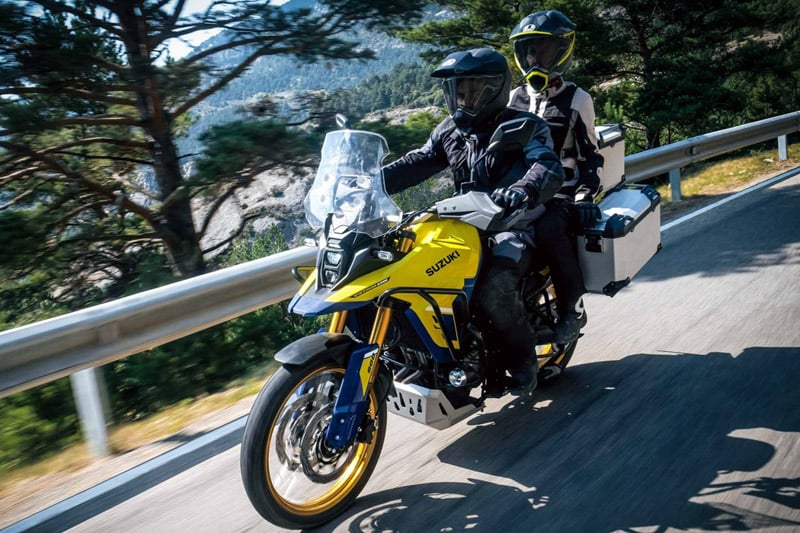 Suzuki is also offing their new adventure bike with a proper "Adventure" package from the factory, which includes a set of aluminum panniers, a pair of crash guards, and an aluminum skid plate for an extra $1,650.
Ultimately we believe the new V-Strom will be a smart buy for potential Tenere buyers who want a little more power and a few more modern conveniences (namely rider modes and a quick shifter) in exchange for the T7's "big dirt bike" charms. It's a little on the heavy side compared to its Japanese compatriots, but as an overall package, the V-Strom 800 DE brings a lot of value to the table.
Pros:
New engine packs a punch

Modern electronics at a fair price

Full factory adventure kit available
Cons:
Why did Suzuki put a 17" rear wheel on this thing?

Weighs more than most
#6 Kawasaki KLR 650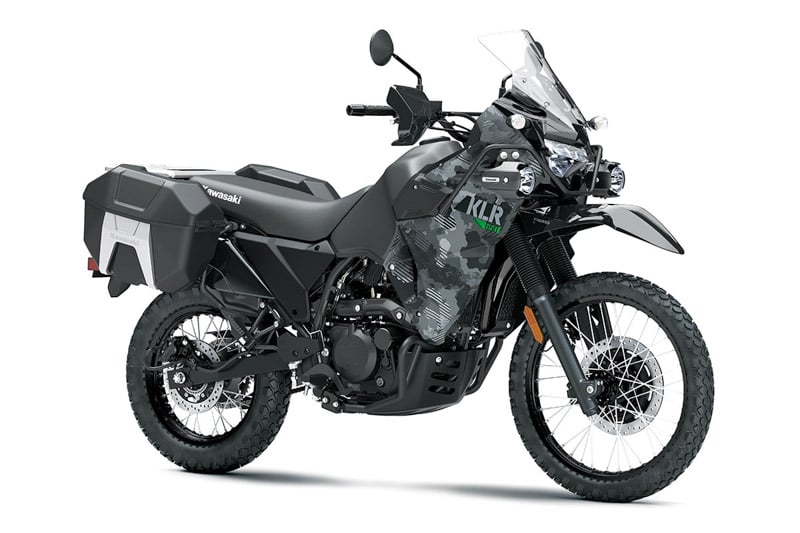 Quick Specs:
Power: 40 hp @ 6,000 rpm
Torque: 39.1 lb-ft @ 4,500 rpm
Weight: 456 lbs
Suspension travel: 7.9" front/ 8" rear
Base MSRP: $6,899
Surprise, surprise, the adventure bike that will surely outlive us all is back for 2023. Kawasaki's dual-sport turned ADV cockroach, the KLR 650, got a major overhaul last year, and the much-needed laundry-list of updates is more than enough to keep it on our radar going into 2023.
Chief among them is the 652cc engine, which is the same battle-proven single we know and love, albeit with the addition of fuel injection.
A new fairing provides serious wind protection for touring duty, an updated chassis improves stability and rigidity, and larger brake discs improve overall stopping power.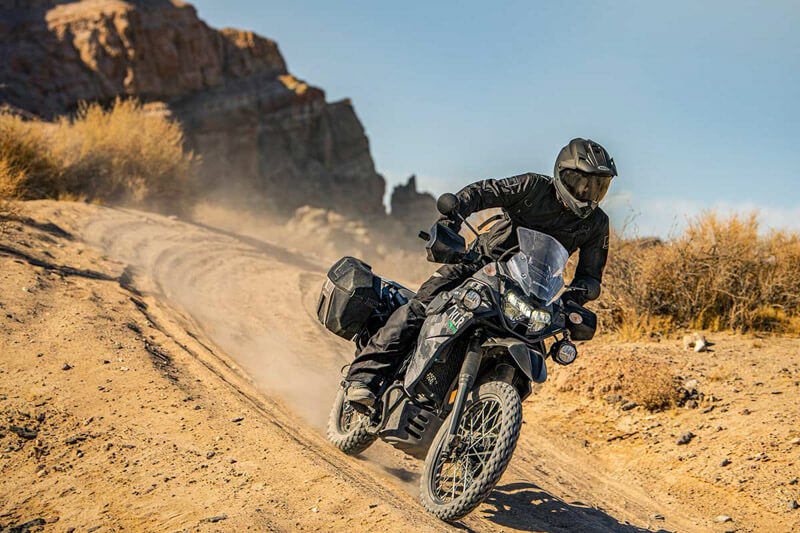 There are some other bells and whistles here like LED lighting, an LCD display, and a large windscreen that's excellent for long days on the highway, but again, it's still very much a KLR, and the riding experience is that same cushy, low-intensity cruise we've enjoyed for decades.
The biggest news here is that Kawasaki is offering the KLR in three configurations for 2023, including a lower "S" model and the KLR 650 Adventure, which comes with factory hard bags, an accessory bar, auxiliary lights, and a sweet digital camo paint scheme for an extra $1000.
Pros:
Same ol' reliable engine, now fuel injected

All-day highway comfort

Impressive factory accessory catalog

Versatile and affordable as ever
Cons:
Same ol' slow engine, now fuel injected

Upgraded suspension, but still very basic
#6 Aprilia Tuareg 660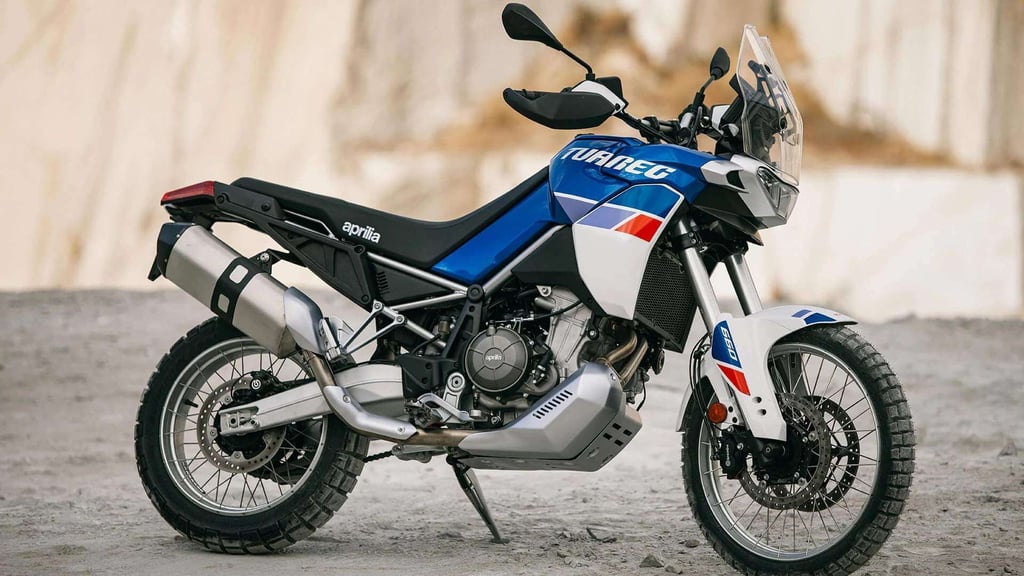 Quick Specs:
Power: 80 hp @ 9,250
Torque: 52 lb-ft @ 6,500 rpm
Weight: 450 lbs
Suspension travel: 9.4" front, 9.4" rear
Base MSRP: $11,999
The Aprilia Tuareg 660 is an intriguing character to say the least. It's built around the same high-performance parallel twin engine as the RS 660 (Cycle World's 2022 middleweight streetbike of the year, fyi), which is technically just an RSV4 Superbike engine with two cylinders lopped off.
This is no repackaged streetbike though. Yes, the Tuareg 660 gets high marks on the street as one of the sweetest handling adventure bikes on the market, but it's equally skilled in the dirt as well.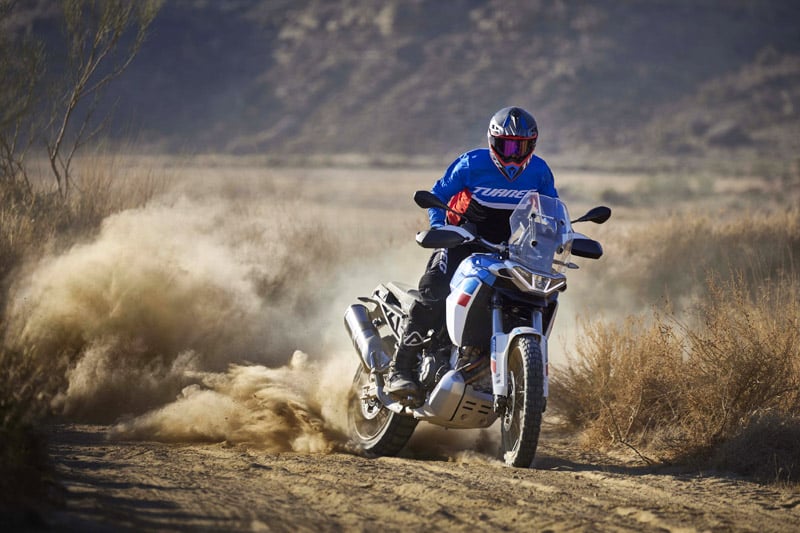 In fact, the Tuareg 660 is actually the only bike on our list that can match the KTM Adventure R in outright suspension travel, and that 9+ inches of squish combined with a respectably low weight and a predictable chassis make it a welcome companion over anything from groomed gravel roads to steep rocky climbs.
Add in a premium electronics suite including swappable ABS, traction control, adjustable engine maps, and even electronic cruise control, and you've got one hell of a competitor by any measurement.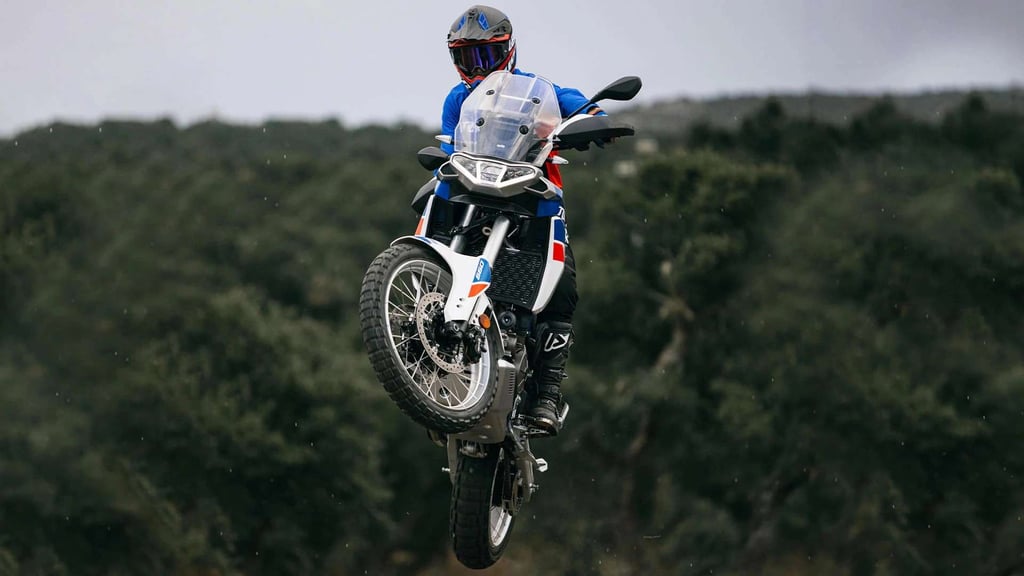 So where does the Tuareg fit into the ranks of 2023's finest ADV machines? The way we see it, if you're loving the premium features and all-terrain capability of the KTM 890 Adventure R but have no use for its 25 extra horsepower, the Aprilia delivers damn near everything else we love about the 890 for about $3,000 less.
Pros:
Premium fit, finish, and electronics suite

Excellent handling on the street

High-performance long-travel suspension
Cons:
Less power than the 890 R

More expensive than a T7
#7 Zero DSR/X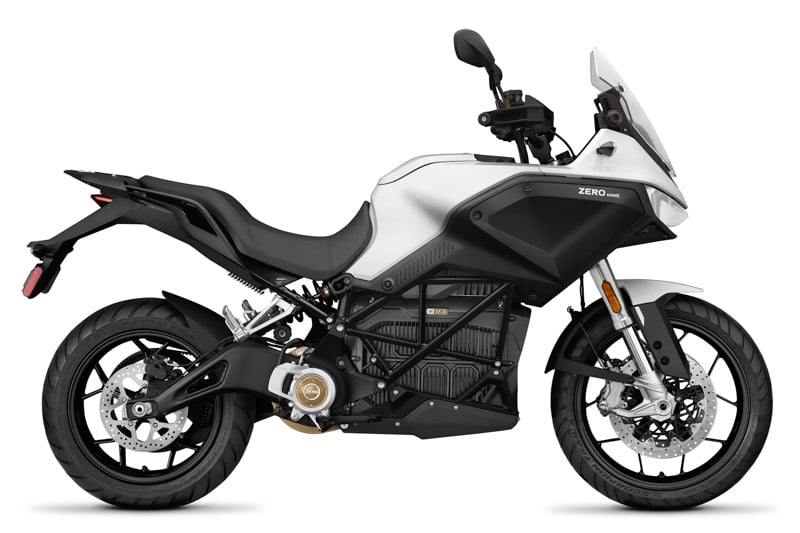 Quick Specs:
Power: 100 hp @ 3,650 rpm
Torque: 166 lb-ft (@ 1 rpm
Weight: 544 lbs
Suspension travel: 7.5" front/ 7.5" rear
Base MSRP: $24,495
We love our gas bikes as much as the next rider, but if the new Zero DSR/X is any indication of what the future holds for ADV, we've got a lot to look forward to.
We've spent the last month or so testing the new DSR/X both on and off pavement, and it's easily one of the most impressive bikes we've thrown a leg over to date.
Let us start by saying there are no typos in the specs above: The DSR/X's aircooled electric motor pumps out a mind-boggling 166 lb-ft of torque from a dead stop, and grabbing a handfull of throttle from the stoplight feels like being shot out of a cannon.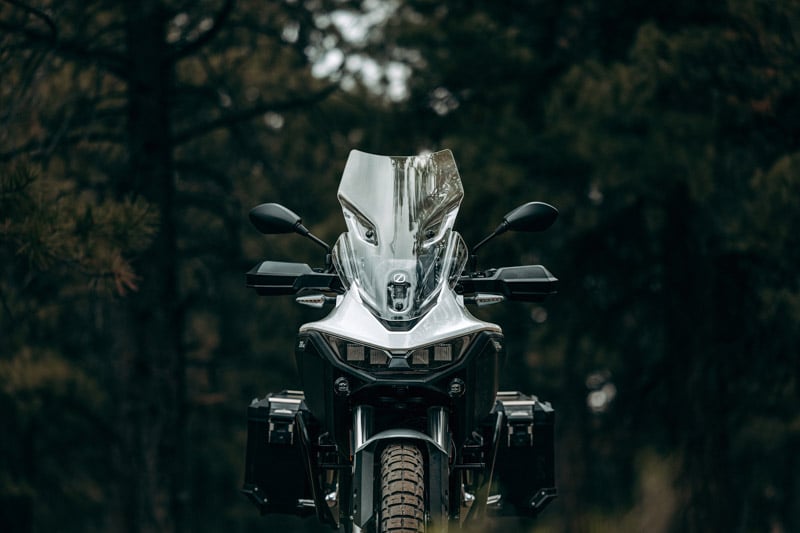 It also sports an impressive array of modern features including multiple engine maps, off-road traction control, cruise control, heated grips, a parking mode (with reverse!), and turn-by-turn navigation. Make no mistake: This is an utterly premium motorcycle.
Truth be told, the only real hangup for most riders will be range, and while the DSR/X is one of the longest range electrics currently available, you're still looking at somewhere around 120 miles per charge for mixed riding conditions.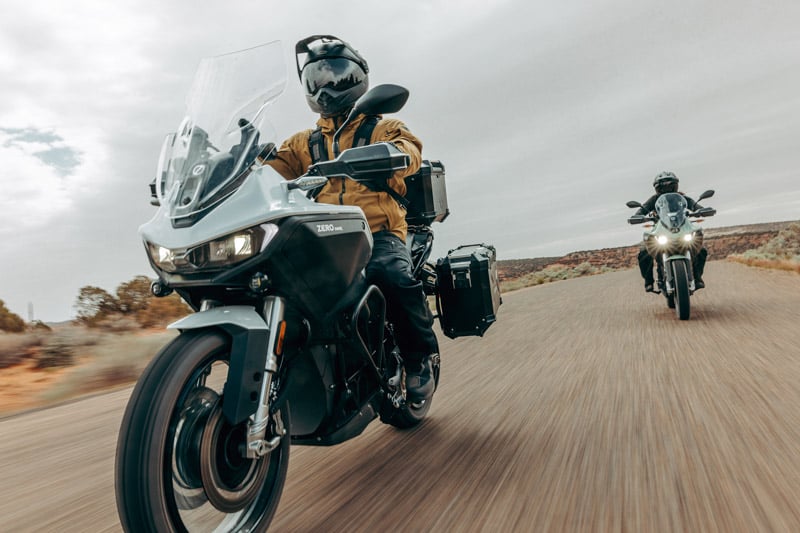 That will require some careful planning around public charging stations for longer rides, but we've seen entire BDRs completed on Zero electric bikes, so we know it can be done.
Pros:
Incredible torque on demand

No clutch/gears to worry about on technical terrain

Essentially maintenance free

All day comfortable and packed with features
Cons:
Very expensive

Range anxiety on longer rides



#8 Royal Enfield Himalayan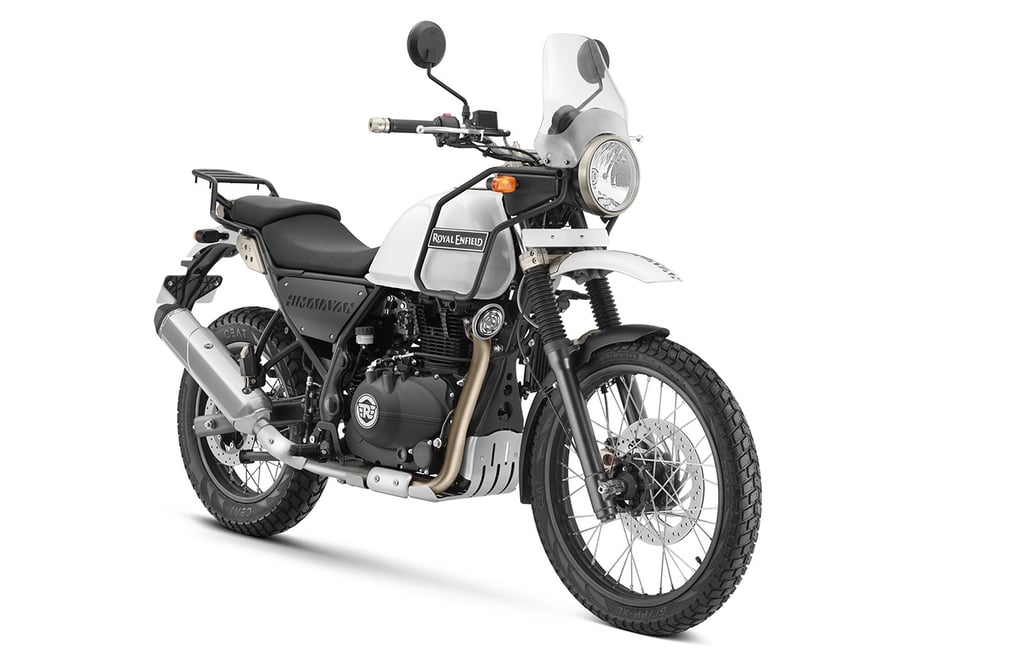 Quick Specs:
Power: 24.3 hp @ 6,500 rpm
Torque: 23.6 lb-ft @ 4,000 rpm
Weight: 439 lbs
Suspension travel: 7.9" front/ 7.1" rear
Base MSRP: $5,449
Craving vintage style with performance to match? Look no further than the Royal Enfield Himalayan, a true do-it-all machine that draws inspiration from a time when adventure bikes didn't exist and riding underqualified machinery in the dirt was the norm.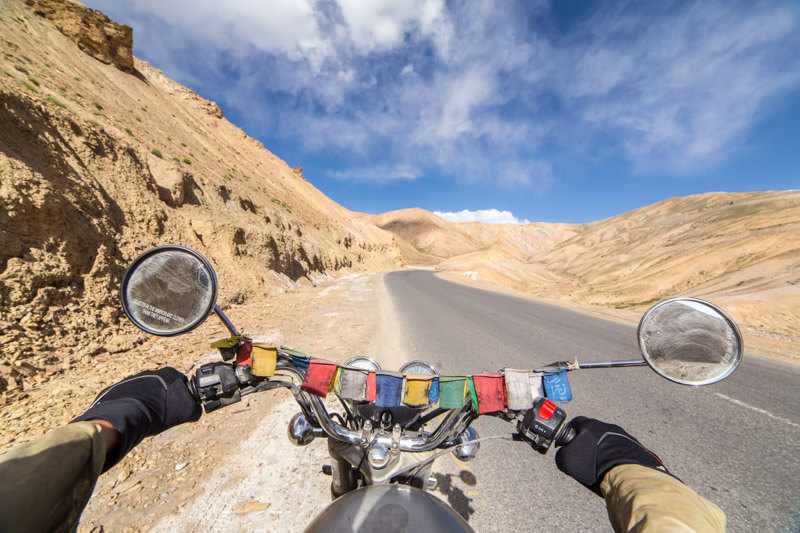 All jokes aside, we're serious about the Himalayan. It's dirt cheap, incredibly simple to work on, and reliable as a sledgehammer, and while the engine is about as thrilling as a pet rock on quaaludes, it delivers just the kind of low-down torque that sketchy off-road situations demand.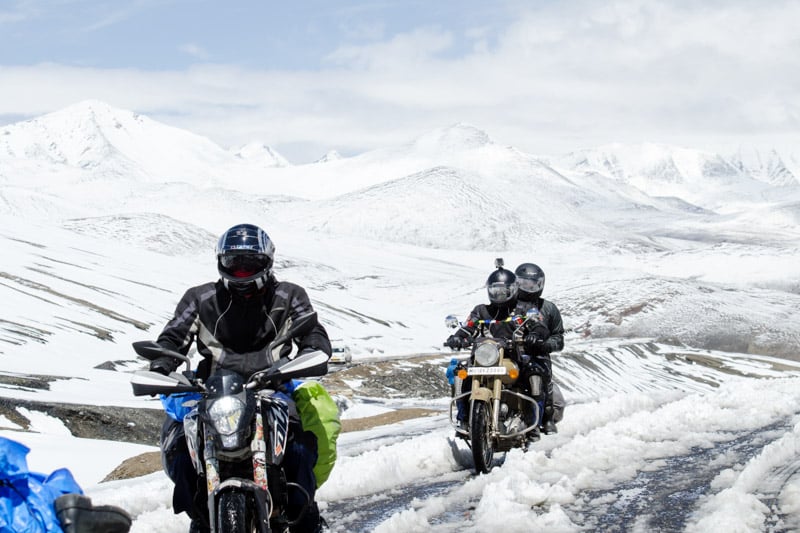 "A reinforced frame, compact dimensions, and workhorse single-cylinder engine give the Enfield charm and reliability in equal measure."
We'll also note that the Himalayan gets an updated frame for 2023, which has been heavily reinforced to address the issues some owners were experiencing when riding the bike off jumps, drops, and other scenarios this little 411cc single was probably never meant to encounter in the first place.
So go ahead, do your worst: The Himalayan will get you there with less effort and less expense than anything else on the planet.
Pros:
Dirt cheap

Easy to wrench on

Gets the job done on and off pavement
Cons:
Maintenance is simple but frequent

Lacks power

Simple suspension components
Thanks for reading! We hope this article helped you on your journey of finding the right adventure bike.
→Read More: 6 Best Adventure Motorcycle Helmets and Street & ADV Motorcycle Training.