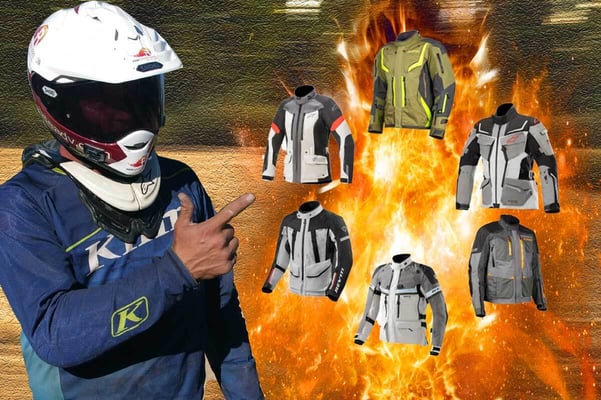 Disclosure: RIDE Adventures is a participant in the Amazon Services LLC Associates Program as well as other affiliate programs, designed to provide a means for us to earn fees by linking to Amazon and affiliated sites at no extra cost to you. Please see our Disclosure for more details.
Top shelf vs bottom dollar: We compare the most expensive adventure motorcycle jackets from the most popular brands to their budget-friendly counterparts to figure out how much a good jacket is really worth.
It seems like just when you thought you'd seen the most expensive piece of gear on the market, another "latest and greatest" adventure motorcycle jacket is released, and the sound of jaws dropping at the price tag can be heard for miles.
What's even more shocking is how often the prices of these jackets are justified by the incredible amount of safety and technology manufacturers manage to pack into them.
Who would have thought 20 years ago we'd be seeing jackets with built-in computers, soft foam pads that transform into rigid armor upon impact, or fabrics fused with ceramic by (FRICKIN') laser beams that can out-slide even the best leather?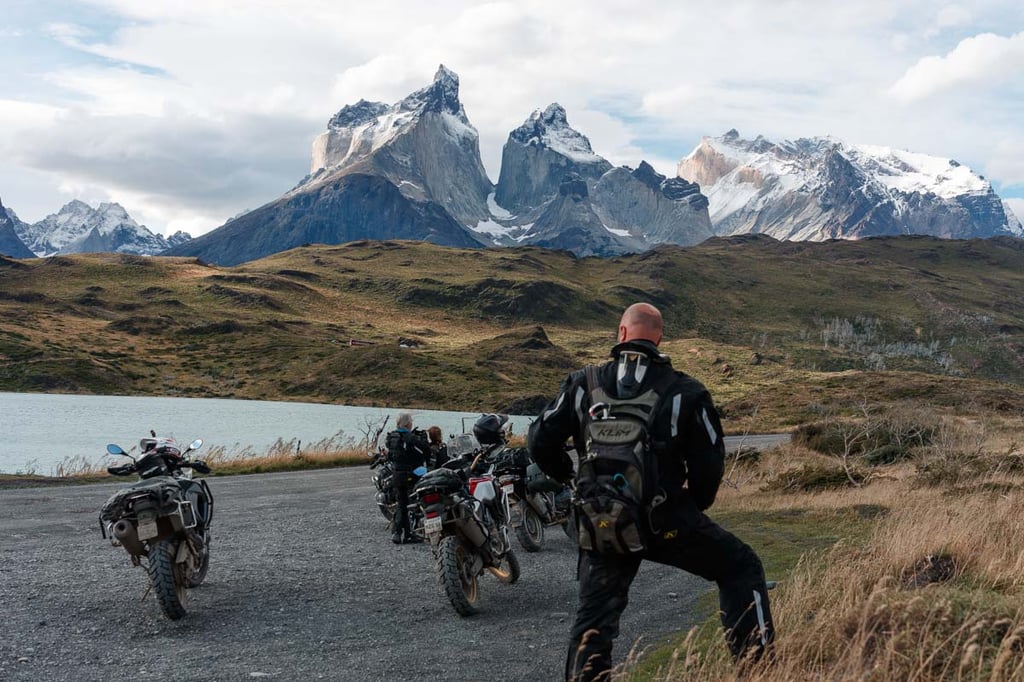 "After tour guiding more than 10 years Eric doesn't mess around with his Badlands Pro Jacket and Pants"
It's impressive… but is spending $1,000 really necessary to get true four-season performance and protection?
Below we look at three of the most popular jacket makers in the adventure motorcycle market, and compare the pros and cons of their flagship "top shelf" jackets alongside their entry-level "bottom dollar" offerings.
Before we get into all that though, let's talk about where we stand on "adventure" gear in general.
Our Take On Adventure Motorcycle Jackets
It goes without saying that the word "adventure" gets thrown around a lot these days whether we're talking about the gear we wear or the motorcycles we ride.
Could the new Yamaha Tenere be the best adventure motorcycle out there? Is the Honda CB500X an adventure bike at all? Is the adventure segment even a real thing, or is some asshole just trying to sell me a skid plate for my touring bike?
If you've been following us for a while, I think you know where we stand on all the above.As far as adventure motorcycle jackets go, however, we've got a few things we look for at RIDE Adventures before we consider a jacket to be appropriate for one of our tours.
The first, and arguably most important, is adequate waterproofing.
We ride rain or shine, and consider gritting your teeth and bearing the elements to be part of the "highs and lows" that make adventure touring such a unique experience.
In a perfect world, every adventure motorcycle jacket is fully Gore-Tex protected, and every day is bright and sunny. Unfortunately, Gore-Tex doesn't fit into every rider's budget, and we all get rained on sooner or later.
However, for the comparisons below, That's why we want to touch on both the best-of-the-best being produced by leading manufacturers as well as their entry-level offerings, which are much more accessible to many more riders.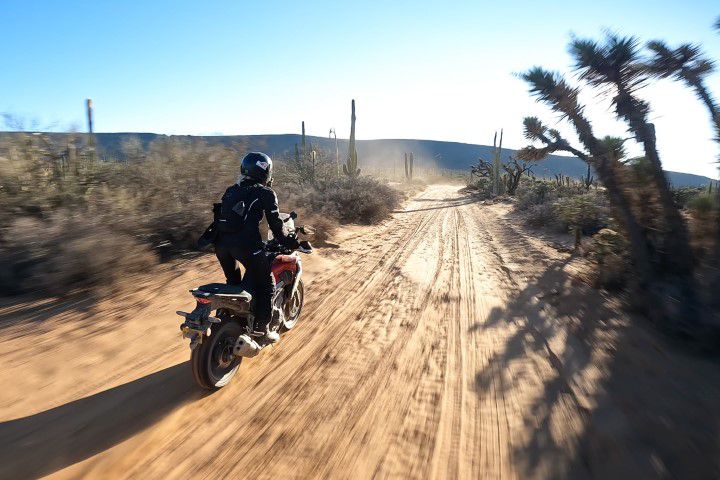 "One of our Team Riders blazing trail on our "Baja on Down" tour"
Aside from having a reliable system of waterproofing, we also consider ventilation to be a big deal. Really, this is the main thing that separates your average "touring" jacket from what we consider the "adventure" jacket segment.
We spend a lot of time offroad, standing up, moving around, and working our bikes hard over varied terrain.
If your jacket doesn't flow enough air, it's going to be that much more challenging to get through the day.
You'll also notice that we touch on the protective features of each jacket on this list, whether that's crash-tested materials or high-quality internal armor and padding.
If you've seen our ultimate adventure motorcycle gear guide, you'll know that while abrasion resistance is always important, we prefer to use stand-alone padding and protection from head to toe, and typically pull the armor out of our jackets before we ever put them to work.
Still, that approach isn't for everyone, so armor quality is also taken into consideration for the jackets below.
Alright, enough ranting, let's talk gear.
Klim Adventure Motorcycle Jackets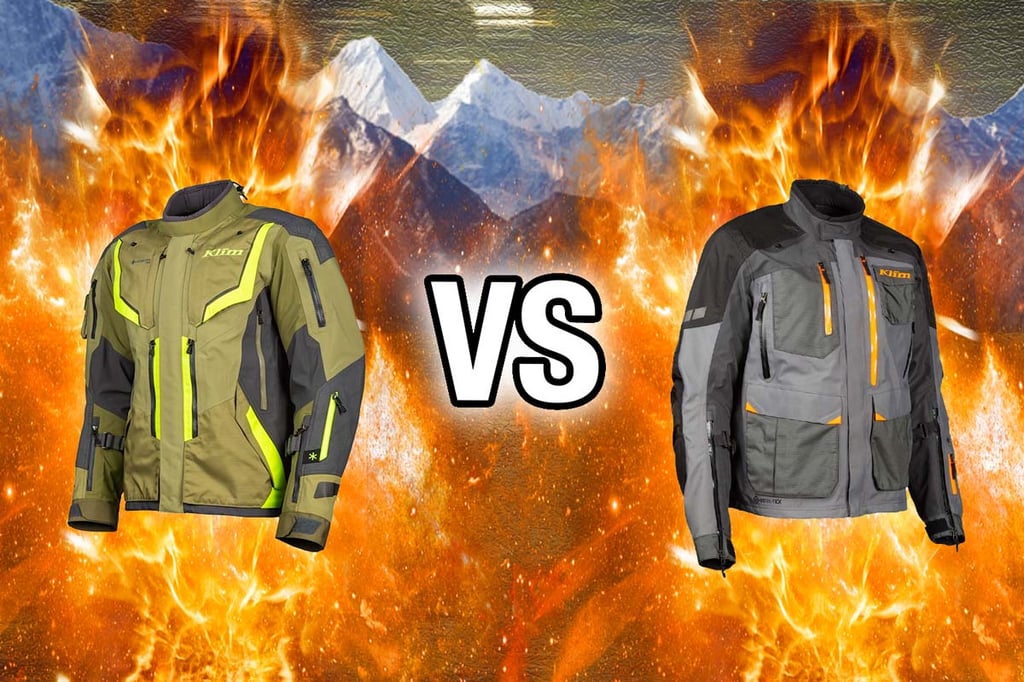 Badlands Pro vs Carlsbad
Klim is pretty much the king of adventure gear. Their Badlands series is widely considered the benchmark in the industry, and rightly so. But do they still deliver for the average Joe?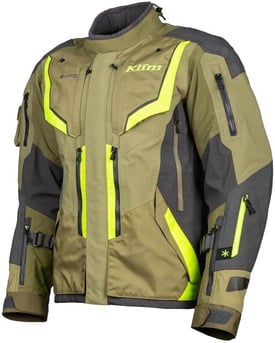 CHECK PRICE:
Klim Badlands Pro Jacket

If you've been following our YouTube channel, you know we're huge fans of the Klim Badlands Pro jacket.
Pretty much everyone on our team wears the Badlands Pro, and cumulatively we've put well over 100,000 miles on this adventure motorcycle jacket without a single failure.
Its Gore-Tex 3L weatherproofing is the best in the business. The ventilation is absurd (in a good way). Its protection is second to none with Aero Pro D3O armor, SuperFabric panels, and Klim's own Karbonite Ripstop fabric included in every jacket.
The Badlands Pro was a top-of-the-line jacket when it first came out, and it's only gotten better with every update.
The tech specs of the Klim Badlands Pro read like an article of their own, so just trust us when we say this jacket needs nothing and is worth every penny.
If we had to find something to complain about here, it would be that the external pockets and zippers are highly water-resistant, but not fully waterproof, so you wouldn't want to trust sensitive electronics in them through a downpour.
Of course, if you do manage to find something to complain about with the Badlands Pro, you can always step up to Klim's $1,700 Adventure Rally jacket, which is waterproof, bulletproof, child-proof, and probably radiation-proof as well judging by the price.
Pros:
Top-notch Gore-Tex liner
SuperFabric abrasion resistance
D3O Aero-Pro armor
12 vents on jacket alone
Cons:
Exterior pockets not fully waterproof
Runs a little hot during the hottest summer days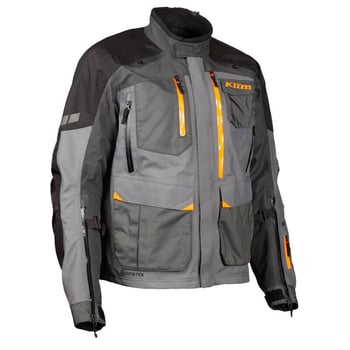 CHECK PRICE:
Klim Carlsbad Jacket

The Carlsbad is Klim's entry-level 4-season adventure motorcycle jacket, and it's bar-none one of the best values in the segment.
It'll run you about $100 more than the other "bottom-dollar" jackets on this list, but the features your get for the money are pretty remarkable.
The same three-layer Gore-Tex protection as the Badlands Pro, for one, is well worth the money by itself.
On top of that, the Carlsbad also includes D3O armor in the shoulders and elbows, AND ships with a D3O back protector at no extra charge.
As if that weren't enough you also get some trademark Klim fit-and-finish features like a stow-away collar system, 14 total pockets including hidden "stash" pockets for sketchy border crossings, and Klimatek mesh backing at the armor points to help keep the jacket cool.
No, it doesn't vent quite as well as the Badlands and no, it doesn't have any ceramic-infused SuperFabric, but as far as entry-level jackets go, this is the one to beat.
Pros:
Same quality Gore-Tex as Badlands Pro
Comes with CE Level 2 D3O armor throughout
Lighter than Klim Badlands Pro jacket
Cons:
Little less ventilation than Badlands Pro
Ripstop nylon rather than SuperFabric slide protection
No integrated hydration bladder compatibility
REV'IT! Adventure Motorcycle Jackets

Dominator GTX vs Sand 4 H2O
If Klim is the king of adventure, than Rev'It! is the dagger-wielding sonofabitch looking to usurp their throne. They crank out innovative new tech every year, effectively keeping the rest of the market on it's toes. But just how much of that tech trickles down to the common folk?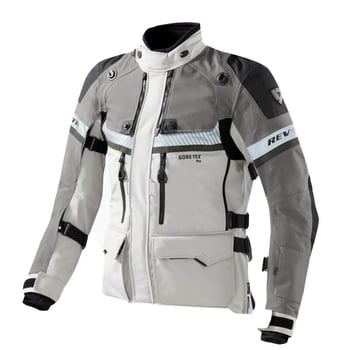 CHECK PRICE:
REV'IT! Dominator GTX Jacket
I really can't imagine where Rev'It will go next after this jacket.
The list of features is just outrageous. If you can imagine it, Rev'It built it into the Dominator GTX adventure motorcycle jacket.
Gore-Tex protection head-to-toe, CE level 2 armor included throughout, high-tech SuperFabric in the slide-prone zones, flexible waterproof panels at the back of the shoulders… Look, I'm not even going to try to list it all here.
It's just as bombproof, water-tight, and protective as the Badlands Pro jacket above, but has a few proprietary bells and whistles to boot: A removable monkey-paw system (which you'll appreciate in the winter), and massive "VCS AquaDefence" ventilation ports with super-slick magnetic fasteners to hold them open just to name a few.
Rev'it!'s other selling point to justify the extra $250 you'll spend on the Dominator over the Badlands Pro is that it's built to accept all of Rev'It!'s in-house modular add-ons as well.
So if you're interested in (or already own) their high-visibility vest attachment, or the Rev'It Challenger cooling vest, both will bolt right on to your Dominator GTX.
The same goes for Rev'It!'s Segur neck brace, which has dedicated attachment points on the chest and back of the Dominator jacket.
Aside from the steeeeeeep price point of this jacket, we really don't have any gripes with it. If you prefer to keep your armor attached to your jacket, and want the best protection money can buy, this may be worth the money for you.
Pros:
VCS waterproof direct ventilation system
Gore-Tex/Gore-Pro liner = best available
SEEFLEX industry-leading CE 2 armor throughout
Talisman Superfabric protection in shoulders and elbows
True waterproof outer pockets
Cons:
Even more expensive than Klim Badlands Pro
That's about it.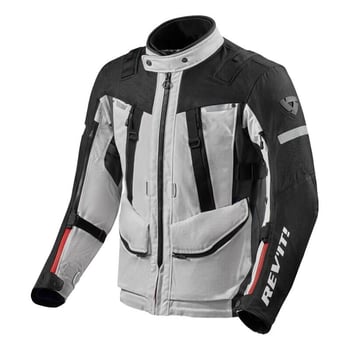 CHECK PRICE:
REV'IT! Sand 4 H2O Jacket
...Or, for about a third of the price, you can give the Rev'It! Sand 4 H2O a try.
The shell itself isn't waterproof like the Klim Carlsbad above, but Rev'It! Does make a commendable effort to waterproof the jacket by adding a removable proprietary waterproof liner.
This adventure motorcycle jacket flows a ton of air as well, and includes an innovative center vent that runs the length of the main zipper and flows air exceptionally well.
You won't find any premium SuperFabric at this price point (or a back protector for that matter), but the Sand 4 H2O does get Seeflex CE level 2 armor in the shoulders in the elbows, and a rugged ripstop polyester exterior from top to bottom.
Rev'It! is also thoughtful enough to include a removable thermal liner with the Sand 4, which doubles as a stand-alone jacket that's handsome enough to wear around town.
Of course we don't love the multi-layer approach to waterproofing, and the full ripstop construction leaves a little to be desired in terms of maneuverability, but for this price the Sand 4 is a solid four-season piece of adventure gear that's built to last for years.
Pros:
Jacket includes thermal and waterproof liners in price
CE level 2 armor included in price
Innovative snap-back and center zip ventilation system
Full polyester ripstop construction
Cons:
Waterproofing is proprietary, not Gore-Tex
Waterproofing dependent on second layer, limits ventilation
Outer pockets not waterproof
Can be constrictive for active offroad riding
Back protector not included in price
Alpinestars Adventure Motorcycle Jackets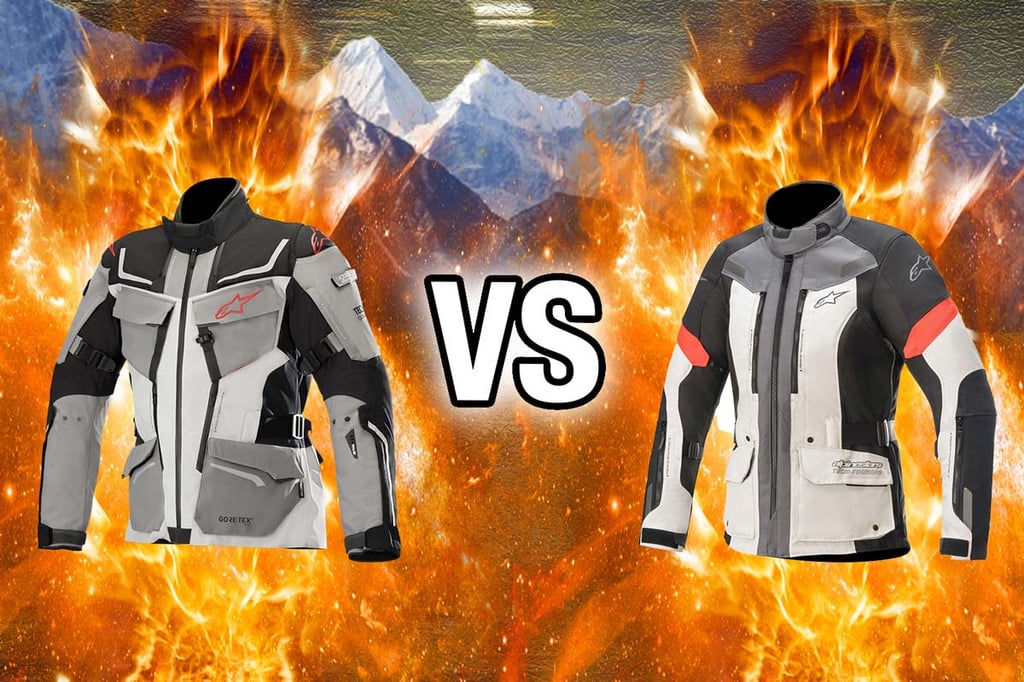 Revenant vs Valparaiso Drystar 3
Good ol' Alpinestars. It's a name you can trust at any price point, and has been for years. Their adventure gear looks solid, but we'll let you be the judge on how well they've adapted to the niche...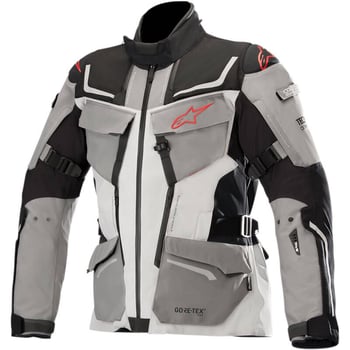 CHECK PRICE:
Alpinestars Revenant Jacket
Alpinestars' premium offering takes a slightly different approach than other brands on this list.
Yes, you'll still find top-notch Gore-Tex weatherproofing, plenty of direct ventilation front and rear, and premium abrasion-resistant fabrics in key areas throughout the jacket.
Where the Revenant claims to differentiate itself though is with its Tech-Air system compatibility.
If you're not familiar with the Tech-Air systems from Alpinestars, they're computer-monitored airbag systems that are worn inside your jacket.
Using Alpinestars' proprietary algorithm, the vest can detect when you're getting into a crash situation, and deploys airbags in fractions of a second to protect your chest, back, shoulders, and collarbones.
And the Tech-Air system really is incredible. It's expensive, but if safety-over-everything is your mantra, just know there's a reason every rider on the grid in Moto-GP has airbag technology in their suits.
The issue we have with the Revenant is twofold:
First off, it's got a long list of premium features, but other than being "Tech-Air compatible," it doesn't really do anything that the Klim Badlands doesn't, yet it comes in at the same price point.
Second, every jacket on this list is technically "Tech-Air compatible."
Alpinestars states any jacket with approximately 4cm of space inside can utilize the Tech-Air system.
Considering the construction of your average adventure motorcycle jackets (built to be layered underneath), that puts every other jacket in our list, both top-shelf and bottom-dollar, in the "Tech-Air compatible" category.
With that being said, I can't really think of a single good reason to choose the Revenant over other "top-shelf" adventure motorcycle jackets for the same money.
Pros:
Full Gore-Tex Pro protection
Tech-Air vest compatible
Tons of direct ventilation for true 4 season use
CE 2 level armor included
Armacore reinforcements on shoulders and elbows
Cons:
Would like to see all outer pockets waterproof at this price
$1000 jacket without a back protector???
Tech-Air isn't included ($700 extra), and can be added to any jacket on this list.
Bottom Dollar: Alpinestars Valparaiso Drystar 3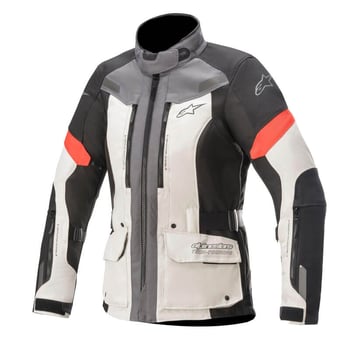 CHECK PRICE:
Alpinestars Valparaiso Drystar 3
Technically the folks at Alpinestars make an even less expensive adventure motorcycle jacket (the Andes Drystar V3), but since it's a cold-weather-focused jacket, we'd consider the Valparaiso series as their bottom-dollar offering for a true adventure shell.
The Valparaiso V2 was a great jacket, and Alpinestars has continued to improve on it in 2021 with the V3.
Alpinestars says it's Tech-Air compatible (but you already knew that), and as an added bonus the Valparaiso has some cool modern features like a full-length front zipper vent (just like the Rev'It! Sand 4) and CE level 2 armor included in the shoulders and elbows (just like the Rev'It Sand 4).
I'll stop making comparisons now but I think you get the point. I've always been a fan of Alpinestars and their entry-level products are often the ones to beat (just check out our recent review of the best adventure motorcycle gloves and you'll see what I mean).
However in this case, and for adventure motorcycle jackets in general, I think they've got some work to do if they want to compete in this market.
Pros:
Good ventilation including full-length front zipper vent
Removable waterproof and thermal liners means 4 season potential
Waterproof napoleon pocket is ideal for your phone
CE level two shoulder and elbow armor included
Cons:
Waterproof liner = Shell isn't weatherproof
Would like to see more exhaust vents in rear of jacket
Same price as Rev'It Sand, which comes in camo…
So Which Jacket Is Right For You?
Like so much else in the motorcycling world, it comes down to making the smartest investment you can.
Spending $1,000+ for guaranteed all-weather performance, four-season comfort, and the best safety features money can buy doesn't seem nearly as expensive if you intend to see the world from the saddle of a capable adventure bike. Hell, that's only thirty cents a mile on our Patagonia Adventure excursions…
But, for riders who are relatively new to the adventure and dual sport realm, or for your average weekend warrior, you probably don't need the latest tech to stay safe and have fun.
Every one of the "bottom dollar" jackets on this list packs a ton of protection and technology for the money, and would get you around the world in a pinch just fine.
→Read More: 8 Best Adventure Motorcycle Boots and Best Adventure Motorcycle Gear for any RIDE.