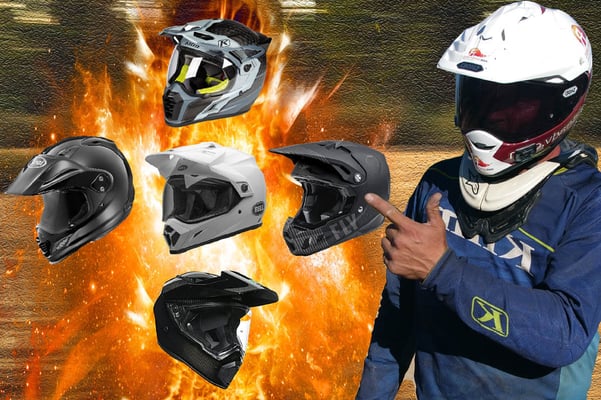 Disclosure: RIDE Adventures is a participant in the Amazon Services LLC Associates Program as well as other affiliate programs, designed to provide a means for us to earn fees by linking to Amazon and affiliated sites at no extra cost to you. Please see our Disclosure for more details.
If you're going to ride your dual sport as the good lord intended (in the dirt), adding one of the best dual sport helmets on the market to your arsenal should be at the top of your list.
We spent this past weekend riding some local singletrack trails and really got to thinking: What's not to love about a proper dual sport motorcycle? Lightweight, agile, and completely street legal (cough, cough), here's one bike that makes everything fun from running errands to exploring the backcountry, and costs pennies on the dollar to own, maintain, and insure.
Dual sports come in many shapes and sizes, from the mild-mannered and freeway-loving KLR650 to the obscenely powerful dirt weapon that is the KTM 500 EXC-F. There's no denying these machines exist on a broad spectrum, but at their core, they're all just glorified dirt bikes to one degree or another.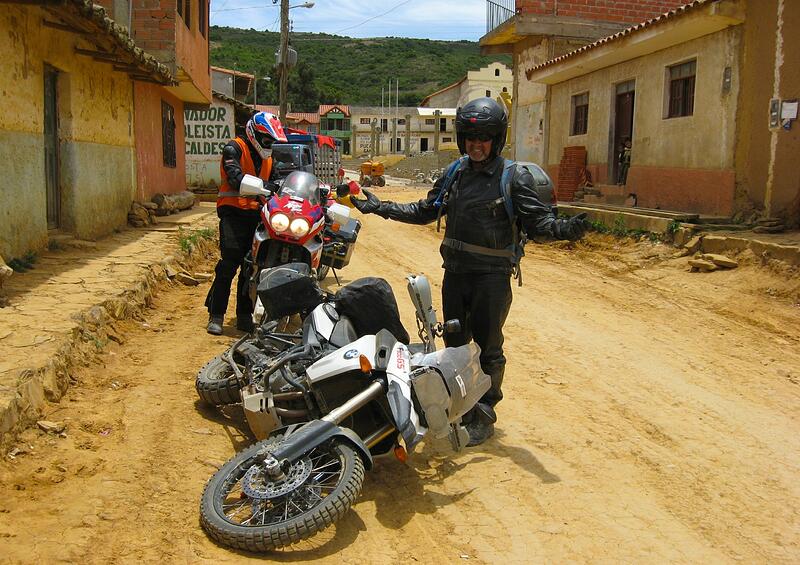 "Mistakes happen, better well protected than not"
As such, most dual sport riders have unique requirements when it comes to motorcycle gear, especially when it comes to helmets. The best dual sport helmets walk a fine line between street safety and off-road performance, so we figured we'd throw this handy little guide together to help you toe that line yourself in 2023.
What to Look For in a Dual Sport Helmet
Most dual sport gear revolves around getting as much off-road performance as possible without sacrificing too much in the way of street manners. Not all dual-sport riders are as interested in getting as dirty as others though, so here's our universal advice when selecting the right dual sport helmet for your riding style.
Start With Safety
As is the case with any lid worth owning, the best dual sport helmets start with safety. A helmet can be as quiet, comfortable, and as breezy as a Bora Bora beach cabana, but if it won't protect your head in a crash, it belongs at the bottom of the ocean with the rest of the trash (just kidding, please recycle).
The easiest way to tell that a dual sport helmet is safe for street use is by looking at its safety certification. DOT ratings are the bare minimum requirement in the states, but DOT safety testing isn't particularly rigorous, so we prefer helmets with either Snell ratings, ECE certification, or some combination of the three.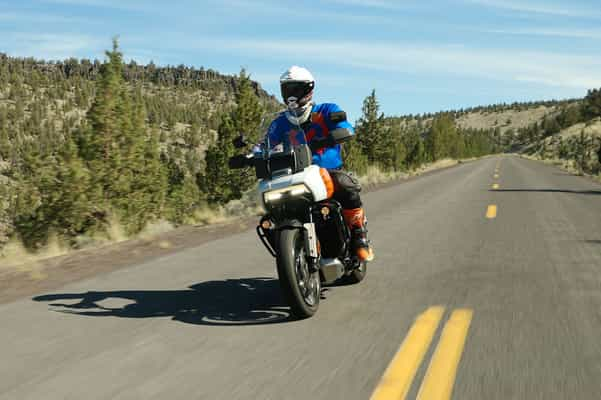 "Eric cruising the backroads in Oregon on our Self-Guided Best Week in Oregon tour option"
With that being said, keep in mind that while most reputable helmets include an ECE certification nowadays, you shouldn't disregard a helmet just because it doesn't have one.
Remember, ECE credentials are only required for helmets that are marketed and sold within the European Union. Earning an ECE badge requires expensive third-party testing (which comes out of the manufacturer's pocket), so some brands will forego the certification on models not sold within the EU.
Shoei is a great example of this: Here is a company that undoubtedly makes some of the most premium and protective helmets on the planet, yet their American models rarely carry an ECE certification. Are they less safe than any helmet with both a DOT and an ECE approval? Absolutely not.
How Dirt-Focused Should A Dual Sport Helmet Be?
While dual sport motorcycles are, by nature, typically more dirt-biased than their ADV cousins, the two disciplines generally pull from the same pool of helmet choices. We identify these helmets by a few very specific features, so let's review those briefly.
The first and most obvious will be both a street-friendly face shield and a large goggle-friendly viewport. Preferably these two features will work in tandem so that you can open and close the face shield with your goggles in place, but this isn't necessarily a deal-breaker depending on your riding style.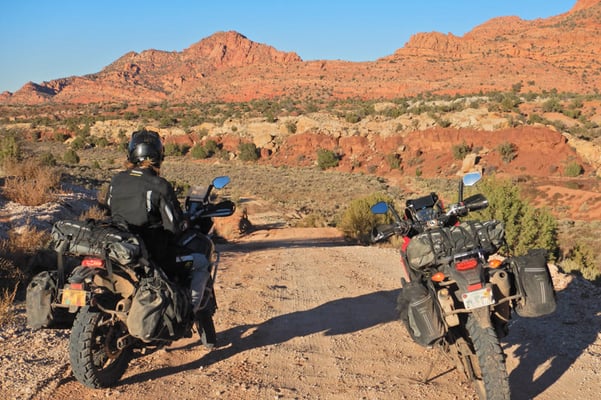 "You are sure to encounter some challenging dirt on our adventurous Utah route"
Your other main dirt-biased feature to look for is airflow. The best dual sport helmets will flow roughly the same amount of air as a dedicated dirt helmet, because they're essentially doing the same job: Keeping you cool while you do active (and therefore sweaty) off-road riding.
Generally speaking the more road-biased features you add to a helmet (padding, quietness, weather protection, etc.), the less direct airflow it will deliver.
Again, it's up to you to decide where to split the difference, but if you're planning on logging some serious highway miles on your dual sport, it's often worthwhile to sacrifice some off-road performance in the name of creature comforts.
Should You Wear Dirt Helmets On the Street?
We consider riding a dual sport motorcycle in a dirt-specific helmet (motocross-style, no visor, open ventilation, etc.), a perfectly reasonable option for you hardcore off-roaders out there.
If you avoid pavement like the plague and only register your bike for the sake of connecting dirt trails (without breaking the law), chances are you have little use for street-focused features to begin with.
For those riders, there's really nothing better suited to your style than the light and breezy feel of a dirt lid, but that comes with a caveat: Just like the motorcycle you ride, we believe your dual sport helmet should safe and legal for street use.
Even the cheapest dirt helmets come with DOT certification nowadays, but just because you can wear an $80 helmet doesn't mean you should. Whether you're riding at highway speeds or not, the more safety features and certifications your helmet has, the better.
It's also worth mentioning that dirt helmets aren't designed to be aerodynamic for highway speeds, so if you're planning on spending much time over 50 mph you may want to reconsider.
The visors of dirt helmets are notorious for catching wind like a sail, so you'll do well to choose a helmet with an easily removable visor at minimum.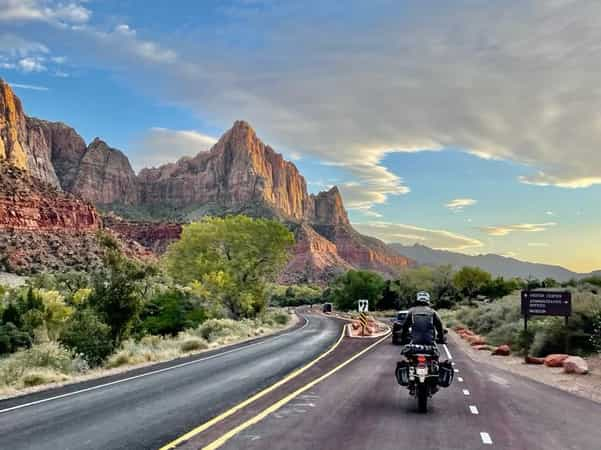 "Without a tall windshield to protect you that visor on dual sport helmets can give your brain a rattle"
Alright, that's enough for today's lecture. Let's dig into our picks for the best dual sport helmets of the year.
Our Top Picks For Best Dual Sport Helmets of 2023
When putting together the list below, we made an effort to include the right helmet for every rider on damn near any budget. These are all helmets we know and use ourselves for dual sport duty, from the ultra-frugal to the ultra premium, so regardless of where you fall on the spectrum, there's something to suit your needs down below.
1. Arai XD-4
First on our list is the helmet that started it all two decades ago, the Arai XD. Now in it's fourth iteration as the Arai XD-4, this lid has only gotten better with time, and no list of the best dual sport helmets would be complete without the XD-4 somewhere in the mix.
So what makes this helmet stand out? Well for starters, it's a premium Arai helmet, which means it comes with the same custom-adjustable padding, hand-laid superfiber shell, and impressive Snell M2020 safety certification that Arai is known for.
As for its dual sport chops, the XD-4 sports the best combination of comfort, quiet, highway manners, and airflow of any helmet on the list below. It also manages to do all this while weighing in at just 3.6 pounds, further improving its all-day comfort for riders of any ilk.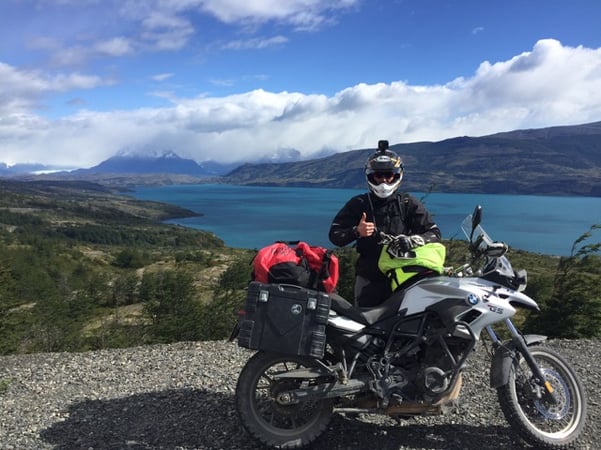 "Customer enjoying a self guided scenic ride on our Patagonia tour while sporting the Arai"
As you might expect, your main drawback with the Arai is price, which stars at over $600 for the base models (you'll need to add another $100+ if you want anything outside of black, white, and silver colors). We'll also note that while the XD-4 delivers excellent ventilation overall, it can't quite compete with the airflow of a true dirt/motorcross helmet.
Pros:
Off-road competence meets touring comfort
Uncompromising safety features, Snell certified
Excellent ventilation without sacrificing highway manners
Cons:
Expensive
Overkill for dirt-focused riders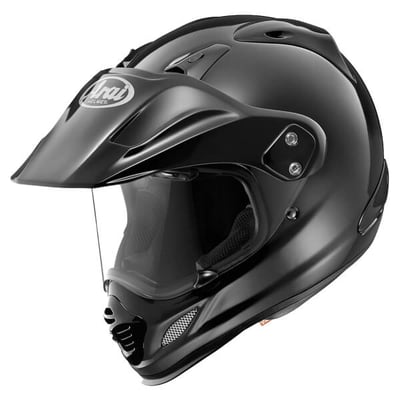 CHECK PRICE:
Arai XD-4 Helmet
2. Klim Krios Pro
Lightweight? Check. Flows a ton of air? Check. Uber-protective? Check. The Klim Krios Pro checks all our most important boxes for a great dual sport helmet, but it's the way it checks them that really makes it stand out.
Take its weight, for instance: Klim uses ultralight 12K carbon fiber weave to keep the total weight down to just 3.4 lbs, which is fantastic for a street lid and just a hair over the original (and much simpler) Krios.
And as for ventilation? Klim took the somewhat problematic vent scheme of the original Krio and upgraded it with revised forehead vents and an all new (and fully adjustable) chin bar vent. The Pro also benefits from the addition of a Transitions lens, which we've been loving in combination with the Pinlock-ready face shield.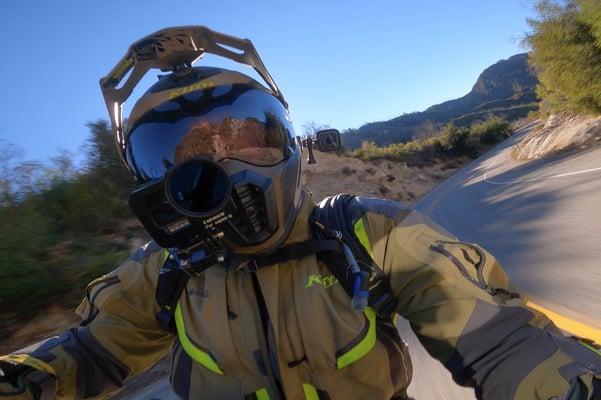 "Garrett our videographer thankful for how light the Krios Pro is, mainly because he always has 3 cameras attached."
Our main complaint here is price, and the Krios Pro stands out in a field of expensive lids from contenders like Arai and AGV. Much of that added expense is tied up in the Transitions visor though (it's usually a $150 upgrade), so if you're already planning to add one after the fact, the Klim Krios Pro is a solid deal for a premium helmet.
Pros:
Impressively lightweight
Improved airflow
Advanced Koroyd impact protection
Cons:
Expensive
Not everyone will appreciate the Transitions lens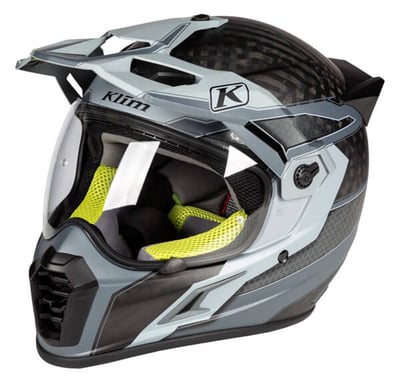 CHECK PRICE:
Klim Krios Pro Helmet

3. AGV AX9
AGV is an industry-leader when it comes to lightweight helmets for the street and track, and the AX9 is their latest and greatest ADV/dual sport offering. We think of the AX9 as the more street-biased option on our list, which makes it something the true 50/50 dirt/street crowd is sure to appreciate.
On the street side, the AX9 is exceptionally comfortable and surprisingly aerodynamic for a helmet with such a large peak visor. It's also impressively quiet for a lid with such a long chin bar, and while it can't quite compete with the Arai XD-4 above in that regard, it costs several hundred dollars less and remains much quieter than most helmets in the segment.
Ventilation is another highlight for the AX9, and we love that the revised chin inlet is both adjustable and completely removable, allowing riders to tailor it for a stronger touring or off-road focus. The same goes for both the pinlock-ready face shield and peak visor, which are some of the quickest and easiest to remove we've seen to date.
As far as cons go, our main complaint with the AX9 is that it's not as dirt-focused as many off-road aficionados would like. The shape and design of the face shield isn't particularly goggle friendly, and most riders will want to remove it completely rather than struggle to make it work with goggles of any size.
Pros:
Quiet and aerodynamic for a dual sport helmet
Lightweight carbon composite shell
Pinlock visor and insert included
Cons:
Too road-biased for some
Visor isn't great with goggles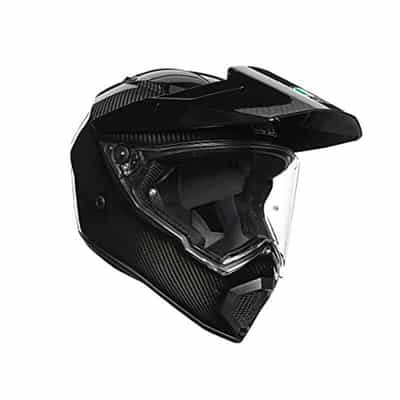 CHECK PRICE:
AGV AX9 Helmet

4. Bell MX9 Adventure Mips
Take one of the best selling motocross helmets of all time, add in a removable face shield, and then tweak the aerodynamics for street use and you've got the Bell MX9 Adventure Mips. If that sounds a recipe for the perfect dual sport helmet, it should.
The MX9 Adventure is reasonably light at around 3.5 lbs, shares the same excellent "velocity-flow" ventilation system as the original MX9 motocross helmet, and also benefits from a Mips slip liner between the padding and EPS liner for added protection against rotational forces in the event of a crash.
These are all great reasons to consider the MX9 Adventure, but perhaps the most impressive of all is this dual sport helmet's price: This DOT and ECE-certified helmet goes for under $250 all day, and that even includes all the spiciest color options.
If you're on a budget, this is hands down the best dual sport helmet you'll find, but we've got two complaints with the MX9 you'll want to keep in mind. First, its motocross-roots are apparent at highway speeds, as this helmet is a bit noisy and also catches a fair amount of wind with the visor in place.
Second, the shell is a simple polycarbonate material, where more expensive options use a lighter and more protective carbon or fiberglass blend.
Pros:
Super affordable
Vents like a motocross helmet
DOT & ECE certified
Cons:
Basic polycarb shell
Not the best highway manners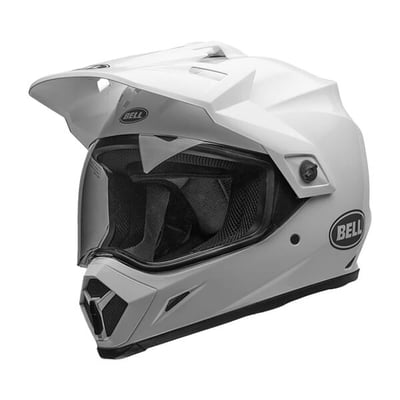 CHECK PRICE:
Bell MX-9 Adventure Mips
5. Fly Racing Formula CC
If you're looking to go all-in on your off-road features, the Fly Racing Formula is the best dual sport helmet for the money. This lid delivers the lightweight build and exceptional airflow we look for in a dirt helmet, but it's also backed by some of the most innovative safety features on the market.
Chief among them are Fly's proprietary "RHEON" cells, which are designed to significantly reduce linear impacts while also reducing the rotational forces typically associated with off-road accidents. We're also fans of Fly's visor system, which employs shear-off visor screws to protect the rider from snagging and also allow the visor to be easily repaired after a crash.
The Fly Racing Formula comes in polycarbonate, carbon composite, and full 12K carbon fiber varieties, but we're most fond of the composite version for its balance of performance and affordability.
For less than $500, you're getting the same safety tech found in the brand's flagship $700 helmet, all while keeping the overall weight below the 3-pound mark.
As far as drawbacks go, the most obvious here is the Fly Formula's lack of street manners. As a motocross helmet, this is one of the safest and most sophisticated designed on the market, but on the street it's just as noisy an pretty much any other dirt lid we've tried.
Pros:
Lightweight carbon composite shell
Industry-leading safety features (DOT & ECE certified)
Excellent ventilation
Cons: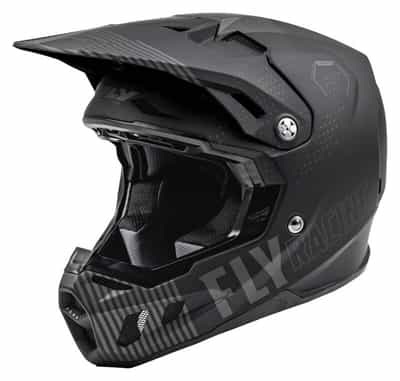 CHECK PRICE:
Fly Racing Formula CC Helmet
Closing Thoughts on the Best Dual Sport Helmets…
While we've already touched on this a fair amount, we really can't over-emphasize that choosing the right dual sport helmet depends entirely on the kind of riding you're doing.
If you're a one-bike kind of rider who takes their DR650 to work three days a week and hits the occasional forest road on the weekend, a motocross helmet probably isn't a wise choice, especially if it's the only helmet you own.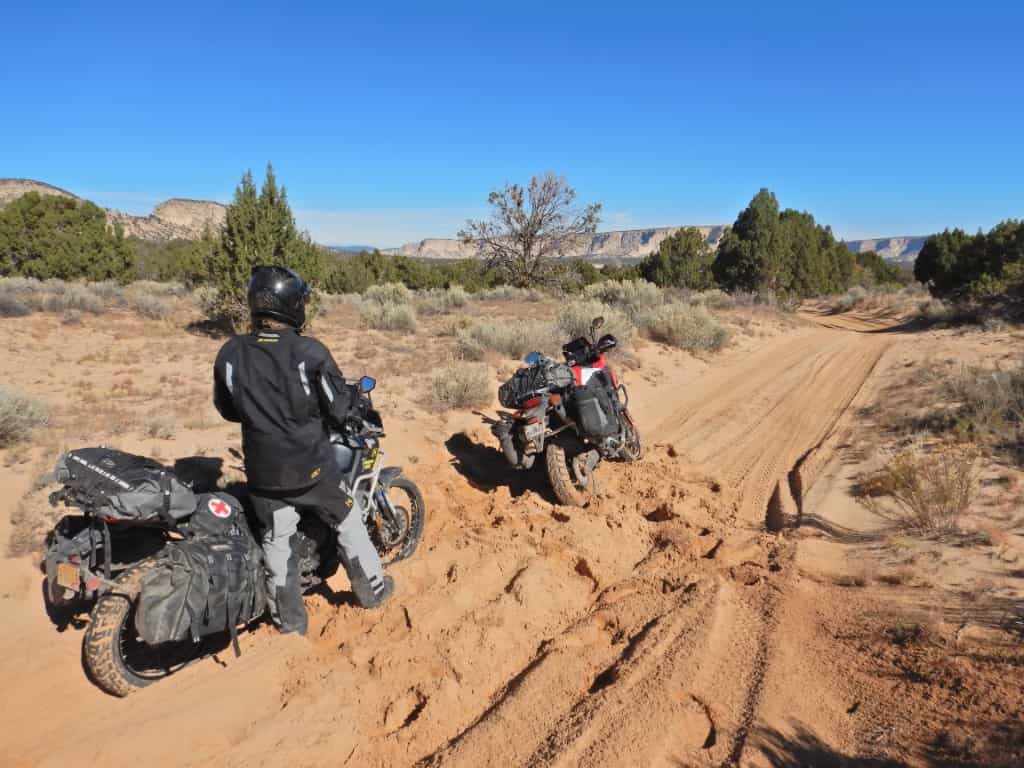 "Our tour guides Tyler and Kyle getting there gear though some rough terrain in Utah"
Consider the following: Somewhere out there, someone is prepping a bone stock Yamaha XT250 for a cross country journey to Alaska. In a seemingly alien universe, a shiny KTM 350 is getting it's fourth piece of orange-anodized bling of the season, although it'll likely see nothing but dirt for the rest of its life.
Both of these riders are dual-sport lovers in the purest sense, but they both need very different things from a dual sport helmet. Know where you fall on the spectrum, and when in doubt, two helmets are better than one.
→Read More: 6 Best Adventure Motorcycle Helmets and The Shoei Hornet X2 Helmet Review.