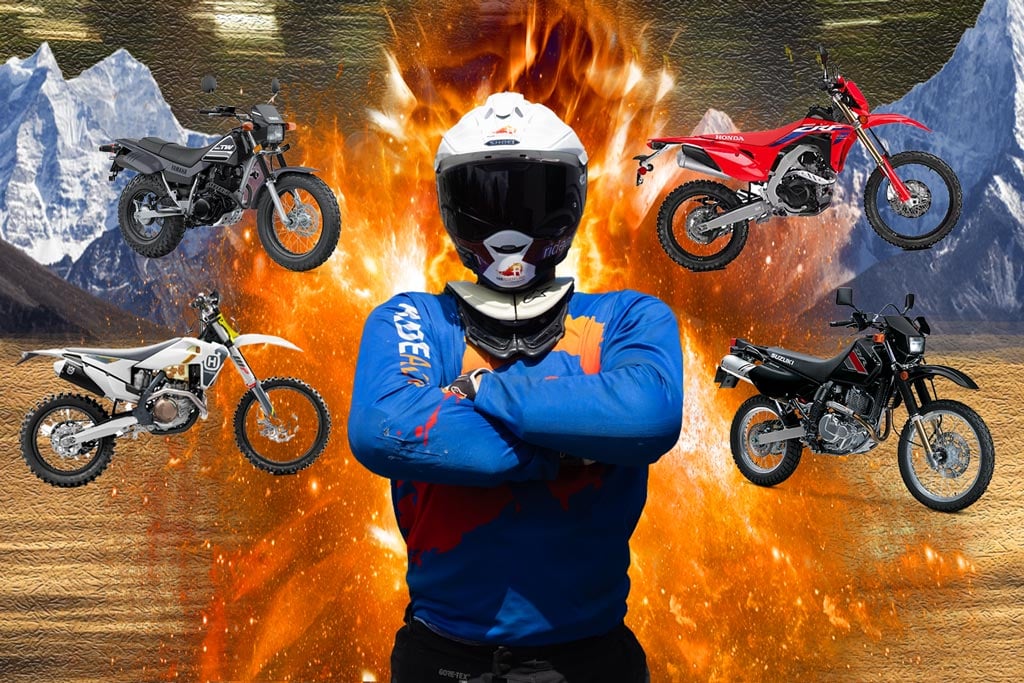 Who says you need a 500-pound adventure bike to get off the beaten path? Keep your all-terrain exploits pure with the best dual sport motorcycles on the planet.
Like many riders before me, a dual sport bike was my first introduction to the world of all-terrain exploration, and they still hold a special place in my heart today.
It's easy to get sucked down in the undertow of the big-bike craze, but truth be told all you really need to get out there is a single piston and two wheels.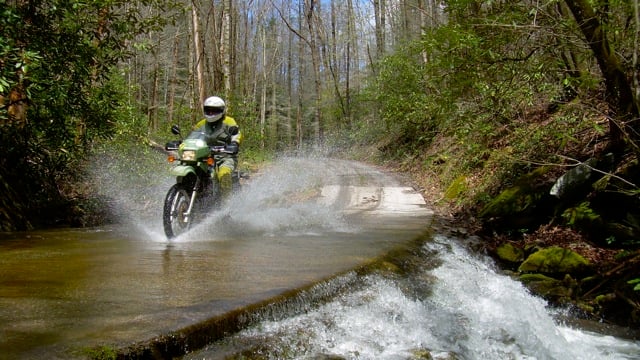 "If it's got one cylinder and doesn't mind getting dirty, it's cool with us."
There's a fair amount of debate about where to draw the line between a dual sport bike and an ADV. Can it haul luggage? Does it weigh less than 300 pounds? Can it go 200 miles on a tank?
Personally, our requirements for a dual sport are simple. Dual sport bikes are repurposed dirt bikes at heart, and as such they sport single-cylinder engines, knobby tires, and off-road-focused suspension and handling characteristics to one degree or another.
Some folks say "true" dual sports are only those bikes modeled after hardcore enduro racers. Others beg to differ and prefer easier-going 50/50 machines like big 650s and frugal 200s.
We're fans of both camps, which is why we've selected the best models from each discipline and everything in between in the list below. We've also separated our favorite new models from our favorite used bikes as well, so if you're shopping the second-hand market, we've got you covered.
The Best New Dual Sport Motorcycles You Can Buy Right Now
Much like the adventure motorcycle segment, dirt-oriented dual-sport bikes are more popular than ever. That's good news for anyone after a street-legal trail bike, as competition between manufacturers breeds value for the rest of us. Here are our top picks for new models currently on the market.
1. KTM 690 Enduro R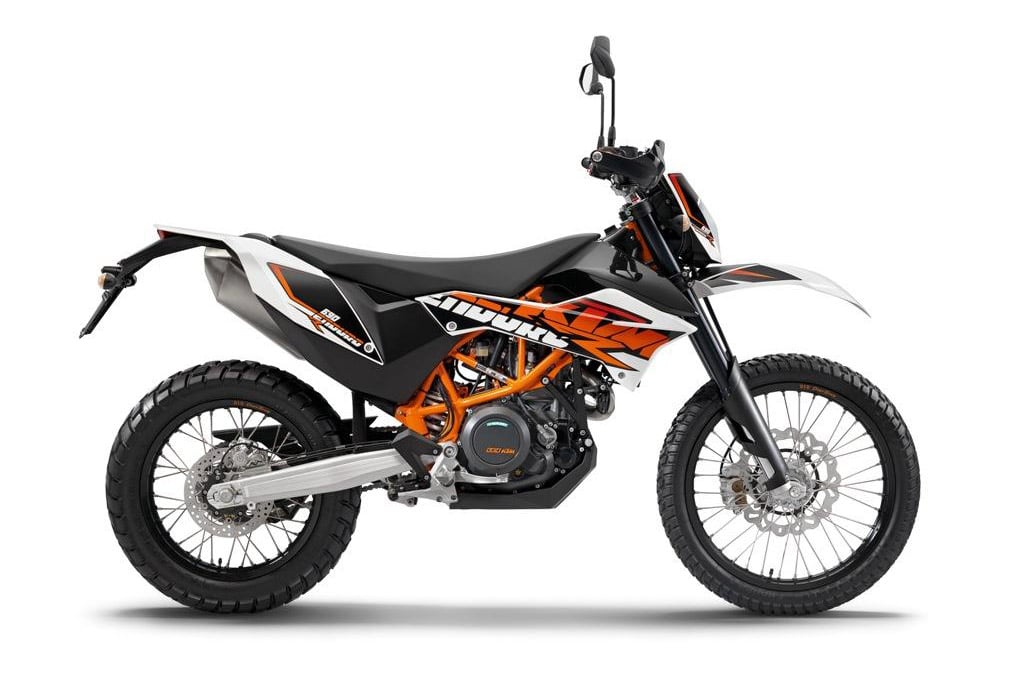 Quick Specs:
Horsepower: 74 hp @ 8,200 rpm

Torque: 54 lb-ft @ 6,800 rpm

Weight: 350 lbs

Seat Height: 35.8 in

Fuel Capacity: 3.6 gallons

Price: $12,999
KTM's legendary LC4 has been pushing the limits of what a single cylinder can do for years. In its earlier iterations, there were a few lingering reliability concerns, but in recent years the big single has truly come into its own, with power, reliability, and refinement in equal measure.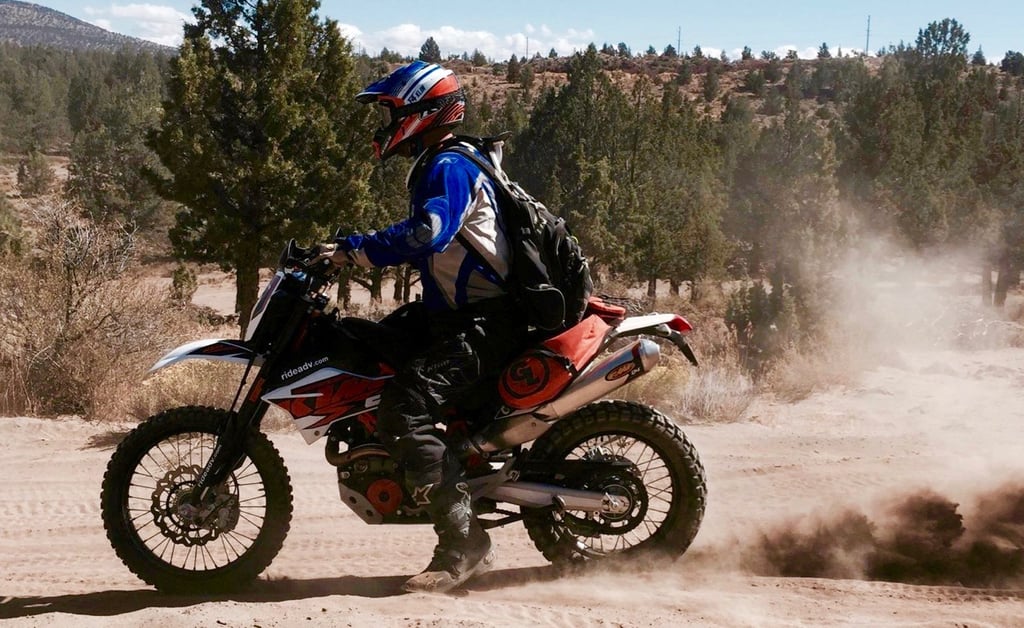 "We've had our fair share of fun on the big 690 over the years. This bike never fails to impress."
Bolt that motor into a fine-tuned steel trellis frame, add premium long-travel WP suspension on either end, then add an impressive electronics package that includes modes for street, dirt, and rain, and pound for pound you've got the most capable big-bore dual sport bike out there.
It's certainly not the cheapest option out there, and many riders will be better suited with simpler/less powerful equipment, but no other 600cc+ machine on the market can outperform the 690 on dirt, pavement, and everything in between.
We'll also note that the Enduro makes one of the more exciting candidates money can buy for a street-legal supermoto build, so if you're considering picking up a second set of wheels for drift duty, don't overlook this one.
Pros:
Uber-powerful engine
Strong performer on and off-road
Lower maintenance than more hardcore options
Cons
:
Expensive
Heavier than most aggressive dual sports
2. Husqvarna FE501S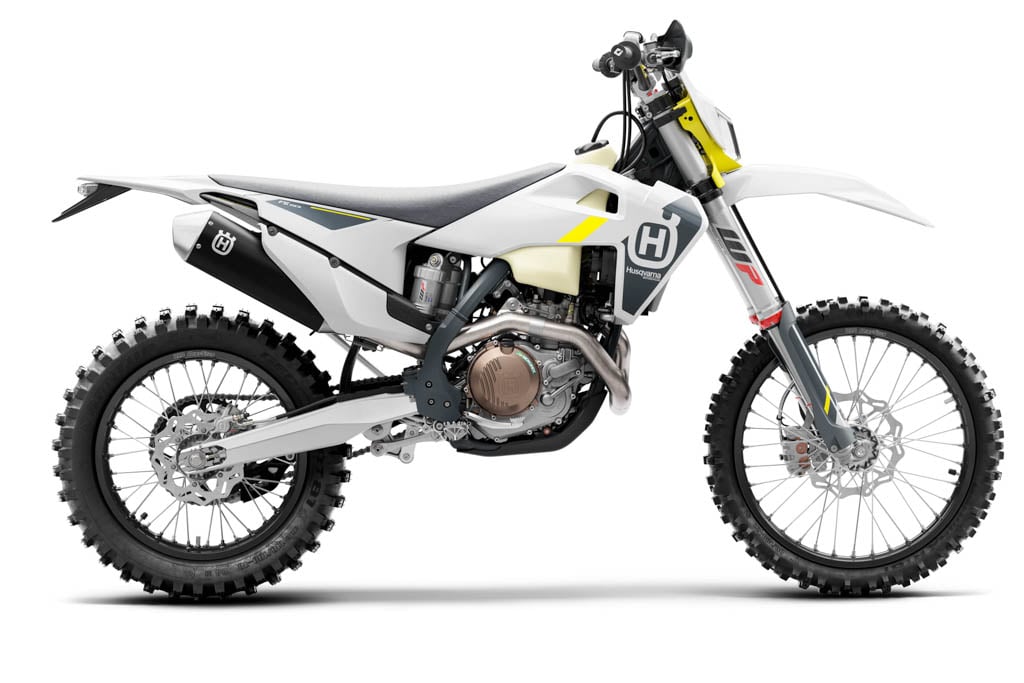 Photo Credit: KISKA GmbH
Quick Specs:
Horsepower: 44.5 hp @ 8,400 rpm

Torque: 32 lb-ft @ 6,900 rpm

Weight: 239 lbs (dry)

Seat Height: 37.4 in

Fuel Capacity: 2.8 gallons

Price: $12,649
If you're looking for uncompromising off-road performance in a lighter and even more aggressive package, Husqvarna's FE501S is the best dual sport bike for the job.
Essentially a hardcore race machine given the bare minimum for street-legal status, the FE501S is an absolute weapon when the pavement ends, blending razor-sharp handling and explosive power in equal measure.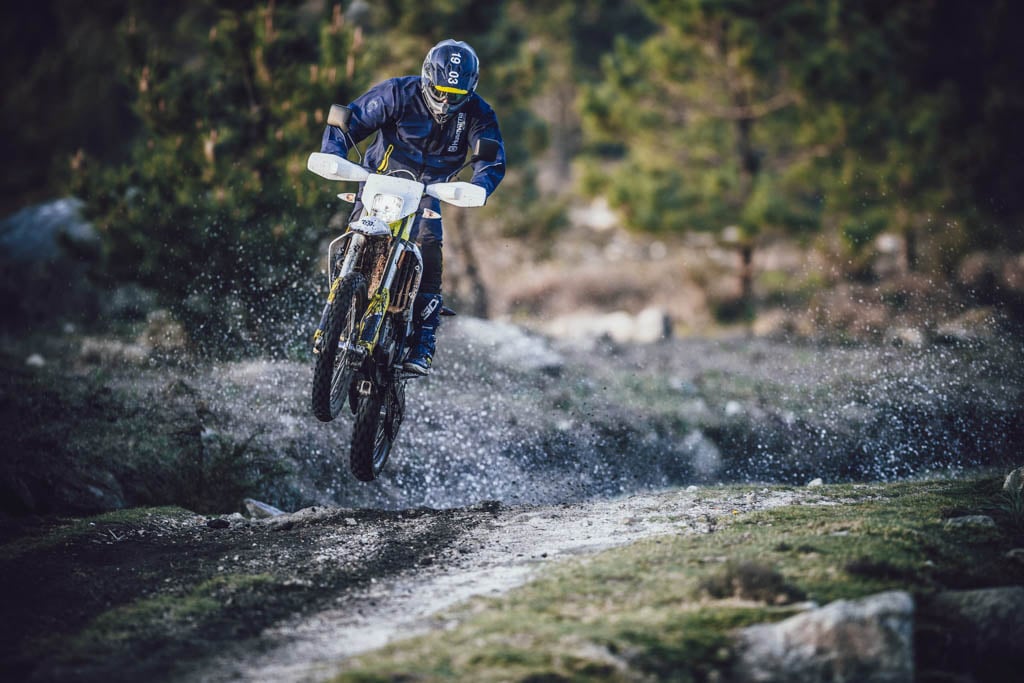 Photo Credit: Schedl R
The FE501S lacks nothing in terms of performance or technology. The engine is impressively smooth for a street-legal dirtbike despite increasingly stringent noise and emissions standards, and all 11.8 inches of its suspension travel is fine-tuned for aggressive trail riding.
This is a high-performance off-road bike with a price tag to match, so folks looking for a 50/50 bike that's great on the pavement need not apply. If you're the type to avoid asphalt at all costs, however, this is hands down the best dual sport bike money can buy at the moment.
Pros:
Super smooth and powerful engine
Featherweight with razor-sharp handling
Ideal suspension for technical trail riding
Cons :
Expensive
Close ratio transmission is buzzy at highway speed
Higher maintenance than more road-oriented machines
3. Honda CRF300L Rally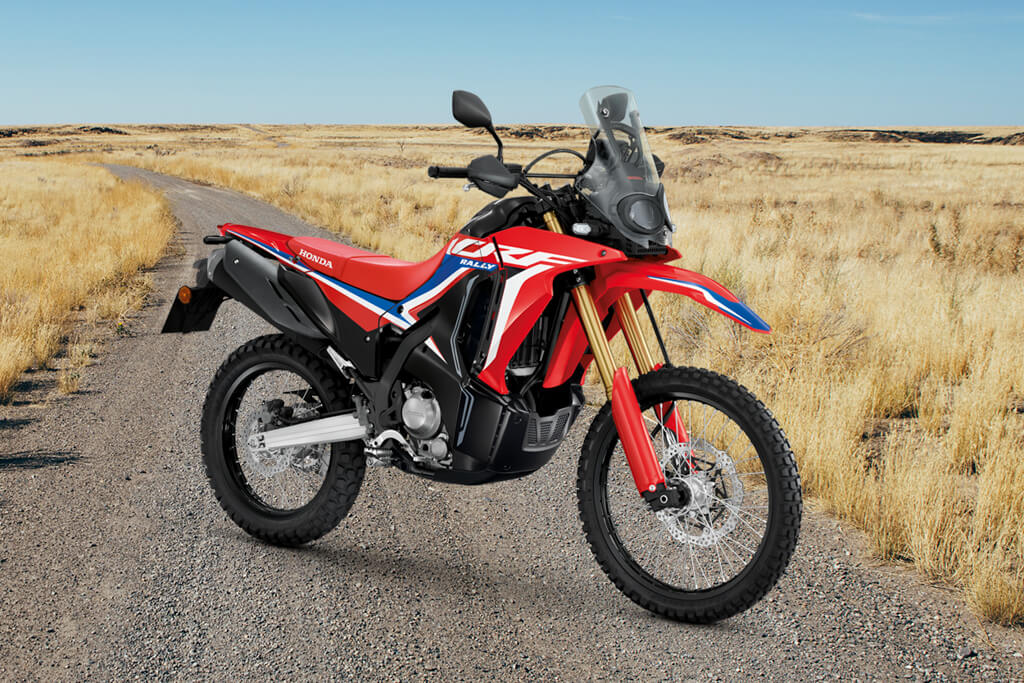 Photo credit: Honda Australia
Quick Specs:
Horsepower: 27hp @ 8,500 rpm

Torque: 19.6 lb-ft @ 6,500 rpm

Weight: 331 lbs

Seat Height: 35.2 in

Fuel Capacity: 3.4 gallons

Price: $6,149 (non-ABS model)
Don't be fooled by its name: The "rally-inspired" CRF300 is still just a 300L at heart, which means its DNA is pure dual sport.
With stronger brakes, better wind protection, and extra fuel capacity, the Rally is a worthwhile upgrade over the standard 300L, and still comes in at a wallet-friendly price fresh off the showroom floor.
We tested the 300L Rally alongside our long-term WR250R, and there's definitely something to be said for that extra 50cc of displacement on offer from the Honda engine.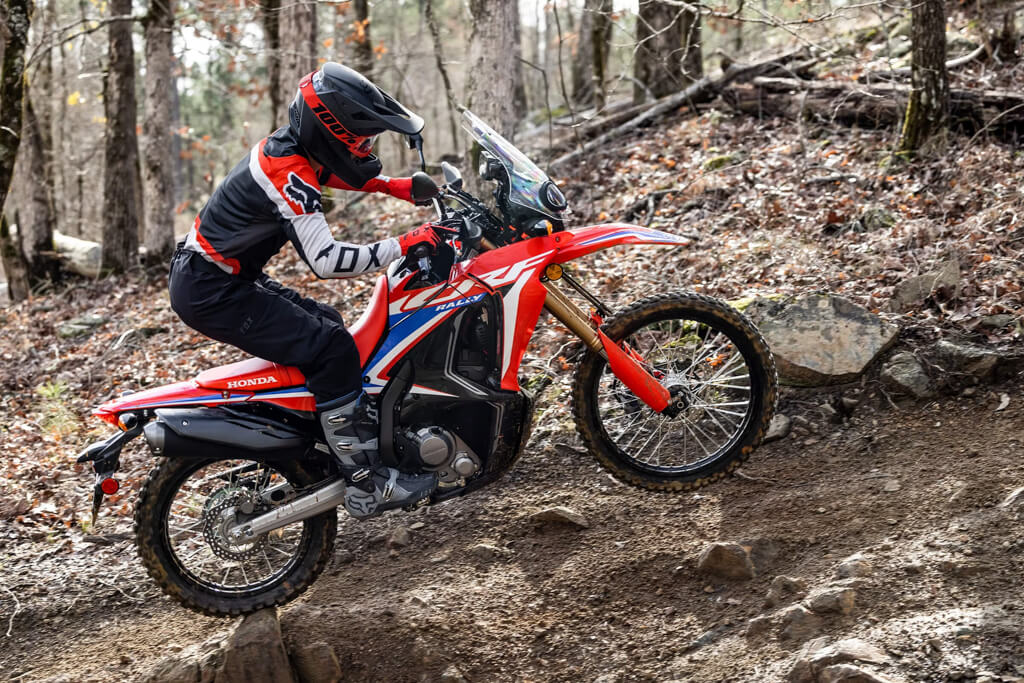 "The CRF300L Rally is a bit soft, but still more than happy pulling trail duty." Photo Credit: Honda
The motor feels much torquier than your average small-bore dual sport bike, and has no problem lugging around trails or pulling freeway speeds out on the pavement.
Really the only place we'd knock the Rally is suspension, and although it includes a commendable 10+ inches of travel, it tends to work through the stroke pretty quickly, lending the bike a particularly "squishy" feel out on the trails.
Those looking to spend more time in the dirt than on the street may do better with the standard 300L, but for everyone else, the Rally is an absolute slam dunk.
Pros:
Comfortable, with excellent street manners
Works well enough in the dirt
Long range capability
Cons
:
Heavier than the standard 300L
Soft/ non-adjustable suspension
Costs more than the 300L
4. Honda CRF450L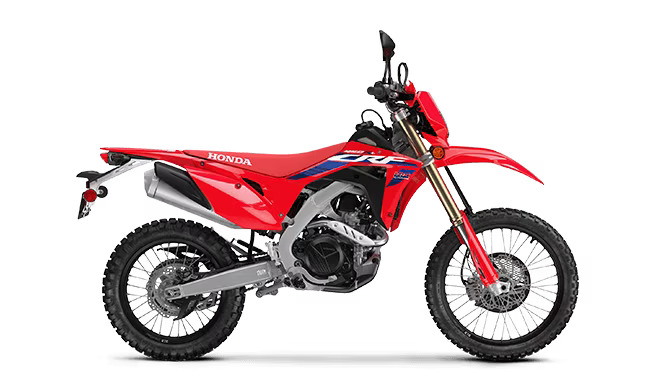 Photo credit: Honda
Quick Specs:
Horsepower: 41.7 hp

Torque: 23.6 lb-ft

Weight: 289 lbs

Seat Height: 37 in

Fuel Capacity: 2 gallons

Price: $9,999
While we still lament the loss of the damn-fine Honda XR650R, we find solace in knowing Honda has converted their big 450 enduro into a proper street-legal dual sport bike.
Based heavily around the gnarly 450R enduro racer, the 450L gets slightly softer suspension, slightly revised power delivery, and slightly tweaked suspension geometry for a more planted feel.
Power is still outstanding, the full 12.4 inches of suspension travel is still intact, and the seat height is still sky-high at just over 37 inches.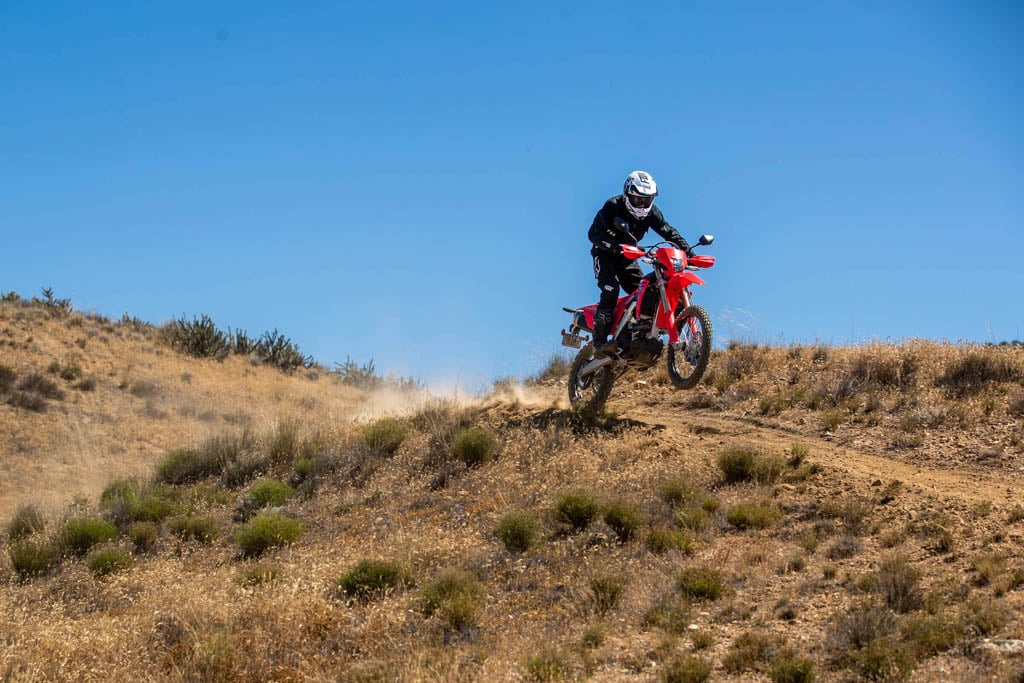 Photo Credit: Honda Powersports
Perhaps the most appealing part about the CRF450L is that dirt-focused dual sport bike lovers finally have an alternative to the hardcore orange/white/red two-wheelers coming out of Europe.
There's something to be said for Japanese reliability and build quality, and with the 450L, Honda has brought a serious dirt weapon back to the streets.
The fueling feels a bit abrupt with a particularly snatchy on/off tendency in first gear, and because the engine is nearly identical to the more race-oriented Honda 450s, you'll also find yourself doing a bit more maintenance than some of the more easy-going dual sport bikes on our list.
1,600 mile valve checks aren't anyone's idea of a good time, but that's the price you pay for a dirt-focused bike that just so happens to wear a license plate.
Pros:
Enduro-bred engine
Enduro-bred suspension
Street legal offroad performance from Japan
Cons:
Enduro-like maintenance schedule
Abrupt throttle response
The Best Used Dual Sport Bikes Worth Considering
Not everyone has the cash to go out and buy a shiny new dual sport bike, and even if you do, supply chain issues can make it easier said than done.
Regardless of your reason, opting for a gently used dual sport is always a smart move, so here are our top picks for affordable alternatives to the latest and greatest.
5. Yamaha WR250R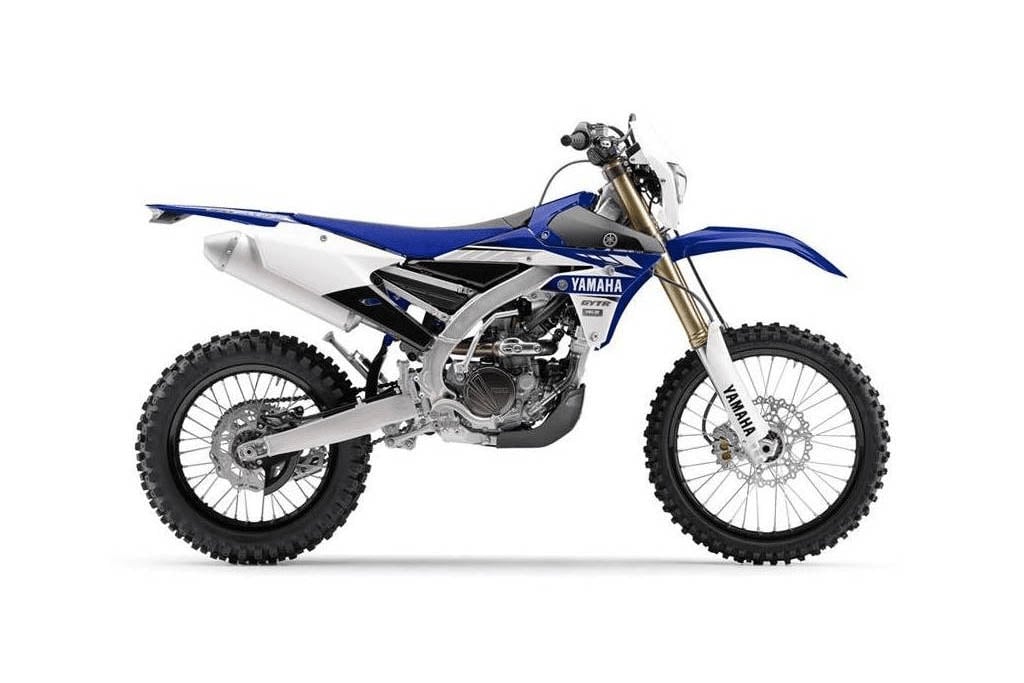 Quick Specs:
Horsepower: 30.3 hp @ 10,000 rpm

Torque: 17.5 lb-ft @ 8,000 rpm

Weight: 295 lbs

Seat Height: 36.6 in

Fuel Capacity: 2 gallons

Price: $3,000 - $5,000
When the Yamaha WR250R came out in 2008, there was nothing else quite like it. Before the little WR, a 250 was a budget-friendly toy: Low on power, high on reliability, and lacking virtually any sophistication whatsoever.
Then Yamaha dropped the WR, with its full-sized aluminum frame, fully-adjustable long-travel suspension, and a high-tech and high-performance single-cylinder engine equipped with titanium intake valves, high-lift cams, and a screaming 10,000rpm redline.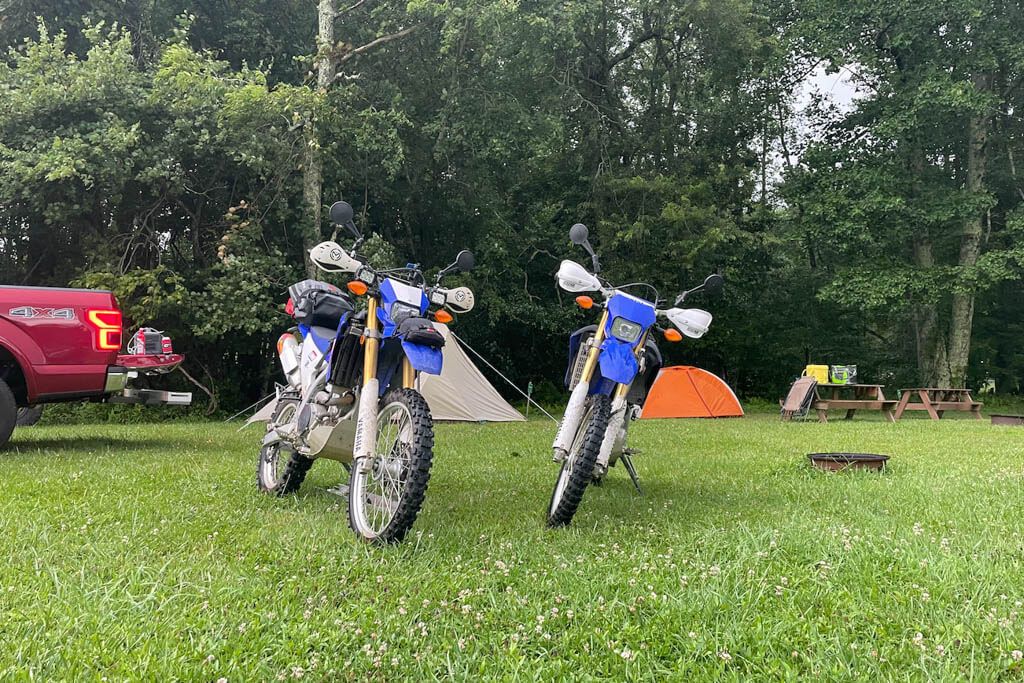 "What's better than a Yamaha WR250? Well, two WR 250's of course"
Suddenly there was a premium option on the market that was lightweight, impressively powerful, and incredibly capable in the dirt.
Remarkably advanced for its time, the WR was a hard sell for many due to its low displacement and high price tag (it was $6,700 when it first launched), but few bikes have aged as well as this long-legged dualie.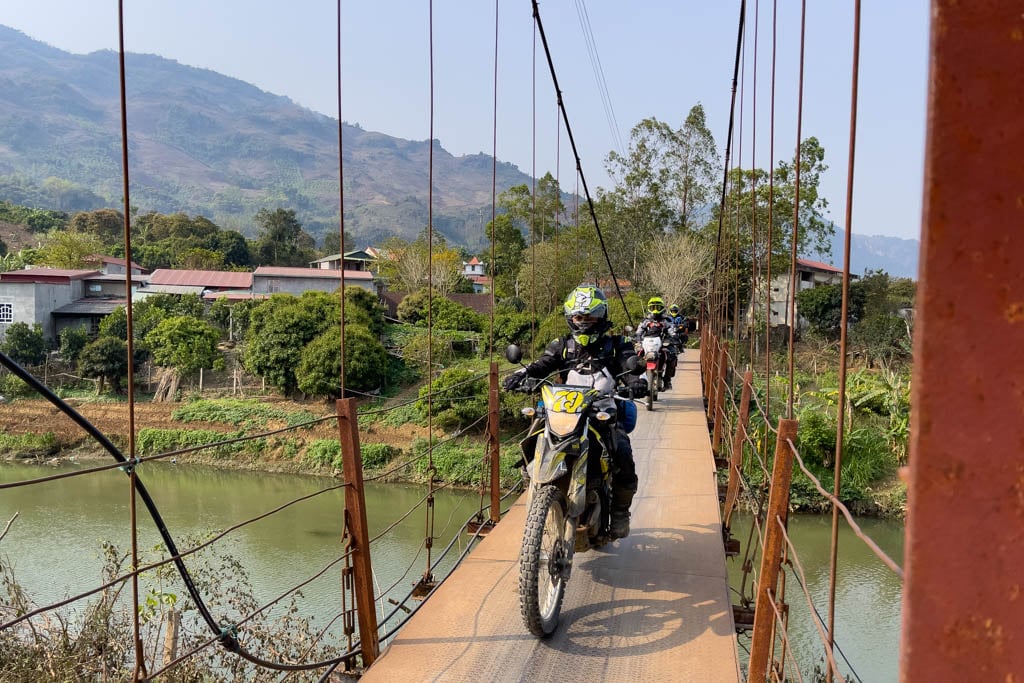 "Local tour guide Ngoc on one of our Vietnam Tours showing us how it's done on the WR 250"
Nowadays it's one of the best buys you can get on the used market, and for around $4,000, you can pick up a low-mileage WR that'll take you just about anywhere a high-dollar KTM can go with the added bonus of Yamaha reliability.
Pros:
Incredible off-road performance for the money
Insanely low maintenance engine (26,000 mile valve intervals)
Looks damn good
Cons:
Not fun on long highway stretches
Too tall for some
Needs revs to make real power
6. Suzuki DR650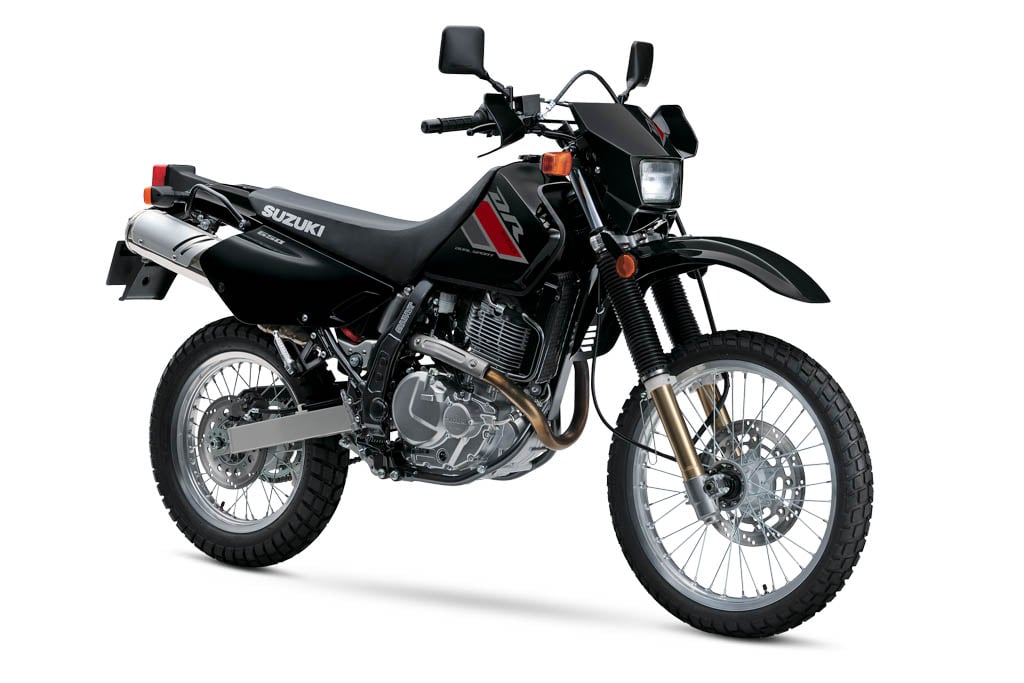 Quick Specs:
Horsepower: 43hp @ 6,400 rpm

Torque: 40 lb-ft @ 4,600 rpm

Weight: 366 lbs

Seat Height: 34.8 in

Fuel Capacity: 3.4 gallons

Used price: $2,500-$5,000
Ahh yes, the ol' bush pig. As anyone who's owned one will tell you, the big DR may be the most versatile, reliable, and lovable dual sport bike ever created.
While the DR650 is notoriously soft and unrefined from the showroom floor, it doesn't take much time or money to convert one of these old warhorses into an impressively capable off-roader.
We've found the DR650 to be the most well-rounded of the big singles from Japan, with better dirt manners than a KLR and better street manners than Honda's 650L.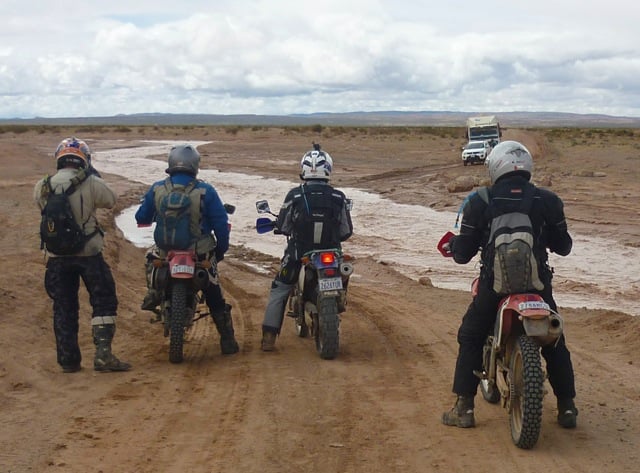 "This river crossing on our Bolivia tour is no match for the DRZ 650"

The big Suzuki has enjoyed a 30+ year production run and counting, remaining almost entirely unchanged since it first launched in 1996. That means there's no lack of well-optioned examples waiting on the used market, and little to no reason to pay full price for a new one at the dealer.
Plan on spending around $1,000-$2,000 to sort the suspension, ergonomics, and comfort out to your liking, then go rack up the miles.
We bought our last DR650 for about $3,000 used, added a good 30,000 miles to the odometer, and then sold it to a new owner 10 years later for $3,000.
This bike does it all, is virtually unkillable, and is incredibly easy to maintain yourself. You just can't go wrong with a DR.
Pros:
Unfailing reliability
Does everything well with minimal modifications
Massive aftermarket support
Still looks good after all these years...
Cons
:
Suspension needs love for proper off-road work
Air/fuel needs love for proper thrills
TERRIBLE stock seat
7. Honda XR650L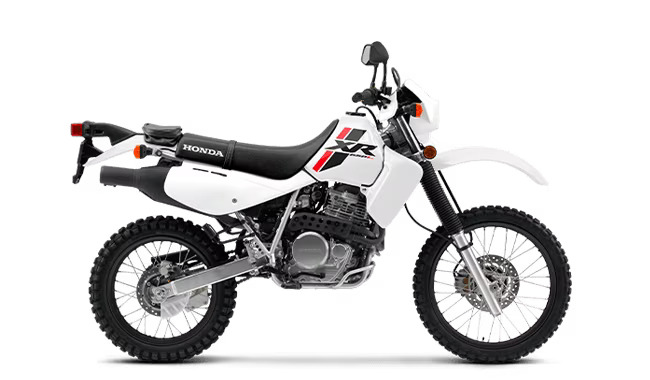 Quick Specs:
Horsepower: 43 hp @ 6,000 rpm

Torque: 38 lb-ft @ 5,000 rpm

Weight: 346 lbs

Seat Height: 37 in

Fuel Capacity: 2.8 gallons

Used Price: $2,500 - $5,000
We can't talk about the best used dual sport bikes without mentioning Big Red's long-standing warhorse, the XR650L.
Honda still makes the big XR, but much like the beloved DR650, it's a design that's been around for decades and has seen zero mechanical changes over the years.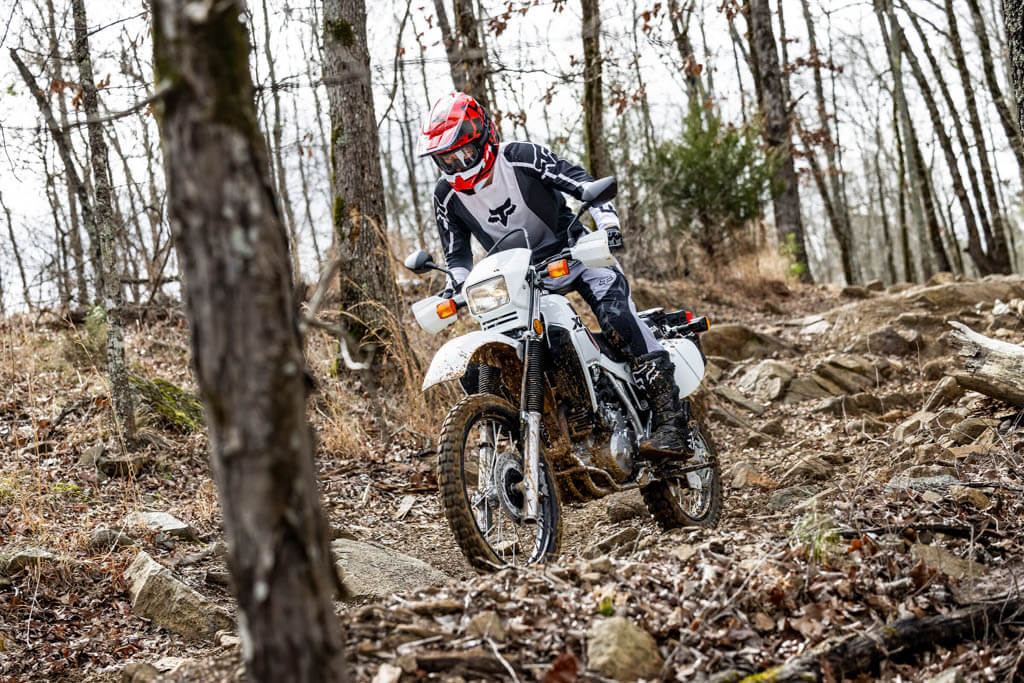 Photo Credit: Honda Powersports
The XR650L takes the crown as the most dirt-worthy of the big Japanese singles, thanks in large part to its tall stature and firmer suspension. It shares the same well-documented reliability as its blue and green counterparts, and is just as easy to find on the used market for cheap.
If you're loving the big singles but want the most off-road-focused option straight out of the box, this is the bike to beat.
We'll note that you'll likely want to add an oil-cooler if you're planning on doing long highway miles though, as the XR tends to run a bit hot after spending extended periods at higher RPMs.
Pros:
Most off-road focused of the Japanese 650s
Simple, reliable, and incredibly easy to work on
Tons of aftermarket parts and support
Cons:
Least highway friendly of the big 650s
Tends to run hot at sustained high speeds
A face only a mother could love
8. Kawasaki KLR 650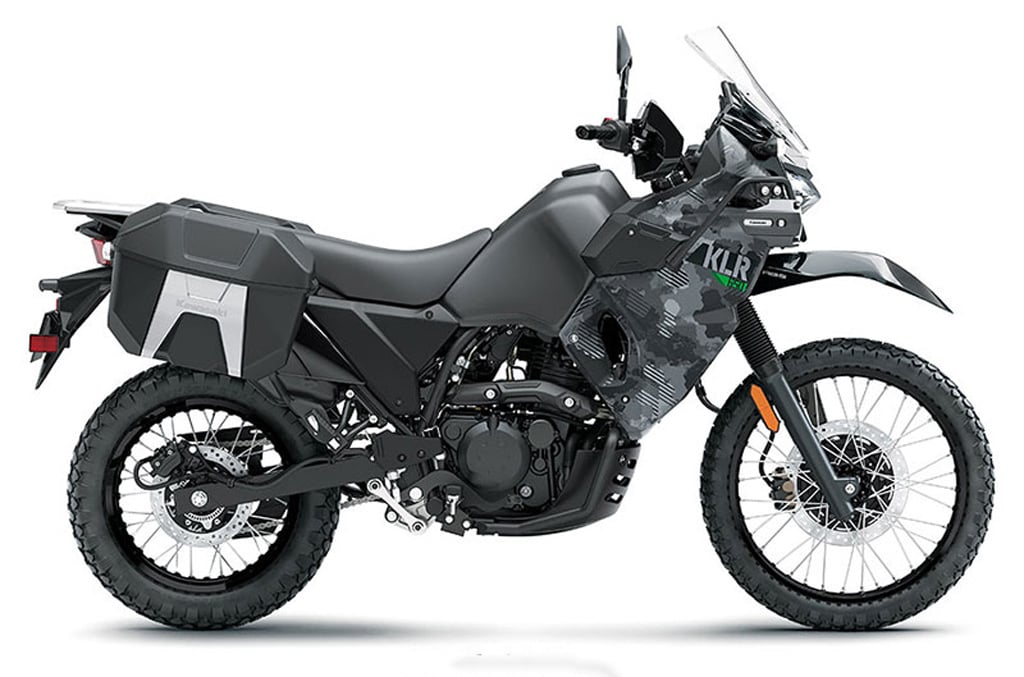 Horsepower: 42 hp @ 7,000 rpm

Torque: 34 lb-ft @ 5,000 rpm

Weight: 432 lbs

Seat Height: 35 in

Fuel Capacity: 6 gallons

Used Price: $2,000 - $5,000
Last big not least in our run of Japanese 650s is the venerable KLR, Kawasaki's unkillable tractor that's introduced more people into the world of dual sport adventure than any other bike we can think of.
Of the big three, the Kawasaki is by far the least thrilling of the bunch. Even compared to the DR or XR, the KLR's lumpy motor feels agricultural, never wanting for torque but always wanting for pep.
Where the KLR shines, however, is out on the highway. While all KLRs have been geared for comfortable highway speeds, the second generation of bikes (2008-2018) got the addition of a beefier front fairing and a taller windshield which, combined with the bike's surprisingly comfortable seat and more relaxed ergonomics, makes for a budget-friendly way to eat up long miles on the slab.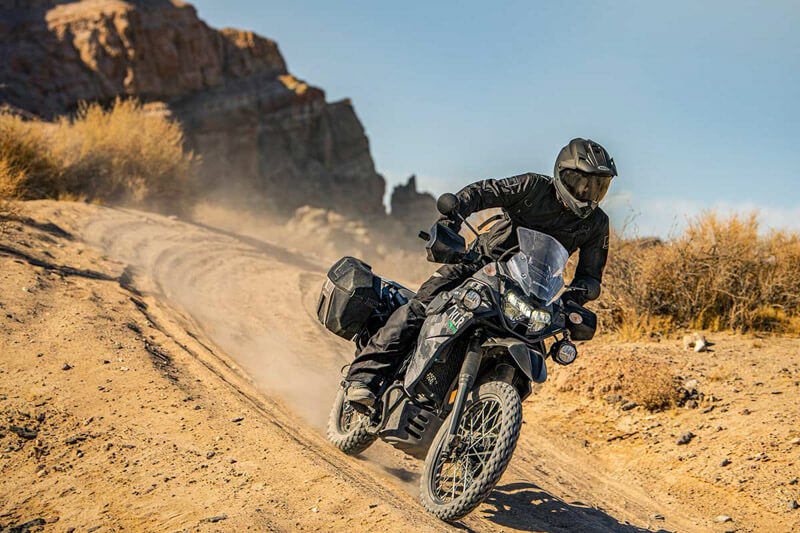 "If you're looking for a dual sport that's not afraid of long empty highways, the KLR is comfortable, reliable, and dirt cheap."
The KLR's suspenders are by far the softest of the bunch, but you can definitely still get dirty on one if you choose.
We've gone as far as to take a KLR out on our local singletrack trails to test its mettle, and while it was a fairly harrowing experience, the big green tractor took us further into the woods than we had any right asking it to.
Pros:
Great for long days on the pavement
Soft and comfortable suspension
Will outlive most cockroaches
Cons:
Too soft for proper dirt duty
Torquey yet underpowered
Ugly as sin
9. Yamaha TW200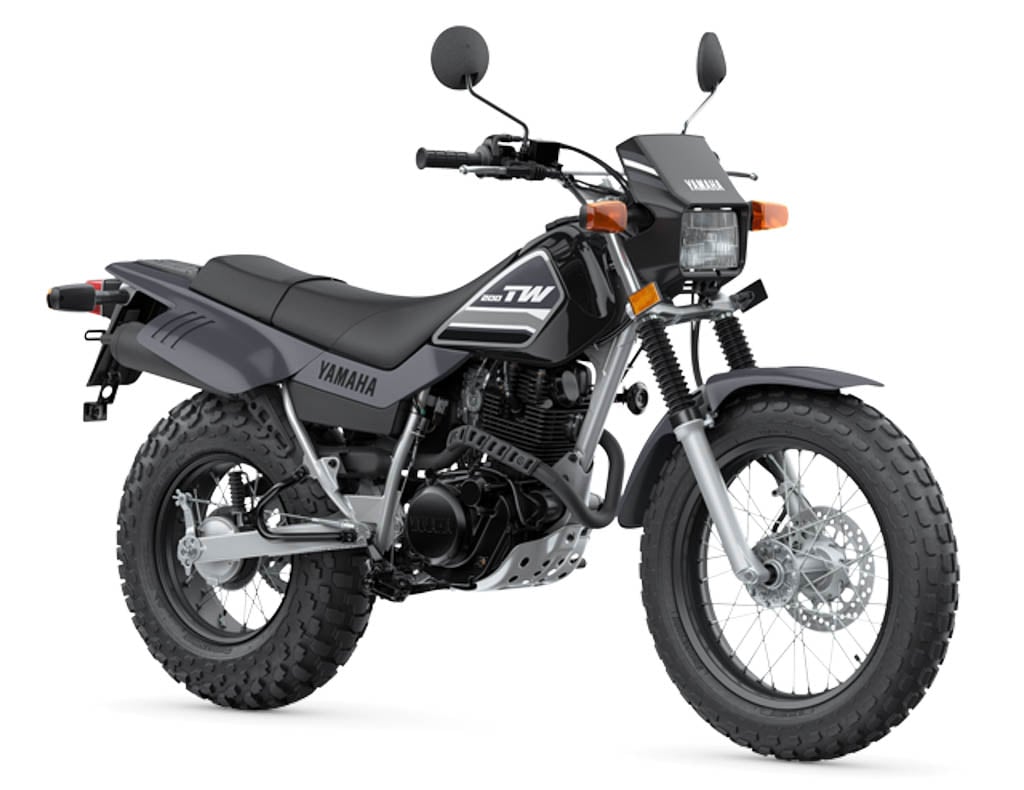 Horsepower: 16 hp @ 8,000 rpm

Torque: 11 lb-ft @ 7,000 rpm

Weight: 278 lbs

Seat Height: 31 in

Fuel Capacity: 1.8 gallons

Used Price: $2,000 - $4,000
Not everyone buys a dual sport for the sole purpose of hauling ass. If you're not looking to get anywhere fast but still want to go literally anywhere, the TW200 will take you there.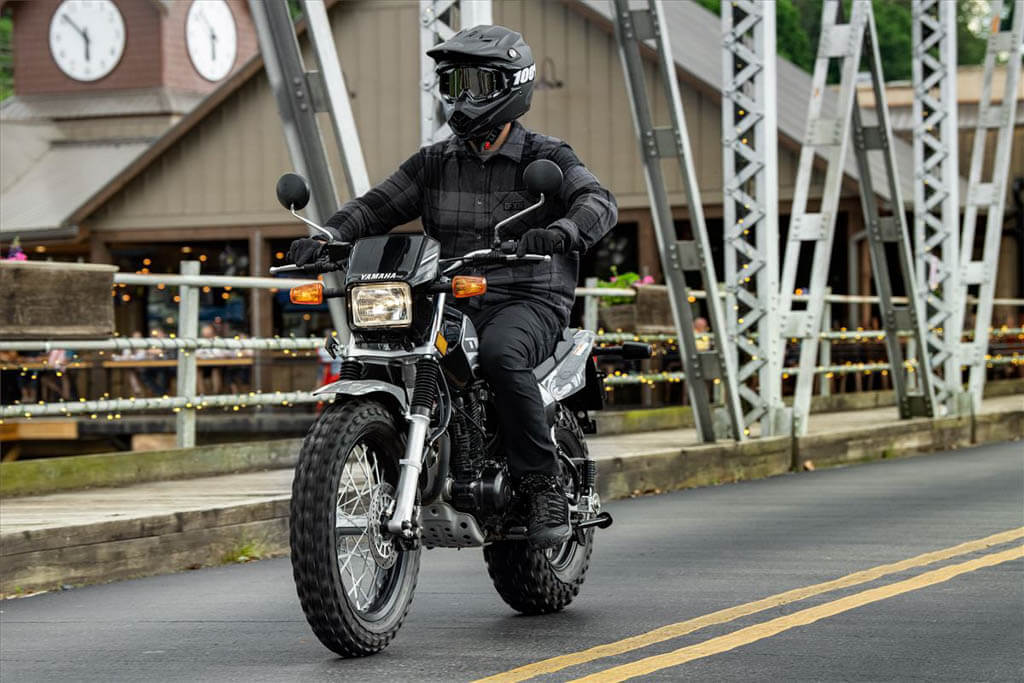 Photo Credit: Yamaha Powersports
Thanks to its torque-rich little engine, oversized tires, and absurdly low seat height, even the most novice rider can traverse the sketchiest terrain aboard this beloved farm bike.
Prices are low, maintenance is simple, and reliability has been well-proven over the TW200's nearly 40-year production run.
While nothing about this bike screams performance from its slow-turning engine to its buttery-soft suspension, the little T-Dub is tough to beat for versatility.
We've taken TW200s out to run errands around town, used them as pit bikes on race weekends, and have taught our fair share of riders how to work a clutch on this porky little tractor.
Pros:
Absurd traction everywhere
Low maintenance, high reliability
Character for days
Cons:
Closing Thoughts on the Best Dual Sport Motorcycles...
The best dual sport bike is the one that gets you out to the dirt and back, no truck required. What you choose to do in said dirt is your business, but suffice it to say there's no one perfect bike for every application.
Enduro-based models rarely make for good dual sport camping rigs, and farm bikes aren't the kind of thing you want to send off a drop at 40 mph.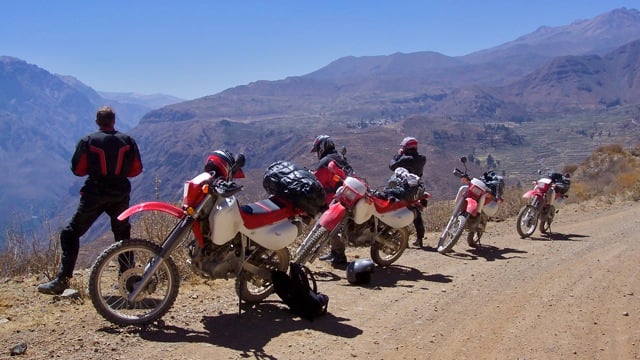 "Enjoying the view on our Peru Tours"
We recommend starting with the bike that checks the most important boxes, and then building it to your liking from there in the aftermarket.
You can always upgrade your seat, replace your bars, or have your suspension revealed for your weight, but things like scheduled maintenance, engine output, and highway manners, can't always be corrected.
Choose wisely.
→Read More: Best Adventure Motorcycles for Beginners and ADV Offroad & Street Training.