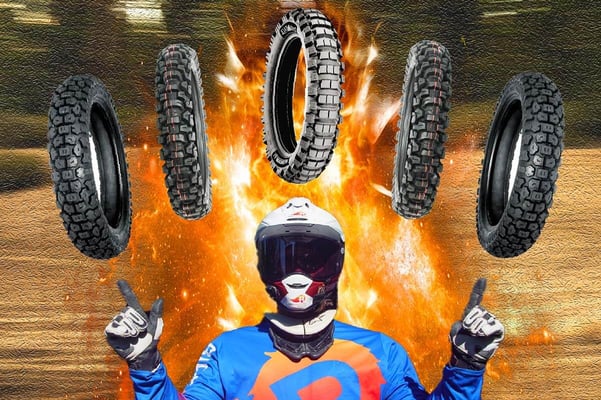 Disclosure: RIDE Adventures is a participant in the Amazon Services LLC Associates Program as well as other affiliate programs, designed to provide a means for us to earn fees by linking to Amazon and affiliated sites at no extra cost to you. Please see our Disclosure for more details.
There's nothing like a good set of aggressive dual sport tires to transform a street legal trail bike into a serious off roader. Whether you're a disciple of the small displacement school on a Yamaha WR250R or prefer something with longer legs like the venerable KTM 690 Enduro R, the stock rubber is almost always a compromise toward street-biased performance.
Below we'll dig into what we think makes a great dual sport tire, and cover a few of the pros and cons of some of the best dirt-ready options on the market.
What Is A Dual Sport Tire?
A true dual sport motorcycle has a lot more in common with a dirt bike than a touring bike. All my favorites are basically dirt bikes with headlights and maybe a 6th gear if I'm lucky.
We consider dual sport tires to more or less follow the same convention.
Street legal, but by no means built to excel on pavement.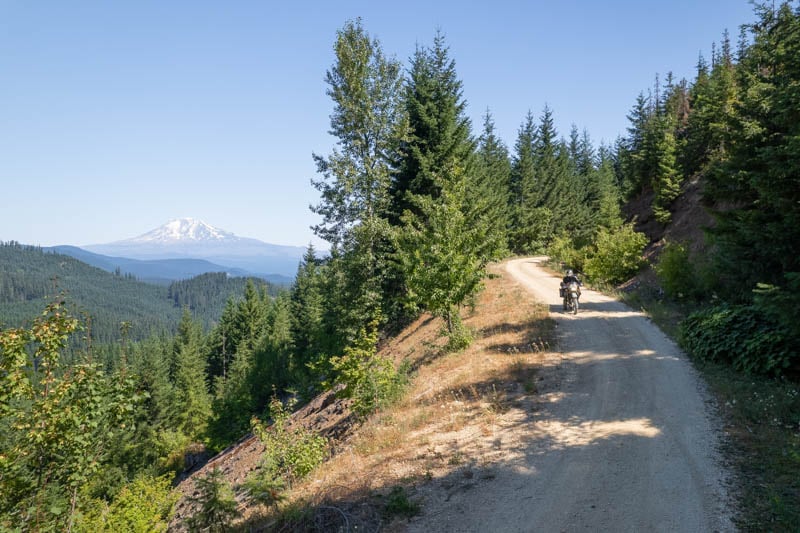 "Our team rider Garrett tackling the WABDR on some Tractionator Desert H/T's😎"
True, there are a few tires out there that perform surprisingly well both on and off road, and a few even made our list of favorites below. Still, we don't select our dual sport tires for their road manners any more than we do our dual sport bikes themselves.
To make our list, a tire had to deliver on the following:
Full knobby tread pattern
DOT rated/street legal
Acceptable highway manners, doesn't come apart on asphalt
Potential to see 3,000 miles with a little wrist and/or self control
Clearly, these aren't 50/50 tires, but if you're interested in those check out our roundup of adventure motorcycle tires here.
It's worth mentioning that many of these tires are (somehow) rated for speeds of 100mph and more, and a few even come in big ADV bike sizes and tubeless configurations.
Honestly, I wouldn't take most of the tires on this list over 90 mph on a dare. I wouldn't take ANY of them over 75 mph with regularity if I wanted them to survive more than 2,000 miles.
Still, most dual sport tires are intended for the lower speeds and lighter loads of single-cylinder machines. Some are higher rated than others, so do your research on speed and load limits before pulling the trigger on your next set.
Our Favorite Dual Sport Tires
There's really never been a better time to be in the market for dual sport tires.
The explosion of the adventure bike segment introduced thousands of riders to the joys of off-roading and left them wanting more aggressive alternatives to their street-biased rubber.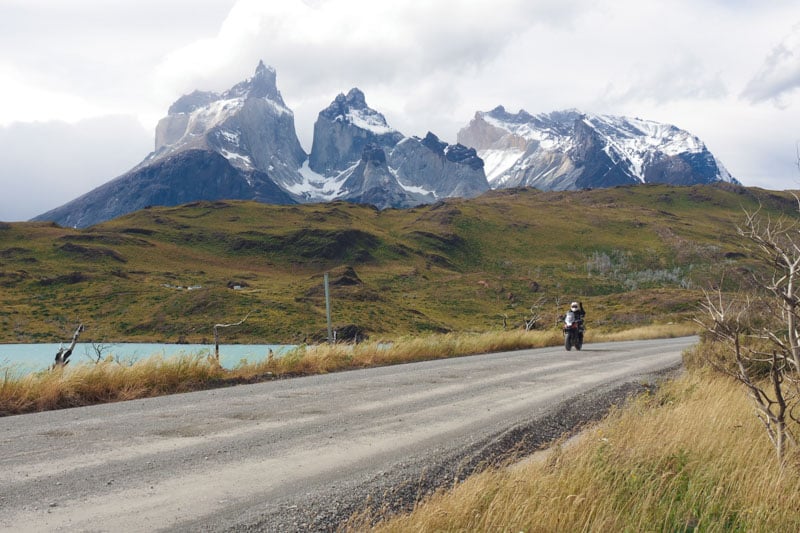 While plenty of "DOT Rated" dirt-only tires are out there, we chose to steer clear of anything that couldn't survive a long highway stretch or two when needed. Dual sport tires should get you to your destination, have a blast there, then be able to get you home without drama.
Every tire in the list below will do that in spades. As always, feel free to drop us a comment below if you've got any tire questions.
Dunlop D606 Dual Sport Tire
You can't really make a list of great dual sport tires without mentioning both the Dunlop D606 and the Pirelli MT21 below.
Both tires are true knobbies that deliver excellent offroad traction and surprisingly good street grip to boot.
The Dunlop D606 is the "go-to" rear dual sport tire for the big 650 crowd, myself included, because it hooks up really well on any terrain and typically outlives other aggressive knobbies by 500 miles or more.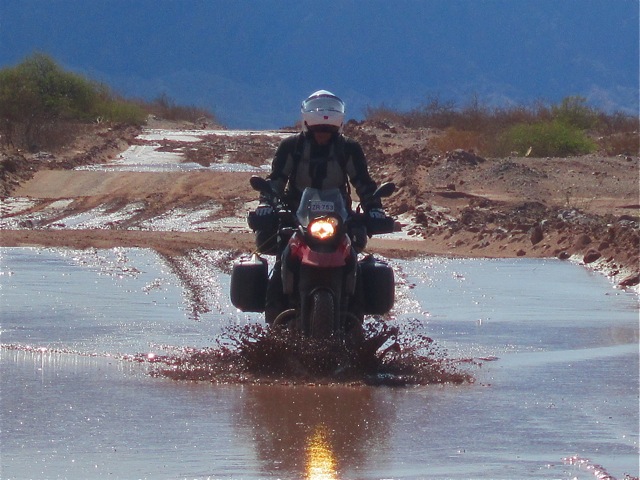 "You'll be happy you equipped some dual sport tires when encountering terrain like on our Patagonia tours"
Some people love the front tire, some people don't. Personally, I never got a great feel from it in deep sand, and found it liked to wander on the rain grooves of California highways.
Like most dual-sport fans, I've had great success mixing a Dunlop D606 rear with the Pirelli MT21 front. If you're not sure where to start with tires, you just can't go wrong with that combo.
Pros:
Good mileage for a knobby
Full-depth tread grips everything from hardpack to soft dirt

Everyone's favorite rear tire on big singles
Cons:
Stiff, not a fun tire to mount or pull off for repairs
Front tire sketchy for sand and faster highway speeds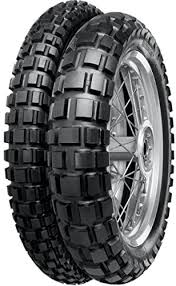 CHECK PRICE:
Dunlop D606

Pirelli MT21 Rallycross Tires
As stated above, the Pirelli MT21 is the "other" ragingly popular dual sport tire on just about any forum you cruise.
I've run through several in my time, and if I'm planning a trip in advance with any technical terrain, chances are I'm ordering an MT21 for a front tire.
Of course, the rear tire is great too, and both front and rear have on and off-road grip for days. The Pirelli MT21 front is particularly good in twisty pavement sections, and surprisingly predictable in the wet as well.
They don't stick around for very long though, and I've run through the usable tread on an MT21 rear tire in under 2,000 miles of mixed riding.
For that reason, myself and thousands of others appreciate an MT21 front tire paired with an equally aggressive but longer-lasting Dunlop D606 in the rear.
Pros:
Excellent off road traction
Oddly confidence inspiring in twisties
Everyone's favorite front tire on big singles
Cons:
Rear tire disappears quicker than most
Flexible carcass more puncture prone than some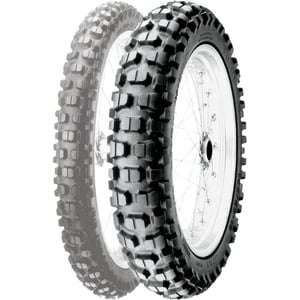 CHECK PRICE:
Pirelli MT 21 Rallycross

Motoz Tractionator Desert HT Dual Sport Tires
Honestly trying to decide which Motoz offering is their "best" dual sport tire always feels like splitting hairs.
There's really no other tire company out there today quite like Motoz. They're so committed to the dual sport segment that they have three separate models with nearly identical intentions:
If I'm being honest, you can have a great time on all three.
Ultimately though, I've gotta give it to the Desert H/T for a few reasons.
Both front and rear are truly capable off-road. The front tire is one of the best DOT-legal knobbies ever, and feels natural in everything. Deep sand, fire roads, hard pack, whatever. It's got teeth.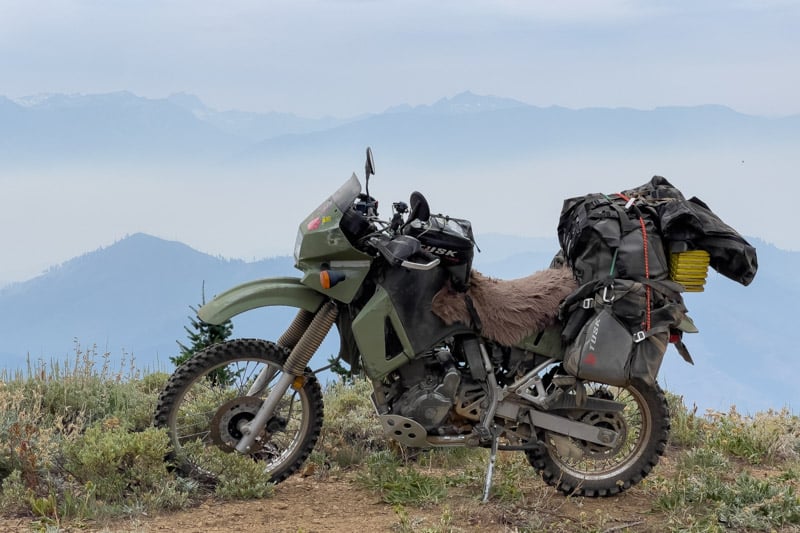 "Garrett's KLR 650 with Tractionator Desert H/T tires Mounted"
They last a surprising amount of time on any terrain, so you don't have to worry about destroying them with a couple hundred miles of high speed freeway use. Most folks see 3,500 miles or more from the rear, and much, much more from the front.
Speaking of asphalt, it's also worth noting that the Desert H/Ts grip in the corners shockingly well for such aggressive knobs. I mean like peg-scraping good (once they're scrubbed in, of course).
Nit picks with this tire are few and far between. They've got very tall lugs, which translates to a little more break in time for confident use on the street. That "squirm" should be completely gone after 500 miles or so.
As you might expect, tall lugs also make them a little questionable in the rain/wet conditions. It's a knobby, so you should be careful twisting the throttle in the wet anyways, but be particularly mindful with the Desert H/T.
Pros:
Above average mileage
Works on big and small bikes
One of the best front tires for literally everything
Cons:
"Break In" period longer than usual
Wet traction pretty sketchy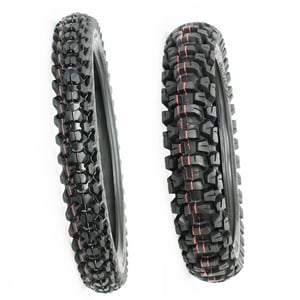 CHECK PRICE:
Motoz Tractionator Desert HT
Michelin Desert Race Dual Sport Tires
Ok, here's one for the "hardcore" dual sport crowd out there.
If you want a DOT legal dirt tire that is SO GOOD off road you can't POSSIBLY blame your crashes on your tires, the Michelin Desert Race is for you.
It is literally the same tire that the KTM factory team runs in the Dakar Rally. It's even got a few Dakar wins under its belt.
The carcass of the Michelin Desert Race is insanely heavy duty, which means it is both puncture resistant and resistant to overheating, even when run at high speeds with super low pressures.
This tire handles everything from slick rock to sand dunes with aplomb. Still, it isn't for everyone.
Mainly because a set will run you north of $400. FOUR. HUNDRED. DOLLARS.
Of course, if the price isn't enough to scare you off, you should also know that the Desert Race only comes in two sizes for 21" and 18" wheels. Apologies to all my DR650 guys out there mobbing on 17s. We made our choice.
Still, if you want to rip on the same rubber as the pros, it's cool to know the option is out there.
Pros:
KTM Factory Racing uses them in the Dakar
Offroad braking performance is like nothing else
Tough compound isn't scared of regular street use
Cons:
Pavement performance below average
Sizes are limited
Good god are they expensive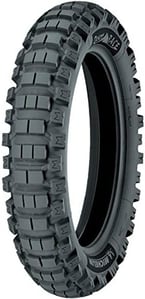 CHECK PRICE:
Michelin Desert Race

Continental Twinduro TKC80 Dual Sport Tires
What can anyone say about the Continental TKC80 that hasn't been said before?
Grips like sin in the dirt. Grips like sin on the pavement. Absolutely destroyed by 3,000 miles. I remember the first time I was forced to take note of what a capable tire the TKC80 was.
I was maybe 20 years old, riding a sub 400-pound Honda CBR600RR trying like hell to get a knee down in every turn along the "most infamous" section of US Route 129.
My dad was bringing up the rear on his 1999 BMW 1100GS, which was wearing a set of TKC80s as always, and would have weighed in somewhere above 550 pounds.


There was absolutely no way to get that giant, knobby-wearing German motorcycle out of my rearview mirrors. Dad was too fast, and his tires were too damn good.
Dad always used to say the beauty of a Continental TKC80 was that you completely forgot you had a knobby tire under you until the pavement ended, then it became obvious in the best way.
I hadn't ridden one in years until I rode the new KTM 890 Adventure R earlier this year. Even on an aggressive off roader like the 890 R, the TKC80 gives confident offroad traction in anything but the gnarliest sand and mud.
Pros:
Great grip for general offroad use
Incredible grip on pavement
Well suited to heavier bikes
Cons:
More aggressive options out there

Notoriously short-lived
Expensive for what they are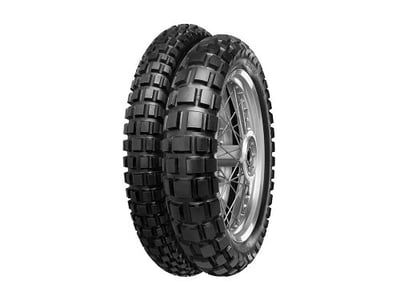 CHECK PRICE:
Continental TKC80

Shinko 244: Best Dual Sport Tire on a Budget
I'll probably catch hell from some of the purists out there for mentioning this one but I just can't leave the Shinko 244 off this list.
No, it's not as aggressive as other knobbies, and if I'm being honest the linked side lugs are a pretty clear nod to street use over similar tires like the Kenda 270 or IRC GP1.
Still, the Shinko 244 gets nothing but love from me. If you ride your dual sport all over the place and still like to ride hard off road on the weekends, this is a great do it all knobby tire.
You can pick up a set of them for $100 front and rear, mount and seat them with zero drama and zero lube, and reliably abuse them for over 3,500 miles.
They do great in everything but deep sand and mud, and feel particularly predictable when aired down between 15-20 psi. They've got nice tall lugs with decent spacing, and even with the softer sidewalls I've never experienced a pinch flat on the 244.
Throw a heavy duty tube in when you mount them and enjoy them for what they are, which is a cheap and effective tire with real knobs.
And at $60 or so for a rear tire, who cares how often you grab a handful of throttle?
Pros:
Um, $100 for a set of tires?
Lasts forever
Possibly the easiest mounting tire of all time
Cons:
Least aggressive tread pattern on our list
Linked side lugs not for everyone
CHECK PRICE:
Shinko 244
Final Thoughts On The Best Dual Sport Tires
If you own a street-legal thumper and haven't tried mounting up aggressive dual sport tires yet, I've got to ask... Why not?
There are a million other bikes out there that are better at canyon carving, impromptu drag racing, and track days. Get one of those and put street rubber on it if that's your bag.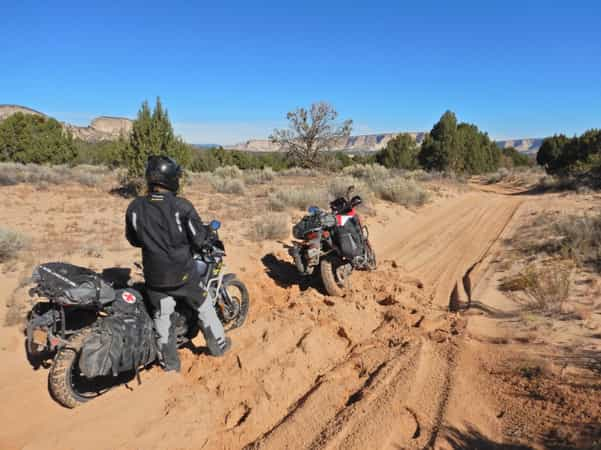 "Tour Guide Kyle on a scouting mission for our Utah tour route with some 50/50 tires. Bet they wish they had their dual sports equipped for this section"
There is no better bike out there for finding and exploring dirt roads and trails than a lightweight dual sport, and to do that well you're going to need real dual sport tires.
Even the most street-biased tires on this list are better than 99% of OEM rubber (KTM gets a pass here for throwing Continental TKC80s on their bikes from the factory).
Get out there and try one of the tires above (or mix and match a couple) and let us know what you think. I'll wager you'll never go back to street biased tires again.
READ MORE→ 6 Best Adv Motorcycle Helmets and Gifts for Motorcyclists that They'll Love.