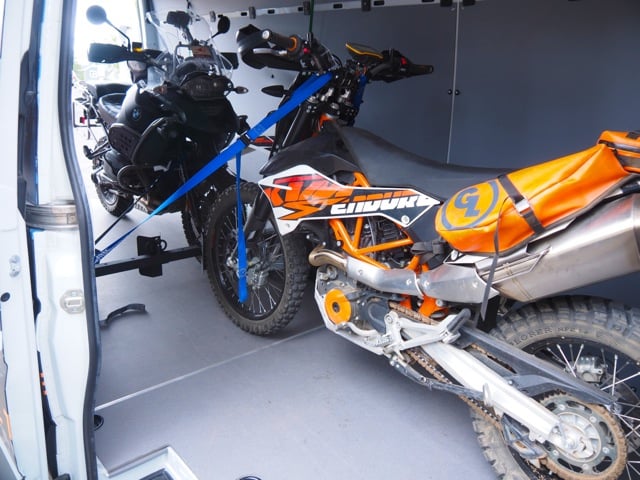 Versatile, secure, durable, and affordable…what more could we have asked for in a motorcycle transport and wheel chocking system?
I first saw the Beast Rack system at a motorcycle rally earlier this year, and immediately noticed the advantages it has over traditional floor-mounted wheel chocks. We went ahead and purchased a Beast Rack system right away, and have since spent the last few months traveling from one motorcycle rally to another, meeting our fellow riders out there in the world. After this extensive testing period, we have nothing but good things to say about this product.
Especially in lieu of having bought, drilled, and mounted traditional wheel chocks, the main reason why this is such a better system are:
Incredible Versatility & No Drilling: Could there be anything more frustrating than having to drill mounting holes in the floors of our vans, trailers, and toy haulers? Especially in the case of the new RIDE Adventures Sprinter Van earlier this year, we're still trying to avoid drilling wherever possible while building it up and customizing it for our touring needs.
But therein lies the issue: With traditional wheel chocks and a changing list of motorcycle models and other van-floor arrangements and packing needs, it always seems like we wanted the chocks to be "a little more to the left," or "here more, instead of over there." What's a rider to do in that situation, keep drilling new holes for mounting wheel chocks?
Fortunately, the Beast Rack system uses the existing D-Ring locations in a vehicle without drilling any holes in the first place, and then allows for a tremendous amount of adjustability from left to right as to where the wheel chocks go. Forward and backward on the floor from one set of D-Rings to another, and then from left to right with the individual chocks sliding along the Beast Rack itself, simply put, and in terms of pure "versatility," nothing beats the Beast Rack system.
Secure & Durable: The construction of our Beast Rack, from the metal chosen to the actual welds that hold each piece together is quite impressive and we couldn't ask for more (without adding a bunch of unnecessary weight to it.) Even the ultra-rugged powder coating that covers each part was done extremely well.
The other side of "secure and durable," isn't as much about the rack itself, but instead more about how it actually secures the motorcycles we're hauling in the Sprinter. Once properly positioned and adjusted with its J-hooks holding the rack down tight & centered, we've had 4 motorcycles totaling around 1400 lbs. held in place securely, with only a minor amount of wiggling taking place. With a wider vehicle like a trailer or actual toy hauler, it's possible to mount 6-8 motorcycles (depending on bike size of course) buy utilizing both sides of the same Beast Rack. That's a LOT wheel chocks without any holes being drilled!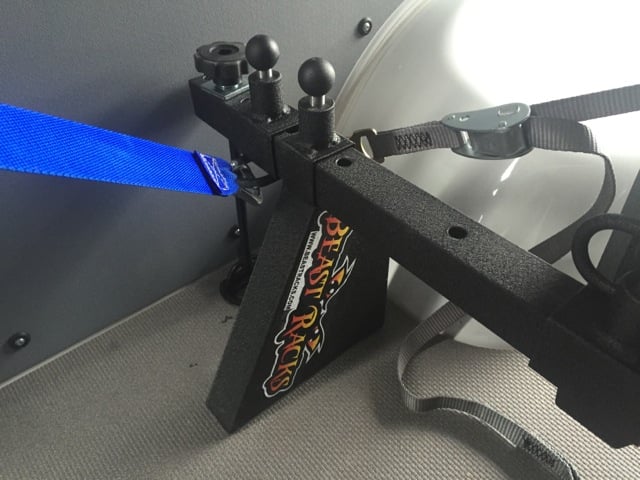 Installation and removal of the Beast Rack takes literally, about 30-45 seconds once you've done it a few times. Our system with 4 wheel chocks weighs about a 35 pounds total, and can easily be yanked out of the Sprinter when not in use. We've used it to position mountain bikes, BMW's, KTM's, and Kawasakis without any problem, and just by using the right wheel chock size per each front wheel.
If you've got D-Rings in your toy hauler, trailer or van, and don't want to drill holes for traditional wheel chocks but you DO want a versatile solution for hauling a variety of motorcycles, sincerely, the Beast Rack is the way to go! You can see more videos and such on their website of course, but hopefully the few visuals included here will explain how it works. Easiest thing in the world, once you've tried it.