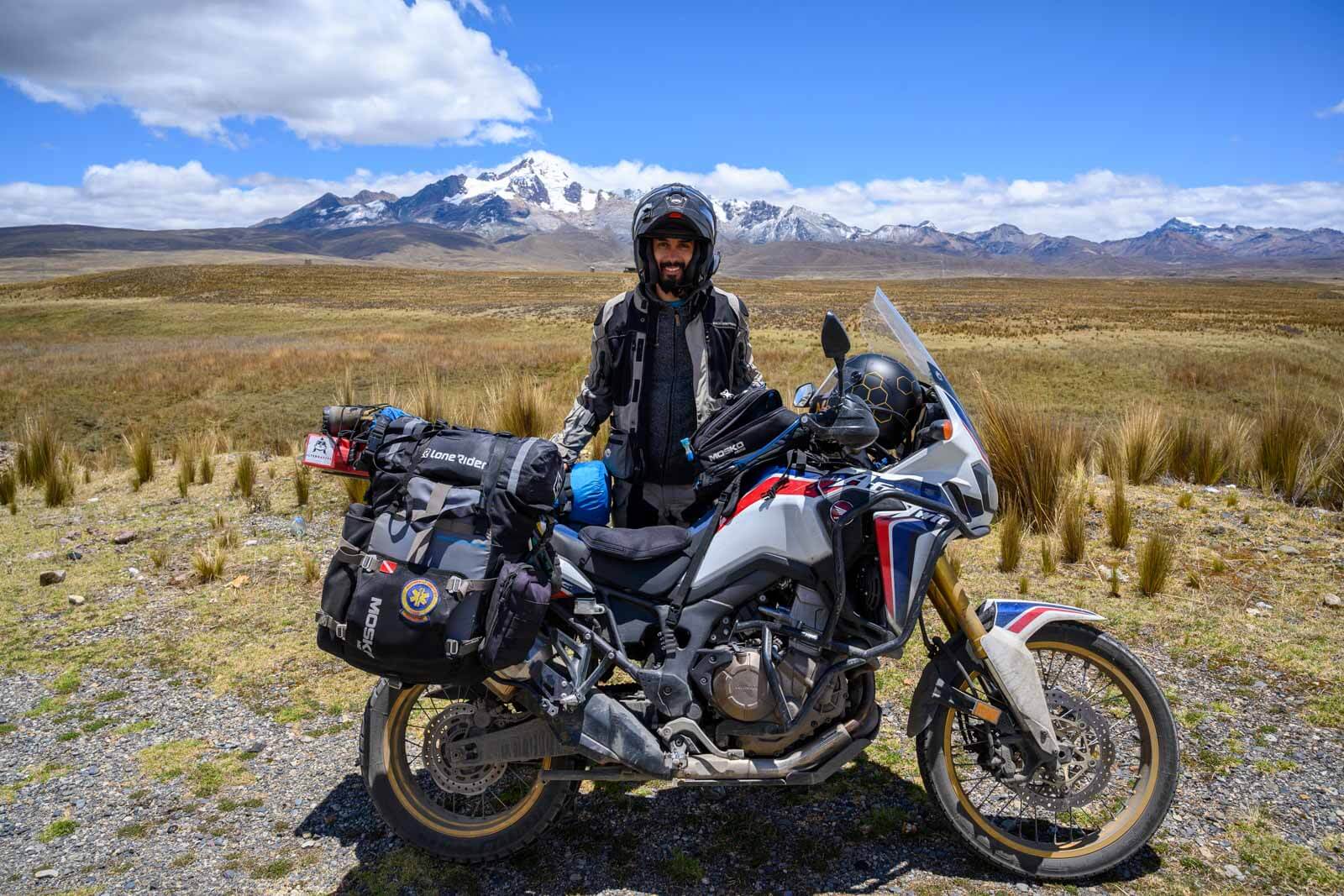 When I first began planning the ride that would become a four-month, 13,000-mile trip through the southern United States, nearly all of Central America, and the entire length of South America, one thing I knew was that I would need a solid and 100% reliable means of navigation.
Disclosure: Ride Adventures is a participant in the Amazon Services LLC Associates Program as well as other affiliate programs, designed to provide a means for us to earn fees by linking to Amazon and affiliated sites at no extra cost to you. Please see our Disclosure for more details.
Four Key Things I Want in an Off Road GPS
1) Remote Navigation: Despite my best efforts to find a partner or two for the trip, it looked like I was going to be solo for most, if not all of my route, and I knew there would be times when I'd be riding off the beaten path, and possibly need to find my way out of remote areas of completely unfamiliar countries.
2) Durability & Waterproofing: I would be traversing Central America at the tail end of the rainy season and was prepared for unpredictable weather further on in the Andes, and so I needed a device that could withstand anything nature could throw at it.
3) Ease of Use: Since we do live in the 21st century, some turn by turn navigation would be nice.
4) Emergency Needs: And most of all, I wanted a means of tracking my progress, down to the minute if necessary, and that could provide me a means of rescue should I crash and injure myself in a remote area.
With the vast amount of off road navigation devices out there I soon figured out that NOT ONE was a complete package for all my needs stated above. However, like all great adventures sometimes you just have to make it up as we go and that's essentially what I started to do.
The Inreach Explorer+ as an Adventure Motorcycle Off Road GPS
I few month before my trip I started learning more about the inReach Explorer +. The inReach Explorer follows the same hand-holdable form factor as many of Garmin's hiking-oriented GPS units, with a 2.5" color screen and button interface.
It is rated to an IPX7 waterproof/shockproof standard ensuring that it could not only stand up to any weather I'd encounter, but in the event that I either dropped the bike or crashed in such a way that the GPS might be thrown off or hit the ground, it would still function enough to keep going.
While its navigation functions don't extend to turn-by-turn directions, it is possible to plot routes between waypoints using either the unit itself or the Garmin Earthmate companion app for iPhone and Android
Up-to-date maps are available using the Garmin website and OpenStreetMap database. The most useful parts of the Explorer+, however, are its tracking, messaging, and SOS functions.
The Explorer+ can record and send tracking points at intervals as short as 30 seconds, logging the rider's location, speed, and altitude, and contains an SOS button that, when activated, will send a message to the GEOS International Emergency Rescue Coordination Center, who will then contact local EMS and rescue services with the unit (and, ostensibly, the rider's) location, allowing for a quick rescue.
The Explorer+ can also send and receive text messages from nearly anywhere in the world, allowing for communications with family and friends even in remote areas
Tracking data can be shared with others via the Garmin website; this allowed me to provide my family members a means of keeping track of me throughout my journey, and some peace of mind for them, given that I would be traveling solo nearly the entire time.
It would also provide me with a detailed route for all four months of my journey, for posterity's sake.
The Inreach Explorer+ with the SmartPhone Off Road GPS Combo
However, the Explorer+ wouldn't be a perfect solution by itself, the downside being; while it would allow me to plot routes, reading street names on the small screen proved difficult, and the Explorer+ offers no voice-guided navigation or turn-by-turn directions in any form.
With street signage in much of Latin America being questionable at best, I would need something else to ensure I was staying on the right track; luckily the solution was already in my pocket
Although it isn't always quite as accurate as a dedicated GPS, smartphone navigation through Google or Apple Maps has improved by leaps and bounds in recent years, and the further I traveled into Central and South America, the more surprised I was at the places Google Maps was able to navigate me through.
The app provides the ability to download local maps and plotted routes, but any deviation from that in an area outside of cellular coverage usually resulted in a confused phone and a rider who wasn't always quite sure how to navigate the detours he'd been forced into.
Re-enter the inReach Explorer+
With the little orange device mounted to my handlebars for the entire trip, I could find ways around any roadblocks or closures I encountered, sometimes just by zooming in a bit and finding short detours, sometimes with some more in-depth searching for entirely different highways than I'd been on.
In some cases, this was a matter of a couple of blocks. In others, such as when I encountered a pile of twisted metal where a bridge over a large river should have been between Huancayo and Ayacucho in the Peruvian Andes, the detour alone was over eight hours.
In the few cases where I actually got lost or took a wrong turn, the real-time route tracking allowed me to turn around, retrace my steps, and get back on the correct route with a minimum of hassle.
I won't say that the Explorer+ made it impossible to get lost
but as long as I had the tracking functions enabled and displayed on the screen, I could be fairly well assured that any navigational mistakes I made could be easily remedied.
I also found that in many instances, the OpenStreetMap files loaded onto the Garmin were more up-to-date than Google's, undoubtedly the result of the constant construction and road closures I encountered throughout the continent.
Even The Best Off Road GPS Combo Can Have It's Drawbacks
Was the inReach/smartphone solution a perfect means of navigating me through Central and South America? Yes and no.
As previously mentioned, the inReach's limited capability for route planning and total lack of voice directions effectively disqualifies it for anyone wanting detailed road directions, particularly given that it will only give you a straight line between waypoints.
Conversely, smartphone navigation relies largely on access to cellular data; while I lucked out in the sense that Google Fi provided me with service in each of the 10 countries my trip took me through, I still encountered plenty of dead zones, and others relying on local SIM cards would have a considerably harder time.
Power turned out to be the greatest difficulty I encountered
however; any navigation app tends to be a major battery drain, and occasional problems with the onboard USB port I'd installed on my Africa Twin meant that I sometimes had to pick and choose which device I kept connected.
Luckily, the inReach's battery is more than enough to handle a full day of travel on a charge, though short tracking and send intervals can put some strain on the battery.
I also managed to damage the charging port over the course of the trip, which meant that charging while on the road sometimes wouldn't work; luckily, I was able to extend the battery life significantly just by extending the sending interval for tracking data and dimming the screen a bit.

Overall though, nearly every downside to one device was made up for by the other
The inReach/smartphone combo allowed me to both navigate everywhere I needed to go, keep track of my progress while doing so, and detour around any obstacles that came up. Need one, two, three and four, check.
So What's it Cost to Own the Best Off Road GPS Combo?
The inReach Explorer series starts at $399 for the inReach Explorer SE, which offers mapping, tracking, and SOS functions; the Explorer+ adds pre-loaded topographical maps and a built-in accelerometer, barometer, and compass for an additional $50. Both devices seem to go on sale frequently; as of this writing, the Explorer SE is currently $289 on Amazon, and the Explorer+ $408.
They are commonly available on the used market as well, and I was able to pick up my Explorer+ in like-new condition for $300 from an eBay auction.
The catch with the inReach devices is that tracking, messaging, and SOS capability require a subscription through Garmin; plans range from $11.95/month to $64.95/month depending on the number of messages included, desired tracking intervals, and whether you opt for a yearly subscription or a month-to-month plan.
Even with subscription costs factored in, the inReach devices still carry a great deal of value when compared with far more expensive devices such as the "motorcycle-specific" GPS units from Garmin and TomTom, or Garmin's own Montana and Oregon series that do not offer the same tracking and SOS capability.
While the options for navigation from the seat of a motorcycle are myriad, there is no one-size-fits-all solution for all motorcyclists.
Some prefer the ease of a dedicated road-oriented GPS regardless of cost, while others prefer nothing more than a map stuffed into their jacket pockets. Navigating through backcountry routes or foreign countries throws another wrench into the mix, requiring us to occasionally get creative with our means of navigation.
Over the course of four months and 13,000 miles of riding through Central and South America, I found that the combination of my Android-powered smartphone running Google Maps and the Garmin inReach Explorer+ was a nearly foolproof solution for all my off road GPS needs throughout this epic journey.