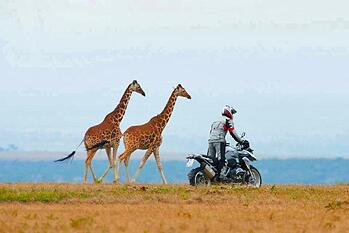 Most every great adventure story set in South Africa includes a visit to Cape Town. Located on the shore of Table Bay in the Western Cape, this vibrant city serves as a great trail head to cross-country motorcycle adventures, while also eliciting its own surprises. Whether you are new to the city, or making your fifth journey to the region, one of the most scenic rides is that from Cape Town to the southern tip of Cape Point.
Before leaving town, spend time exploring the exciting neighborhoods of Cape Town. Of particular note is the colorful Bo-Kaap area, formerly known as the Malay Quarter. Located on the slopes of Signal Hill, this multicultural town is brimming with quaint artisan shops. Begin your trip right with a tasty samosa from one of the neighborhood's many delicious food carts.
Once your stomach is packed, start your engine and make your way from cobbled streets to the paved M6 and onto Chapman's Peak Drive. This winding road hugs the sheer, and near vertical, face of the mountain range lasting from Hout Bay all the way to Noordhoek. This fantastic piece of road doesn't see too much traffic, especially during March and April, when the crazy tourist season has passed and the rain season has not yet begun. Here, the scenery, complete with towering mountains on one side and the crashing ocean waves on the other, cannot be beat. The winding, hilly roads make for an especially thrilling ride for the motorcycle enthusiast.
Chapman's Peak Drive will take you through Simon's Town, site of Boulders Beach. Boulders Beach, also referred to as Boulders Bay, is a fantastically secluded beach that offers a great swimming hole for the weary traveler and a fantastic site for spotting one of Africa's more unusual animals, the African penguin. These flightless birds can often be seen waddling awkwardly across the beach's white sand. For the more avid thrill-seeker, Simon's Town offer unique opportunities like shark cage diving. During whale season, beach goers will often see the enormous creatures romping in the surf just off of the beach.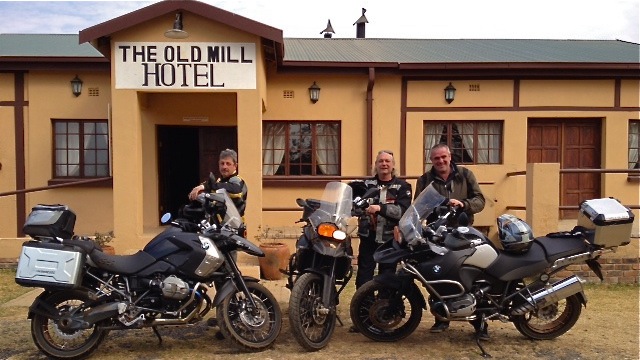 From Simon's Town to Cape Point, you will mostly be riding through the pristine Table Mountain National Park. Riding to Cape Point is like riding to the end of the world; the rugged landscape is expansive and the sea stretches before you, wild and unapproachable. At the end of the road you will have reached the Cape of Good Hope, a point sailors recognized as being where ships began to travel more eastward than southward. Cape Point refers to the mountainous regions surrounding this critical navigation point. Most of this region is unspoiled, undeveloped, and remains wild, providing a safe haven for seabirds and fur seals.
Motorcyclists who desire some society will be pleased to note the many famous vineyards scattered throughout Cape Peninsula. In fact, a vineyard near Cape Town, Constantia, was once widely named as the home of one of the greatest wines the world over. Today, the oenophile can make a robust journey out of traveling to the region's many fine wine estates offering vineyard tours and wine tastings.
By contacting us at RIDE Adventures, such a self-styled vino adventure and wildlife romp is more than possible with our multiple motorcycle tour opportunities. Forget about the hassles of shipping your bike, we provide you with one of our BMW or Harley-Davidson motorcycles to rent so that you can easily experience South Africa how you want to. We also offer experienced, local motorcycle guides ready to show you the most stunning landscapes and secret locations South Africa has to offer.