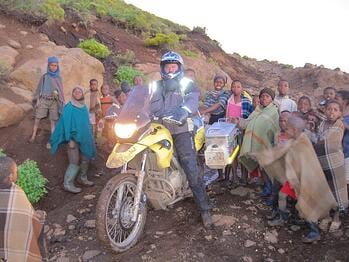 South Africa boasts unadulterated wilderness side-by-side first world cities steeped with five-star entertainment, food, and housing. Here, you can spend the night surrounded by luxury, only to wake the next morning to speed down sheer cliff-face roads overlooking spawning whales and the chatter of African penguins. The best way to experience all of the expansive landscapes, thrilling country roads, multicultural cities, and unique wildlife South Africa has to offer is to plan an extended holiday and take the long road from provincial capital to provincial capital: Johannesburg to Cape Town.
Johannesburg is South Africa's largest city, and is in fact the world's largest city not located on a lake, river, or coastline. While this financial capital is not well known for its tourism, its bustling economy offers great fine dining and outside market vendors bustle with fresh local fruits and vegetables. After stocking up on the journey, it is a day's ride on curvy roads towards Bldye River Canyon and the renowned Kruger National Park.
A flagship of the South African National parks, Kruger National Park covers two million hectares and is hope to all of the big five game animals: lions, African elephants, Cape buffalo, leopards, rhinoceros's and so much more. For motorcycle travelers excited about the wildlife of Africa, this is a must-stop. In addition to tours, the park offers overnight accommodations ranging from bush camping to luxury lodges.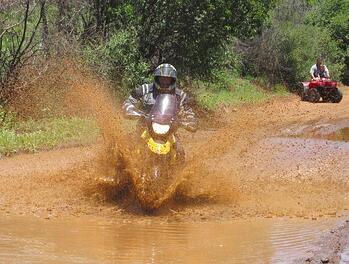 From here it is a southern journey through the heart of Swaziland and on to South Africa's eastern coastline. But a necessary stop for the cultural enthusiast, just before touching toes in the Indian Ocean, is Shakaland. This replication of a Zulu homestead offers a complete Zulu cultural experience for the traveler, complete with foot-stomping tribal dancing led by assegaai-weilding warriors.
Post-Shakaland, take the R66 south through the idyllic Mhlatuze Valley. Westward bound and hugging the coast, the experienced motorcyclist will be enthralled of the challenging twists overlooking the sheer beauty of the country's rock-faced coastline. Spend your nights in quaint fishing towns, where locals are eager to talk your ear off about the South African way of life; and your days cruising down straightaways, ascending and descending tight mountain switchbacks.
Before reaching South Africa's West Coast, consider stopping in the unique town of Oudtshoorn. Located in the Little Karoo region, Oudtshoorn is known for having the world's largest ostrich population. What trip to Africa is complete without an ostrich ride? Take the afternoon off, grab a drink, and trade your leathers for feathers.
From Oudtshoorn, you can either take a quick, more direct route to Cape Town through central South Africa, or you can continue along on your coastline meander. Whichever direction you choose, before you reach the harbortown, be sure to make a stop at the Cape of Good Hope. At this famed and sailor-beloved navigation point, watch as the crashing waves of the Atlantic and Indian Oceans converge to bombard the rock walls of this southernmost point.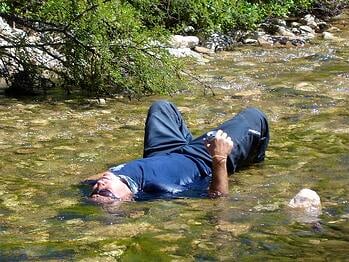 The journey from the Cape of Good Hope to Cape Town will consist of a ride along Chapman's Peak, which may very well provide you with your most unforgettable memory of the South African landscapes. Here, the skinny road has been carved into red rock an astounding 300 ft above the sea level. On one side of your motorbike the edges of cliff faces will dance by, and on the other, the dark and deadly blue of the ocean mingles with the bright blue hues of the western sky.
Finish your adventure in the cosmopolitan Cape Town. This diverse town is the country's multicultural hub, its first city of fashion, culinary leader, and a hub of adventure. Here, pull off your boots, grab a glass of local, and world renowned, wine, and drink to a journey well done.
By the end of this long holiday, you will have heard the roars of the lioness, danced in a traditional Zulu ceremony, watched the sun both rise and set over the oceans, felt the wingless beats of an ostrich, and ridden along landscapes of towering mountains, idyllic hills, and expansive grasslands. If you are delaying such a journey because of a hesitancy in dealing with the hassles of shipping your motorcycle cross-continents, think again. RIDE adventures is here to help you in traveling South Africa on a Motorcycle Trip! It's your choice whether you would like to be guided along the African landscapes and townships with our local motorcyclists, or make it your own self-guided motorcycle trip of South Africa and take the road as you will.