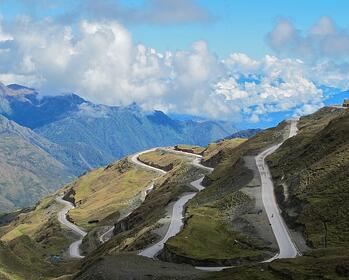 When it comes to traveling to Peru, most tourists list visiting the ancient Machu Picchu on the top of their list. And while this awe-inspiring city is certainly worth your time, the country has much more to offer, especially for travelers venturing her roads by motorcycle. Here is a list of our top reasons why you should visit Peru by motorcycle.
Wild Mountain Roads.
When it comes to twisting mountain roads, few places on earth can beat Peru's paved roads leading through the Andes. Ascending from Nazca, there is a throughway called the road of a 1,000 curves, and it is not exaggerating. On one long winding stretch you can climb to over 15,000 feet along a variety of exciting switchbacks and tight turns. Your view is complete with wild, virtually untouched mountain landscapes and distant glacial mountains overshadowing lush valleys.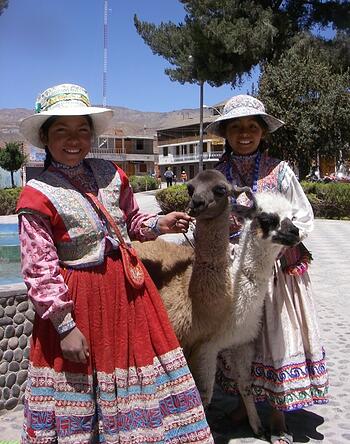 The People.
When booking a standard tour in a bus, you are often shuttled from one tourist sightseeing spot to the next. Never having a chance to take a break and speak to the people who call this country home. Many Peruvians still live very traditional lives. While biking in the countryside you will pass patchworked farm plots where farmers and sheepherders still dress in traditional indigenous clothing. Consider making a trip to the market town of Pisac. Here, the streets come alive on market days as Peruvian artisans travel from every corner of the country to peddle their wares. Enjoy time spent immersed in the country's local culture.
The South Coast.
Cuzco and its surrounding wonders often overshadow the uniqueness of Peru's southern coast. This is an ideal place to let your wanderlust run wild down desert roads that border the country's rugged Pacific coastline. For those interested in exploring some of Peru's interesting wildlife, make a stop at the
Paracas National Reserve
. This unique ecological zone is home to various marine life including whales, dolphins, shark, marlin, and much more.
The Many Ancient Ruins.
For history buffs and culture enthusiasts, Peru is a magnificent place to explore the ruins and mysterious sites of ancient civilizations. On a motorcycle adventure of your design, you have the opportunity to visit both the most famed and the more hidden at your leisure. Visit of course the Machu Picchu and the Sacred Valley, but then journey to the northern highlands to discover the city of Chan Chan. Afterwards, point your bike south, and head to the mysterious Nazca Lines and the city of Puno.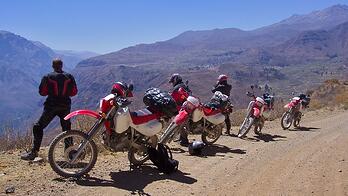 Peru's 28 individual climates and varied terrain make it an exciting place to ride a motorcycle. From the outskirts of the Peruvian Amazon rainforest to the southern arid deserts, this country has an intricate geography whose roads may best be traversed by motorcycle. Peru is full of wonderful hidden treats, discovering which mystery you want to follow is up to you when you travel with the freedom of a motorcycle.
At RIDE Adventures we, along with our local partners, want to make sure you get the most out of your Peru holiday. We believe that one of the best ways to discover any new country is by motorcycle and its afforded freedom. Which is why we take away the hassle of trying to transport your motorcycle by providing all of our clients with their own bike while they visit the country. While we offer highly rated tours led by local riders, if you would rather discover Peru on your own terms, choosing your own destination is left to you.
Contact us today
to learn more about our exciting motorcycle opportunities.