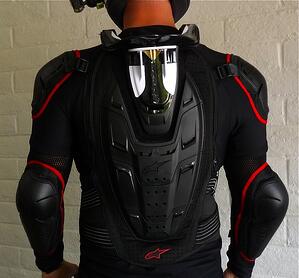 I managed to pin down Nic Sims, head of Media Relations at Alpinstars USA and ask some questions about the motorcycle industry and where he sees the future of motorcycle protective gear going:
EL: In the "Adventure Bike" category, which motorcycle would you say is leading the competition?
NS: "Well that is a great question and a tough one as I think that within the industry everyone has stepped up their game, obviously the brands that are probably on everyone's mind are BMW and KTM but Yamaha and Triumph are biting at their heals, and as we are in the nice position to work with all of them I will have to say they are all great, sorry."
EL: While I we might be biased, (having been saved pain & injury numerous times by Alpinestars Bionic gear) it's very clear that AStars is a leader in the 'motorcycle protective gear' category. In fact, I'm an enormous proponent of removing most of the original padding from motorcycle jackets and using Alpinestars hard armor in it's place. Is this trend picking up momentum, and are other motorcycle riders doing the same?
NS: "Well the company has developed a reputation for being a leader in protection in all forms of motorsport. I am glad that you have been able to experience its effectiveness but I am sorry you had to crash to test it. All our jackets offer protection built in but you are able to remove and upgrade the armor if you choose. I have not seen many people remove it, to then use a full protection jacket but I can understand your reasoning behind doing it. Our new protection jackets are a lower profile and lighter that the style you have used in the past but they have not given up any of the required protection, they still meet CE test standards and being lower profile you could probably keep padding in the jacket and wear the new jackets under too."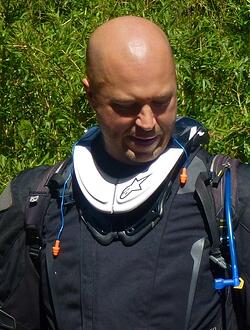 EL: We've seen neck braces move from auto racing into the motorcycle racing world, and are advocates of systems like the Alpinestars BNS as well. How has the growth been from your perspective for such safety gear as neck braces? (Photo to the right taken during our "Patagonia Experience" Guided Motorcycle Tour.)
NS: "Neck braces or supports are an interesting category as an industry all the companies that manufacture them are in agreement that you are better to wear one than not. What differs is what they believe are the cause of neck injuries, we believe from our studies that it is the compressing forces that cause the most damage, others believe that it is the Hyper Flexion and Hyper Extension. The auto devices are a little different because the helmet is connected to the device to stop the whip lash and other forces that can be put through the neck by being strapped into a seat, as you know on a motorcycle you need to be able to turn you head to get good peripheral vision and also we are not strapped in, so whip lash is not really an issue for a motorcycle rider. Motorcycle crash are low sides where the bike slides out or high sides where the rider is ejected of the bike and thrown into the air. These types of crashes are where we want the Neck Support to work by having the helmet contact the BNS which will then help spread any load forces rather than directing the energy into the neck. The fact there are more companies making these kind of devices shows you that this is an important category for the industry and a piece of safety equipment that people should be looking at purchasing."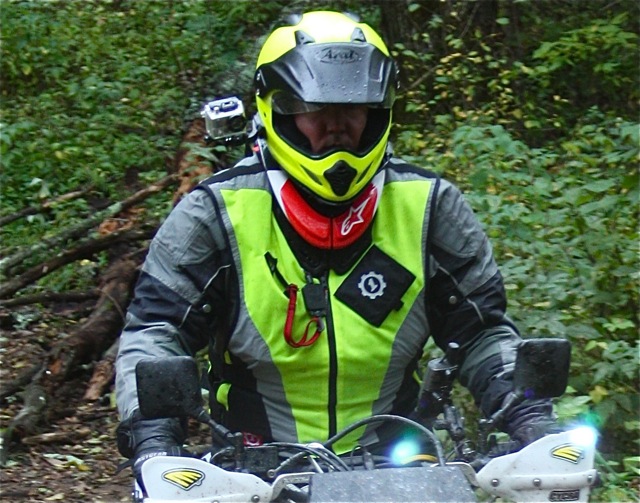 EL: Aside from the obvious R&D that goes into BNS development, do we have any other hard examples of where such a device has saved a motorcycle rider? (Photo to the right taken of our guide, Chad Berger, during the "Trans Wisconsin Adventure Trail" tour)
NS: "Unfortunately I don't have any examples that I can give you, but that doesn't mean that there aren't any. We hear plenty of success stories when we attend events from people that say they took a hard spill and have been pile driven into the ground wearing a BNS and they got up to tell the tale with only a sore neck. These are great things to hear and there are riders who have been paralyzed because they didn't have a BNS style device, obviously there is no way to know if one would have saved them or not, but their chances would have been much higher of walking away than without one."
EL: Any plans for new motorcycle gear or product offerings that you can share with us?
NS: "We just launched the new 2014 fall collection and in this line we have added some really nice New Land Gore-Tex gear that is available in both a men's and women's version and also the Valpirso Drystar gear. Our line of touring gear is now very complete and I would put it up against the best gear out there on price and functionality, starting with the Andes gear, then Valpirso, New Land, Tech St and Durban we have every price point covered."
EL: What has been your most "unforgettable" motorcycle trip so far?
NS: "Crashing my Aprilia at a track day and getting knocked out for 2 min, then not remembering anything that happened. I was told that the first person to my aid was GP legend Freddie Spencer, so I think the fact that I had overtaken him made me excited and in the excitement I lost control and crashed. Well that is my story and I am sticking to it."
EL: What motorcycle trip sits on your "bucket list" yet?
NS: "You put on some epic looking trips so I would love to do any of yours of course, but I think doing a trip around New Zealand would be pretty cool I have visited there and it just looks an amazing place to ride, also I have pedaled my bicycle in Switzerland and some of those mtn passes look amazing.
I would like to thank you for this opportunity and I know that you have your pick of products, so thank you for picking Alpinestars and I am glad that we have been able to prevent you from getting injured in the past."
------------