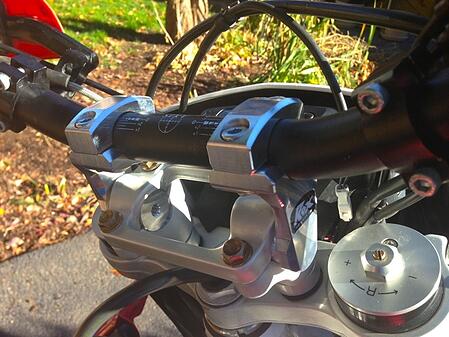 We just finished one of the quicker and easier builds on a dual sport bike: Installing the Rox Speed FX handlebar risers on a 2009 Husqvarna TE450.
The Need: Obviously for the standing position and overall comfort, we felt the original bar position was a little low. These 2" risers from Rox were ordered, and came out of the package gleaming with post-machining perfection typical from the Rox people in Minnesota.
The Install: About a half an hour was needed in total.
1) We took the handlebar guards off so that we could re-route some of the wires and cables to the bottom side of those brackets you see the finger pointing to. (Not sure if they are Husky original parts or what, this bike was a last-minute, used purchase for the Pine Barrens 300 in New Jersey.)
2) The installation of the Rox risers was easy as usual. Using the original handlebar mount, simple allen wrenches and hex-heads, and then spending a few minutes adjusting, feeling, and adjusting, before tightening them down for good.
3) Re-securing everything like the handlebar guards was easy, and we were done!
Unlike other forum posts out there, we don't seem to have any issue with cable/wire tension or restriction, once they were re-routed below the handlebar guard brackets. That being said, you can see about a 20mm/.78 inch drop of the triple clamp over the fork tubes. The primary rider of this bike might be raising those soon, but there is so much slack already in these lines, it doesn't appear that we'll have issues with tension througout full range of motion.
So the end result is a "thumbs up" vote for another set of Rox Risers on the Husqvarna! Their simple-genius design will allow for more adjustability than standard block-type risers, if there should ever be a need. Add to all this some pretty snazzy looks, and we're big fans of these risers. (Having used them on a Yamaha XT250, BMW R1200GS, GS Adventure, and KTM 950 as well, they will undoubtedly be a feature of any bike we work on.)
(Below: With the handlebar guard off, we're able to just reroute the necessary cables and such around that black mount/bracket. Clutch hose didn't need to be moved. Bottom: The freshly farkled trail-riding machine!)