KTM Riders in the northeastern U.S., have you met Pete Manzoli yet? Keep an eye out for him…this rider practcially bleeds Orange, and gets around the riding scene.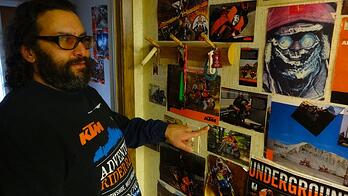 I first met Pete at the 2011 KTM Adventure Rally in Mill Hall, Pennsylvania. KTM had pulled together a group of about 30 adventure riders in combination with the few-hundred "Durty Dabbers," a local dual sport riding club known for riding in the Pocanoas. With only 30 of us on the bigger adventure bikes, it was pretty easy to meet the other big-bike riders, and guys like Pete.
What I didn't know about Pete at first glance was just how far back his passion for the 'big orange brand' goes. Truth be told, he looks more like a guy that just got off his Harley and is about to walk into a bar than someone who has been out grinding away through the rocks, mud, and dirt. He'll be the first to admit this, saying "I know I don't look the part." Maybe that's part of what's so neat about this slice of humble pie… he is who he is, and isn't afraid to be.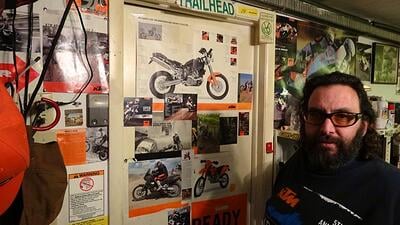 Back when I was in high school and we joked about the virtually unknown KTM brand as standing for "Kick Twenty Minutes," Pete was out riding the hills of New Jersey and the Cascade Mountains of the Pacific Northwest, with thousands of miles and smiles forever imprinted in the wilderness. For many of us, brand loyalty stems from memorable experiences where a brand far exceeded expectations. The motorcycle that kept running a few kicks after being submerged in water, the bike that you got lost in the woods with but somehow kept running on what seemed like an impossible amount fuel, or the bike you were riding when you met someone you're still friends with 20 years later. Whatever the reasons, Pete has his and you probably have yours.
By conversation at the 2011 Rally, I already knew Pete loved the brand; however, it was an invite to his home in New Jersey that truly unveiled his level of devotion. I was due for a valve adjustment on my 2004 950 Adventure S at the time, but still lived on the road promoting and growing www.rideadv.com, and didn't keep all the proper tools, carb-sync meters and such with me. Gladly accepting the offer for a proper workshop (instead of my usual hotel parking lot or campground) I found that Pete's garage, all the spec sheets, and everything I could have possibly needed were all set up specifically for KTM work. As if it was a shop dedicated to Marc Coma, Taddy Blazusiak, or another top-level KTM sponsored rider, we enjoyed the weekend hanging out talking bikes, and getting mine back to tip-top shape.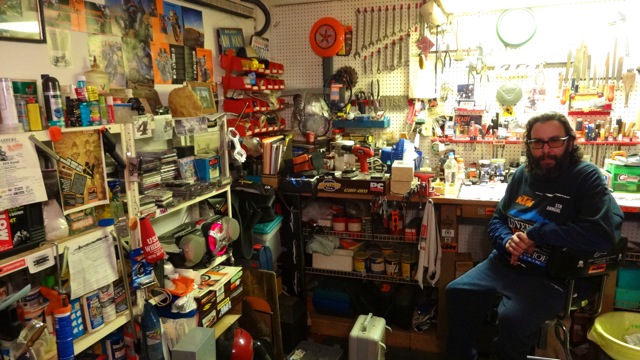 Walking through the lower level of his house, "Orange" decor is splattered all over the walls. Covered with original posters from the 80's, news articles about bike releases from the 90's, and every bit of brand history makes this area almost a "KTM History Museum." If it happened to the Austrian brand, Pete knew about it and saved the article or press release. Simply awesome to see such a passion for a brand.
While Pete's appearance, his garage, and his bikes may be donning Orange and Black, don't mistake him for a typical Harley rider; he is a true adventure rider that will seemingly have nothing to do with a bike or brand that doesn't boast the KTM logo. Say hi to him when you have the chance to at the next rally or race, though. His new 1190 KTM Adventure is on the way, and once he gets that, I don't imagine you'll be able to catch him!