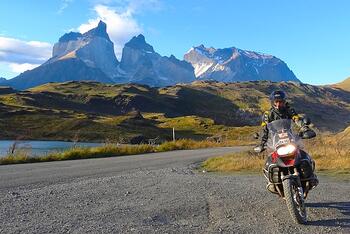 Another incredible Southern Patagonia season has just about come to an end, and with a smile, our list of happy customers has grown quite a bit more. Things couldn't be better for RIDE Adventures, now in its 4th year of operation.
Please note, I said "Southern Patagonia." There's still some time to enjoy the Northern Patagonia region though! In fact, we're working on a new Patagonia trip itinerary that should be announced within a couple of weeks, so stay tuned and make sure you sign up for our eNewsletter if you haven't already. This new route should be plenty accessible through April, and even into May by typical Patagonia weather statistics (see link here for Temuco statistics, althought you can see that May's weather typically means a lot of rain.)
Patagonia has changed more this season as we knew would be the case, but suddenly it starts to seem like the incoming pavement is for the better, not for worse. Many of our customers are seeking as much dirt riding as possible on their motorcycle trips, and we've supported them in finding it. Truth is though, there's a fairly small percentage of the riders out there in the world that really handle our "Patagonia, Tierra del Fuego & Ushuaia!" route on any first attempt. The terrain alone is a factor, but a full-blast of Patagonia wind is a complete gamechanger for riders who don't have much experience in such conditions.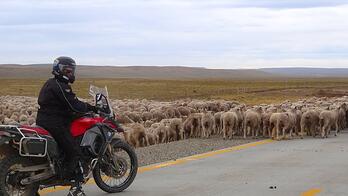 We still offer these Patagonia trips as publicly available tours, so don't worry if you don't have a group to bring...just bring yourself! The shown itinerary and calendar dates will pretty much have to stay as they are, unless again, you want to form your own group. The other possibility is that you do have a group formed, and we can custom-fit an itinerary to your exact wishes. A day of rafting on the Futaleufu River? No problem. Fly-fishing excursions for a rest day from the bikes? You'll be in a fly-fishing paradise in Patagonia, so why not enjoy? Tell us what the best motorcycle trip ever would be like for you, and I bet we'll still surprise you about how great the overall Patagonia riding experience is.
Perhaps the best example of what I'm talking about came from one of the riders in our February group. For me as the guide, and the guy who designed the tour for this private group, it's both extremely fun and extremely satisfying when riders reveal how impressed they are with the trip. In particular, one rider, who was otherwise one of the most reserved and quiet of the group eventually lost composure in one of the National Parks and muttered out in his Latin accent but perfect English: "this is fucking incredible." If this had come from any other guy, it wouldn't have been so special perhaps. But coming from a guy who mostly kept to himself, it's extra special to hear and see the impression Patagonia makes on a rider!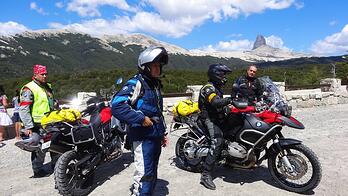 Anyway, it's with tremendous satisfaction that we say this Patagonia season ended on a high note, and as mentioned earlier, more research has been done on a Northern Patagonia tour route that will be announced soon. The Lakes Region around Pucon and San Martin de Los Andes has been an overlooked area for far too long, so it's quite exciting to have something new to start offering. (Plus it will open up September and April as travel months for Patagonia.)
It's all part of the job here...finding the best reasons and excuses for you to get out and RIDE! Just contact us anytime you're ready for what might be the best motorcycle trip you've ever taken.