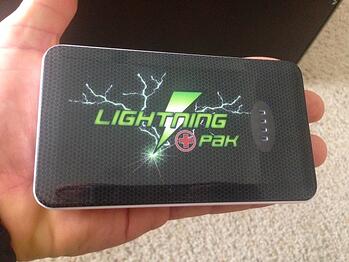 That title sounds like a gimmick, right? It's not a gimmick though, and I think you can say "goodbye" to bulky jumper cables and dead batteries, as the future is here! (Please keep in mind, we don't sell any of these products we review.)
This week I stopped in to see Francois and Megan at Dual Sport Touring in Tennessee, about an hour from the famous "Tail of the Dragon" where countless motorcycle riders congregate for the famous paved twisties. Conversation and laughs rolled along as usual in the DST shop with all the riders stopping by, and just as I was leaving, Francois showed me the "Lil' Lightning RP Ultra Slim" Jump Start Battery Pack.
The small battery pack looks like most others currently on the market, smaller than an average hand, but unique because of the graphics scheme on it. Francois went on to claim that he could jump start a motorcycle with this battery he was holding, a suggestion that of course I sincerely doubted. To my shopping knowledge at this point, such smartphone-sized battery packs were merely meant for charging exactly those types of devices: smartphones, tablets, and perhaps small laptops or other devices.
My challenge was met as we walked out into their shop and found an old Honda Hawk that had been sitting unused for a couple of years, of course with a dead battery. Francois confirmed to me that the battery was dead by pushing the starter button, and nothing happened. Then he connected the alligagtor clips and attached the Lil' Lightning battery, and you can watch the video below to see what happened:
All from that little 8oz lithium battery, I'm still amazed by this even after seeing it in person myself! That being said, other power sources with similar storage could probably do this as well, but I'm not aware of any that have the jumper cables that connect directly. The old Honda Hawk wasn't in running condition, so it didn't start, but Francois cranked the engine about 8 times just like you see in the video, each time turning it over quickly. After all 8 cranks by pushing the starter button: The Lightning's power indicator showed only about a 10% depletion, and was barely getting warm (I had thought it would be screaming hot after all that.)
The Lil' Lightning Ultra Slim boasts:
LED lights to show current battery status
An integrated LED flashlight with 3 different lighting patterns like, SOS and Strobe, all with a 1400-2700 luminous range
Will hold a charge up to 6 months in storage
6500 mAH Lithium Polymer Battery storage
At only 8 oz, it's incredibly small and lightweight, like having another smartphone with you (plus whichever cables you bring)
Comes with jumper cable-type battery clips, home outlet and cigarette lighter chargers, and a USB to multi-use charging line (micro USB, mini USB, Lightning wire for Apple products, as well as the older Apple type plug)
Now all this being said, we know that a "once-dead" motorcycle battery can be hard to revive, so just because you have this excellent power source with you does not mean it'll be enough to revive the battery, or that the battery will then be strong enough to run the motorcycle, car, or whatever you're working on. Still, it's pretty rare that a such a universal tool like this could be used for motorycle travel as well, and it's even more rare that a product really amazes me...but this one sure did! Be sure to check out the Lil' Lightning Lithium Jump Start Pack on the Dual Sport Touring website and order yours before your next trip. Speaking of your next trip, learn how to pack for your next motorcycle adventure here.