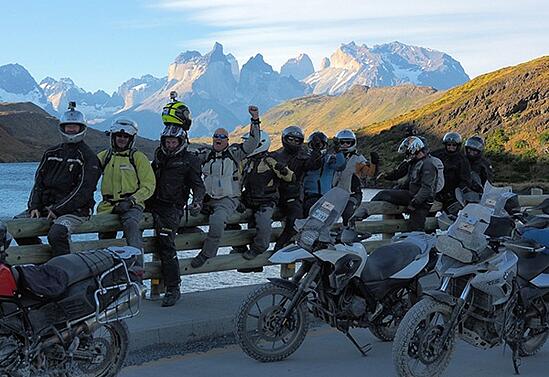 Don't consider the incredible duration since the last blog post as a suggestion that we're "taking a break." Actually, it's projects like this one and your bookings that are keeping us busier than ever!!!
As this blog post is titled though, we've made a major change for the 2015/16 Patagonia season, so that now you can experience the same "Patagonia, Tierra del Fuego & Ushuaia!" motorcycle trip in just 14 Days. That's 3 less days than the 17-day version customers have been raving about! (See the video below that Andres created from our trip to Ushuaia in December last year.)
How Can 17 Days fit into Just 14? - The question is coming up frequently, and the answer is based around the fact that we now finish in Ushuaia. In doing so, we save 1 day that has always been a "rest day" in Ushuaia, and then 2 more days literally backtracking 90% of the same route to terminate the trip on the Chilean side of the border. That total of 3 days "saved" means it's just 1 day longer than our "Patagonia Experience" tour, which also shows you the greatest highlights in the region. (These tours run together, consecutively.) On these routes, Torres del Paine National Park, The Carretera Austral, Lago General Carrera, The Perito Moreno Glacier, the vastness of Ruta 40 in Argentina, and much, much more is all still included. (You're still welcome to enjoy an extra rest day or more in Ushuaia if you like though!)
This change took quite a bit of research and work to make this happen, but for those who have limited time available for motorcycle riding vacations, or time away from work or family, this "turnkey motorcycle trip solution" is perfect for you. Now there's no need to worry about riding to Ushuaia and having to figure how to ship your motorcycle back home (use our motorcycle rental options on this trip.) There's no need to spend the final 2 days of your riding experience backtracking over the same route to Punta Arenas, Chile. Furthermore, there's no need to spend 17 days completing the mission to Ushuaia, when we'll show you the exact same scenic highlight reel, terrain, hotels, cuisines, culture, and more in just 14 days!
Please note, the option to ride to Ushuaia and finish there is only available for our guided tour groups, not self-guided riders that are just on motorcycle rentals. (Without getting into it, let's just say the paperwork with international borders won't work for pure rentals.) Perhaps someday rental customers can finish in Ushuaia as well, but for now, this is a privilege reserved for our guided tour customers.
Furthermore, please keep in mind that the dirt riding options in Patagonia are disappearing rapidly. I've written about this extensively before, that each year, we lose about 10% of Patagonia to the inevitable asphalt/pavement installations. For those who prefer pavement, that's great...your time is coming and we'll still show you the way. If you're more of dirt motorcycle rider, and you prefer to soak up the scenery in its most natural setting, don't wait. We're down to about 40% off-pavement riding already.
If you're interested in seeing this incredible route, also don't wait to book as these tours have been filling up earlier and earlier each year. Our customers return home from Patagonia raving about their experience with us, which in turns brings us more riders. It's those kind words, those expressions on your faces and reactions we enjoy when you say "I can't believe I never did this before!" that keep us going. Thanks again to all of you for keeping RIDE Adventures alive and strong. Click here to learn more about the 14-day "Patagonia, Tierra del Fuego & Ushuaia!" motorcycle tour.