Perhaps the only thing more fun about putting new parts & accessories on a motorcycle is confirming that they actually work to protect your bike!
The KTM 690 Enduro I've been riding lately just didn't come with much in terms of protecting the engine/frame OR the rear master brake cylinder for that matter. Immediately upon opening my order from Flatland Racing though, I new my "rock and stump" concerns had been resolved. The way this stuff is built, I'm probably protected from land mines as well : )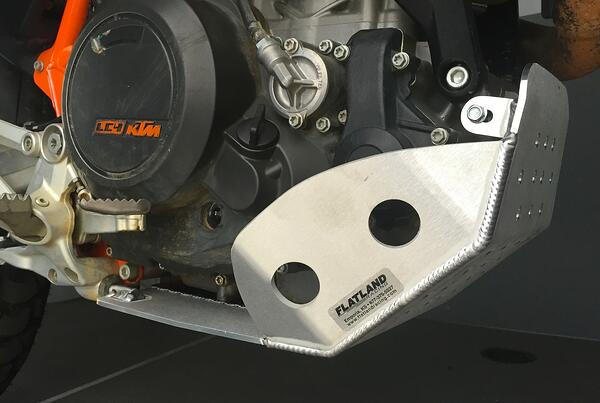 The Skid Plate: Does the term "bulletproof" describe it well enough? If not, I'm not sure how else to describe this incredibly well-built piece of protection. From the precision in the welding to the overall rugged construction using 3/16" aluminum, I'm not sure what I could hit or how hard I'd have to hit it order to damage this skidplate or the frame and engine it protects. Thus far I've only heard some rocks pop up from the front wheel, leaving no visible marks though. What a satisfying feeling that is though, knowing what such a small investment is doing to protect the bike. At the price shown, Flatland's Skidplate for the KTM 690 Enduro has to be one of the better values I've ever seen in terms of motorcycle protection.
The Rear Master Brake Cylinder: As the motorcycle comes from KTM, the rear cylinder was horribly exposed. Take a look at the photo below and you can see how any rock or branch could easily pop up and snag the rear cylinder IF the snazzy orange Flatland Racing cylinder guard wasn't in place. KTM not only left the rear brake cylinder vulnerable, but they mounted it with protruding bolt heads that give rocks and such one more thing to catch on. Flatland Racing's design gets rid of those bolt heads by using counter-sunk bolts & nuts, making a smooth surface so that anything you hit will just slide along that spot. - Note: Some other designs out there in the market are such that the brake guard is laterally bolted or screwed onto the skidplate. While I can't say for sure, it just doesn't make sense that such designs are anywhere near as durable as this one is, using the actual motorcycle frame and original bolting points.
Axle Pulls: With my engine, frame, and rear master cylinder protected, it only made sense that I save myself some time and/or tool-carrying needs while on the trail. Flatland also makes these easy-to-install "pulls" (shown below) that install in minutes, and could do exactly what they're meant to do: Save me time & headaches, or possibly save the riding day! While I make a point to keep axles well-greased, the extra ease of removal these afford me was an obvious choice.
This is my first time installing or using anything from Flatland Racing, and I doubt it will be the last as I'm very impressed with their quality and workmanship. Comparing prices to other's....well, that only further impresses me!
See you on the trail.