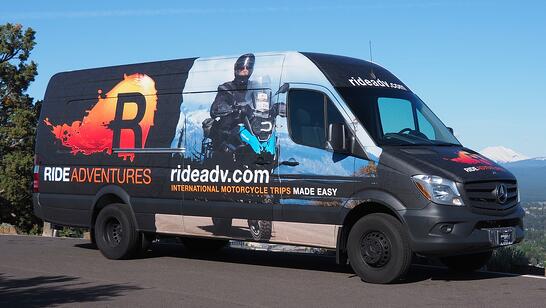 Winter has finally cleared and some long-awaited sunshine here in Oregon made for a brief photo shoot this morning. Introducing to you: The nameless behemoth that many riders will see up close on motorcycle trips, and at rallies, races, and events in the coming years....the new RIDE Adventures Mercedes Sprinter Van.
First, let me pay tribute to the staff from Driving Force Graphics here in Bend, Oregon for their prowess and attention to detail in vehicle vinyl wrap arena. Those of you who have already seen the van up close have commented not only on the fantastic design work by Stream Creative, but the quality of the installation by Driving Force Graphics, as it is far and above what I'd seen previously by other vehicle wrap installers.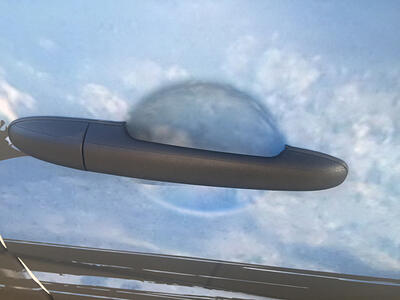 Take for example the detail done around the door handles, which I honestly still don't understand. To my recollection, every other vinyl wrap job I've seen had at least 1 visible seam in this location, yet the installation done by Driving Force left us without any seams (at least none that I've been able to find.) This is of particular insterest for the longevity of the wrap, as with all the obvious "hand traffic" around door handles, one can see how a seam could eventually get snagged and pull apart.
The cost of a project like this is far less than one would pay for custom airbrushing and paint, and comes with other benefits. For one, the vinyl essentially protects the body and original paint from the inevitable scuffs, scrapes, and chips over time. Likewise, if actual major body damage took place, the ease of replacing possibly just 1 section of vinyl vs. repainting an entire side of the van is obvious.
This wrap installation only took about 2.5 days to complete, right on schedule according to what Darren promised. Timing was tight the week it was done, as I was on the way to Washington for the Stumpjumpers Desert 100 Race and needed the van to be finished on time. Photo below of hundreds of riders lining up for the race start, of course with the van in the background.
So again, "nice job!" to the team at Driving Force Graphics. We were referred to Driving Force based on a referral from a friend, and that friend clearly was right about the quality of their work. When you see the van at gas stations or motorcycle events around the U.S., please be sure to stop by and say "hi."

Oh, and if you have "name suggestions" for this toy hauler, feel free to comment below. After all, it deserves a name just like motorcycles do, right?