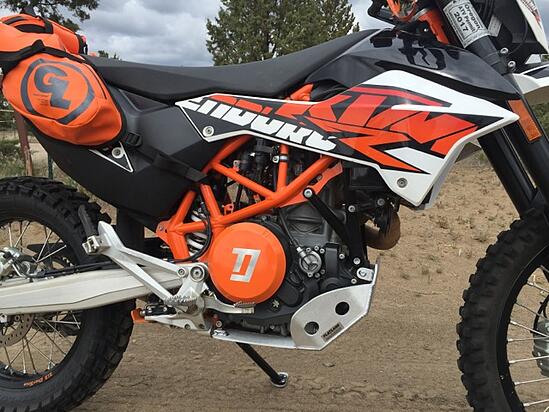 While the 2014 KTM 690 Enduro R that I picked up recently was only slightly used, the previous owner reminded me in the form of liquid weld just what can happen if the engine isn't protected. As shown in the picture below, something clearly "got in there" and punctured the clutch cover, and while the liquid weld was holding up pretty well, it was also just leaking slightly enough that it was time to just replace the cover itself.
With a new clutch cover being installed, I wanted to make sure it was well-protected so my research began. Carbon fiber sure does have it's place in the motorcycle protection arena, but having see how it can just "pulverize" with a few good whacks, the few carbon fiber options available for this bike just didn't seem like the way to go.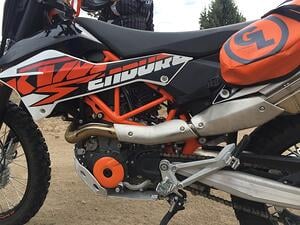 Instead, I opted instead for the aluminum protection pieces made by Trailjammer Designs in California, covering both the clutch and stator side of the engine once and for all. Their design mounts the pieces to the engine using a simple high-tempurature RTV gasket/sealer compound, so that the "rubber-like" RTV sealant actually works as sort of a "padding" to disperse the energy from any impact. When installing both the clutch and stator covers, I used an entire 3oz tube of Permatex RTV, and actually could have fit some more in there for even better protection.
So the covers are definitely stuck on there and not going anywhere. What about the choice of aluminum used? I'm not claiming to be a metallurgist or know which types of aluminum or whatever might be best, but in talking with the people at Trailjammer and seeing a few sample post-impact photos of their products, it seems they've made some very durable protection here. I'll report back after any hard hits are endured, but am not going to "stage" an impact just for the sake of research! :)
The parts aren't heavy, as a small piece of aluminum like these sure doesn't weigh much. It's clear though that the Trailjammer parts are going to make a huge difference in saving that engine case. Again, see below how the original case was punctured and how the position of Trailjammer piece would have stopped that from happening. You can also check out Trailjammer's Facebook page here and see what new items are being released that could be perfect for your motorcycle.
A few tips on replacing the clutch cover on the 2014 KTM 690 Enduro R:
Don't both trying to get the rear brake lever unbolted, it's a huge pain to get out of there. Instead, just remove that torx bolt that's holding on both the front and rear footpegs, and the entire brake lever itself.
Make sure to use the 2 dowels on the left and right of the gasket surface to hang the new gasket on there and keep it in position while you mount the cover.
If you're adding these great protection pieces by Trailjammer Designs, again, I think you could use 4-6 ounces of RTV and it wouldn't be too much. In fact, it would just mean more protection! See in the photo below how I thought there was enough RTV on the clutch cover, but had to quickly pull it off and add some more to "thicken" the mounting solution.
Ride safe and keep your motorcycle protected!