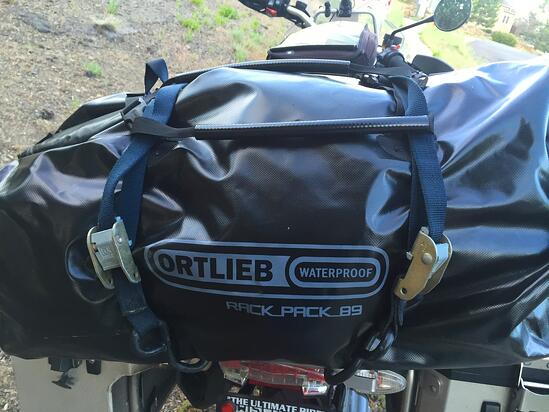 Time to pay tribute to what has basically become a "permanent fixture" in this motorcycle traveler's busy lifestyle: The Ortlieb "Moto Rack-Pack" by Ortlieb USA.
On the short list of great products I've had with me in recent years, this waterproof duffel bag stands out for it's incredible durability, functionality, and overall value in the sense that I have truly gotten my money's worth.
Perhaps the greatest thing about the Rack Pack is its "simplicity." With the wide open roll top and cavernous interior, getting your riding gear, parts, clothing, or whatever in and out of this bag is incredibly easy. Once you roll the top shut and clip the straps into place, it's perfectly water and dust proof, as I have proven in many thousands of miles these past years. (And please trust when I say this bag's waterproofness has really been tested in Patagonia, Bolivia, Peru, Croatia, Montenegro, etc.)
The Rack Pack is also a star in our "How to Pack for Your Motorcycle Trip" series, both in video and whitepaper download. The yellow bag shown in that video has not held up as well and was never truly waterproof in the first place. Yet the Ortlieb, just sitting there in it's simplicity has never once allowed my clothes inside to get wet. Even at the end of the day when it's all covered in dust, I take the Rack Pack into the shower with me to clean it off, and everything inside remains dry.
It's important to note that a big 89 liter like the one I'm using is best supported by sidecases or a wide platform if fully loaded. Smaller bags like their 31 or 49 liter Rack Packs might not need such support though, as of course they're not as long. If only partially loaded like shown below though, the 89 liter might not sag down too much, keeping the hot motorcycle exhaust and rear wheel out of concern. (Speaking of which, PLEASE be sure to read and understand cautionary articles like this one about strapping down your motorcycle luggage.)
Only recently did my 5 year-old Rack Pack get damaged, as one of the straps was caught between a moving trailer and parked vehicle, something that few straps would have endured. The bag is still useful for storage in the Sprinter van, in the garage, etc., as it's only flaw is an end strap that I destroyed. I'm a huge fan of the Rack Pack so it's been replaced by a new Rack Pack sold by Orblieb USA, and I'll continue riding as planned whether it's through rain, sleet, dust, or snow!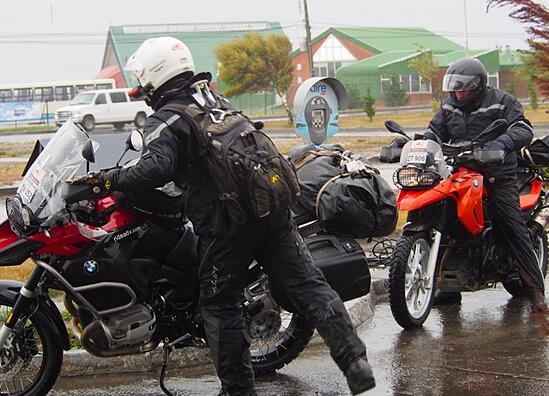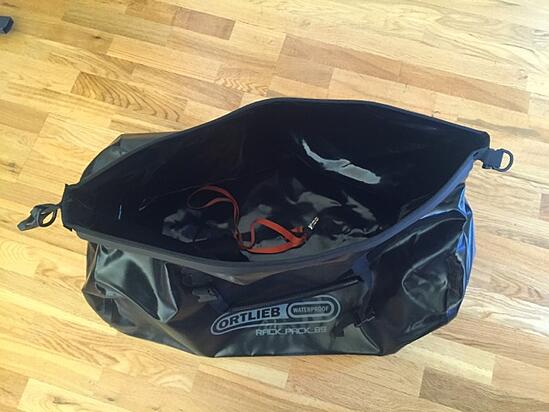 WHAT TO READ NEXT: Now that you have waterproof bags covered, take a look at Eric's review for the best dual sport helmet.