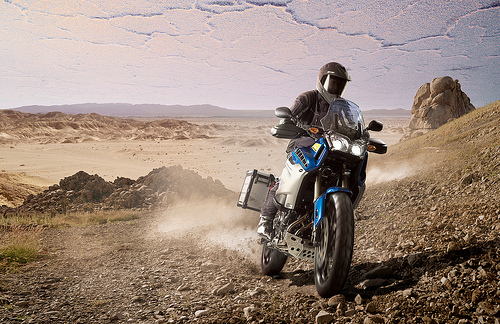 When it arrived in Chile in late August, I had the chance to see the Yamaha 1200 Super Tenere in person. Could it become a major influence not only in the world of motorcycles, but specifically motorcycle tourism? I believe so.
Take for starters, the consistency and reliability that Yamaha has been putting out year after year, along with the other Japanese manufacturers. Surely the individual bike buyers are interested in such quality, but to probably a much greater extent, tourists and tour operators are hugely dependant on the livelihood of their motorcycles. When your entire vacation revolves around riding, dependability on that bike is pretty important! (Not to fret, the best tour operators are prepared to quickly fix any minor hiccups while on tour, and a spare motorcycle is often part of the touring plan.)
Just sitting on the big Yamaha, it actually reminded me of the BMW R1200GS in its shape, positioning, appearance, and size. Of course the laterally-exposed shin-banging cylinders of the BMW boxer engine would not be missed, so long as Yamaha gives us the reliability and full-range power of BMW's boxer. Spec reports show that it's within about 10 pounds of the BMW when fully fueled, so it's definitely on the "heavy end" of the adventure bikes.
One important note is the ground clearance on the Yamaha, which according to spec sheets, appears to be in the middle of all the "adventure touring" bikes. With 8 inches of clearance (more than the BMW R1200GS, but less than the KLR and standard KTM 990) we should be able to handle some moderately rough terrain at speed. Riding through Patagonia and Bolivia in so many non-paved situations on the R1200GS, one can find themselves wanting just a little more ground clearance (I often missed the height of my KTM 950 Adventure "S" model.) The danger of bottoming-out at speed is an ever-present issue in off-pavement riding.
By introducing a new Adventure bike at a time when the motorcycle market as a whole is slipping in sales and the Enduro side of things shows impressive growth, this might be Yamaha's golden egg and a true gift to motorcycle tourism. Has Yamaha now bridged the gap between the affordable single cylinder bikes and the top-priced BMW R1200GS? If it rides and runs as well as it looks, I'd say the answer is "yes."