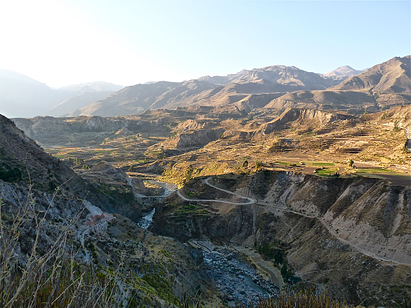 When your motorcycle rentals in Peru bring you to the beautiful Colca Canyon, finding a hotel with secure motorcycle parking can be as much of a challenge as it is in major cities with historical districts and Spanish-colonial architecture. Calling ahead for a reservation is always a good idea, but one of these 3 hotels in the area should be ready to host you:
Hotel Kuntur-Wassi is in the mid-to-western part of the Colca Canyon in a town called Cabanaconde. Just a couple of blocks up the hill off the main plaza, it's definitely the best hotel in Cabanaconde with a restaurant to match.
Casa Andina actually has a beautiful chain of hotels throughout Peru, and with prior notice they should be able to host a small group of motorcycles securely in their Colca location. Definitely the nicest hotel in Chivay, it's on the pricey side but a good value for sure.
Hotel Colca Inn is also in the town of Chivay, just a couple of blocks off the main square and is a good choice if you'd like to spend less. One other advantage of staying in Chivay is that there are a few good restaurants and bars for the evening. Out in Cabanaconde…well, let's just say "its quite remote."
As always, we hope this helps you save time and money on your journey!