Another great opportunity to communicate with the motorcycle riding world just published in a recent interview with Bruce Steever during the International Motorcycle Show in New York.
Since the interview, I'm being asked if I "was just saying that" about the Triumph Tiger 800XC, or if my comments were sincere. The truth is, I'm absolutely excited about Triumph's resurgence into the adventure riding world and the impact the new Tiger XC could have. So much of our success and enjoyment while riding is based on the fit, feel, and ability of the motorcycle we choose, and the Tiger represents one more option to match up with more riders.
Aside from just being a bike to fit more riders, the Triumph definitely appears to be a well-designed motorcycle. With 8.7/8.5 inches of front/rear suspension travel, the ground clearance as well seems to be quite significant (can't find exact specs right now.) The inclusion of a 3-cylinder inline engine suggests "smooth power" to me, but an actual riding test will be needed before commenting further.
As the Triumph makes its way into the adventure riding scene, I'm sure it'll become an option for motorcycle adventure tours and motorcycle rentals in many locations around the world. What a great way for each of us to test the motorcycle before putting it in our own garage back home!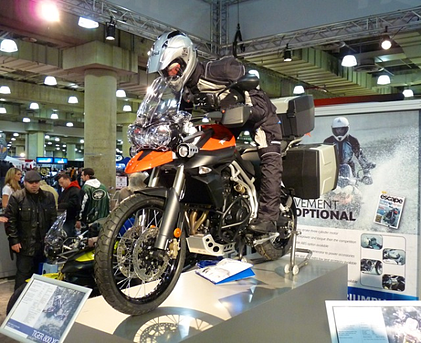 http://www.motorcycleshows.com/media/ims-interviews-eric-lange-ride-adventures