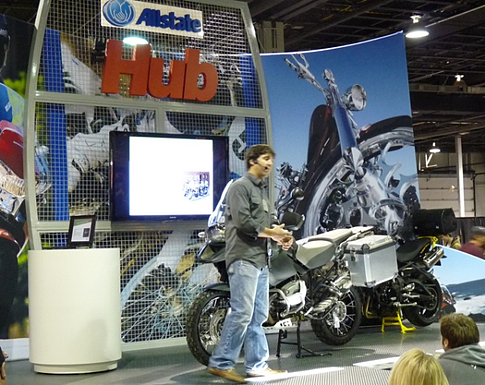 While snow-covered slopes attract skiers, motorcycle enthusiasts everywhere are flocking to the International Motorcycle Shows currently crossing the U.S. Throttles are being twisted and anticipation for springtime is building as the latest offerings from Triumph, Suzuki, Yamaha, and others are mounted by prospective buyers. To compliment all the great new products on display, informative seminars on various topics around motorcycle riding are also drawing crowds.
One of the best-attended seminars in Chicago was "Off-road Adventure Riding" presented by Jeremy LeBreton from AltRider. As if the popularity of shows like "Long Way Round" and movies like "The Motorcycle Diaries" weren't evidence enough, the crowd gathered around Jeremy's stage in Chicago certainly tells us that adventure riding is a hot topic in the motorcycle world. Riders: We support you! As Jeremy talks about "finally turning down that road you've always ridden past," it's easy to see the wheels turning in the heads of riders as they picture getting out there, and getting away…
As an aside, AltRider is making their way into the motorcycle scene with great new accessories and gear for adventure touring motorcycles. Designed and manufactured here in the U.S., I'm about to start using my first item from them (a side stand foot for the KTM 990 Adventure.) Wishing best of luck to AltRider for success in the market, eventually their products could adorn many of the motorcycle rentals we offer through RIDE Adventures!