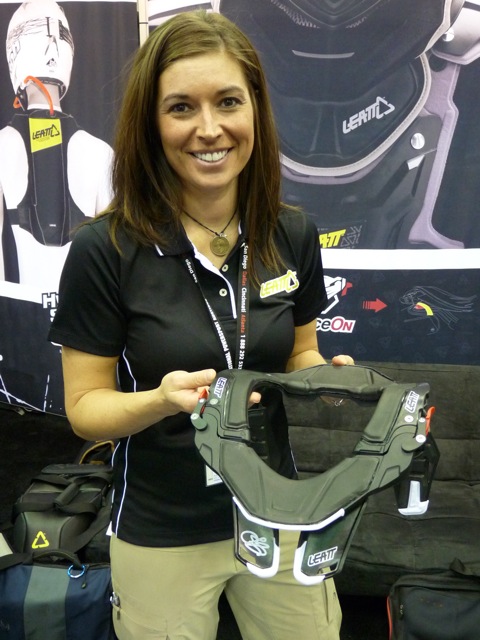 The people at Leatt® have been busy!
My visit with Teri Gorrell from Leatt® during the Dealer Expo in Indianapolis showed me that they are making much more than neck braces now. Here are a few of their latest releases:
The Leatt® STX Road Brace appears to be a great new option thanks to a few key enhancements:
The Jacket Zipper Relief notch in the front allows zippers to close further than before
Scapula wing pieces are adjustable without tools
Collarbone relief areas should minimize risk of fracture
Dual-strut thoracic pieces for greater stability during impact
Those thoracic struts are now foldable! Previous designs were actually a bit cumbersome when it came to packing, so the foldable design will help conserve space.
The Leatt® Jacket, another new release, has been designed such to accommodate their neck braces. Integration with jackets has been one major struggling point for neck brace users, so this waterproof, padded, convertible, and breathable jacket should gain some favorability quickly with safety-conscious motorcycle riders.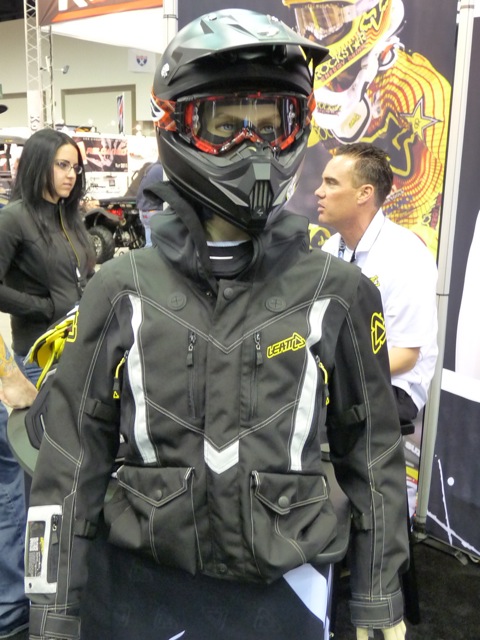 One more item Teri showed me was the Leatt® by USWE – H2 Harness Hydration System that comes with a kit to make hands-free hydration possible. The white quick-connect you see in the picture sends the drinking hose to the front of the helmet, where the nozzle is mounted within "lips-reach" so we don't have to ride one-handed so much. Enduro and Rally Racers are going to like this one.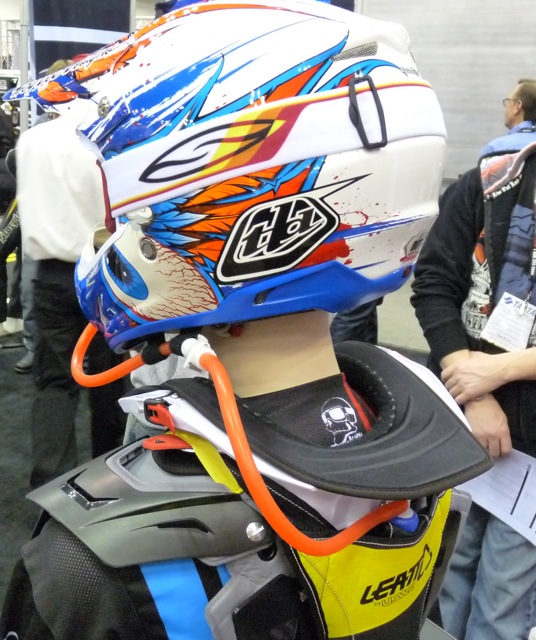 It's great to see that Leatt® is breaking new grounds with innovative products that continue to make great sense. I've been using my Leatt® GPX Club brace for almost 2 years now and think it's a great investment toward safe motorcycle riding. While I hope I never have to find out just how well the brace works, it definitely helps me feel more secure and confident on the motorcycle … which translates into more relaxed, fun, and better riding all around!