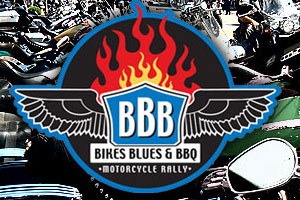 Having spent the last week in Northwest Arkansas, I've heard quite a few people mention the "Bikes, Blues, and BBQ" Motorcycle Rally set for September 28th thru October 1st.
What started in the year 2000 with only 300 motorcycles has exploded into one of the largest motorcycle rallies in the U.S., drawing over 400,000 people from all 50 states and even some international guests.
The focus of this event? Well, the name says it all and each of the three "B's" gives plenty of reason to attend. With "Battle of the Bikes" contests being held for everything from American Factory Custom classes to Metric Sports and Custom Choppers, there's something for every motorcycle enthusiast.
For those into Blues music, there's quite a stack of talent promised each year, and of course it's all enjoyed with an array of great local Barbeque offerings to keep our bellies full! With contests and awards for each of these categories as well, and local charities benefitting from then entire event, we have plenty to look forward to this September.
Since many of us will be arriving by motorcycle, there's always a chance that some random part or service will be needed. Having visited their showroom, parts department, and workshop this week, riders should keep Bill Eddy's Motorsports in mind for clothing & accessories, parts, or service. With a helpful staff and great location, they'll surely be of assistance to riders in need.
See you there!