Amongst the many new products I've seen at the International Motorcycle Shows, the Dealer Expo, and other events this season, of particular interest are the events and products that are focused on the women riders who continue to make their presence known on motorcycles each day.
Each IMS Show had a "Women Ride" stage where presentations and discussions helped welcome both existing riders, and women that are interested in riding but might just need an extra bit of encouragement to take the first step into actually doing so. Despite all the different seminars and celebrity autograph sessions at each IMS, quite notable was the consistent attendance to the Women Ride stage events.
I had the great pleasure of meeting Alisa Clickenger at the Dealer Expo in Indianapolis and heard about her amazing experience riding solo through South America for 7 months in 2009. That's right: Seven months…..solo…..as a woman on a motorcycle in South America. (I keep telling folks that South America is safer than you might think!) Alisa is now running a Women's Empowerment motorcycle tour this June to help women riders get to the next level in their riding ability. Be sure to check that out and look for Alisa at different events throughout the year.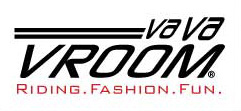 On the topic of gear and apparel, entire companies are now dedicated to making casual wear and riding apparel focused on women riders. At the IMS-Chicago show I met Denise Maple from Vava Vroom® and learned that after a successful start in the casual apparel lineup, her company now has a women's riding jacket available and more riding gear on the way soon. Again, all products that are designed toward the women riders that don't want to sacrifice fashion for function, or vice versa.
Did I forget to mention that the first official motorcycle rental reservation made through RIDE Adventures was a by a lady as well? Guy riders out there, watch out…….lots of gals are riding with us!