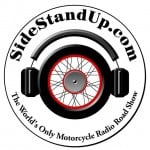 On March 15th, I had the great pleasure of joining the "Side Stand Up" radio program with Tom Lowdermilk and the chance to talk about the amazing possibilities of motorcycle adventures in South America. My sincere thanks to Tom for having me on the show, also to Mark Kincart from Klim USA for introducing us, and the show can be listened to at this link: Side Stand Up - March 15, 2011 (My portion was about 45 minutes into the show.)
Just before I came on the show though, a very important topic was being covered by host Denise Maple (owner of Vava Vroom®) and her guests, Greg Zaffke and Tim Montegue who have together formed C.R.A.S.H. (Coalition for Responsibility & Accountability on our Streets and Highways.) C.R.A.S.H. represents the joining of the Black Nail Brigade and Moto Angels, and focuses on raising awareness of the ongoing dangers caused by distracted driving.
As the C.R.A.S.H. website reminds us, over 5,000 (documented) deaths occur every year in the U.S. because of people driving while being distracted. Cell phones & texting, MP3 players, and all the other distractions some drivers combine with driving pose a serious danger to others on the road. In fact, we lost Greg's mother, Anita, in 2009 when she was struck and killed by a woman painting her fingernails while driving (hence, the former Black Nail Brigade.)
C.R.A.S.H. is hosting their 2nd Annual Epic Memorial Ride & DWDK Rally on May 7th of 2011 starting in Delavan, WI. Hoping to not only raise awareness about distracted driving, but also honor the life of Anita Zaffke, please help spread the word about this event. As motorcycle riders we are especially sensitive to the way people drive, so let's join together and help make a statement to non-riders and help make our roads safer for everybody.