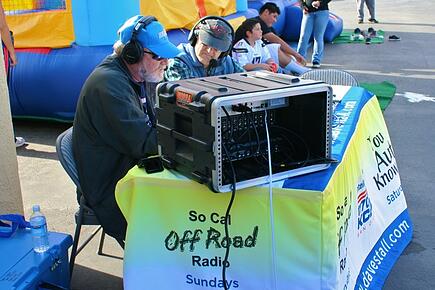 On Sunday, March 13th, RIDE Adventures was invited to be part of another radio program, this time with Dave Stall and Alex Plewniak on the So. Cal Off Road Radio Show live from San Diego!
Every Sunday from 6-8pm PST, this KCBQ 1170AM radio show tackles the latest news surrounding the Powersports industry including new products, off road racing events like NORRA's Mexican 1000 and other topics that readers of this blog would surely enjoy. With the experience of Dave and Alex combined into one show, the "who's who" in the motorcycle industry can often be heard calling in and the information and updates are constant.
The portion about RIDE Adventures covered all four segments on this show, and we hope riders in Southern California that listened that night are now at least curious about the motorcycle touring & renting possibilities in South America. (That is after all, what RIDE Adventures was founded upon.) We talked about the motorcycle driver's license needed, the type of terrain and scenery you'll find, models of motorcycles available, and a variety of other important facts about riding in places like Chile, Argentina, Peru, Ecuador, and Colombia.
So please use the widget below to listen to the So. Cal Off Road Radio show on KCBQ 1170 AM from March 13, 2011.
Enjoy!