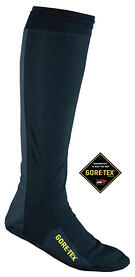 Let's see if this sounds familiar: Your motorcycle-riding boots were supposed to be waterproof, but after a few hours … your feet tend to disagree?
You're not alone.
Thankfully, Klim USA has come up with yet another great product to keep us dry and comfortable in even the toughest riding conditions. Klim's Covert GTX® Liners are constructed from a variety of GORE-TEX® products to create a waterproof shell for use in non-waterproof boots, and they can keep you from having to upgrade from your current "sort-of" waterproof pair.
Being made from GORE-TEX®, they're of course breathable, and when used with Coolmax® socks (included) or another moisture-wicking insulating layer, these liners become an extremely low-cost way to keep your feet warm and cozy even after hours of riding in the rain. Your non-waterproof boots could still be soaked inside, but the point is that your feet will remain dry, which is of course a major factor in staying warm, comfortable, and fit for riding. (Don't ever underestimate how important it is to stay warm while riding. Studies have shown how a cold, shivering rider's reaction times can be slowed dramatically.)
Just posted was a video review that shows some of the testing these socks survived, including that of a 10-day motorcycle tour through Patagonia in April (a very rainy month there.) Enjoy the video, check out Klim USA for more info about this product, and of course contact RIDE Adventures for arranging your Patagonia motorcycle tour!