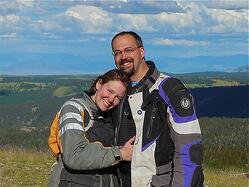 (Above, Megan and Francois from DualSportTouring.com on the Continental Divide Trail.)
Right smack in the middle of Tennessee's motorcycle riding country, I recently had the chance to visit with Francois and Megan from Dual Sport Touring and see their store in person.
Aside from checking out great products available to farkle-up our bikes, I had a great time just hanging around the store and meeting the various riders that stopped by throughout the day. Stories being told, YouTube videos being shared, and creations by Francois shown below sure did have us all laughing: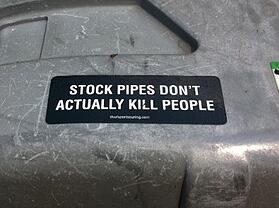 Their store is positioned such that riders visiting the famous Tail of the Dragon (318 Turns in 11 Miles) or the Blue Ridge Parkway can take advantage of parts and supplies on hand, or with minimal time needed, have parts shipped to and from the Dual Sport Touring store if need be. They're proud to focus on products that follow the theme of "function before fashion," after plenty of motorcycle touring has taught Francois and Megan the importance of having tools & accessories that we can depend on.
Be sure to keep an eye on www.dualsporttouring.com for products and accessories that can help keep your motorcycle the kind of machine you'd like it to be. Also keep an eye on the trails for Francois and Megan, as riding is as much a lifestyle for them as it is for the rest of us!