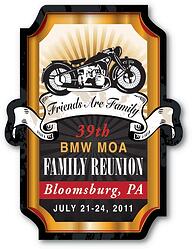 Hopefully your bags are packed, your motorcycle is all tightened up, and you're ready for the 39th BMW Motorcycle Owners Association International Rally next week!
Set for July 21-24 in Bloomsburg, Pennsylvania, this most grand motorcycle event could see over 10,000 motorcycle riders in attendance this year. Everything from door prizes to safety seminars and travel presentations will be enjoyed by an international crowd and set in the beautiful Columbia County countryside. Along with talented musical acts, food, and camaraderie, do you really need any excuses not to attend?
An organized dual sport group ride is being hosted and led by AltRider the day before the actual rally starts. Make sure to check in with those folks and see if there's still space for you to join.
See you there!