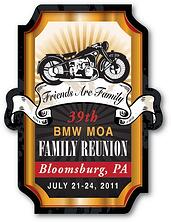 The 2011 BMW Motorcycle Owner's Association International Rally was the type of event that even the most brutal summer heat wave could not interrupt.
Folks like Vince Winkel and Rally Chairperson Mark Austin did a fantastic job organizing an enormous collection of riders, vendors, and motorcycle enthusiasts from all over the world. Projections were that a new attendance record of 10,000 people would be set, and it sure appeared as if that number was surpassed.
In addition to the Rally itself, a dual sport ride hosted by AltRider, Giant Loop Moto, and the Seven Mountains Conservation Corp. kicked off the rally by giving some riders their first opportunity to ride off-pavement through the Bald Eagle State Forest. No major crashes or injuries reported, only a few tires suffered injury.
Aside from catching up on great products & services now being offered in the motorcycle industry, the Rally gave us all a chance to meet and visit with folks we might have otherwise known only through sources like Facebook and Twitter. Harold and Dave from Giant Loop made the cross-country trip, Denise Maple from VaVaVroom was on-site, and although I didn't get a picture or autograph to prove it, I finally got to meet one of motorcycling's upcoming celebrities, the mysterious and surprisingly fast "Fuzzygalore."
Below is a photo of Pete Alexeev enduring the 100+ degree heat in his GS Giant run. Aside from taking the 3rd place podium position in this event, Pete must now own the "heavyweight" title as well. At 6'7" and around 300 lbs., riding a fully fueled R1200GS Adventure and all the riding gear, that's almost 1,000 lbs. of true "GS GIANT" charging through the course!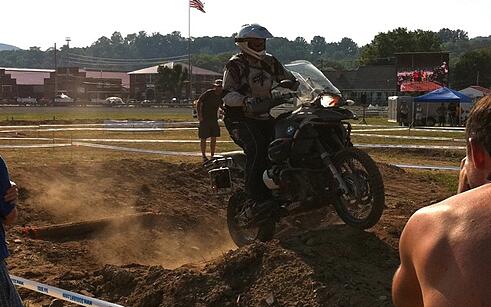 Also below, a proud photo with RIDE Adventures' first customer. Some months ago, Anne Marie Leclerc from Quebec relied on RIDE Adventures to coordinate the right motorcycle rentals in Peru, as she went on a 2-week scouting trip with a friend of hers. So great to actually meet you in person!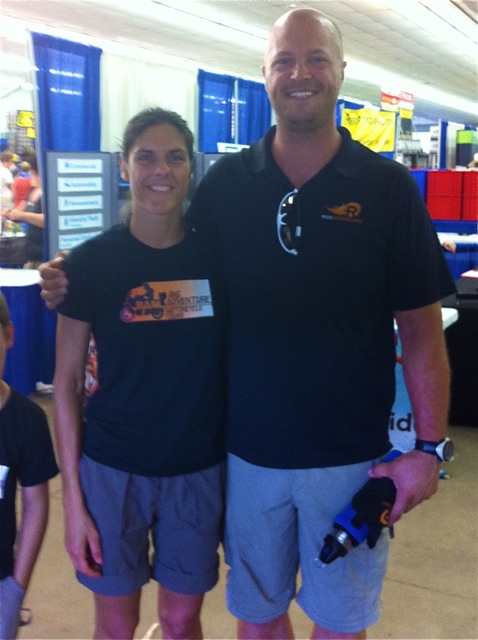 If you missed this year's Rally, set your sites on the 2012 version that will be held in Sedalia, Missouri. As always, details will be unveiled through www.bmwmoa.org.