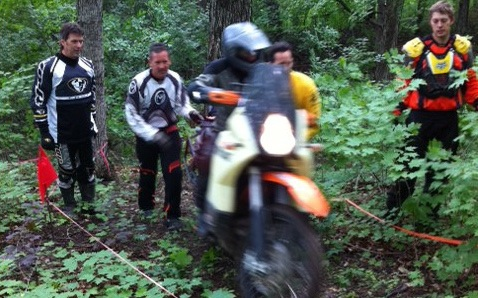 This past weekend saw CJ Designs' annual Tech Weekend come together nicely with motorcycle riders arriving from as far away as Southeastern Indiana to the town of Mukwonago, Wisconsin.
Just back from a 62-day trip to Alaska, Craig Johnson arranged a great series of technical and riding demos, including a review of how to use Warn's new XT 17 winch with the heavy adventure bikes. A product that's getting great reviews in the industry, the traveling group of 3 apparently made great use of of this system during their trip to the Arctic Circle.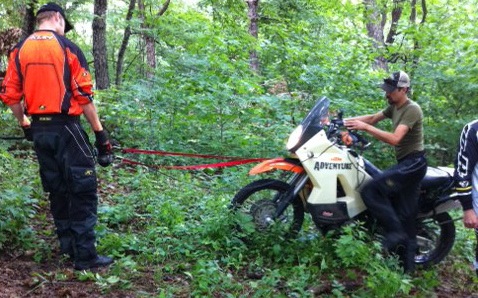 With a focus on getting riders better on their big KTM's, a route through the nearby woods and even a obstacle course with downed logs and tricky side slopes gave everyone a chance to test their skills.
Keep your eye on the CJ Designs Facebook Page to learn about the next Tech Weekend in 2012, and of course visit their website or Dual Sport Warehouse for the latest parts available from CJ Designs and other manufacturers. Not to be overlooked is the ongoing review and testing of the world's first 2-wheel drive KTM Adventure. With over 18,000 successful miles on this system so far, expect the option to convert your KTM to all wheel drive to be available soon!