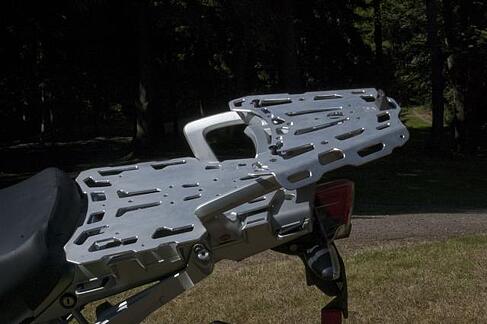 Innovation at it's best!
Whether you're an experienced motorcycle traveler or one that's about to embark on your "maiden voyage," how you pack and what you bring along can be a major factor in how your trip turns out. Some of us are downright passionate about optimizing the cargo we carry, and for that, AltRider has again broken new ground with their Luggage Rack System for the BMW R1200GS. Check this out…
Built to easily & securely mount products like GIVI's Monokey® topcase and RotoPaX™ Fuel Packs, this new Luggage Rack System from AltRider offers versatility unmatched by any other in the market right now. Whereas it might be difficult to demo all the options in pictures or words, fortunately this video does a great job showing us just some of the possibilities when using this System. Add to the picture its pre-drilled holes for quick attachment of RAM® mounts, and we're left with little reason to consider any other luggage rack. (Your video-making skills will reach new levels!)
This is the first configurable luggage rack system on the market – with any other, the rider has to decide ahead of time how he or she plans to pack bags on the rack and then purchase something that cannot be changed up later on. We tip our hat to AltRider for breaking grounds as they have in the crash protection & ergonomics market already. Add no-brainers like this to their list of products, and it makes sense why we're seeing more of their products everywhere.