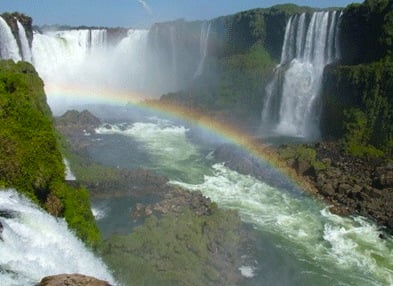 Another motorcycle tour opportunity in Brazil has just been posted!
With multiple upcoming dates, the chance to see famous places like Iguazu Falls, the city of Rio de Janeiro, and the Emerald Coast in Brazil all await adventure-minded motorcycle travelers. Spend time riding endless twisties, through the European Valley and across Serro do Rio do Rastro (the Mountain Range of the River of the Track) and you'll agree a vacation like this was something you waited too long for.
Often overlooked is the opportunity to use a motorcycle trip like this to "test drive" what might become your new motorcycle. Whether you already own a motorcycle and are considering a change, or are out shopping for your new bike, why not take a trip like this on the BMW F650GS and really see for yourself if it's the right bike for your needs? A quick lap near your local dealer won't even compare to the assurance you'll gain from actually traveling a while on such bikes.
See our page about the "Best of Brazil Motorcycle Tour," and contact us about making your reservation!