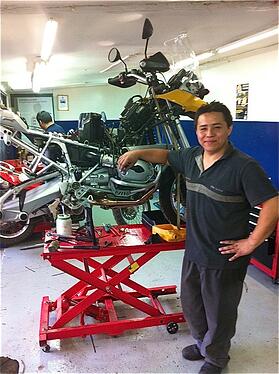 Riding your BMW through Chile and you need quick service?
The official importer in Santiago might be tied up with a large group of bikes, so another option might be to visit GS Motos on Avenida Kennedy (behind the Metzeler store.)
Run by Christopher Ahumada who has over 6 years experience working under BMW certification, GS Motos probably has the tools and service you need to get you back on your route to Bolivia, Peru, Ushuaia, or wherever you're headed!
Christopher Ahumada B.
Ingeniero de Ejecución en Mecánica y Autotrónica
Técnico en motocicletas BMW
Avenida Kennedy 7890-C
Vitacura, Santiago, Chile
(56 2) 2010359
http://www.gsmotos.cl/