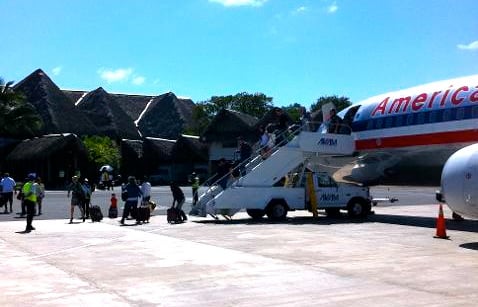 (Yes, the airport in Punta Cana, Dominican Republic actually has a thatched straw roof. Nice to see something other than cinder blocks!)
Okay, since the inception of RIDE Adventures, this blog has been about 2 main topics: Adventure motorcycle riding with a heavy off-pavement emphasis, and doing so in South America.
That is all about to change.
This posting is coming to you from the heart of the Caribbean Sea in the Dominican Republic, as we're researching a pavement-only motorcycle trip riding a Harley-Davidson (if you can believe that) and falling in love with this INCREDIBLE country!
Our invitation to join this 1-week tour comes on the heels of many success stories in helping riders like yourself find the right motorcycle touring or renting opportunity. Providers of such services are now requesting that we help them promote their business, but as has been promised from the beginning: RIDE Adventures will only promote riding opportunities or providers that we know and have considerable experience with.
So back to this place, the Dominican Republic: Check out some of the simple iPhone shots from the first 24 hours in this country below. If you've ever wondered about warm weather, winter getaways where you can ride a motorcycle and not have to worry about the snow……this just might be your adventure tour paradise!
More reports are on the way after I put lotion on my skin that got plenty of sun today. Greetings from the capital city of Santo Domingo.
(Below, our hosts, Antonio and Carlos with Ignacio from Chopper ON Magazine in the middle. - Then a 2nd picture of Macao Beach, and our lunch spot on the water in Boca Chica, close to Santo Domingo.)