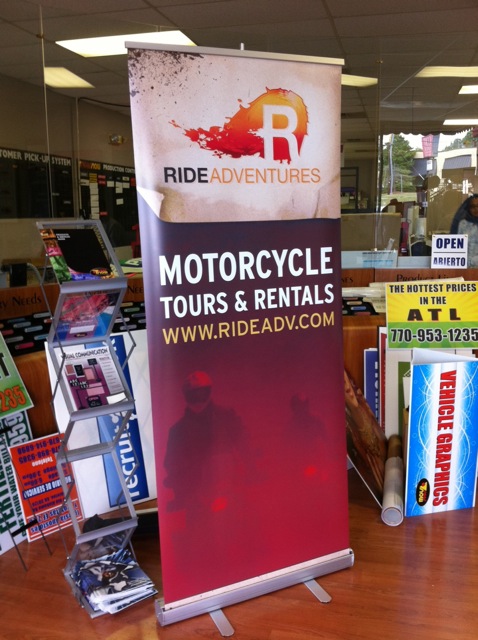 The BMW Motorcycle Owners of Georgia's Mountain Rally this past weekend was a tremendous success, thanks to many of the hard working volunteers, staff, and BMW Riders that showed up from all over the southeast. Once dubbed "The Regatta" due to heavy rainfalls consistently present at this event, the beautiful sunshine and perfect temperatures in we enjoyed in 2012 might see this event renamed "The Splendor."
If you happened to see this RIDE Adventures banner (right) on stage at the Music Hall, that means we probably had a conversation about your upcoming motorcycle touring or renting plans. Similar to customers who have shared testimonials of past travel experiences with RIDE Adventures, your next big trip is our next greatest priority!
A special thanks goes out to BMW Ducati Husqvarna Motorcycles of Atlanta for letting us share exhibit space along with them, and for their generosity in sponsoring the event in general. Bobby Wooldridge, an important member of their staff, unfortunately had to skip the event due to knee surgery. We're all wishing Bobby a speedy recovery and return to the enduro racing scene soon. Many other event sponsors should all be recognized for supporting this event as well, and another "thank you" goes out to the BMW of Georgia's President, Jonathan Sharpe, Director, Ian Schmeisser, and Randy Miller for helping arrange our involvement in this event.
You'll be seeing this banner and logo at many more BMW rallies in 2012, so please don't hesitate to stop by and say hi. Your motorcycle travel aspirations are our passion....so let's set our sites on your next big opportunity to RIDE!