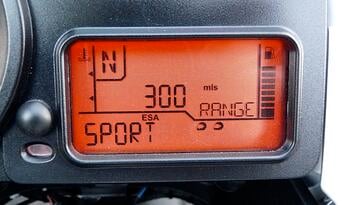 (Above, the "Sport" dampening setting and 2-up riding preload setting, indicated by the 2 helmets on the display.)
Provided there won't be any technical issues (only 4,000 miles ridden so far,) this report confirms that BMW's Electronic Suspension Adjustment (ESA) on the R1200GS Adventure is absolutely fantastic.
What started a few weeks ago as a search around the Atlanta area for a new BMW R1200GS Adventures that didn't have the Electronic Suspension Adjustment feature led us to find out that almost every GS Adventure imported from Germany these days has the ESA feature automatically included. The bike is available by special order without the ESA system, but working in the motorcycle travel & touring business, there's no time to wait around for a month of assembly and shipping. (The Triple Black model being the only one we wanted made finding a non-ESA bike even tougher.)
As with anything mechanical, there have been issues with ESA on the BMW fleet bikes we use for motorcycle tours in Argentine and Chilean Patagonia. In a couple of instances, reserved bikes had to be swapped out at the last minute for a non-ESA bike, so with dependability being a major issue in the touring business, deciding to buy a bike equipped with ESA not easy. To delay that decision, I personally hadn't even ridden the ESA system except for a brief spin around Santiago, Chile a few times. Never having really "tested" it's potential, I was not get swayed towards it.
These past couple of weeks, four thousand miles of Blue Ridge Mountain and Cherohala Skyway twisties, fire road riding in the Smoky Mountains, and open interstate runs have given plenty of opportunity to confirm that this ESA system is a true rider's asset. No longer do you have mess around with suspension adjustment tools or even twisting the preload dial on a rear shock, because it's all there in a single button:
Comfort, Normal, and Sport settings allow you to change rebound damping on the front suspension, and rebound and compression damping in the rear while you're riding. Best Example of Use: Riding highways on a cool morning, the "Comfort" mode was perfect. But a few hours later, 90+ Fahrenheit temperatures must have thinned out the shock's oil, and the bike was bouncing and "wallowing out" too much. Just hitting the ESA button a couple of times to select "Normal" mode fixed this instantly. Later on we were in some twisties, and the bike was rocking back and forth a bit coming in and out of corners. A couple of clicks of that ESA button to "Sport" steadied the bike and made it carve through each turn with absolute precision. So cool!
Shock preload adjustments (that have to be adjusted while the bike isn't moving) offer up multiple combinations for a single rider, rider with luggage, riding 2-up, and the 2 firmest settings meant to handle extreme compression needs in tough terrain. This basically compensates for extra weight or stiffening needs by applying pressure to a piece of elastomer within the shock assembly. Best Example of Use: As with many motorcycles, BMW figured the "typical rider" to be about 175 lbs., and the R1200GS's suspension was set up accordingly. If you weigh more than this or are routinely changing your luggage and passenger situation, just hit the ESA button and adjust accordingly. You'll see the ride height of the bike change while it's parked and making it's adjustments, as your bike can move upward significantly during adjustment.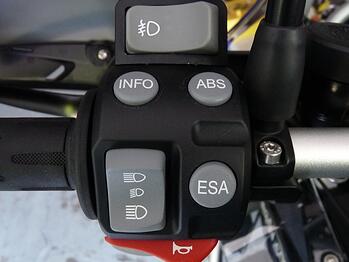 It won't take long to memorize exactly which damping and preload combinations work best for the ride you're heading out on. Best part is, even if you got it wrong or the road conditions change, most of what you'll need to change is your damping, which can be done while you're riding.
Don't overlook the safety factor here, either. The more accurately your suspension is tuned for each riding situation, the more contact your tires will have with the terrain below. Be it under braking or through turns, every little bit of grip you maintain just might make the difference in a sudden reaction need some day.
Comfort, enjoyment, safety, and agility are all factors in our riding success. Next time you get the chance to upgrade to a system like BMW's ESA, don't pass up the opportunity.