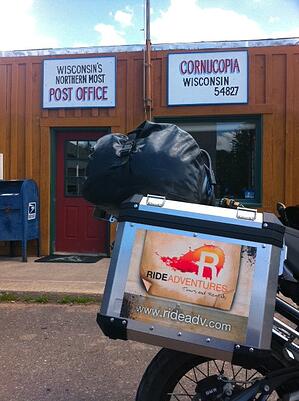 It has begun!
The planning of our first tour offering in the United States is underway, thanks in part to Chad Berger who developed the Trans Wisconsin Adventure Trail a few years ago. Having mainly offered South American Motorcycle Tours to this point sure put RIDE Adventures off to an amazing start, but there's a strong demand for tours here in the U.S., so we're about to answer that call.
From the Illinois border to Lake Superior, Chad's trail has been designed give riders a good balance of both paved and non-paved riding, putting their BMW GS's, KTM Adventures, Triumph Explorer 1200's and Tiger 800's, and other common adventure touring bikes to full use. Starting gently and gradually getting more rigorous along the way, this will be an excellent opportunity for riders to either break onto the adventure riding scene or hone their existing riding skills.
More news soon as we charge along. The research just started (actually from the north and going south) and there's a definite opportunity for riders to enjoy some great riding, scenery, food, and culture throughout Wisconsin. It might be a short season compared to our motorcycle tours in Ecuador or other places where the weather stays so motorcycle-friendly, but we'll enjoy Wisconsin riding while we can!