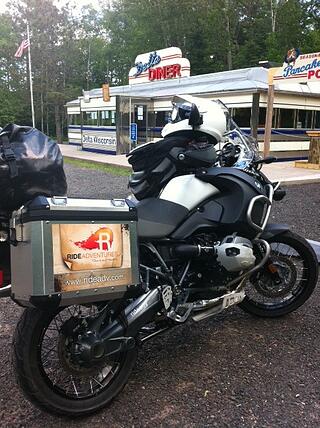 Cruising on your motorcycle through the northwoods of Wisconsin, you might not expect to come across what looks like a typical "East Coast Diner" amongst the beautiful woodlands. (Especially not so close the Trans Wisconsin Adventure Trail tour we're continuing to research.)
In the town of Delta, that's exactly what you'll come across though. On this common crossing point for motorcycle travelers and summer vacationers, the Delta Diner is as much a delightful experience as an anomaly to the area. With an energetic and friendly staff, an immaculate property and building, and truly eclectic menu with a wide range of delicious treats, it's no wonder why people are lining up for this dining experience.
Stops like this will surely be a part of out Trans Wisconsin Adventure Trail tour, expected to start running this fall. (Perfect timing to catch the autumn colors of Wisconsin? Of course...) We'll pop out from the trail near by, enjoy our late breakfast or early lunch, and head back into the beautiful tree canopy toward Lake Superior.
Be sure to follow RIDE Adventures on Twitter and "Like" us on Facebook, as well as signing up for this blog to get the latest news on our tour offerings.