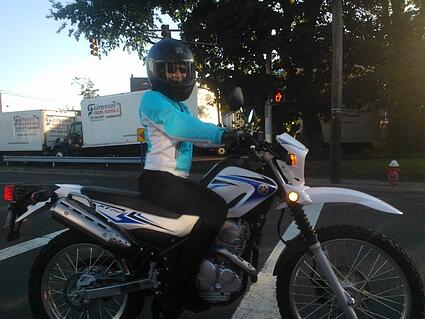 The world of Adventure Motorcycle Riding is exploding these days, but not everyone can find an "adventure motorcycle" that fits their size or riding ability.
Even if you're of average or above average stature, the seat height of bikes like the BMW R1200GS, KTM 990 Adventure, Triumph Tiger 800 or Explorer 1200, or the Yamaha Super Tenere 1200 might be an issue. Maybe your physique is such that you're mostly torso (see: Shrek) and each big bike's weight and width is only exaggerated by your short legs. Especially for those trying to find a true "adventure bike" that does everything well for you, that search might forever continue...
There are of course the smaller BMW G & F650GS's, Suzuki DRZ-400's, Kawasaki KLR650's and a few others that might be more realistic in size. But what if those are even too big?
This topic came up recently with Dr. OraLee Branch, the epidemiologist who consulted with us to make the RIDE Adventures Guide to Health & Hygene we blogged about a few months ago. OraLee has been in the market for a bike that will allow for "adventure" type of travel (multiple days, terrains, distances, carrying options, etc.) But being better known for her wisdom in epidemiology than her height, finding a bike that's both capable in the dirt and comfortable on long pavement stretches has proven difficult.
The search has boiled down to this: Yamaha's XT 250, their TW 200, and the fact that OraLee will probably appreciate the off-road capabilities of her bike more than its prowess on the pavement.
After some recent shopping, OraLee wrote:
"For right now, I am sold on the TX 250. I need to be certain, so I tried the TW 200 ... but felt like I preferred the XT 250. I wish there was a sleeker, "sexier" dual sport that really could be fun for off road and still be comfortable for a 2-3 hour ride at 50-60 mph.

The Seat: The XT 250 is a tiny bit taller, but it was also more narrow, so plenty easy to straddle. It also felt very comfy, even softer than the passenger seat of Dave's R1200GS.
I was controlling the weight of the XT 250 well even though I couldn't completely my heels on the ground.

The Weight: The XT 250 felt very 'manageable.' Even at 270lbs, I could pick up the XT250 if I did drop it. In fact, I think I liked the weight being a bit heavier than that the TW200, like I could feel the center of gravity more clearly on the XT 250. Plus, being a little bit heavier makes it feel better at higher pavement speeds, with winds.

If I had a 1 inch platform boot on it would be perfect. AND, actually I like wearing 2 inch platform shoes when I ride. In a good boot with ankle support and a 2 inch platform, I will "own" the XT250!"

Now, some of us might not be able to imagine riding with platform shoes on, but for those who can use the extra support, let's be glad they have such an option.
Is there a more "complete" dual sport or adventure bike than the Yamaha XT 250 for those who don't feel comfortable on something as big as a BMW G650GS? Please chime in below and share your experiences.